For all of the incredible impact NGOs, or non-governmental organizations, create, there aren't many tools that fit their distinct needs. Whether you're working to deliver food to people in need or finding loving homes for rescued animals, the basic needs of NGO employees are be more similar than you'd think.
We created these templates to solve the pain points so many NGOs face, and get you organized in seconds!
Donor and donation database 
Maintaining relationships with donors, whether they are ongoing donors or one time, is crucial to building lasting connections. But managing who donated to what and when can be a full-time job. This template will let you easily track recurring donors, one-time donors, and larger corporate donors. You can see if and what they plan to donate, their time-zone, when it is best to reach out to them, and what their priority is. Assigning someone from your organization to be manage the relationship with donors helps create internal alignment and clear ownership. A simple automation built into the board will send a reminder notification to the person assigned to reach out one week before the next contact date.
P.S. Want a quick overview of where your donations stand? Head over to Views and select the Chart view—you'll be able to see at a glance the distribution of donors and amount per category.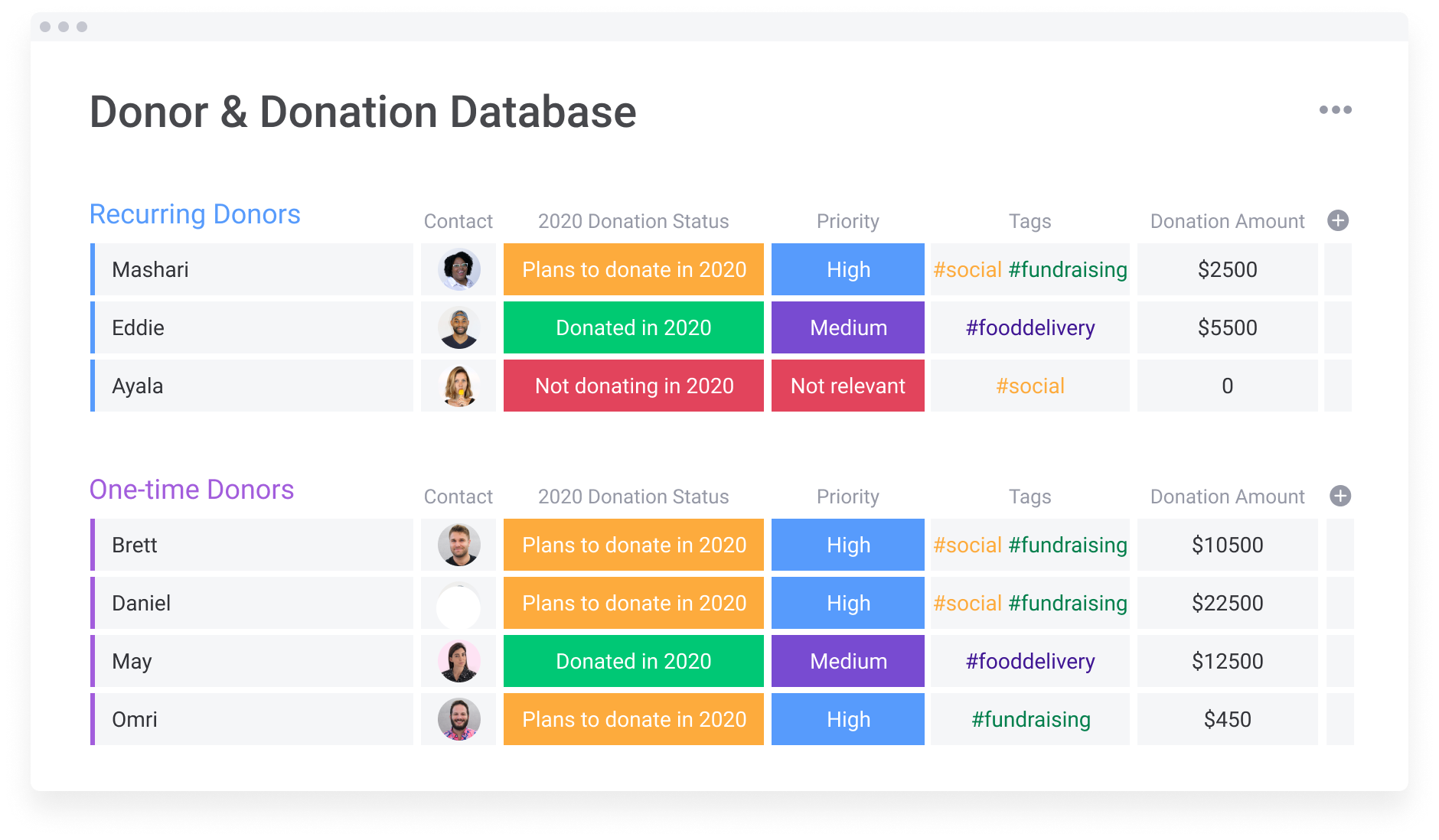 Get your donor and donation database template!
Fundraising campaign
When nationwide or worldwide events take place that shine a light on the cause you support, you want to make sure you're in the conversation. We built this board for Giving Tuesday as an example, but it can be used to plan and track any larger-scale campaigns you launch. You can use each item to layout the most important aspects of making your fundraising campaign come to life— assign owners, and track the time spent working on each so you can continue improving future campaign planning. Check out the Timeline view for a high level look into the time investment of your campaign.
Oftentimes getting a clear view into what everyone on your team has the capacity to take on can be a challenge, Workload view on the template is built to help with exactly that. You can see who is swamped and who has the capacity to help out so you can assign ownership accordingly.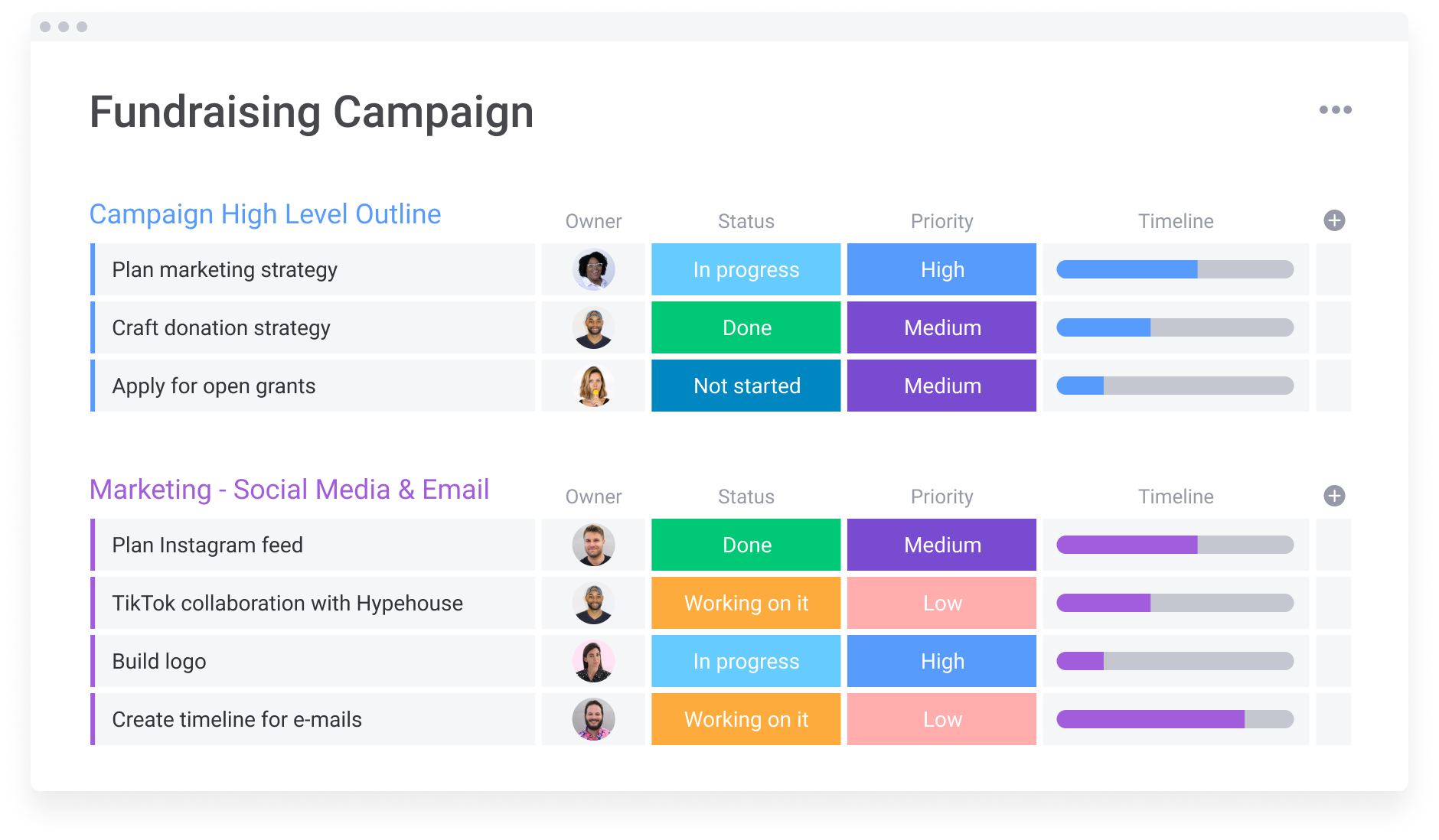 Get your fundraising campaign template!
Volunteer management
Not knowing how to manage the loads of incoming volunteer requests is a good problem to have, but it's a problem nonetheless. This board and form will help you manage your current volunteers and new volunteer requests so you can make sure you allocate your resources wisely. The board is really built around the form— anywhere that you advertise your effort and recruit new volunteers, you can attach this form in order to collect and manage all volunteers in one place. You can easily record their availability, contact info, area of interest, means of transportation, and more. Not sure how to spread the volunteers based on their expertise? Look under Chart view and you'll be able to see how many hours each volunteer is available to commit per responsibility and easily reallocate tasks according!
Get your volunteer managment template!
Requests for assistance for non-profit
This request for assistance form will help you gather all of the requests from families or communities in need. By providing the form link, anyone in need of assistance can fill out who they are, where they reside, and what they need so you can better understand where your assistance is needed. Once requests have been submitted it's easy to organize them, set the status for what type of request they've made, and begin reviewing them.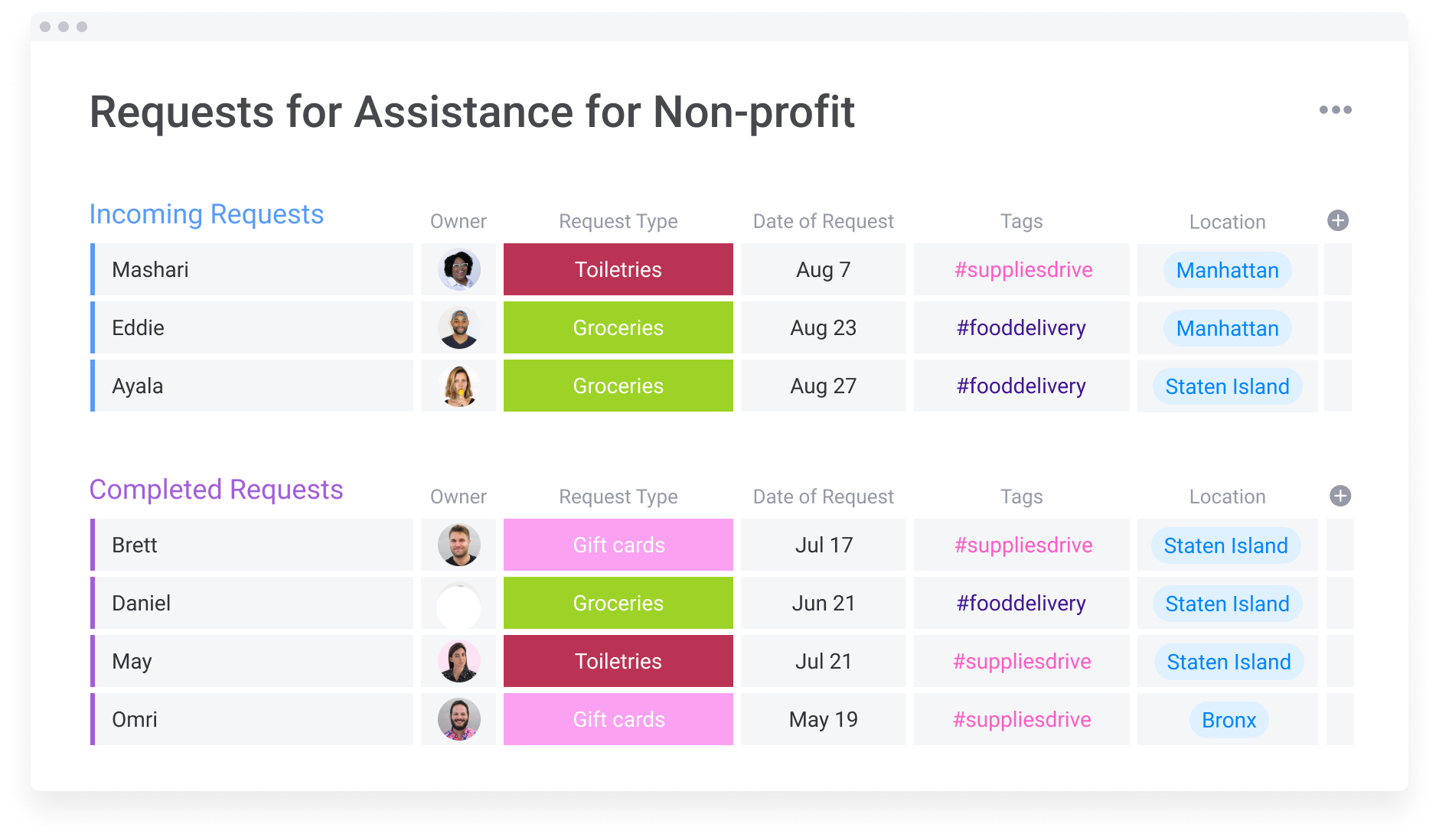 Get your requests for assistance template!
Annual event planning
Hosting fundraising events is a big part of running a successful NGO, whether they are in-person or remote it is always a big production to manage. This board helps plan webinar workshops or online events to help raise money and awareness for your organization. Plan every step of the launch from sending invitations to event follow-up to make sure every event goes smoothly. Want to keep your audience engaged long term? The Calendar view helps you see that your events are scheduled at an even pace and not overlapping with any other important events.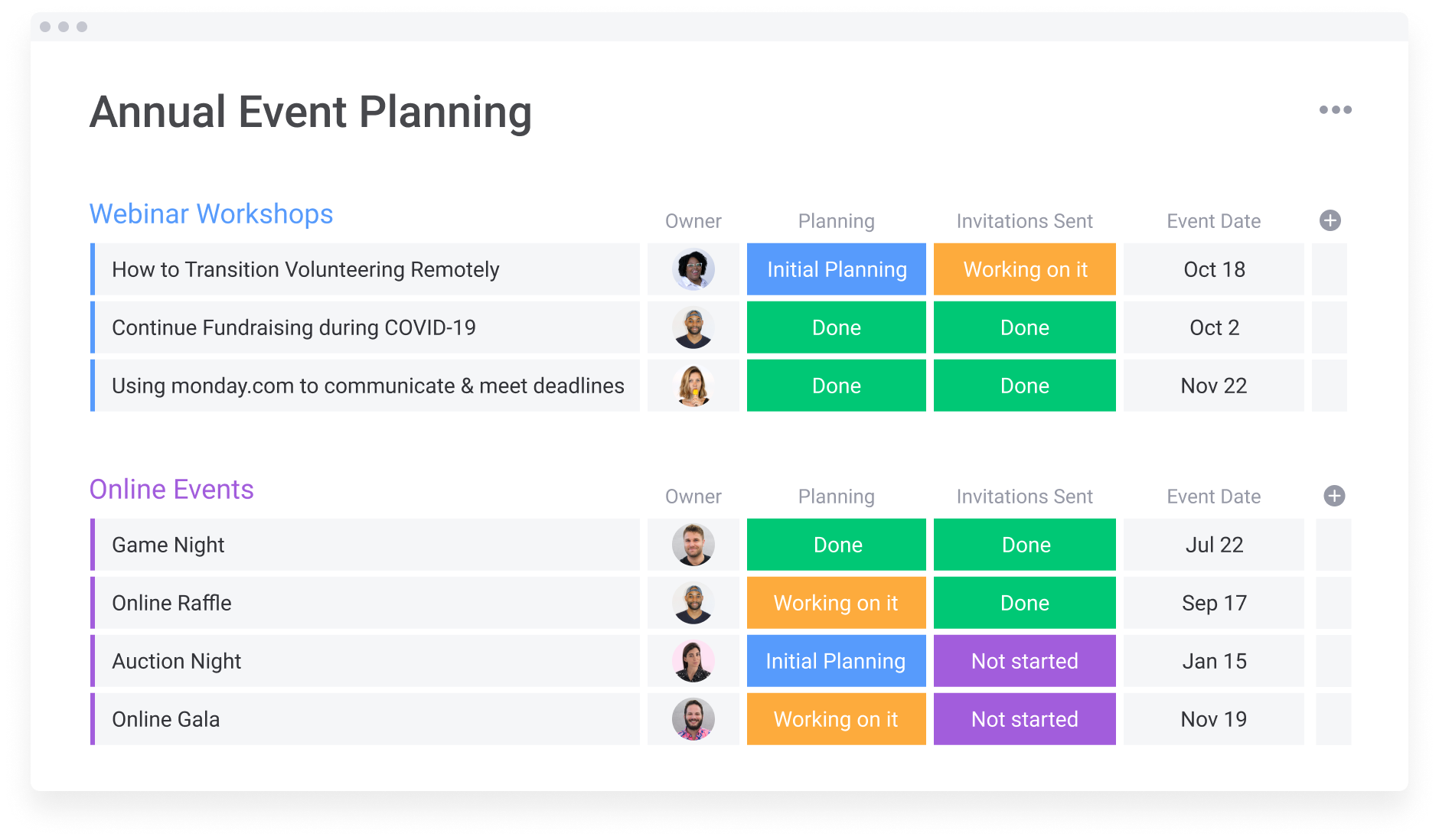 Get your annual event planning template!
Any NGO has millions of moving parts that keep it running smoothly. With these five templates pre-built and ready to go, you can create well-defined processes and get all those moving pieces in line.