You're starting to develop your first marketing plan. You stop and think – "Where do I even begin?"
A quick online search will show you there are many different directions a marketing plan can go (as well as many assets you can develop as part of one.)
But even though there's a lot that goes into creating a marketing plan, it doesn't mean the process of developing one has to be overwhelming.
This post will help you create a marketing plan that's perfect for your next launch or campaign.
What is a marketing plan? 
First – a marketing plan is a part of a larger business plan that keeps note of the actions, strategies, advertising efforts, and campaigns an organization will use to promote a product or service. 
Think of a marketing plan as a blueprint that maps out how business outcomes will be achieved. Such as driving sales, acquiring new customers, and more.
But in reality, it's even more than that. 
Your marketing plan is what takes good marketing ideas and turns them into actionable solutions. Without a good marketing plan in place, it can be difficult to keep your campaign on course.
You may lose touch of what you originally intended to accomplish, or you could miss deadlines and go over budget.
What to know before creating a marketing plan
When beginning to develop a marketing plan, it's important to understand that there isn't a single way to go about it. The purpose of your marketing plan is to help your campaign stay on track so your teams are capable of achieving company goals and marketing objectives as planned.
Some examples of marketing objectives you may build your plan around include:
Increasing market share by 15% before the end of the year
Growing a mailing list by 25%
Expanding into a new geographical area
Think of these objectives as your mission, and your marketing plan is the steps you take to accomplish that mission. Every marketing plan should have an objective, and it should be accompanied by market research data that supports the campaign initiative.
What's included in a marketing plan?
A standard marketing plan outline incorporates the elements mentioned above, as well as:
Executive summary: A high-level summary of your marketing plan for senior leadership that typically includes a mission statement and touches on factors that will influence the project.
The challenge: A brief description of the strategic goals and challenges the marketing campaign aims to tackle.
Situation analysis: An

in-depth report

on various factors that influence your project, such as your company, target customers, competitors, technological landscape, and even socio-political climate. Part of this often includes a

SWOT analysis

, which helps assess the company's strengths, weaknesses, opportunities, and threats (hence the acronym SWOT).
Your target market: Identifying those who're most likely to engage with your campaign.
Unique selling proposition: This looks at how your company will gain an advantage in the marketplace and is often done by providing customers with benefits like low prices, superior customer service, or designing a groundbreaking/unique product.
Budget: The amount of money needed to complete the marketing campaign.
Monitoring and evaluation:

Metrics

used for tracking the performance of your marketing campaign.
What are some sample marketing plans?
One of the best things about marketing plans is their versatility.
As long as you include key elements like your objective and budget, you can structure your marketing plan any way you like. Use the outline above as a reference point when deciding what elements to incorporate into your plan.
If you're unsure about how to create a marketing plan of your own, don't worry. We've got a few sample marketing campaigns to help you get started.
NerdyMind created a three-month digital marketing plan that operated on a budget of $2,500 a month. Each month represented a different phase of the marketing campaign:
Month 1: Planning SEO strategy and researching market
Month 2: Creating landing pages, establishing social media presence, and building other marketing channels
Month 3: Publishing scheduled blogs, creating digital content like e-books and infographics to attract customers, engaging with followers over social media
This is also a relatively lightweight marketing plan that gets straight to the point by just covering the objective and action plan. If you're planning a digital marketing project, be sure to check out this marketing calendar template.
This marketing plan by Cengage closely follows the marketing plan outlined above, but it also includes a few other elements like a:
What's great about this sample marketing plan is that it's comprehensive and every portion is accompanied by a brief explanation covering the purpose of that section. If this is your first time creating a marketing plan, this is worth looking at.
3. Marketing plan for boosting sales
This comprehensive marketing plan by More Business is a great example of how to create a detailed marketing plan. Notice how in-depth this plan is: It's research-oriented, includes visual data, and the customer segments are meticulously planned.
The plan also focuses heavily on finances, providing a breakdown of the budget and a comprehensive section dedicated to anticipated earnings.
This is helpful for projects where you'll need to justify your spending and/or receive support from senior leadership.
Put your marketing plan into action
Once you're done with your marketing plan, it's time to put it into motion. Things move fast in the marketing world, so you want to remove any obstacles that could slow down performance and undermine the success of your marketing campaigns.
There's a lot of time that goes into planning marketing projects and building workflows. What if there was a way to reduce that time dramatically, while also strengthening collaboration between you and your teams?
There are many work management platforms on the market, but monday.com is more than that. It's a Work OS that helps with planning and executing projects from the brainstorming phase all the way to wrap-up meetings.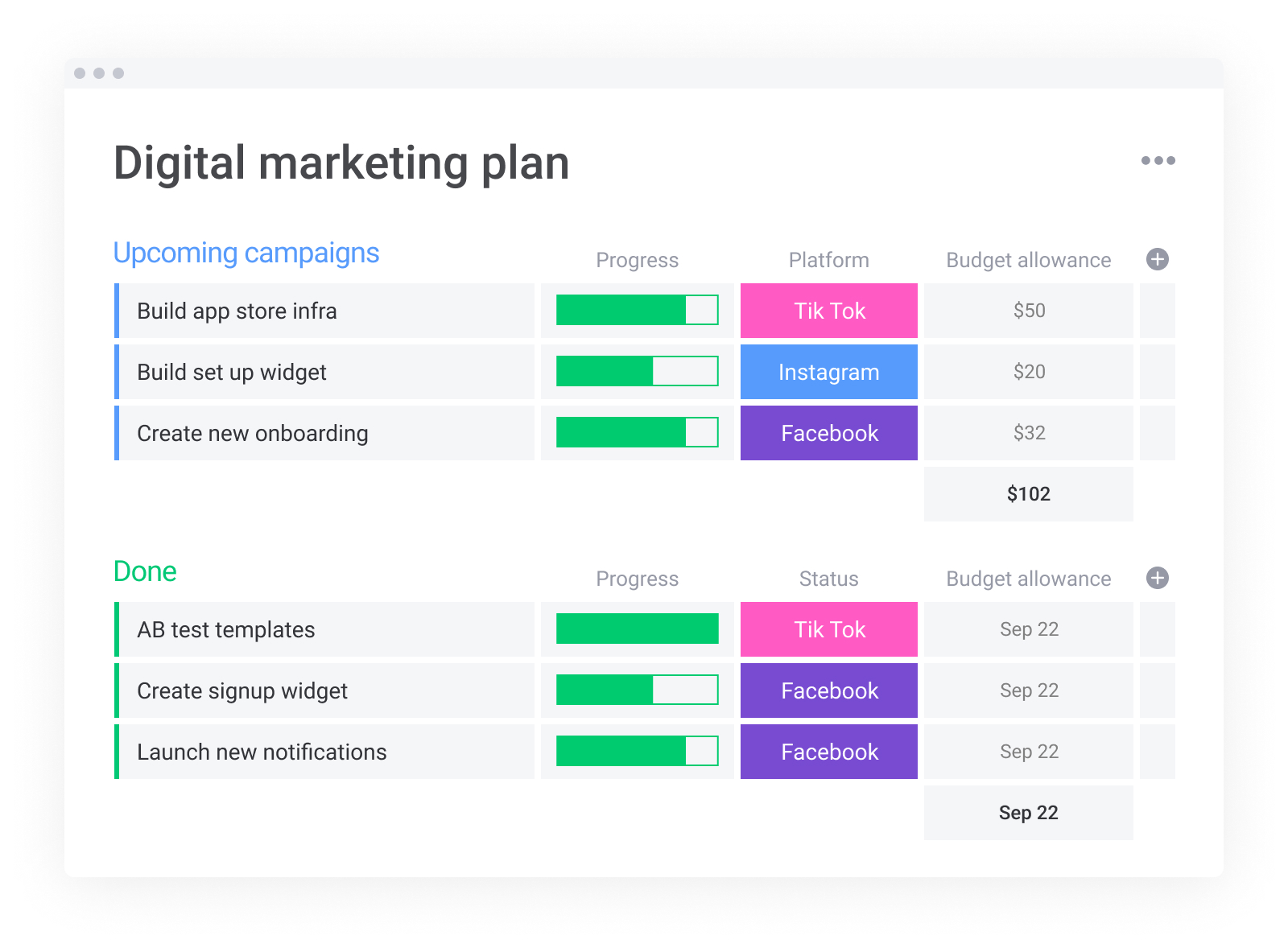 See how much easier it is to turn your marketing plans into action