Custom marketing calendar templates
Select what you want to manage with monday.com
Create dynamic marketing calendar templates
Plan your marketing goals, budgets, and campaigns from A-Z in one intuitive workspace.
Organize any type of calendar
Make changes in real-time and pivot from different focus points without leaving your workspace — unlike some spreadsheet calendar options out there. Manage any marketing activity on one platform:
Engagement & referral efforts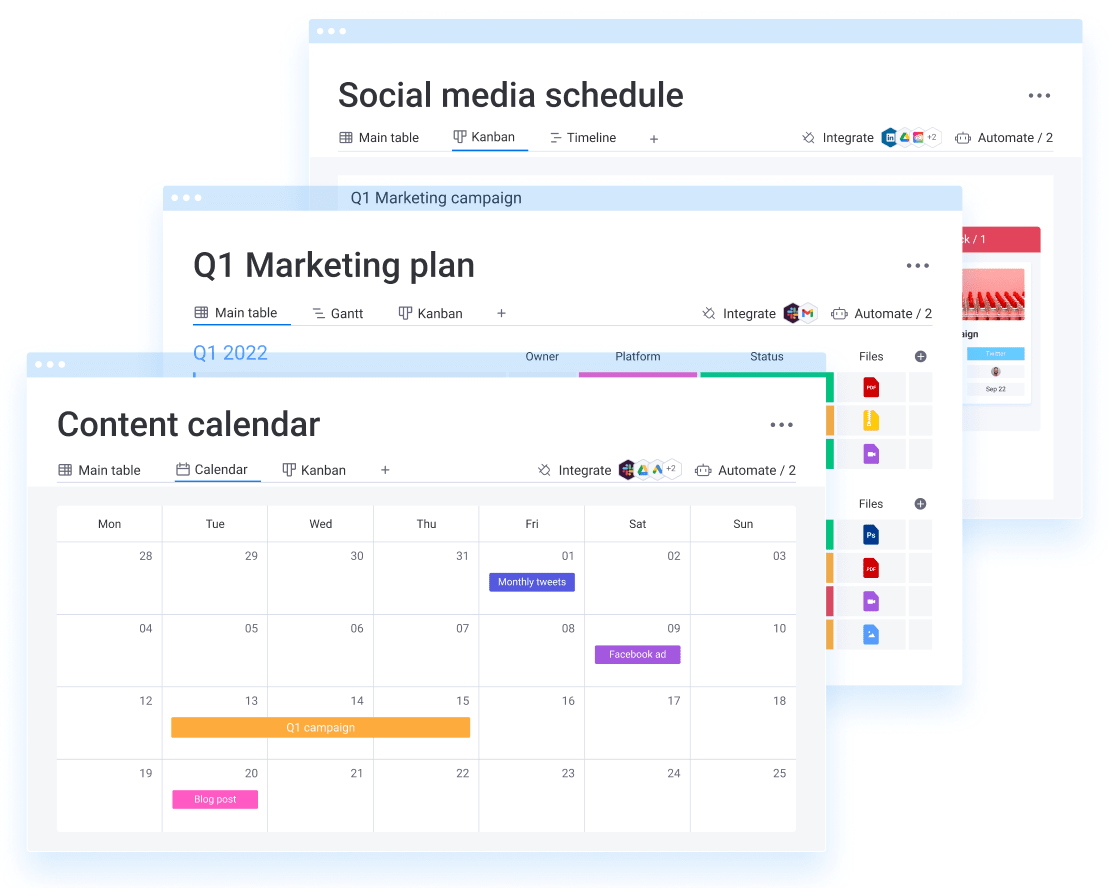 Frequently Asked Questions
How do I create a marketing calendar?

When building a marketing calendar, it's worth it to consider all the information you want to include first. This way, you can create a calendar that is a source of truth for your campaigns and deliverables. Using a campaign template can help you organize this information faster. Here are 8 steps you can use to build a marketing calendar or template:

1. Choose a time period for the calendar, with defined start and end points and key milestones throughout 
2. Identify a target audience and their needs and interests 
3. Decide channels for the content you will create 
4. Account for unexpected changes to your plans 
5. Create themes and topics for your marketing calendar template's content 
6. Do research on keywords and your existing data to help set goals 
7. Assign teams and individuals to each phase and task on the marketing calendar 
8. Evaluate results as you go and adjust as necessary

What should a marketing or campaign calendar include?

A content calendar is another layer to your marketing or campaign calendar template. It should generally have these things:

Web content like landing pages, ads, blogs, etc.
Concrete numbers for posts, objectives, and actions for a campaign
Key dates for publications, content deadlines, and other media releases, and any tests being run
Editorial schedules, including approval deadlines

What are the types of marketing calendars?

There are four main types of marketing calendars: content calendars, social media campaign calendars, email marketing calendars, and editorial calendars.
Build your marketing calendar template now!
Plan, create, and track all of your marketing initiatives and strategies with your team on one collaborative, customizable workspace.