One way to ensure your company is targeting the right people is by using the BANT sales methodology. This sales framework can help your sales reps save time and money by only pursuing potential customers who are likely to convert.
In this blog post, we'll take a closer look at what each element of BANT entails, share the best practices for using BANT, and how monday sales CRM can optimize your sales qualification process.
Let's dive in.
What is BANT?
Developed by IBM, BANT is an acronym that stands for budget, authority, need, and timeline. It's a sales framework used to qualify potential customers — analyzing if they fit a company's specific criteria and are ready to buy. Armed with this data, teams can build an effective sales strategy tailored toward building relationships with their best prospects.
BANT is an acronym that stands for budget, authority, need, and timeline. It's a sales framework used to qualify potential customers.
Ultimately, BANT helps salespeople decide if they should pursue further contact with a lead or not.
What does the BANT qualification framework stand for?
Now that you know what BANT is, let's take a look at its four core elements in detail — including some questions you can ask for each.
Budget
Asking potential customers about their budget may be the most important element of BANT. Why? Knowing how much they want to spend on a product provides an immediate assessment of whether they're worth pursuing.
Additionally, when you understand a lead's financial constraints your sales rep can offer different options that better fit their budget.
Types of questions to ask:
How much do you expect the product to cost?
Does pricing have an effect on the decision to purchase the product?
Authority
Authority in BANT refers to the person's level of influence in the decision-making process — making it an important factor to figure out when qualifying leads.
You'll often find that your initial contact cannot make final purchase decisions on behalf of the organization. They may work in a different department altogether. This type of information lets your sales team know how close they are to making a sale, if at all.
Types of questions to ask:
Who are the team members that'll use our product?
What is your company's decision-making process for new products?
Need
A common hurdle companies face is identifying if prospects have a need for their product.
To uncover needs, sales teams should focus on actively listening to potential customers and identify any possible pain points or problems they face.
Then salespeople develop a deeper understanding of how their product can offer a solution — allowing them to follow up with highly personalized questions to move the sale forward.
Types of questions to ask:
What problem caused you to search for this product?
What processes does our product complement within your company?
Timeline
When speaking to your potential customers it's important to ask about their timeline. This will let you know when their company plans to start using your product. If they have a date in mind, it could mean a short sales cycle and a win for your team.
Conversely, if they can't provide a specific date — it's likely they aren't ready to purchase and may not be a qualified lead.
Types of questions to ask:
How fast will the approval process take?
When do you need the solution up and running?
Best practices for using BANT in 2023
BANT has evolved since it was first developed in the 1950s — allowing the sales framework to better qualify leads in the modern world. Let's take a look at some of the best practices commonly used along with BANT today:
Determine your prospects' pain points: First, you must know the challenges a prospect faces, only then you can offer your product as a personalized solution. Keep in mind: If there's no need, there's no sale.
Use digital tools: The goal is to keep your sales cycle short. Do this by using digital tools that help your team manage its leads — ensuring none fall through the cracks.
Be flexible with the questions you ask: BANT is a flexible model. This means you can change the questions you ask throughout your conversation with a prospect as needed. Don't follow a script.
Learn who makes the final decision to purchase: Your sales team must know early on who the key stakeholders are. Then you can identify their needs, and expectations — and meet them.
Combine BANT methodology with monday sales CRM to best qualify and nurture leads
monday sales CRM makes it easy for your sales team to capture, track and manage leads while using the BANT (Budget, Authority, Need, and Timeline) framework. The customizable solution allows you to:
Manage your leads all in one centralized place
Create automations so sales reps can receive notifications when it's time to follow-up
Easily view a lead's entire communication history to see important interactions
Store and have access to all of your potential customers' contact information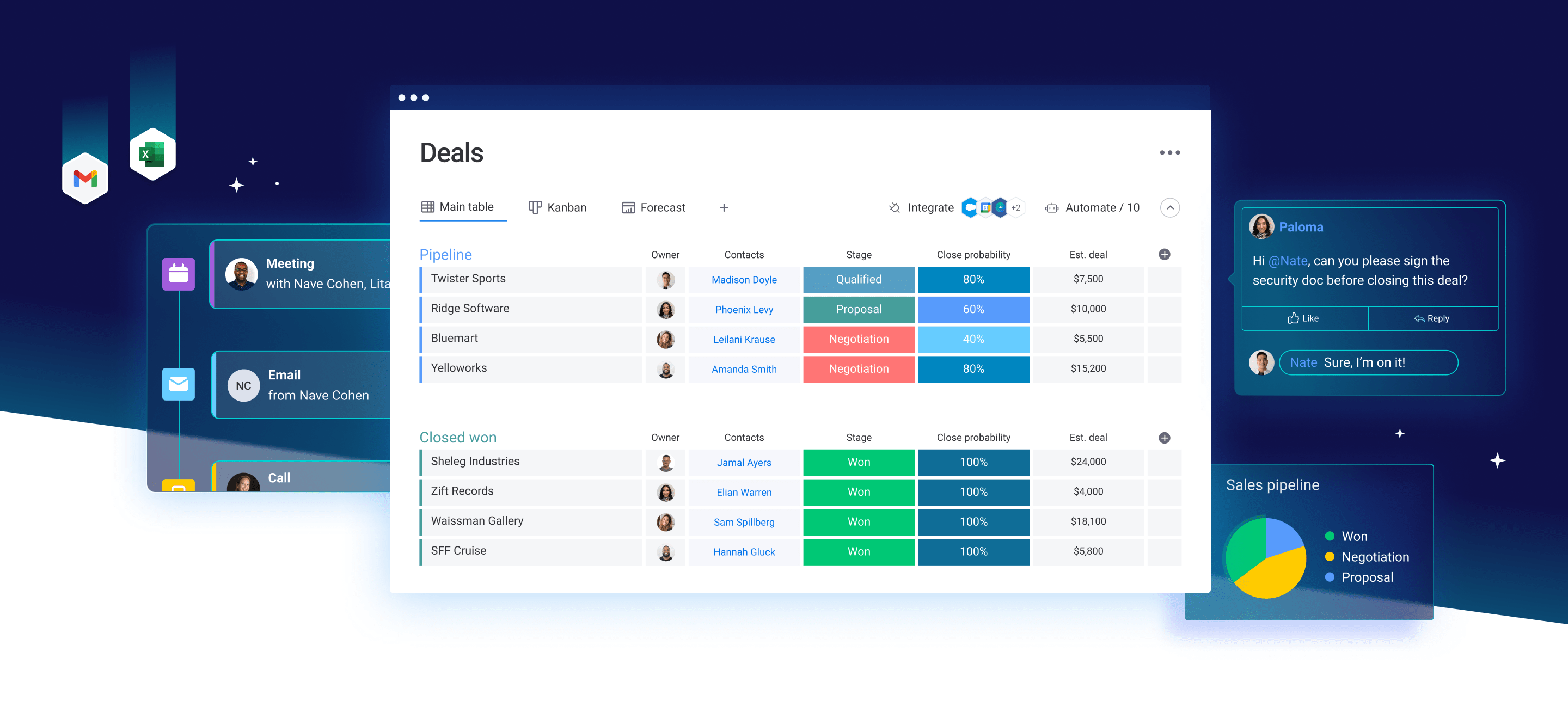 All in all, monday.com is an invaluable asset for teams looking to leverage the BANT sales qualification methodology.
Frequently asked questions
Is Bant dead?
Over the years there has been talk about BANT becoming obsolete. But the sales framework is still popular and continues to shine. That's because its elements budget, authority, need, and timeline are still highly relevant when it comes to winning sales.
But today, the unique needs of each prospect should dictate if a modern spin on BANT is needed. Then, your sales team can properly execute a personalized qualification strategy — that isn't rigid.
GPCT vs BANT: What's the difference?
BANT was created a long time ago by IBM and stands for: Budget, authority, need, and timeline.
GPCT was created fairly recently by HubSpot and stands for: Goals, plans, challenges, and timeline.
They both include a four-step process. BANT heavily focuses on budget, whereas GPCT doesn't. Instead, it aims to deeply understand a potential customer's needs.
However there is an extended version of GPCT, known as BA Budget and Authority (BA). This includes further qualifying a prospect by checking whether they have the budget or authority to move forward with the purchase.
Use monday sales CRM and BANT to qualify leads with precision
By understanding the criteria of BANT and assessing leads accordingly, salespeople can focus their efforts on prospects that are more likely to convert into customers. At the same time, they can use monday sales CRM to manage and track their leads through the sales cycle — increasing their chances of making sales.