SugarCRM and Salesforce are two globally acclaimed customer management tools with millions of users. Both have established their names with unique features, team collaboration, automation, and pricing offers, so how do you choose?
Use this comparison of SugarCRM vs. Salesforce to understand which features you need in your workflow to score better customer relationships. Or try a better option, monday Sales CRM.
Try monday sales CRM
SugarCRM vs. Salesforce: features overview
SugarCRM and Salesforce focus on building relationships—one customer at a time and tying different departments into a holistic view of the customer.
The difference is that SugarCRM is geared more toward large enterprises with in-house development teams, at least ten users, and the commitment to a year-long subscription. On the other hand, Salesforce caters to businesses of all types and sizes.
Basis
SugarCRM
Salesforce
Description
SugarCRM produces the on-premises and cloud-based web application Sugar, a customer relationship management system. It allows companies to integrate marketing, sales, and customer service to engage more customers and fund better opportunities.
Salesforce is the most advanced CRM software tool known to man. It boasts multiple features for all departments.
Integrations
Allows integrations with popular tools, and could use more third-party options.
Enable integration with 4000+ tools.
Customer Support
Easy to get a support agent on call within minutes.
FAQs and self-help guides can solve most of the problems, 24/7 support requires buying premium tier options.


Pricing
Premier: $49/month per user
Advanced: $80/month per user
Enterprise: $135/month per user

Essentials: $25/month per user
Professional: $75/month per user
Enterprise: $150/month per user
Unlimited: $300/month per user

Ease of use
A steep learning curve and requires a development team.
Easy training, but time-consuming to learn about all features
SugarCRM's customer support is its most reviewed feature, and Salesforce is excellent for training and offers many features for different departments.
Let's explore each CRM in more detail.
What is SugarCRM?
SugarCRM produces the on-premises and cloud-based web application Sugar, a customer relationship management system. It allows companies to integrate marketing, sales, and customer service to engage more customers and fund better opportunities.
Its main services include:
Marketing automation: Sugar Market
Customer service: Sugar Serve
Sales automation: Sugar Sell
On-premise CRM: Sugar Enterprise
It started as an open-source product. Now it fuels over 1500+ companies and helps them automate, accelerate, and enhance customer experience and teams' productivity. The system is designed to reduce churn, remove repetition, route cases, find cross-selling opportunities, and identify at-risk accounts.
High-definition customer experience is the core of SugarCRM. Many users say a large user base doesn't stop this tool from providing excellent support, as getting a live customer representative on the phone is very easy.
The spreadsheet format helps teams be productive as it enhances optimization with tabs of assigned cases per individual, team, and the progress on each account.
Actual results from SugarCRM users disclose:
17% increase in revenue
27% reduced case error rate
30% revenue contribution from the support team
It also automatically measures and prioritizes support against complex service-level agreements, including managing against multi-region business centers and hours.
Looking for a CRM that does more? Start your free-trial now.
Try monday sales CRM
What is Salesforce?
Salesforce promotes remote customer management on cloud-based customers and generates a 360-degree view of the customer with one true source of truth.
Its service industries include:
Sales
Marketing
Commerce
Small Business
Customer Success
Salesforce boasts a highly customizable dashboard and serves over 150,000+ small businesses to FORTUNE 500** companies on its cloud-based solution platform. With a features suite for businesses of every size, Salesforce supports your team's efforts to attract new leads, win more deals, deliver a more personalized shopping experience, respond to customer issues 24/7,  and automate manual tasks.
As the name suggests, Salesforce provides an intuitive force to empower all aspects of customer management for your company. From lead management to e-commerce experience, it helps automate and track different aspects of your customer's activities to find the right targeting opportunities.
The one noticeable thing about Salesforce is its never-ending variety of services. From being a mobile-first CRM software to providing Metadata architecture, it truly helps organize all aspects of a business in one tool.
Actual results from Salesforce users disclose:
25% decrease in IT costs
29% faster insights
98% customers exceed ROI expectations
It is the biggest CRM in the market right now, due to its wide customer base and features for every part of the business.
Key features head to head
SugarCRM vs. Salesforce: integrations
SugarCRM integrates with all the well-known software like G-suite, Shopify, Salesloft, Hubspot, etc. It also has a SugarExchange that has a public API code to integrate and transfer emails, calendars, contacts, etc., to the new space. However, customers have reported difficulties in the integration and implementation stages, and they also feel they need more sufficient third-party options.
Salesforce integrates with most of the popular business tools like Jira, Mailchimp, Dropbox, and more. It's integrating Cloud solution—AppExchange features over 4,000+ tools to integrate with. One customer of Salesforce reports its capabilities to integrate elemental to the performance standards and intuitiveness that makes the transition easier.
SugarCRM vs. Salesforce: customer support
If you need customer support from the SugarCRM team, you'll need to purchase the software, which can be tricky if you're just trying to demo the product's capabilities. However, its hold time is surprisingly short and it also offers complaint forms and live chat options to assist you.
You can also use their search page for keywords related to your issue and find quick solutions. Customers describe SugarCRM's support team as "attentive", "responsive", and "proactive" in solving any contingency.
Salesforce serves an extensive client base, and getting one-on-one help on their platform can be quite difficult. To get 24/7 support, you need to be a premier member. Otherwise, you'll have to make do with their self-help options. Customers say its on-call support is bleak, but the Salesforce user community has most of the answers.
SugarCRM vs. Salesforce: pricing
In general, SugarCRM has high starting pricing but its average pricing per user is less than Salesforce.
Salesforce has an edge because it provides a free trial version for each pricing module to test the capabilities—giving more liberty to customers to try and then purchase.
SugarCRM Pricing
Premier: $49/month per user
Advanced: $80/month per user
Enterprise: $135/month per user
For Products:
Sugar Sell: $49/month per user
Sugar Market: $1000/ per month for 10k contacts
Sugar Serve $80/month per user
Sugar Enterprise: $85/month per user
Salesforce pricing
Essentials: $25/month per user
Professional: $75/month per user
Enterprise: $150/month per user
Unlimited: $300/month per user
Note: You can further extend your capabilities on Salesforce by buying add-ons like Loyalty Management, Salesforce Maps, Sales Cloud Einstein, and more.
SugarCRM vs. Salesforce: ease of use
Power comes at a cost. And when you want to automate multiple aspects of your business, learning the technology becomes a tedious task.
Since SugarCRM is meant for enterprise-level use, in-house development teams thrive more with it. It has a steep learning curve which can be intimidating for tech novices. You can also learn about the software through Sugar University. It provides some free classes, but advanced classes will cost some dollars.
When it comes to Salesforce, the training is easy but the navigation through multiple features is not. To learn about each feature, you'll have to invest a certain amount of time. You can also attend Salesforce University, but the courses are paid.
SugarCRM vs. Salesforce: ratings from trusted sources
Both these solutions have thousands of customer reviews on trusted review platforms. Here's a run down so you won't have to spend time scrolling through multiple pages:
G2
As per its overview page on G2 SugarCRM is for "Sales warriors who want to click less and sell more".
On the other hand, Salesforce is a CRM for "Businesses of all sizes who want to make smarter decisions to grow".
Star Rating: SugarCRM has 674 reviews with 3.8 stars out of 5. While Salesforce has 13,572 reviews with 4.3 stars out of 5.
Trustradius
As per Trustradius, 90% of people were happy with SugarCRM's feature set and 80% of people said they'd buy it again. Salesforce is in neck-to-neck competition as 91% people liked its featured set and 80% of people would buy it again.
SugarCRM has 36 positive reviews and  23 negative reviews, while Salesforce has 278 positive reviews and 25 negative reviews.
monday Sales CRM: your user-friendly alternative
While Salesforce and SugarCRM bring a lot to the table, that can also come with a lot of down time spent onboarding team members and integrating and syncing your data. monday Sales CRM is a simple-to-use and even easier-to-set-up option that you won't regret trying. From sales pipelines to customer — or internal — projects, you can rely on one tool that seamlessly integrates with the best, even Salesforce.
A few more features to love:
Endless customizations with drag-and-drop columns and flexible statuses
Automations
Integrated email for client communication
Easy to create. shareable dashboards and reports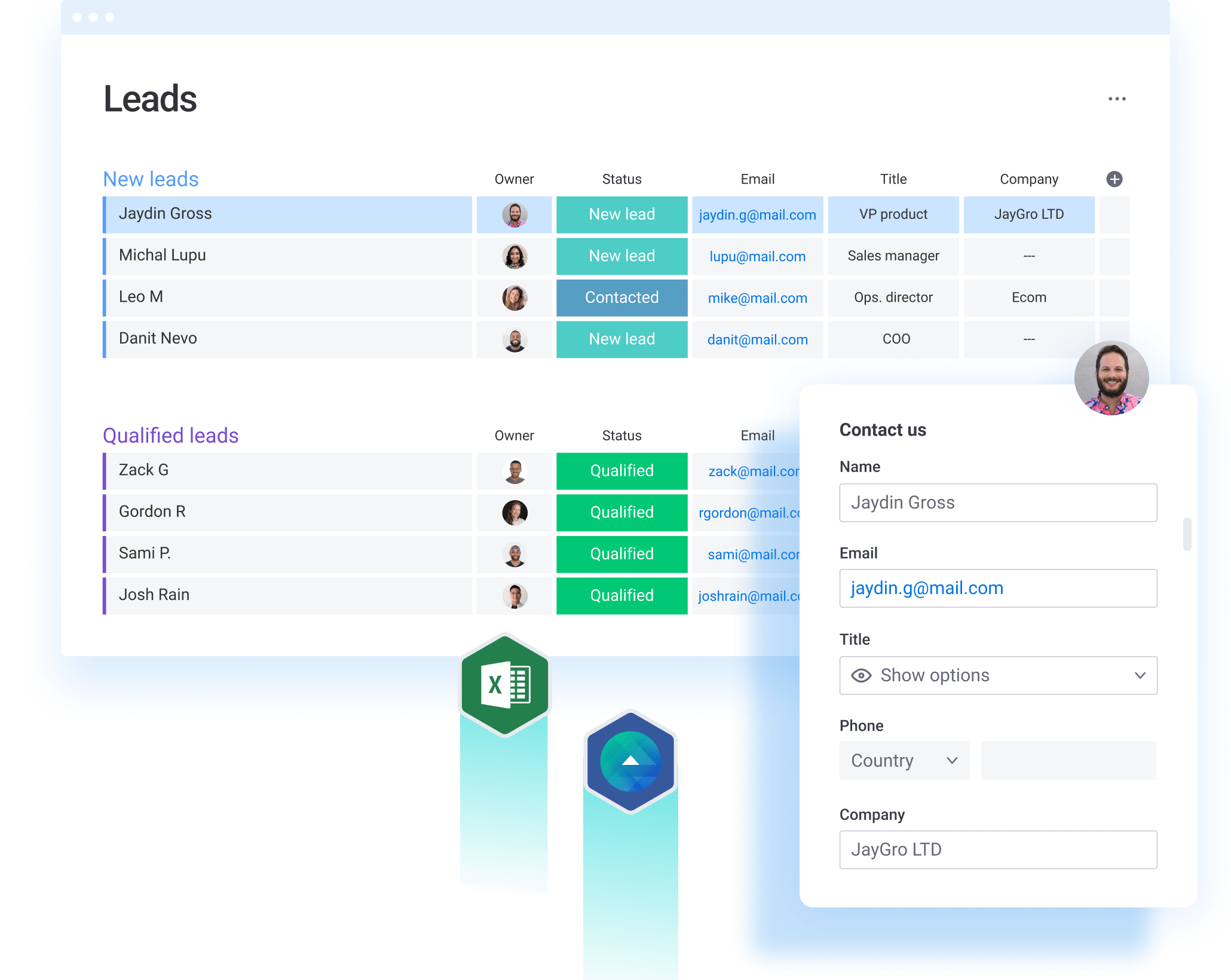 Try monday sales CRM
SugarCRM vs. Salesforce: The final verdict
When it comes to the choice of a CRM, both SugarCRM and Salesforce are good choices. If you're looking for more organized and streamlined communication for customers, go for SugarCRM. On the other hand, if you want multiple features in one place, Salesforce is the better choice.
monday sales CRM is also a viable alternative when it comes to lead and customer management.
It is intuitive, customizable, and provides unlimited time on the free plan. It helps centralize communication, increase visibility, and get more leads. Additionally, we have 200+ integrations with essential business tools like Gmail, Mailchimp, Trello, and more. With monday sales CRM, you can get a holistic view of your customer and enhance communication with multiple view modes on Kanban, Gantt, and Excel Sheets.