Test-drives and free trials offer a lot of value for customers — why not try before you buy? The same holds true for work software.
After all, a company entrusts software to be its central hub for building and managing the workflows of multiple teams and initiatives and in-context communication. For such a serious investment, you'll want to get a feel in advance if it's the right fit. 
Luckily with monday.com, our Work OS is intuitive and full of features to help you get started fast, especially during your trial period. 
To give you even more insight, we've created this special demo blog to give you a friendly and more in-depth walkthrough of monday.com's functionalities and capabilities — you'll even have a chance to see them in action.
What is a Work OS?
Let's start with a term critical to your understanding of monday.com — Work OS.
A Work Operating System (Work OS) is a cloud-based software platform where teams create custom workflow apps to plan, run, and track processes, projects, and everyday work.
With a Work OS, every team can create the apps it needs for everyday work. And when several teams in an organization use a Work OS, they can achieve even more together.
What is monday.com?
monday.com is a powerful Work OS where organizations can build the solutions they need to run any aspect of their work. Because of this flexible structure, marketing teams, IT teams, sales departments, and anyone in between can build complete solutions to manage their work — from work requests to CRM management. 
Anyone can easily customize monday.com Work OS to fit their needs using no-code/low-code building blocks like flexible automations and integrations.
Our platform constantly evolves to be the ultimate workflow solution — we even post monthly new features videos and updates to keep everyone in the loop. Before we dive into an in-depth demo, check out how your team can save time with monday.com:
In the next sections, we'll cover key terms and features — many of which you won't find in other work software out there.
What are the critical capabilities of a Work OS?
While some work software providers are starting to adopt the term Work OS, it's important that they actually meet certain criteria: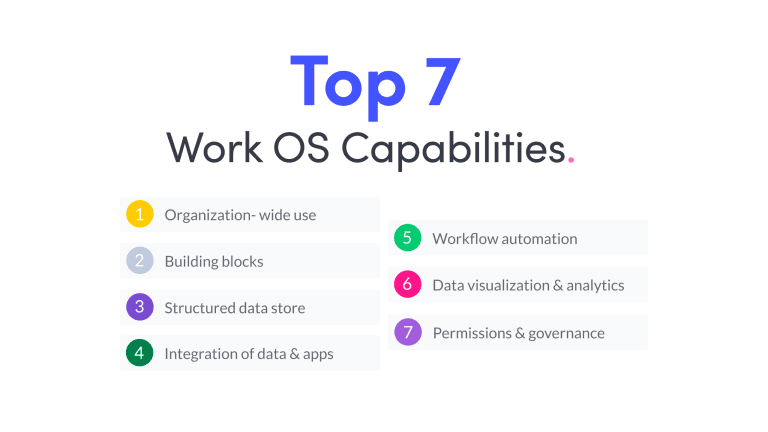 Meet your organization's workspace: monday.com Work OS
Just a few years ago, our founders set out on a mission to give our customers the power to create their own work software. To do that, we revolutionized the way people use software, giving them the same abilities once reserved for software creators and designers.
Now, over 125,000 customers later, our customers use monday.com in ways we could have never imagined. The solutions our customers have created to address their needs could never have been created by anyone else. With that mission, we are leading in a new category called Work OS.
Let's take a look at the core structure of monday.com Work OS.
Reimagine workflows with building blocks
Our platform consists of modular building blocks that are simple enough for anyone to use, yet powerful enough to drive the core functionality within any organization. With the platform's no-code/low-code capabilities, customers can adapt each building block to build software applications and tools that fit their desired use case and evolving needs. This makes the platform both easy to adopt and scale over time. The categories of building blocks include:
Items
monday.com boards are made up of groups of items. An item is an individual row (or line item) that nests inside a group. The content of an item is totally up to you and will depend on that board's objective — from a list of projects and weekly tasks to customer leads and creative marketing campaigns.
In addition to being able to customize text or height, add, edit, or delete items, monday.com is unique in that it gives you the freedom to customize items completely and call them whatever makes the most sense to you.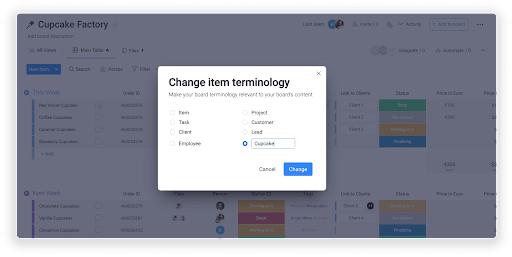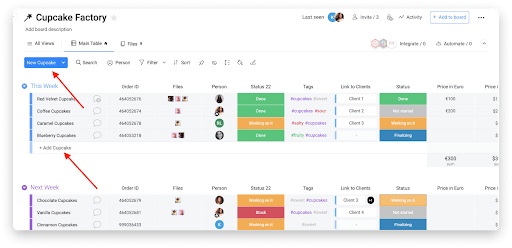 Columns 
Columns, another main building block, allow you to display and customize your data as you wish. We offer 17 column types so that you can build your board to fit your exact needs: from currency to status, tags, links, files, locations, and many more. You can even customize their names and set specific permissions per column to control who sees and edits them. To make your favourite columns easier to access, you can also pin them for a smoother scrolling experience, and easily duplicate or create column templates to use over and over again.
Better still, you can adjust each column's width and easily move them around without the constraints that you might find in other work software. For the smoothest work experience, you can easily connect your columns. For example, you could connect a Date or Timeline Column, with a Status Column, and an optional People Column to use Deadline Mode. Deadline Mode allows you to group deadlines across boards in one screen to help you stay on track.
Views
As a part of our love for all things visual, our amazing board views are here to allow you to visualize your board's information in multiple ways, allowing you to analyze and report on your board data. Here you can see some of monday.com's most popular views: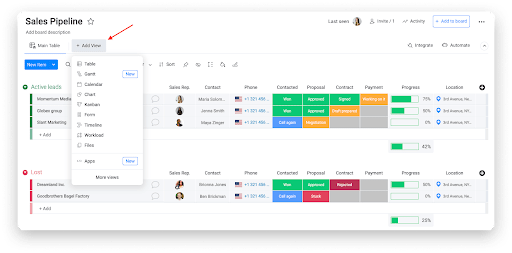 Our Views Center gives you even more options!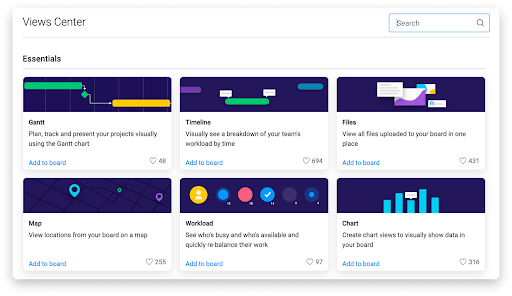 With monday.com, you can easily toggle between your Main Table view and any additional views you have added to your board. This makes it easy for teams and individuals to visualize their work the way that works best for them — we even have Dark Mode.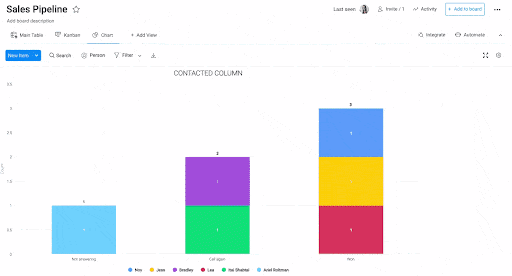 Automations
Automations are part of monday.com's bread and butter when it comes to supercharging your workflows, as they're a powerful and easy way to save time, and increase transparency. You can choose from several pre-made automations recipes, or build your own custom automations. You also won't be limited to one automation per board or workflow.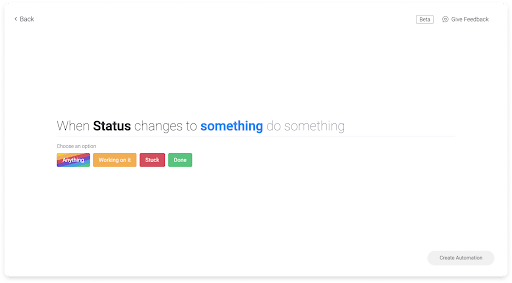 A few helpful terms to know:
Every custom automation recipe has a trigger, a condition, and an action (or multiple actions). 
A trigger is what sets an automation into motion

A condition is the specific criteria that must be met for an automation to be carried out

An action is the actual automation carried through
Let's look at an example of a recipe: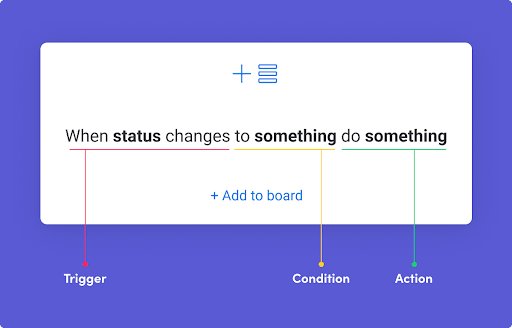 In this case, the trigger is "When a status changes". The condition is "to something" because the trigger is conditional upon what you select for "something". The action is "delete the item". Every time an item is deleted, one action is implemented. If you were to trigger this recipe three times, three items would be deleted and that would count as three actions implemented.
Integrations 
Our platform also integrates with many other systems and applications, which means you can continue to use what works for you, while creating a new connective layer for your organization that links departments and bridges information silos. 
By using predefined integration flows, you can seamlessly connect monday.com to the external platforms you're using to ensure smoother workflows that save you time and resources. Here is a sneak peek of our Integrations Center — you can read here how to implement an integration step-by-step.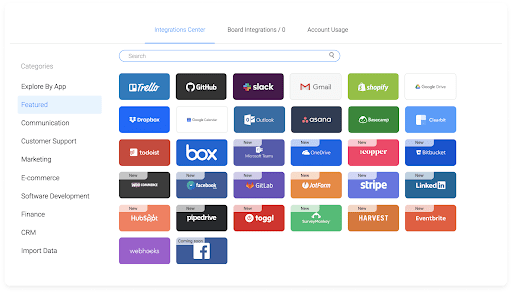 Widgets to increase visibility 
Widgets are useful components within the monday.com platform that help you easily visualize your data. Here are a few of our favorites:
Overview Widget
This widget is perfect for keeping track of projects with ease, because it gathers and summarizes the progress from selected boards into one place on your dashboard.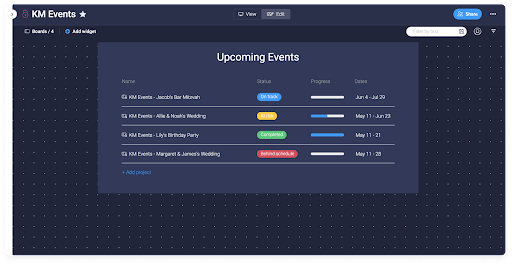 Table Widget
Let's say you have a bunch of important items or groups that you want to keep an eye on, but they're spread out across several boards. Many monday.com widgets pull out specific data from boards, but they don't show the entire item—the Table Widget lets you pull together entire items and groups from multiple boards into one widget on your dashboard. 
Board Updates Widget
This widget essentially allows you to have a live stream of updates from your favorite or top-priority boards. After selecting your boards, you will be able to see all communication on those boards on your dashboard.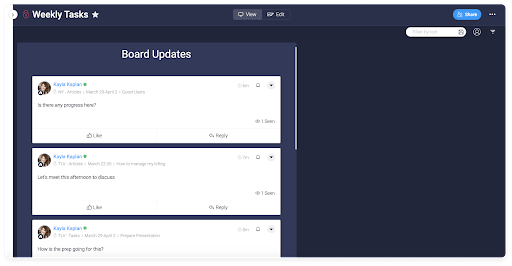 Discover new possibilities with the monday.com apps framework and marketplace
Integral to the monday Work OS, the monday apps framework is a low-code development platform for developers to create new building blocks that teams can then drag and drop to shape their own workflows.
We also have the monday apps marketplace, where you can find ready-made apps to expand the capabilities of the monday.com platform and fit the unique needs of your business's workflows, processes, and projects.
The apps marketplace contains apps developed by third-party developers as well as apps built by the monday.com team so that you can instantly tap into better ways of working with just a few clicks. With the help of apps, you can analyze and visualize your data in new ways and collaborate more effectively across your organization.
One Work OS: multiple possibilities
When most people think of work software, straightforward project management is what comes to mind. monday.com Work OS is different. With its numerous capabilities and intuitive, flexible interface it's the perfect platform to explore your creativity and truly customize the way you work, regardless of industry, team, or function.
Let's take a look at a few out-of-the-box scenarios where monday.com makes it a breeze to succeed.
HR management
HR functions can really impact all facets of an organization. With monday.com, your HR teams won't have to rely on a separate platform for your organization to succeed in:
Recruitment management:

Get a high-level overview of recruitment progress for individual positions, specific teams, and the organization at large with colorful and dynamic dashboards. Keep track of important notes, documents, and feedback all in one workspace.
Capturing job applications:

With forms, you can instantly capture job applicant information that populates your recruitment workflow. Add an automation recipe to notify the relevant team member when a new candidate is added in the pipeline.
Time tracking:

Use the Time Tracker Column to gain insights on how long successful recruitment takes from start to finish.
Performance evaluation:

Make it easy for your recruiters and HRBPs to stay on top of their own goals and performance by mapping out their goals and achievements.




Onboarding knowledge base:

Instead of starting from scratch with scattered PDFs and files across emails, use the New employee onboarding template as a baseline for detailed onboarding and training plans, tasks, and relevant materials.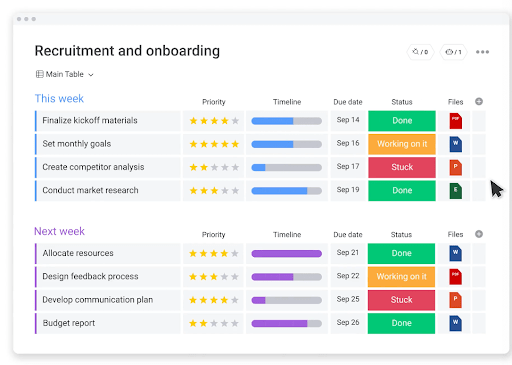 Ticket tracking
From developers to IT teams and customer support squadrons, managing incoming tickets is on the top of their list to work smoothly and efficiently—and according to priority.
monday.com makes it simple to consolidate all of the necessary information into one central work hub by using external integrations and unique native features like reporting and dashboards. 
For example, the board below includes incoming tickets that need to be addressed, as well as those that are pending and have been responded to. Each item represents a ticket which can be reported by clients or coworkers with a monday form. 
The following columns will be used to track information about each ticket:
The People Column to indicate the support agent assigned to each ticket

The Status Column to show whether the ticket has been answered or not

The Date Column to mark the date that the ticket was submitted

The Time Tracking Column to track the time it takes to answer each ticket once it's been received
You can then integrate with tools like Zendesk to pull any relevant client inquiries, feedback and questions. This information can be evaluated by the customer success teams, product teams, growth teams and more to bring about positive improvements. Automations are crucial here for notifying teammates and moving tickets through the flow.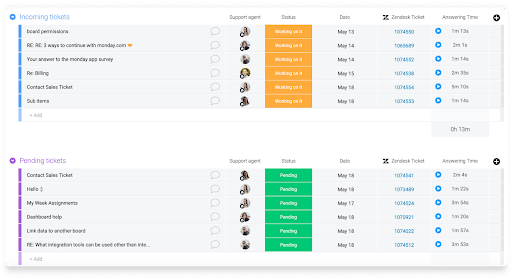 Document creation — meet monday workdocs!
monday.com is already fully geared to upload your own files from multiple sources and formats, but now you can create files directly on the platform with monday workdocs. monday workdocs empower your team to write collaboratively in real-time, using real-time work elements that keep everyone aligned and connected to your unified workspace. Here are just a few things you can do with monday workdocs — and the list is growing:
Enable hundreds of people to simultaneously work together without overwriting each other in one workdoc.

Edit your workdocs with an intuitive drag-and-drop interface.

Easily embed live

monday.com

boards, dashboards, images, videos, and more directly into your workdocs so that your content and data stay up-to-date and aligned with every workflow.

Create new boards from within workdocs so you can start building your workflow as your ideas take shape.

Add any of our 40+ widgets including Workload, Timeline, or My Work from within a workdoc to add dimension to your words.
Check out this video to learn more:
Just the beginning with monday.com
Work by nature will evolve and change with the growth and evolution of your organization, bringing with it new and diverse needs for your business. monday.com Work OS is incredibly well-suited and robust to support them, once you know your way around.
In addition to this blog, we have an incredible Knowledge Base site dedicated to helping you get the most out of monday.com, from trial to success story.