A client tracker helps teams organize customer — or client or user — data into one convenient location.
This data includes, but is not limited to contact information, business activity — calls, emails, demos, recordings, text messages, and other communication — sales funnel stage, and so on. The key is ensuring that all data live in a single "source of truth" location for easy access.
And a client tracker app (sometimes called a customer relationship management or CRM tool is used by many teams across different industries. According to the State of Sales survey report, CRM is among the top tools used by sales teams.
Let's take a look at the features you should look for in a client tracker and how you can use monday sales CRM to organize and track client data.
Try monday sales CRM
8 key features to look for in a client tracker
Client tracker apps can be used to access client information and track interactions. The best way is to use a tracker that comes with a mobile app, web-based application, and cloud-based storage. This will allow you to access customer data on multiple devices and not be tied to a desktop computer.
There are 8 key features all client tracker apps should include.
Feature #1: Easy access
When it comes to client tracker apps, being able to recall relevant data with a simple click or tap is essential. After all, a fully functioning CRM is touched by so many teams in an organization — sales, marketing, finance, customer success, and even the C-suite.
A CRM for client tracking should also be available on mobile devices, with a user-friendly interface, even on-the-go.
Cloud-based CRM systems provide your entire organization greater flexibility since all your customer information as well as the sales process and social media calendars and email marketing campaigns are accessible from any computer or device.
monday sales CRM boards empower teams to evaluate any sales pipeline or customer service strategy in real-time, in one location.
Feature #2: Automated workflows
Your client tracker should help you save time on manual to-dos in your workflow process. Tasks such as client data entry, lead qualification, and reporting can be automated.
On monday sales CRM, we call these automations "recipes" — pre-defined combinations of triggers (events you choose which sets the automation into motion) and actions (what occurs as a result of that trigger). This means you can create custom automation on your CRM.

An automated workflow for a CRM could include:
Moving prospects to new stages
Triggering follow-up emails
Moving items from one board to another
Notifying an account manager when a customer is up for renewal
Emailing a sales manager when a prospect hasn't been contacted recently
You have full freedom to create the automations that best serve your team's client tracker needs.
Feature #3: Integrations with other apps
Avoid the common silos of tracking client activities with integrations. A client tracker CRM that can be easily integrated with multiple tools that you already used can help you streamline your workflow.
monday sales CRM has many integrations and you can set them up in just a few clicks. You can seamlessly integrate all your favorite tools so that you don't have to shuffle between different tools to get client work done. Some of our favorites for client tracking include:
Copper
Pipedrive
Zendesk
Docusign
Salesforce

Here are some of the things you can do with the integrations:
Streamline customer support
Manage sales pipeline
Send documents for signature
Manage client communication
All this under one centralized place.
Whichever route you choose, be sure your client tracker app is able to integrate with the tools and solutions you use most often.
Feature #4: Customizations
Every organization is different. Every team is unique. Every project is distinct. Your CRM should be flexible and customizable to account for these differences.
Any board you create with monday sales CRM offers highly customizable views — we have 27+, including beautiful dashboards that provide real-time reporting so your team can make better decisions.
Our boards boast over 36+ drag-and-drop columns, more than 25 dashboard widgets, and workflows for any use case.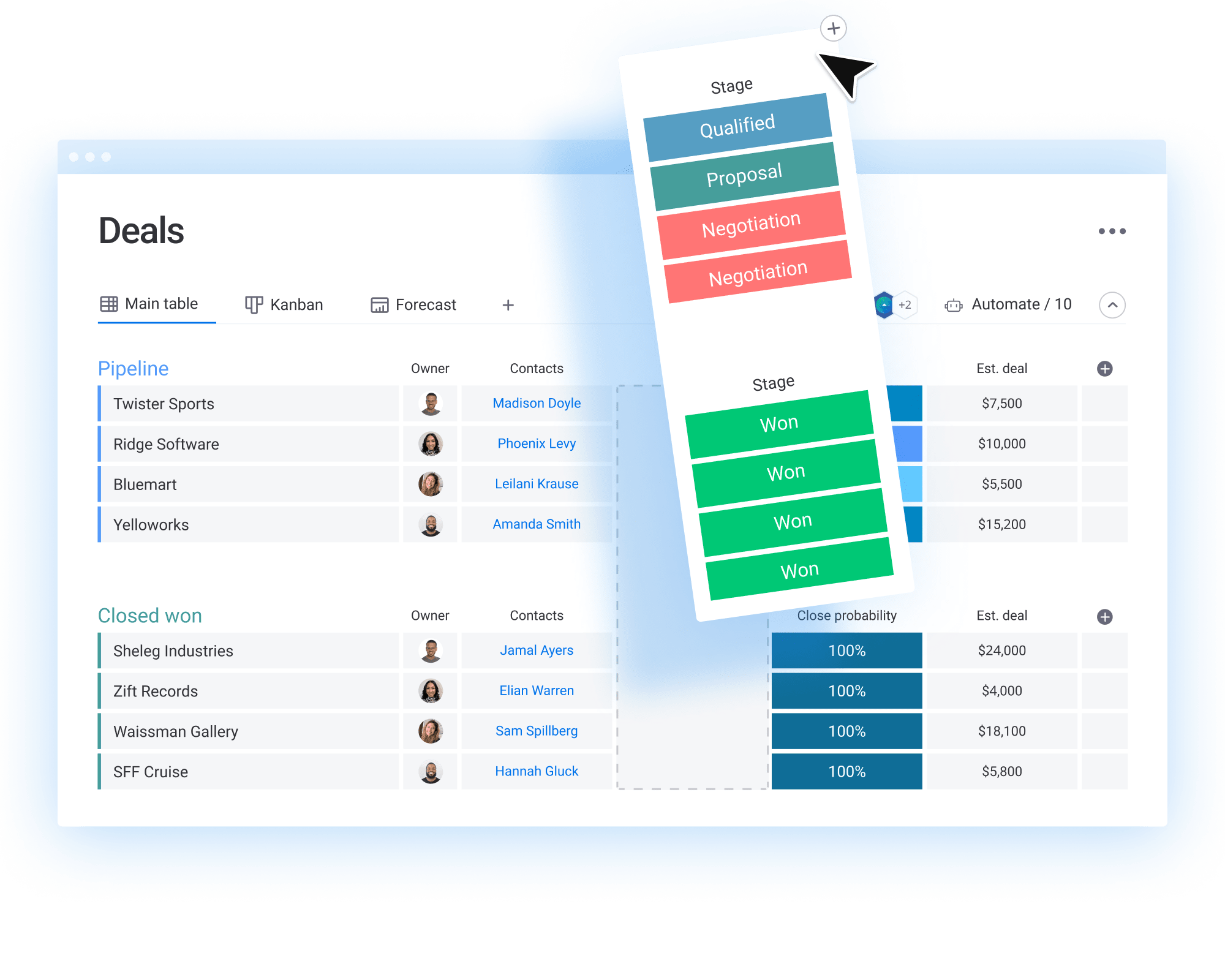 Our drag-and-drop boards are simple to set up, so you can add your action items, reorder based on your priorities and deadlines, assign teammates to new tasks and action items, and ultimately create a plan tailored to best fit your company's needs. A customizable workflow empowers everyone in the organization to see who's working on what and when.
Feature #5: Easy implementation
A worthwhile client tracker should be easy to install and easy to use in order for your teammates to get on board.
You can have your team up and running in a matter of minutes with monday sales CRM.
Our interface is visual, easy, and intuitive, you don't need training. Create your ideal workflow in minutes based on how real teams use monday.com. The easy-to-use, visual interface means that any team member can jump in and get started with zero training.
Feature #6: Solid customer support
No software is perfect and you or a member of your team is bound to have questions that need answers, fast.
You need a client tracker app that offers 24/7 support. We have you covered. In addition to our 24 hours a day, 7-days-a-week customer support, we also offer:
A huge knowledge base with hundreds of articles and tutorials on everything monday.com
Daily webinars that will show you everything from the basics of monday.com to advanced workflows
A customer support team that understands (and truly loves) our platform
monday.com blog with hundreds of articles
Feature #7: Centralization
As mentioned in the intro, any sound client tracker app serves as the "single source of truth" for all customer data that can be updated in real-time.
This means that anyone on the team can help prospects and customers by accessing data on one platform instead of it being spread across different tools and platforms. It also means increased transparency, efficiency, and productivity.
Feature #8: Email and activity tracking
Communicate efficiently with your contacts by integrating your email and then automatically log sent emails, keep track of interactions, and use personalized email templates to save you time.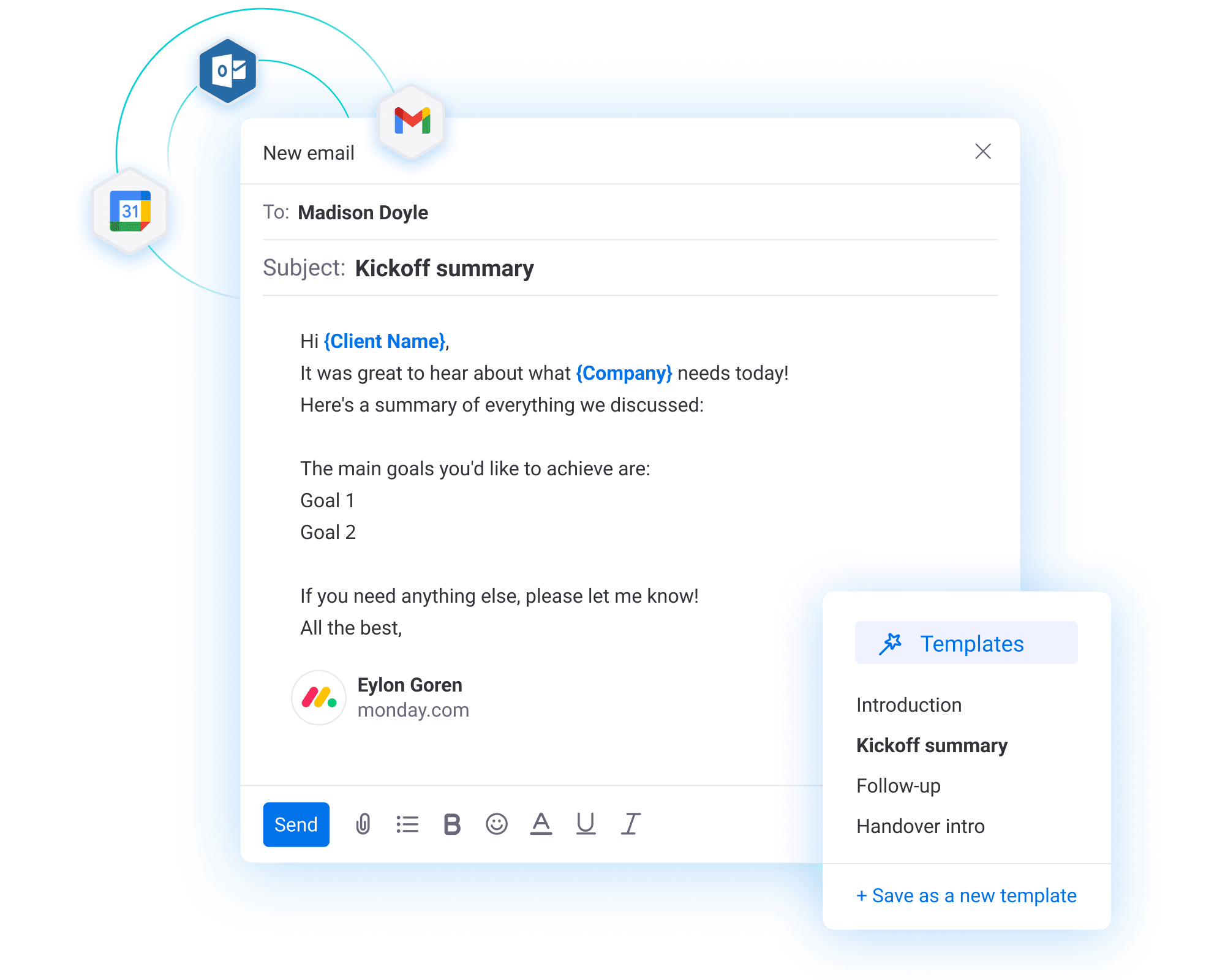 FAQs
What is a client tracker?
A client tracker app helps teams organize customer data such as contact information, activity, payments, and communication, into a centralized location.
What is the best way to keep track of clients?
A CRM (customer relationship management) tool is the best way to manage and keep track of clients online. You can view all of your client's history, integrate with other tools you use, and automate manual processes in client management.
Is there an app to keep track of clients?
There are many apps to keep track of clients. One of them is monday sales CRM, which has a mobile app, web-based application, and cloud-based storage. You can communicate with clients, track their activities, and much more.
Why monday sales CRM is your answer for client tracking
In a nutshell, your client tracker app should be able to help you organize and manage customer data, automate manual tasks, and be able to pair with your other tools.
monday sales CRM will help you store and organize client information, record client history, manage sales pipelines, and generate reports. You can also integrate it with your favorite tools and create custom automation.
We are trusted by more than 250k productive teams worldwide. So what are you waiting for? Let's get started. Try out monday sales CRM today to improve your team's productivity and impress your clients.