Work Without Limits.
That's our mantra at monday.com.
Our Work Operating System ("Work OS") helps teams easily build, run, and scale dream workflows on a single platform.
We empower teams to manage everything in one workspace and pride ourselves in the ability to get up and running quickly, to get started fast with hundreds of visual and customizable templates.
Automations. Integrations. Visualized views. All in a low/no-code environment. You name it, and we are here to help you work without limits.
In this article, we'll highlight some of the many benefits of jumping into a Work OS platform like monday.com and provide some easy ways to get started.
Let's dive in.
First, a bit more about our Work OS
A Work OS is ideal for businesses and teams who are:
Passionate about improving customer experience
Bogged down by silos that disrupt work processes and make it hard to locate critical data
Struggle with agility and meeting deadlines
A Work OS enables every team to create and connect the tools they need to run projects and processes in one place. Collaboratively, teams move fast towards the organization's goals by performing cross-functional, cross-disciplinary work that's always aligned, streamlined, and visible to everyone involved.
Boards are your friend.
A dashboard (or board, we call it) is the core of monday.com. Each board is comprised of various building blocks which create the desired structure for each team and its projects.
Boards are where groups of items are held – virtual whiteboards where projects are stored. They serve as the foundation for tracking everything from day-to-day tasks to month/year-long projects.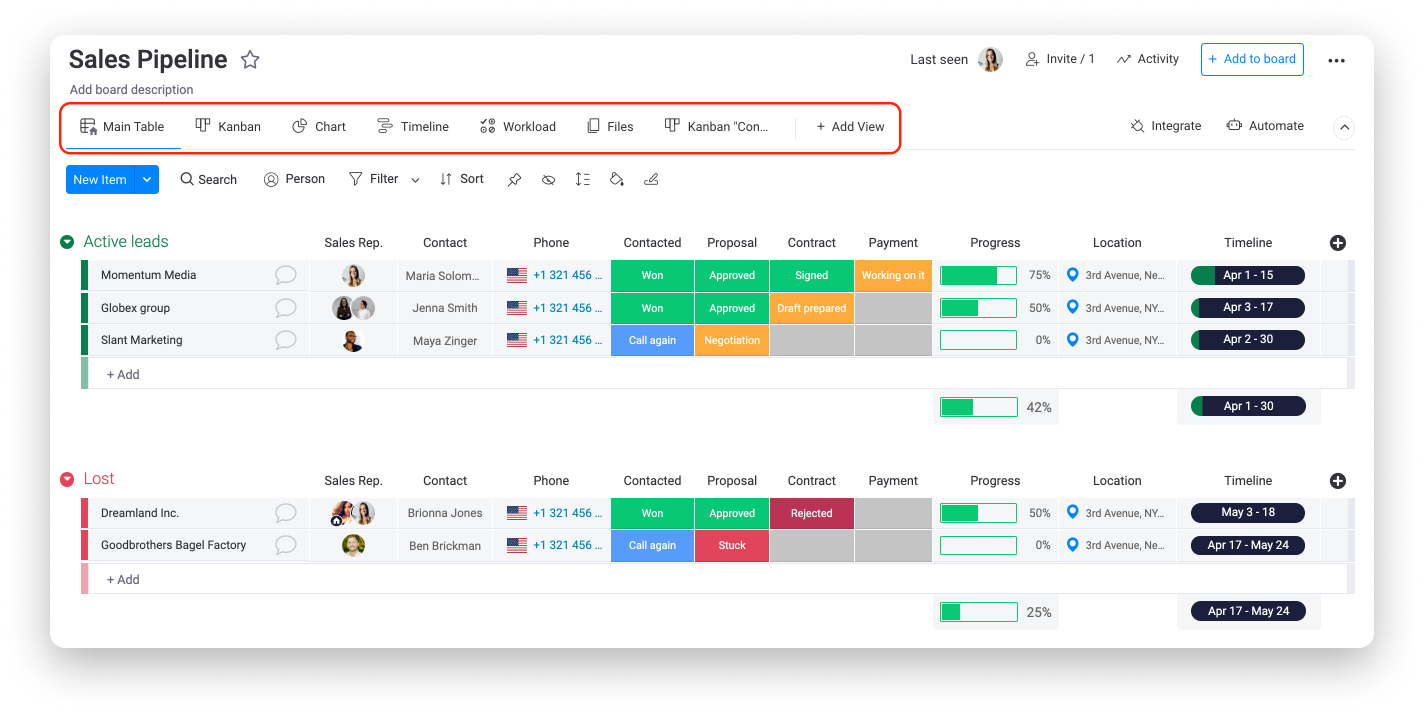 The basic makeup of a board includes groups, columns, and items – all fully customizable:
Groups help organize and segment board information
Columns make it easy to store, reflect and refer to all data
Items are individual tasks, projects, clients, products, and so on
Everything in your board is fully customizable, including the board columns, status labels, item values, and more! You will find some of the customization settings in the board settings menu on the top right corner.
Learn more about the basics of boards.
Ready to take your board to the next level? Start testing out some of our board views – visualize your board's information in multiple ways (colors, graphs, shapes, and more) to analyze and report on your board data!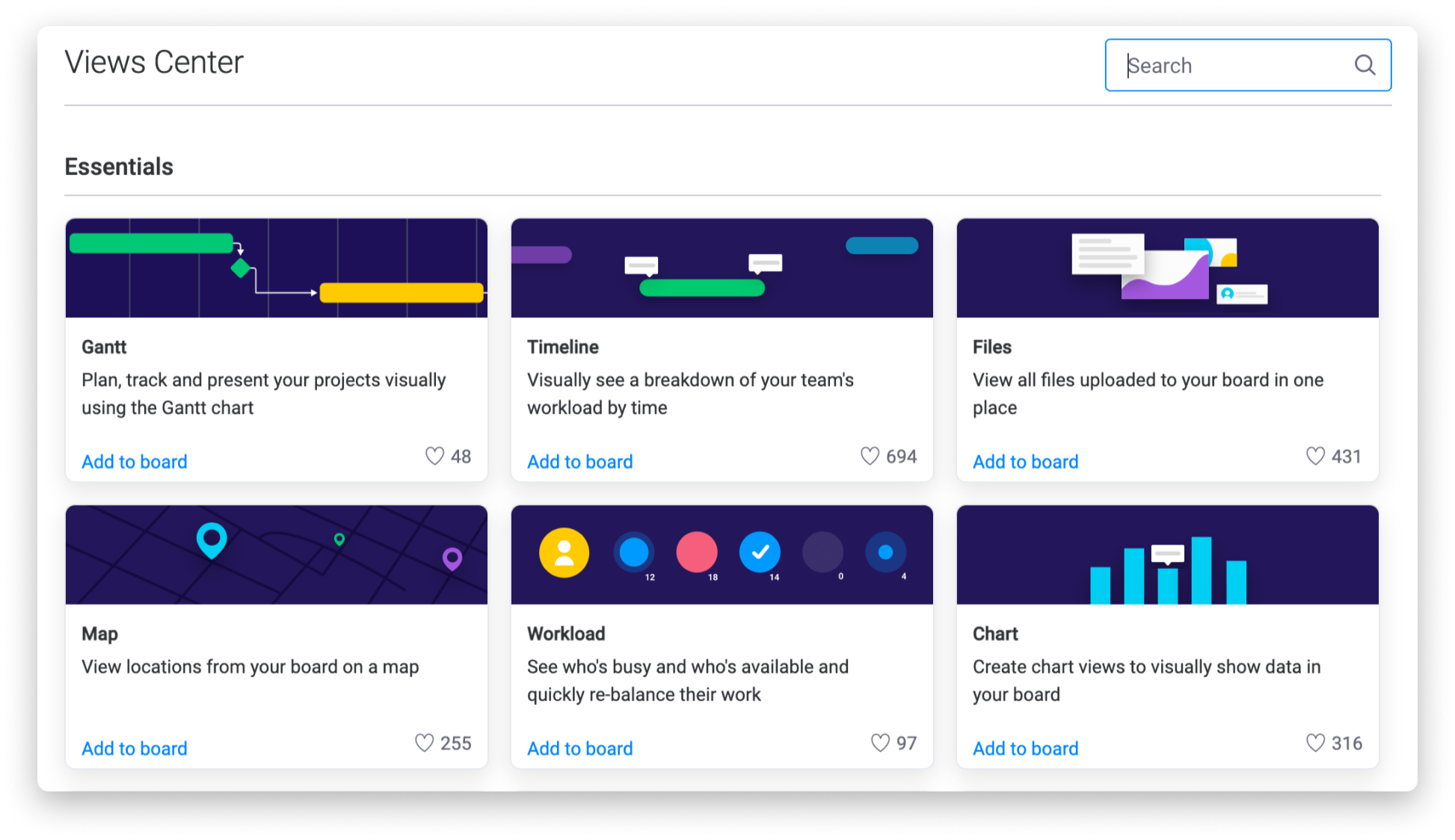 Looking for a particular view? Here are a few of our more popular ones:
Read about all of our board views here.
Get started with a template, then automate and integrate
You are more than welcome to start from scratch with a brand-spankin' new board. However, most of our customers choose from one of our 200+ templates.
These ready-made templates are fully customizable for every industry, business, and team.
Here are three of our more popular templates:
Once you've picked your template(s), it's time to save yourself some time and effort.
Enter automation.
Automation …
Frees up employees to work on things that drive revenue
Eliminates menial, repetitive tasks
Means extra productivity without the need to hire new staff
Reduces the chance of human error
monday.com automations allow you to use an event (like the changing of a status) to trigger an action (like sending a notification). Our "automation recipes" are pre-defined combinations of triggers and actions. Learn more here.
You can automate just about anything in monday.com:
Want to learn more about automation? Read this blog post.
The last step is to connect monday.com with the tools you already use … INTEGRATION!
Already use Slack? No problem. ​​Share information, updates, and files in Slack #channels directly inside monday.com (learn more). Is your team deep into Gmail? All good. Automatically convert emails into action items to track and manage inside monday.com (read how).
The best part? All monday.com integrations can be set up in just a few clicks. Use our recipes with ease. No code required!
monday workdocs – our newest product
Our latest and greatest product, monday workdocs, is the place to connect, collaborate, and execute ideas and workflows — all in one place.
Connect: Goodbye out-of-date data living in disparate locations. Workdocs bring your documents to life with real-time elements. For example, you can embed monday.com boards, dashboards, and videos directly into workdocs. Bonus: All components are automatically synced and updated as you work.
Collaborate: Live, real-time collaboration is where it's at. While not always possible (think: timezones), being able to co-edit a document on the fly, instantly share comments, and drag and drop your text … without interrupting your team members … is super-powerful.
Execute: Get (more) stuff done. Execute. Turn your words into actionable items by transforming your workdoc into actionable items that seamlessly connect to all workflows.
Workdocs is more than just document editing software. The product includes:
Board integrations: Embed any monday.com board into a workdoc. Note: You can also embed videos, images, and more.
A real-time component: Enable hundreds of people to work in the same doc at the same time
Tagging: Mention team members via tags for clear ownership and seamless edits
Live updates: As the doc is edited, ensure all team members are kept in the know with real-time comments and task updates
A visual task (check) list: This helps keep all big (and small) ideas organized
Intuitive editor: A drag and drop interface FTW!
Automatically-saved work
More of a visual/video learner? Here is a short video introducing monday workdocs:
monday.com has something for everyone
Are you on the marketing team? We've got you.
How about sales or CRM? Covered.
IT? Software development? Operations? Project management? Inventory tracking? Remote work? Check. Check. Check. Check. Check. Check.
We also have options for small and medium business or enterprise-sized customers.
Check out why 125,000+ use monday.com daily to help manage their teams and projects.