Surveys are everywhere.
From Family Feud to "Tell us how we are doing" signs in bathrooms to Room Rater, it's hard to avoid surveys.
And that's not even factoring in online survey software — SurveyMonkey, JotForm, Qualtrics Core XM, Google Surveys, Sprig, Zoho Survey, SurveySparrow, and Typeform, to name a few.
As with most things monday.com, we also can push out surveys to internal teams, customers, or prospects. Prefer to use another survey tool? No problem. We have integrations with some of the more popular survey software.
Over the next few minutes, we will discuss more how to include monday.com surveys and how to integrate with other survey tools.
How to create a monday.com survey
The most straightforward way to build a survey in monday.com is to start with a form.
To take advantage of "forms by monday," start by creating a board. From there, customize that board to your specifications — add columns, create fields, and so on. Then, a few clicks later and you have a form.
A form and a survey are pretty close to the same thing.
According to SurveySparrow, "a survey is a form that contains a variety of questions for detailed data and feedback collection. From contact details to ratings and opinions, a survey can gather all kinds of information that you desire."
Said another way, a survey is a form with questions.
​​In monday.com, you can quickly and easily turn a form into a survey by clicking on "Present as survey" from the Setting options.
Boom. Your form is now a survey … complete with a survey bar at the bottom of the page. As a user begins to fill out a form, the survey bar will fill — one that can be shared directly with a client, embedded on a landing page, or emailed out to employees within your organization.
Bonus: Each response will create a new item on your board! You can then take the results and share them in various views.
You have your monday.com survey. Now what?
Once you've created your form, turned it into a survey, and shared the survey with your audience, it's time to start collecting those responses. All new responses (aka, "submissions") will come into monday.com as new items, making it that much easier to get stuff DONE << something we are all about here at monday.com.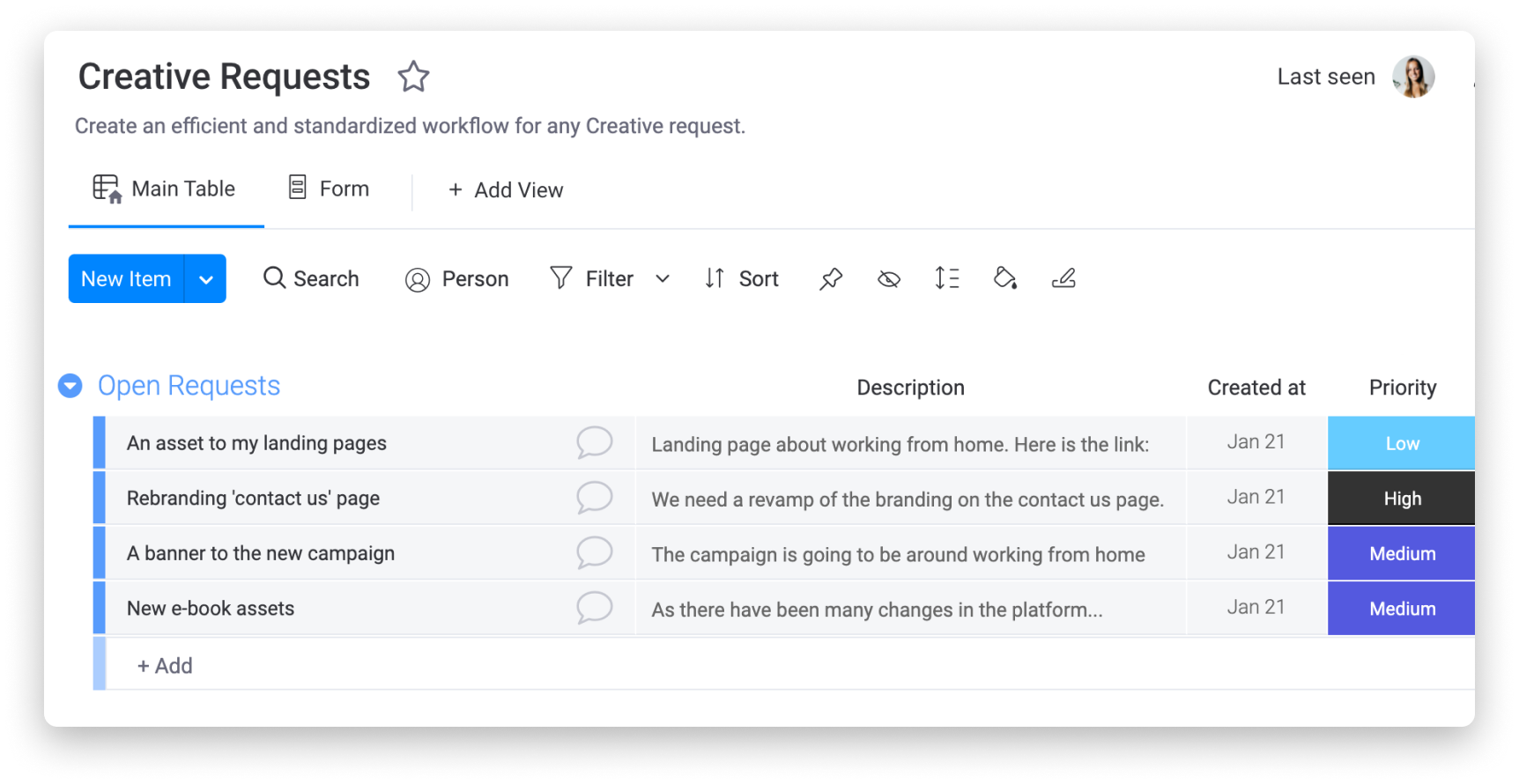 Want to personalize a few things with your survey? No problem.
Once you've created your form, you can customize the success page. Click on the form's Settings menu to edit the title and the thank you message. The default is "Thank you" and "Your answers were submitted successfully," respectively. Somewhat vanilla boring if you ask me.
You can also edit a live form or deactivate it when you are done collecting responses. More details here.
Want to see survey results as they are submitted? We've got you. Set up an automation to notify you every time a survey response is received.
Finally, you are going to want to see (and analyze) your survey results. Again, monday.com can do this!
The best way to review survey results is by (you guessed it) building a dashboard.
monday.com dashboards are a great way to see a comparison of different data sets all in one place.
Dashboards, as you know, are made up of various widgets (see step #4). The widget we recommend using to best view survey results? The Chart Widget.
While a dashboard is a great way to understand the big picture survey results, a chart is a more visual way to see the data.
For most cases, a pie chart (see image above) will suffice. However, we also have other viewing options. Read more about pie, bar, line, stacked graph (and so on) here.
Need to share, print, or export your chart survey results? Not a problem at all!
You can export your chart view as a PDF/PNG/JPEG/SVG/CSV … and then print it.
You can also share by clicking the 3 dot menu to the far right of the Chart View and selecting "share."
But wait. I have my own survey tool.
We get it. Sometimes you already have software and systems in place that you want to continue to use.
All good with integrations!
monday.com integrations empower teams to seamlessly integrate all your favorite tools in one place. In addition, all our integrations can be set up with just a few clicks using "recipes" — no code required.
The three most relevant integrations related to surveys are:
SurveyMonkey: Receive your survey, poll, and quiz results in your monday.com account to help facilitate lead management
Typeform: Easily organize Typeform submissions in one visual workspace, and add all your data in seconds to monday.com
Jotform: Better manage leads, distribute surveys, and collect payments with your customizable form via JotForm inside monday.com
SurveyMonkey Integration
SurveyMonkey is a tool to create surveys, polls, and/or quizzes to gather feedback and share & analyze the results.
The monday.com-SurveyMonkey integration includes two automation recipes:
When a survey response is submitted in SurveyMonkey, create an update in this item.
When a survey response is submitted in SurveyMonkey, create an item.
Read more about the SurveyMonkey integration.
Typeform Integration
Typeform helps you engage your audience with conversational forms & surveys with a simple way of showing and analyzing your data. Get all Typeform insights organized in monday.com by converting them into workflows.
The monday.com-Typeform integration includes two automation recipes:
When a form is submitted, create an item in this group
When a form is submitted, create an update in this item
Read more about the Typeform integration.
Jotform Integration
JotForm helps you create custom online forms and collect essential data in a simple way. Using the JotForm app, you can gather all the information from the JotForm forms on your monday.com boards to better manage leads, distribute surveys, collect payments, and much more.
This short video will explain how to set up the integration:
Read more about the Jotform integration.
Looking for an integration that is more customized to your specific needs? We have a paid option through our network of certified monday.com partners. Please fill out this form, and someone will get back to you.
Survey Says! monday.com is your answer for surveys
monday.com's Work OS is where work becomes seamless.
Quickly and easily build, run, and scale your dream workflows on one platform.
Whether it's a monday.com board with a form turned into a survey OR Jotform/SurveyMonkey/Typeform survey integrated into your monday.com account, creating and sending surveys is pretty straightforward.
Learn more by creating your monday.com account today. 14-day free trial | No credit card needed.