Ever feel like working from home might be giving you a little extra time to be productive? Well, it seems like that's the case for our R&D team because they have been coming out with some pretty workflow-altering, team-morale-boosting, all-around-life-altering updates.
Now that we've accurately set your expectations, let's see what we have:
Bidirectional linkage
Every new "link to item" column added to your board will automatically create a "link to item" column in the linked board as well
Integrations duplicate with boards
Integrations now carry over to duplicated boards
Automations support mirror columns
You can now trigger an automation from a mirrored status!
Bidirectional linkage
Let's say I'm on a board that shows all of the accounts I'm working on and I want to be able to link to the individual boards of each of my account so I can get a high-level view without missing any details. You can now link the boards and any changes made in one will automatically appear in the other!
Integrations duplicate with boards
Ever built your dream board filled with automations, integrations, and all the good stuff—you know, the kind of board that says "just do your job, I'll do the rest"— only to find out that when you duplicate it, the integrations don't carry over?
Well, those days are over. Integrations now move over to any duplicated board so you only have to build your dream board once, then you can share it with all of your friends and let them marvel in your genius.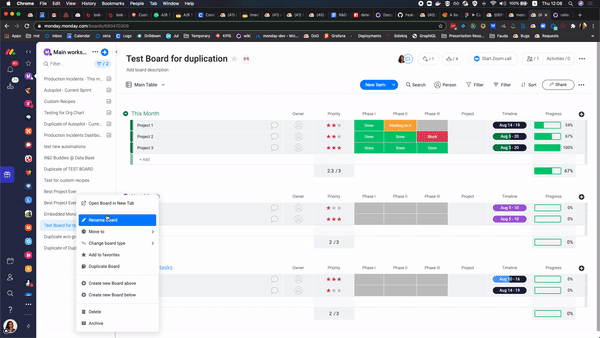 Automations support mirror columns
This is a cross-board workflow at it's finest. You can now trigger an automation from a mirrored column's status. That means you can always trust that your automations and workflows are fully up to date and moving without any extra work from you.
Getting these weekly updates is like grabbing a candy in the check-out line at the grocery store—a little something sweet to get you through the week. But if you're interested in the banana split with a cherry on top, you've got to check out the product sessions at our annual elevate conference. We're talkin' full product roadmap, Q&A with our founders, expert sessions, and more. Go ahead, sign up, you deserve it.