I just typed "integrations" into Google search.
0.63 seconds and 10,000,000,000 (that's 10 BILLION) search results later …
Suffice to say, there is no shortage of content online when it comes to integrations.
According to the Gartner Glossary, a quick definition: Integration is the process of enabling independently designed applications to work together.
Said another way, integrations combine (or connect) software "parts" into one system to form an "integrated system."
At monday.com, we think of integrations as a means to connect our Work OS with the tools you already use to have all your team's work in one place.
While we'd like to think monday.com is the "one and only" software you will ever need in your company, well … that's just not reality.
While it's true our Work OS is the visual platform that manages everything, your organization still has a technology stack that you rely on daily to do your job effectively.
This article will break down some of the most popular monday.com integrations, including Salesforce and Jira, and discuss how integrations make cross-team collaboration come to life.
A quick overview of monday.com integrations
First off, the best place to see all monday.com integrations is on our integrations page (of course!)
The Integrations page is laid out with our most popular (aka "team favorites") at the top. These include:
Outlook
MS Teams
Dropbox
Slack
Zoom
Google Calendar
Google Drive
Excel
Gmail
LinkedIn
OneDrive
Zapier
Adobe Creative Cloud (new!)
From there, we break down our integrations by category:
CRM: Centralize your entire sales pipeline
Marketing: All your marketing needs in one place
Software development: Integrate your existing software development tools
Project management: Align all your project management tools
With over 40 integrations (and growing), you'll be sure to find something that works for you and your team. Have a look around.
Some examples of monday.com integrations in action
The various ways to integrate your favorite apps into monday.com are pretty much endless.
Our integrations allow your team to seamlessly connect monday.com to external platforms by using predefined integration flows we've created for you to choose from.
Note: If you are not finding the preset workflow that works for you, we also have an option for paid assistance through our network of certified monday.com partners to get help building custom integrations.
In this video, we provide a few specific examples:
Let's break down one of the (many) examples: Feature Requests.
Feature requests come into an organization from all angles – customers, marketing, sales, product, and so on. The challenge is ensuring all such requests are seen by the right folks – the people and teams who can implement the change!
This is where integrations flows can be immensely helpful.
Let's look at Gmail + Typeform + Slack.
Gmail: With the Gmail integration, you can connect your inbox with your monday.com account and transform emails into action items, automatically align everyone on your team, and stay seamlessly connected.
Note: We also have an Outlook integration.
Example: When an email is received, create an item in group. You can get more detailed by choosing only emails with "feature request" in the subject line. From there, you can create a new item on a board called … Feature Requests.
Magic.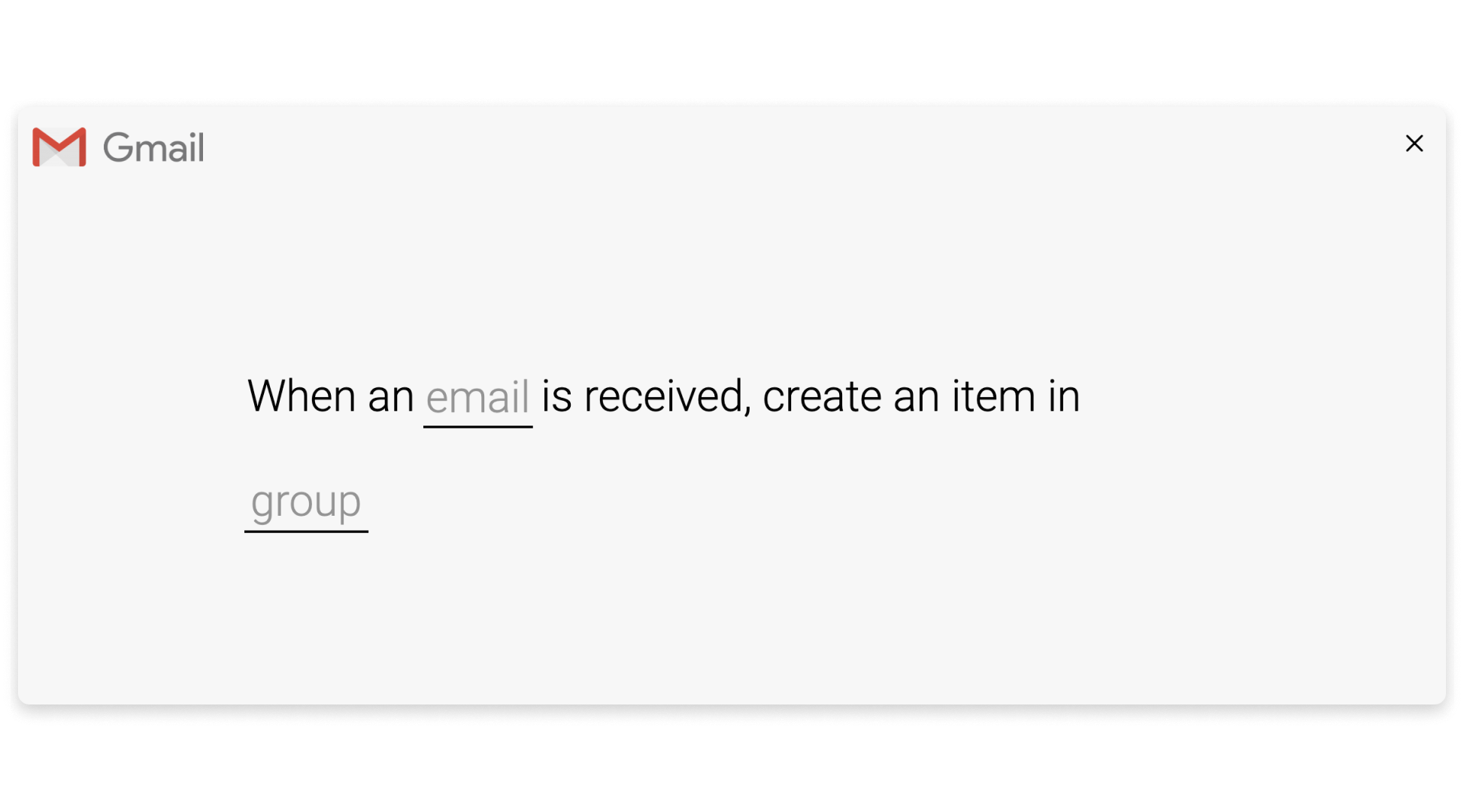 Typeform: With the Typeform integration, you can get all of your insights (and form replies) organized in your monday.com account by converting them into workflows to better manage leads, orders, projects, and more.
So let's say you have a Typeform form on your website that collects new feature requests. When this specific form is submitted, you can use the integration recipe to create a new item on your Feature Requests board.
Simple.
Slack: With the Slack integration, you can instantly turn updates into messages in Slack so everyone will have the most up-to-date information and be able to work from both platforms and stay synchronized!
No matter where new feature requests come in from – email (Gmail/Outlook) or forms (Typeform), you can use one of our Slack connections to push that update into a specific Slack channel.
#EasyButton
Two more monday.com integrations that are quite popular
Both the Salesforce and Jira integrations are used relatively often by our customers.
The Salesforce integration helps streamline the customer relationship management process by incorporating valuable lead information into monday.com.
Here is a short video explaining how it's done:
When it comes to Jira, we have the Jira Cloud integration – a way to manage tasks, issues, and bugs – and the Jira Server & Data Center integration.
With both the Jira and Salesforce integrations, you can create a two-way sync – essential for ensuring data integrity.
How integrations help with cross-functional collaboration
Cross-functional collaboration is here to stay.
In fact, Deloitte has found that 31% of businesses do most or almost all of their work in a team.
Thanks to the global pandemic forcing more and more teams to work remotely, we can expect that percentage to continue to rise.
Integrations help teams work across various functions by tying together all teams.
1. Keeps everyone organized: Organization is essential in any company, on all teams. Work management software + integrations make it a whole lot easier for everyone involved.
2. Promotes communication: Integrating all of your software platforms means that everyone is "in the know," on the same page, at all times. Automating email communications, board updates, and Slack/MS teams updates is essential to sound communication.
3. Mitigates the silo effect: When teams operate in silos – unclear what other teams are working on – issues arise. Integrations help break down these walls and force everyone to have full visibility into all projects and updates. Again, full transparency is the key!
monday.com integrations are your answer
As we've detailed above, integrations are your answer to a better, more seamless workflow.
Get more done.
Collaborate across various teams.
Save time, effort (and money).
Try monday.com for your team. 14-day free trial. No credit card is needed.