Try this weekly work schedule template
Inspire efficiency and organization in an often overlooked place— your employees' work schedules. Create and enrich their weekly schedule with clarity and details that managers and teammates can access in real-time, any day of the week with this weekly work schedule template.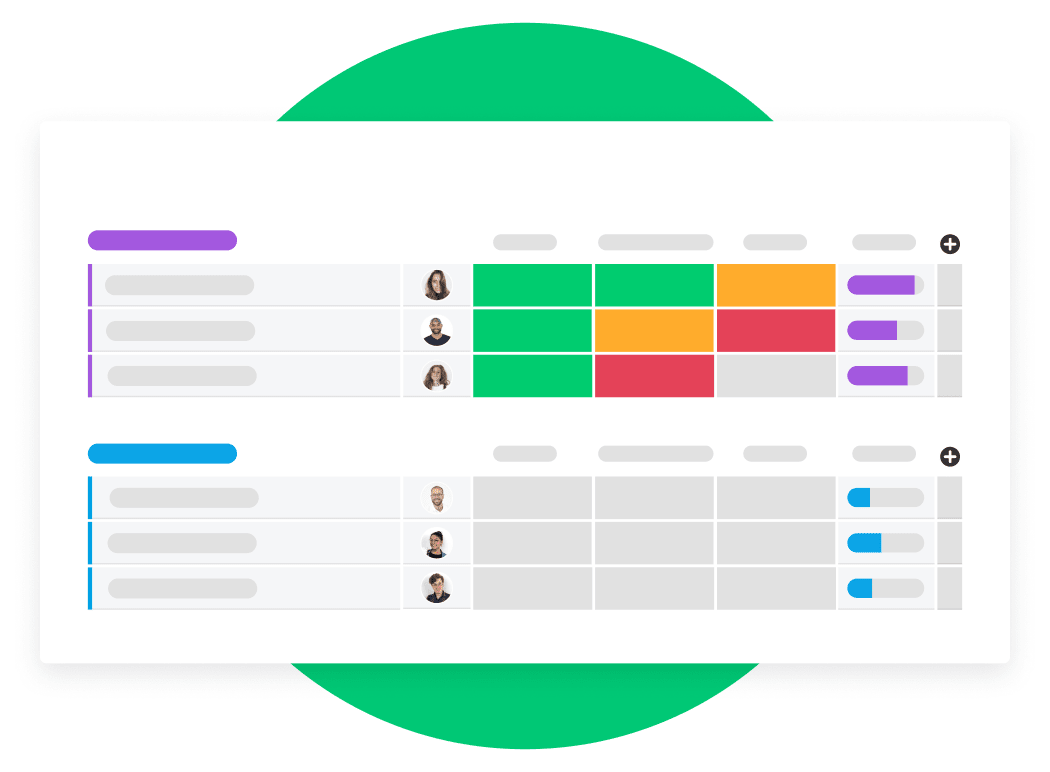 How do I create a work schedule template?
Start with Work OS like monday.com to build any work schedule templates to save time. The an all-in-one, cloud-based platform is geared for organizations of all sizes and across all functions. It provides the flexibility to build and adapt to any workflow, project, or process with automation recipes, time tracking, and more.

Once you've entered all of your data into the template, we recommend you map out your process for timely and consistent distribution— you can even set up automations to notify individuals or the whole team when a new schedule is ready.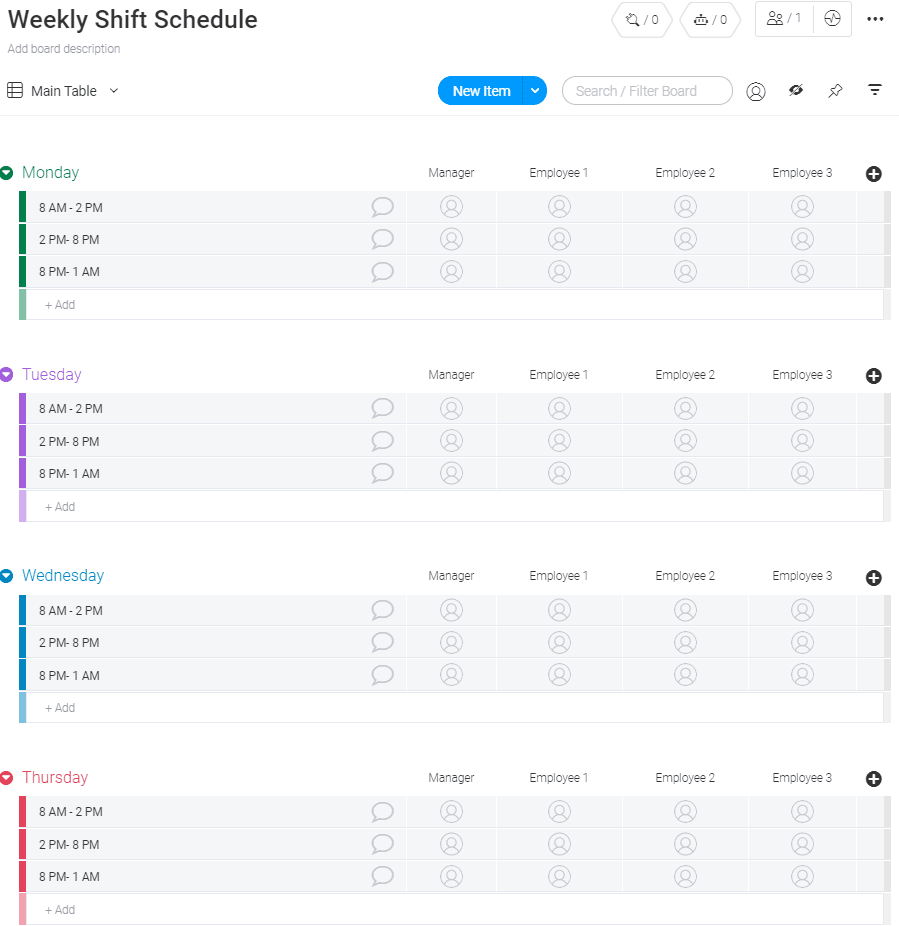 Our top tips for benefiting from work schedule templates:
1) Know your team
2) Use a consistent communication method
3) Distribute schedules quickly
4) Try to honor schedule preferences and requests
5) Let employees find someone to cover their work hours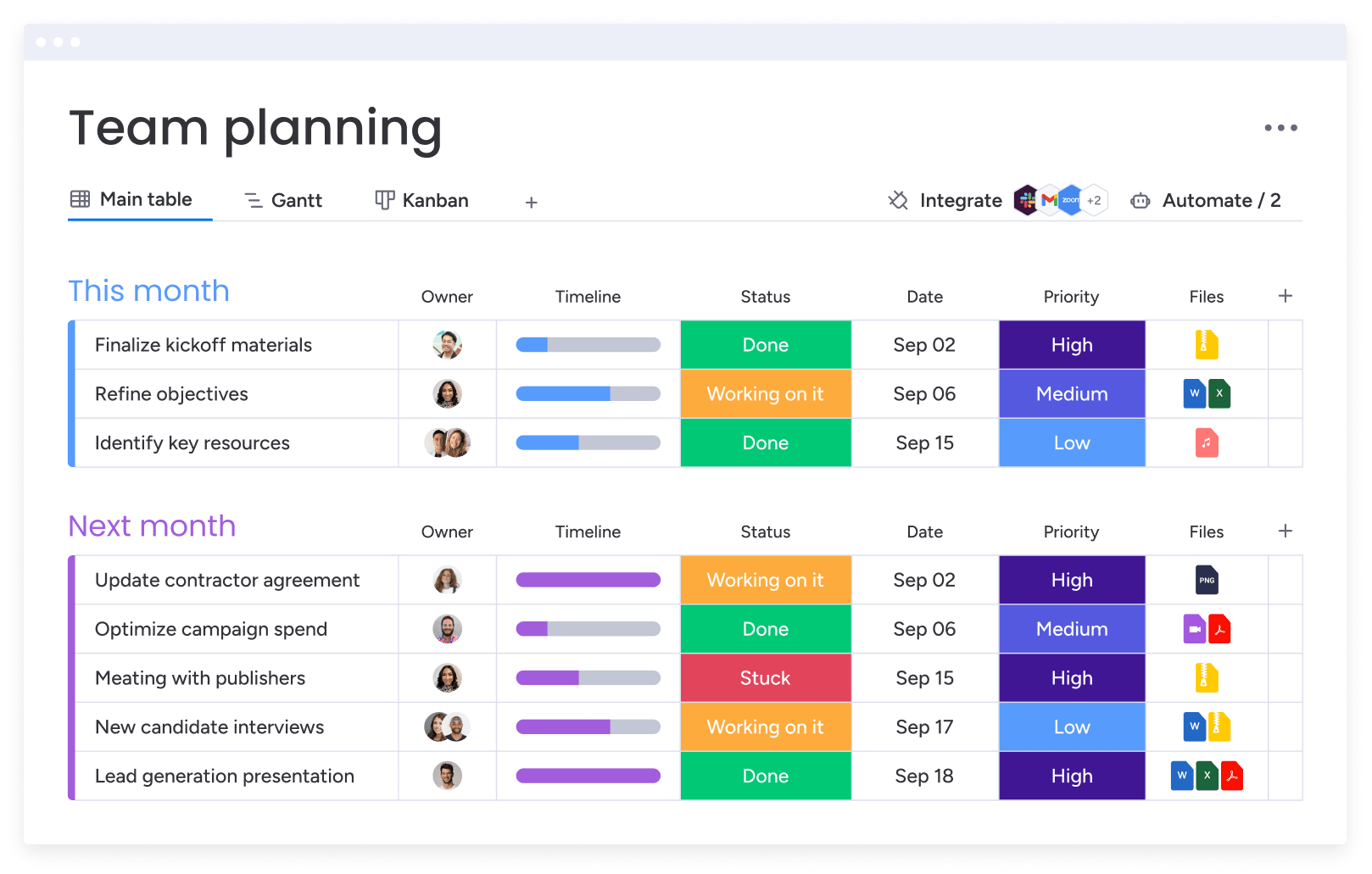 At last, a simple to use, easy-to-understand, sharable weekly shift schedule
Ensure you have staff and manager coverage for any amount of time—where and when you need it. The weekly shift schedule template allows you to get your scheduling up and running without wasting time trying to create a schedule from scratch or struggling with the limited capabilities of other free work schedule templates out there.
What are the benefits of using this template?
Seamless Excel export and import:

Export this template to Excel with just one click. Already have the schedule in Excel? Import it easily to transform it into a beautiful board in just a few steps.

Custom viewing permissions:

Invite your staff to view the board with "read-only" privileges so everyone has 24/7 access without the worry that staff may make alterations without your knowledge.

East search function:

Instantly track down work schedules and time completed by specific employees by searching their name to see relevant information. We even have a work breakdown structure feature. Smart filters and saveable views let managers and individuals see exactly what they want without disturbing others.

Customizable labels:

Use custom statuses to get the most detailed version of this template. Take your customization further by adding columns that you can rename to best suit your industry and team structure. Create as many groups as you want to break down the schedule by time period or activities.
Use our weekly work schedule template now!