Weekly shift work schedule template
Bring order to your employees' work schedules and get a clear and real-time view any day of the week with this weekly work schedule template.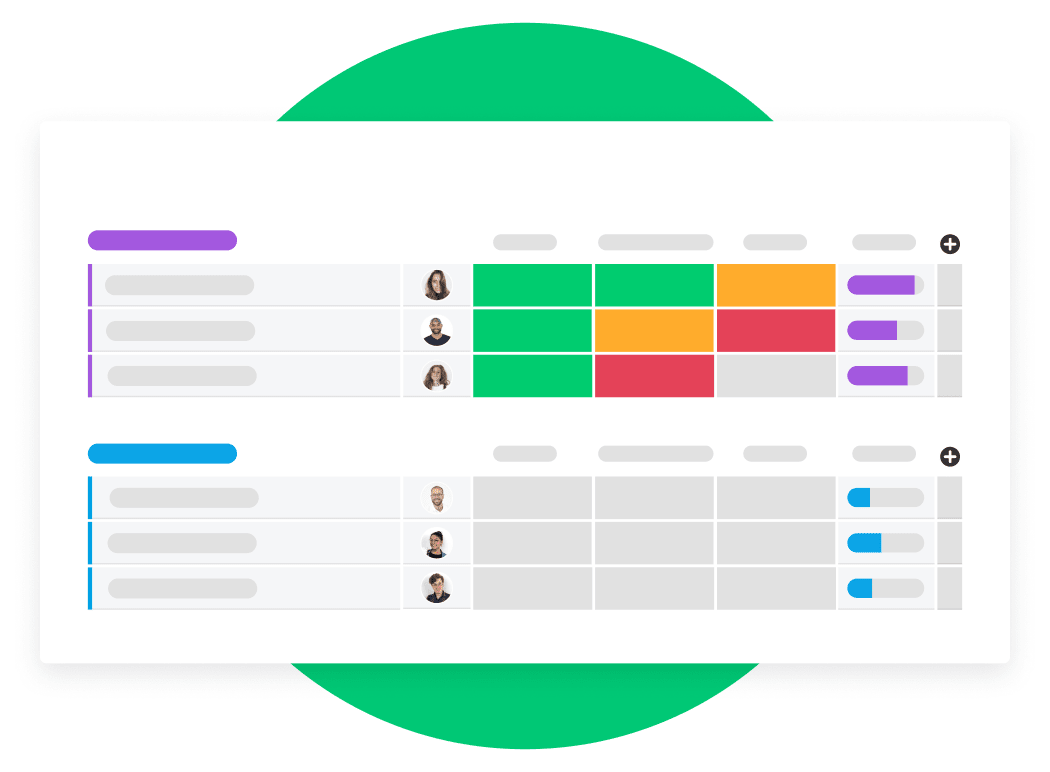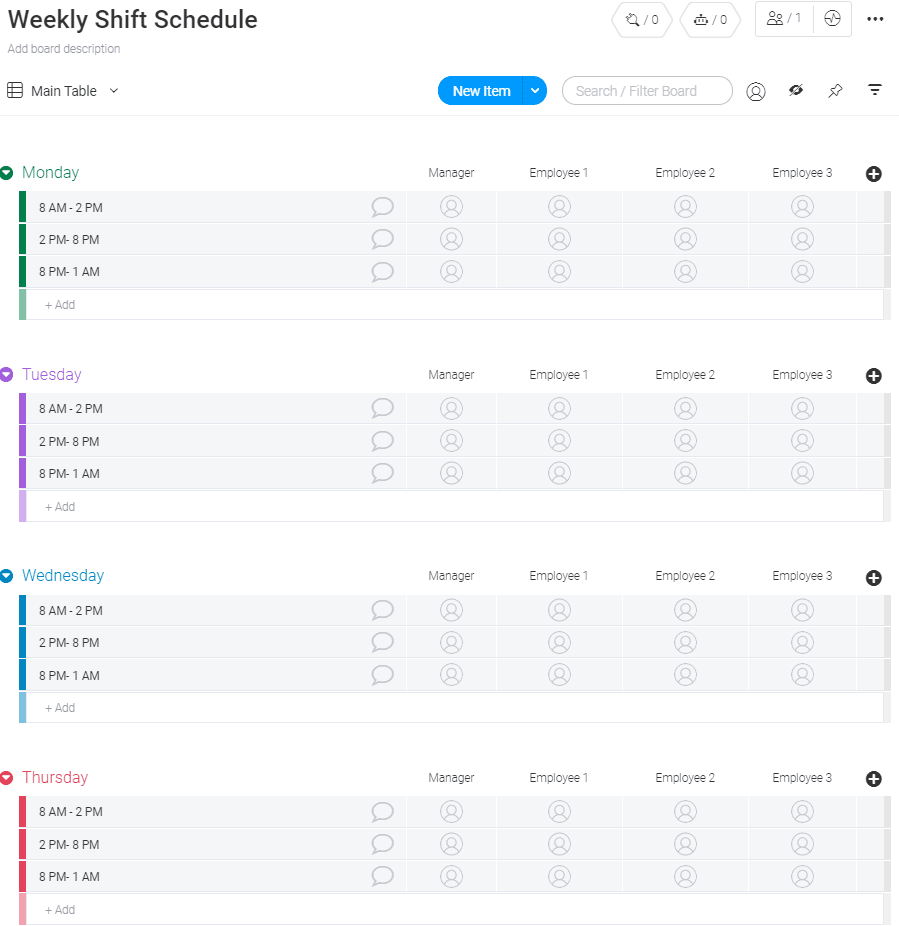 For smooth scheduling
How do I create a work schedule?
Using a
Work OS like monday.com
is a great way to build any work schedule. The capabilities of monday.com make it easy because its an all-on-one, cloud-based platform geared for
organizations of all sizes and across all functions
of the organization.
It provides the flexibility to build and adapt to any workflow, project or process with automation recipes, timeline views and more. Here are a few other things we recommend you start with, too:
1) Know your team
2) Build work schedules around your top employees
3) Use a consistent communication method
4) Distribute schedules quickly
5) Try to honor schedule preferences and requests
6) Let employees find someone to cover their shifts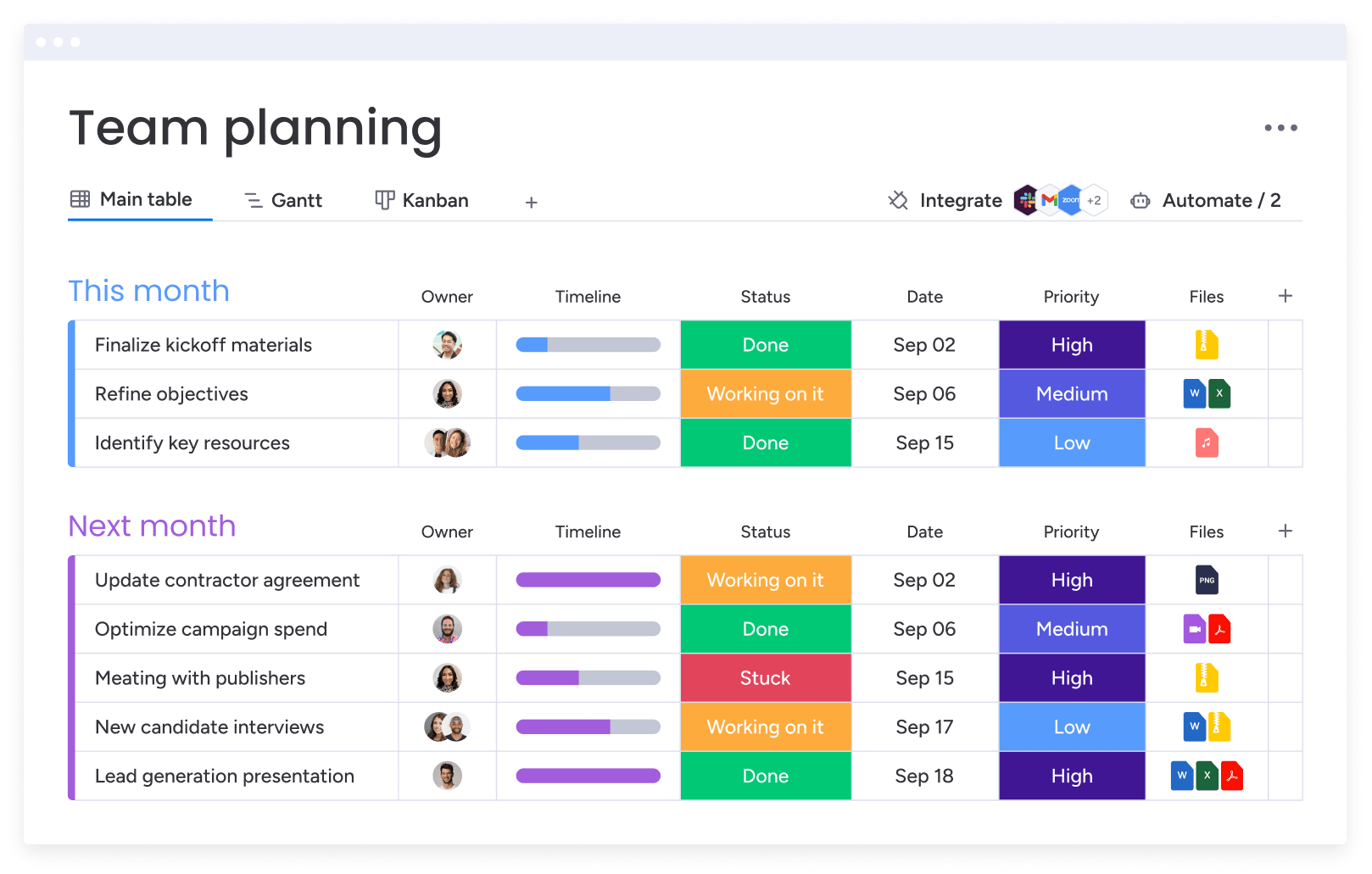 At last, a simple to use, easy to understand, sharable weekly shift schedule that ensures you have staff and manager coverage for any amount of time—where and when you need it.
The weekly shift schedule template has been created to get your scheduling up and running without the need to spend time trying to create a schedule from scratch or struggle with the limited capabilities of other free templates out there.
Set out as a Monday to Friday schedule, the template can be easily adjusted to cover your working week no matter how many days it covers or on what days it begins and ends. Time periods can be added, taken away, or adjusted to suit your operational needs, and you can add as many employee columns as you need.
What are the benefits of using this template?
Excel export and import:

Export this template to Excel with just one click. When you're ready to improve your excel schedule template, you can import it easily and turn it into a beautiful board in just a few steps.

Viewing permissions:

By inviting your staff to view the board with "read-only" privileges, you give everyone access to the schedule 24/7 without the worry that staff may make alterations without your knowledge.

Searchable:

Want to see which shifts a specific employee has been allocated? A simple search of the employee's name will give you all of the information you need.

Have to find out quickly who was on duty during a specific time period? Easy. Either search all of the data or filter out everything except your desired time and date.

Customize labels:

Change the "employee #" labels to reflect the roles you need to be filled. This makes it easy to see, at a glance, that you have every staff position covered. You can also set the time periods on each day to reflect your particular needs and then see which roles are filled at which times.
Use our weekly shift work schedule template now!
(and many other visual and intuitive templates)