The ultimate product roadmap template
Plan and execute your product vision visually and easily to reach new heights with your product goals.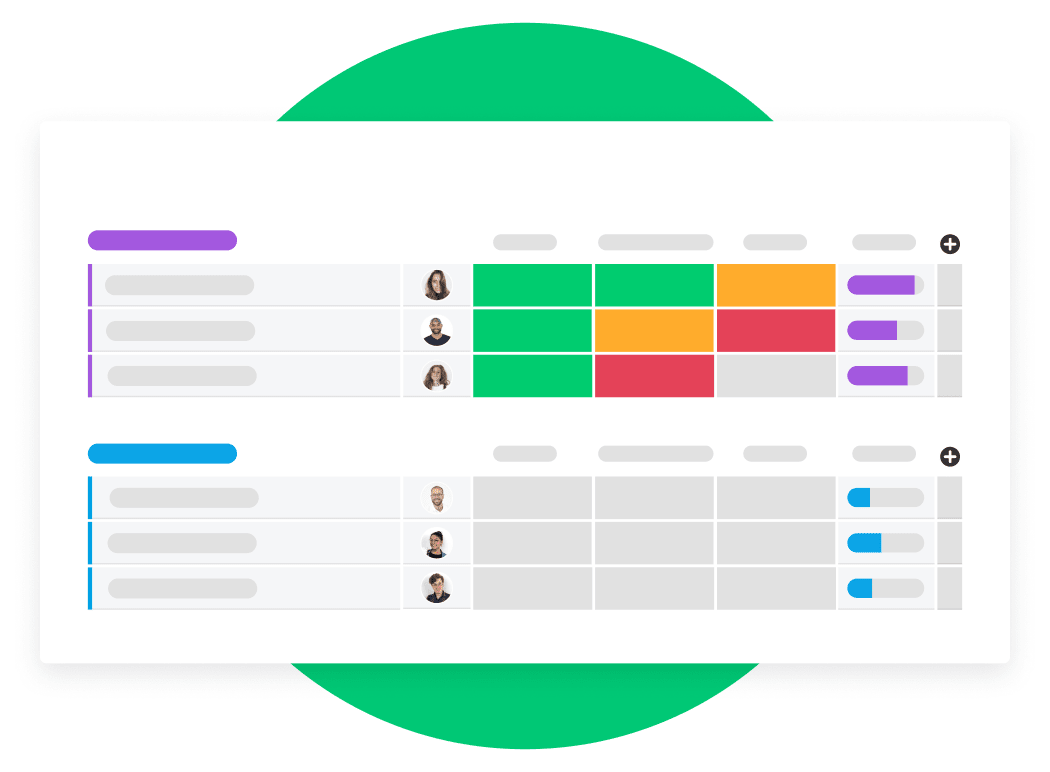 What is a product roadmap?
A product roadmap is a shared, singular source of truth that maps out the vision, direction, priorities, and progress of a product's development over time. It's your plan of action that aligns the organization around goals in the short- and long-term for the product or project, who is owning certain aspects of it, and how they will be achieved.
Whether you want to use a Gantt chart view to see a high-level overview of your project plan's time frame or you want to keep product managers' schedules in sync with the company marketing plan- you can use our templates as a base.
You can then use these roadmaps to communicate the big picture with external stakeholders.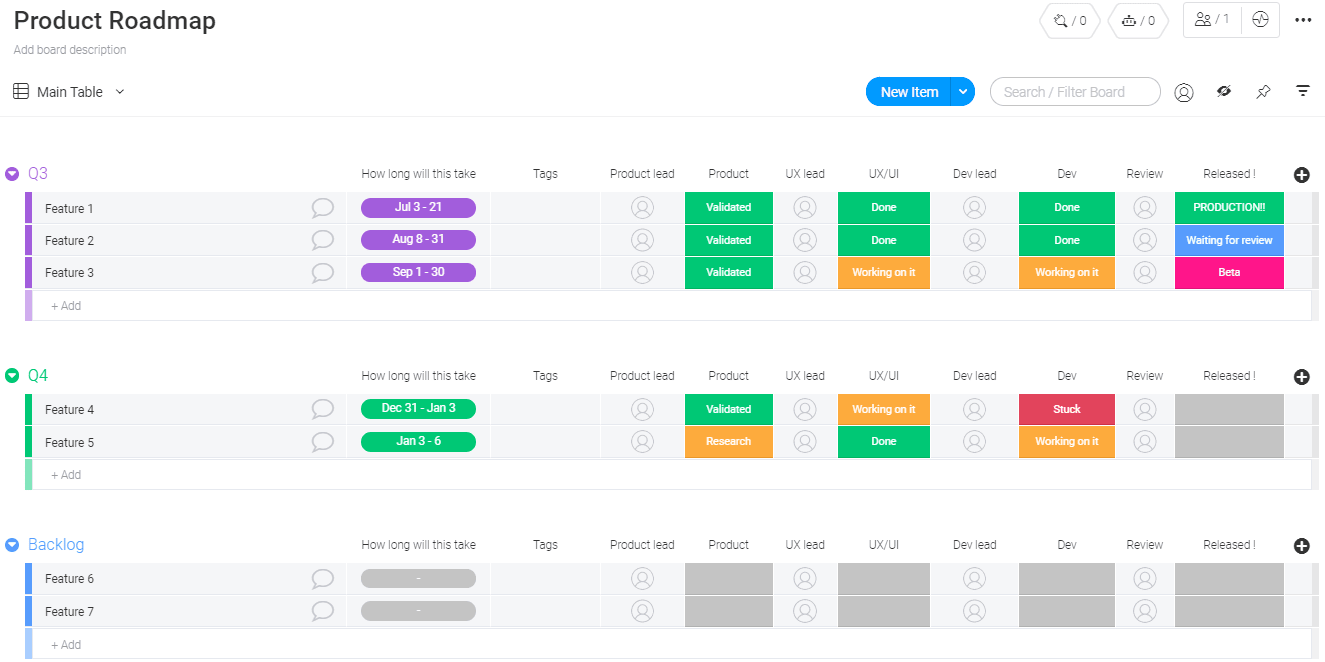 Finally, you can say goodbye to product roadmap chaos and say hello to the kind of streamlined, fluid, product planning you've always dreamed of. Suitable for both short-term and long-term needs, this agile roadmap template brings together all of the targets, tasks, people, and timelines for multiple products all in one accessible place.
Reduce endless meetings, email updates, and messages. Instead, use the product roadmap template and create a resource to let you, and others involved in the process, know exactly where your business goals stand at a glance.
With the ability to plan over several quarters at once, as well as record any backlog items on the same template, you'll never have to cross-reference or swap information between several documents again.
What does a good product roadmap look like?
Most roadmaps fail to include the "why" behind what a product team is building and only focuses on features. Because of this, they are disconnected from the product strategy and lack clear goals. Excellent roadmaps should be a product themselves of collaboration and include the input of many teammates and stakeholders.
Here are just a few essential pieces of a great product roadmap:
Timelines Features/vision: what you want your product to become in the future
Goals: time-bound objectives that can be measured by a specific metric
Strategy: an execution plan detailing what will be done to meet the vision.
With monday.com, you can build them all easily in one colorful, drag and drop platform. There are even different views like Kanban boards and templates for sprint planning.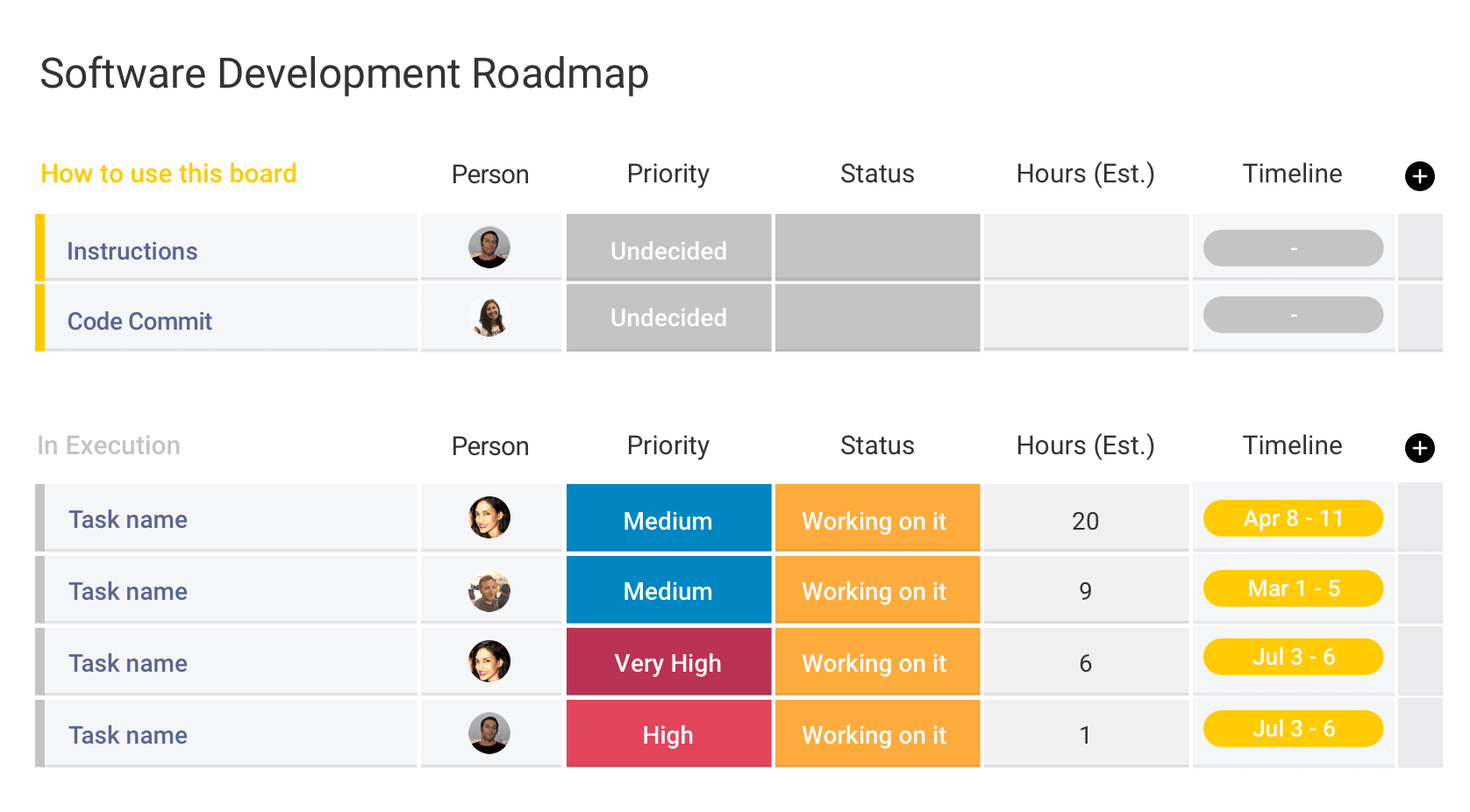 Use our product roadmap template now
(and many other visual and intuitive templates)