Construction project schedule
Create your plan with Construction Schedule Templates
Easily manage your construction project timelines with monday.com templates. While there are several different ways to create a timeline, like using a free excel construction template, monday.com construction boards offer an excellent solution!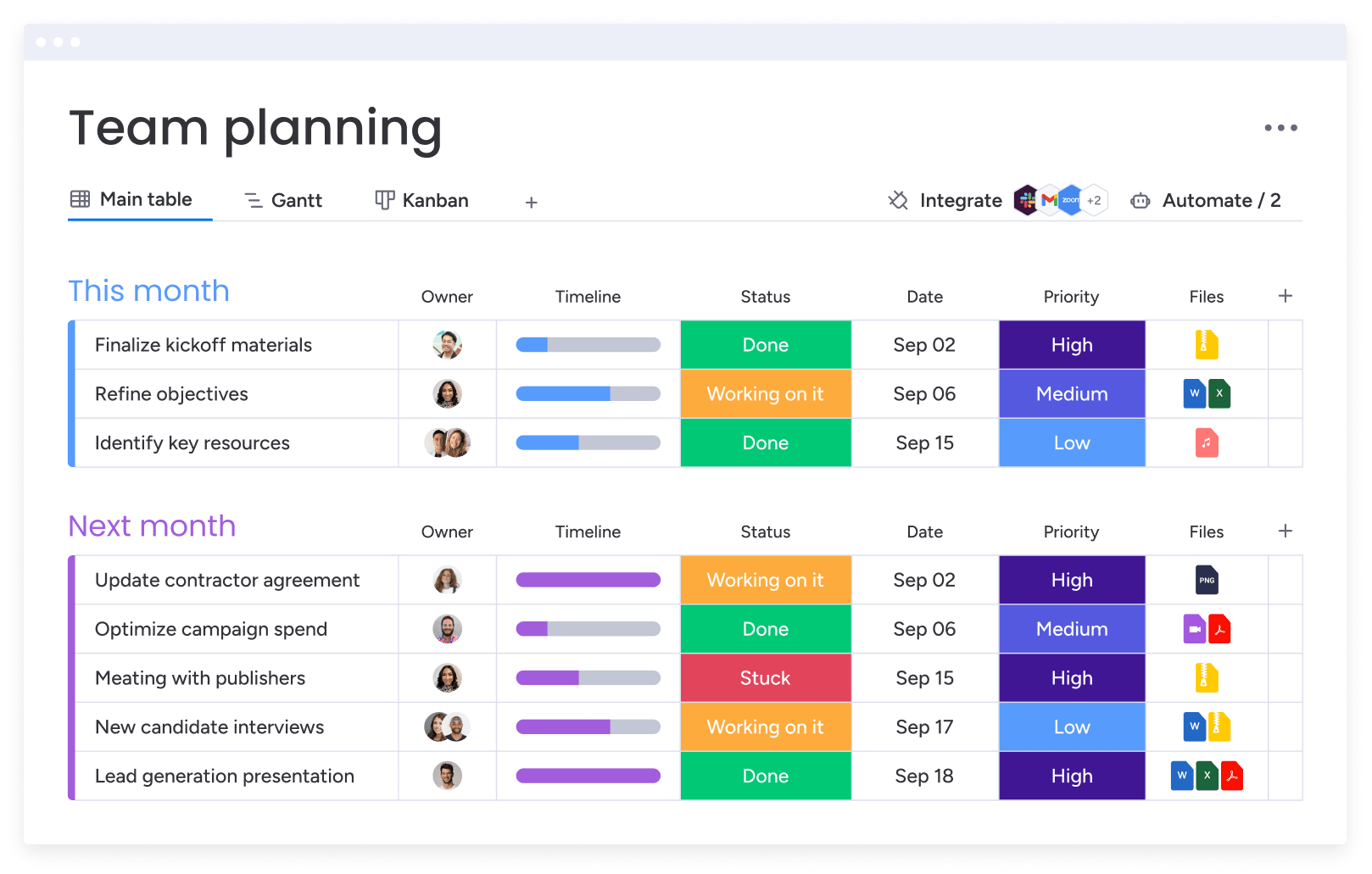 Robust construction schedule templates
If you're a seasoned construction project manager, you probably know that, no matter how flexible your approach, it's unwise to jump straight into a project without first creating a written plan. And it takes more than just a completion date to create a construction schedule that flows and gives all the key players key information.
Think of this page as your first introduction to sample construction schedules. You can use monday.com to create:
General contractor construction schedule templates
Construction project schedule templates
Construction timeline templates
And more
When it comes to construction schedule spreadsheets, it's not one-size-fits-all, the way you might find it set up in Excel construction templates or commercial construction schedule templates in Excel. So instead of placing your valuable time and objectives into the hands of a generic printable construction schedule template or construction schedule template pdf, let's explore the dynamic advantages and possibilities with a construction project schedule example on monday.com.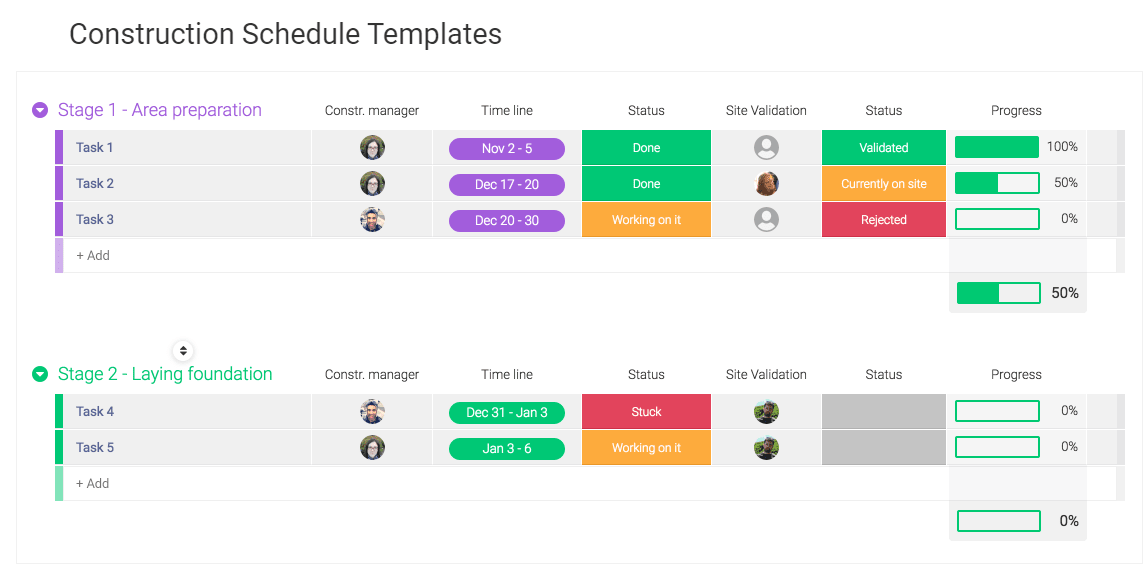 What do these templates offer?
Create action items to ensure team member accountability and set expectations

Import excel files directly in the platform to create a board

Manage budget and prevent overspending with columns, widgets, and dashboards

Map timelines with relevant milestones, task owners, and dependencies

Stay on top of teammate workloads and deliverables
It gets better...
With even more features to optimize the way you build your workflows, from start to finish:
Keep track of contracts and requirements— monday.com is great for document management and file uploads.

Integrate with your existing tools and apps to bring your work into one place

Communicate quickly and in-context with Updates sections, available on desktop and our mobile app

Share boards and dashboards with clients and coworkers in real-time with custom permissions
Join more than 127,000 teams who manage teamwork together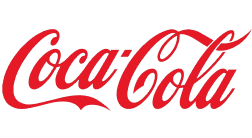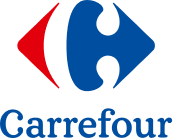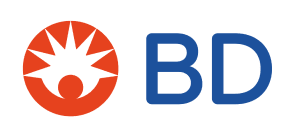 Using construction schedule templates
By type of project
A commercial construction schedule spreadsheet helps you stay on track for each phase of construction, no matter what part of the industry you're in. Here are just a few industries:
Residential

Commercial

Educational

Transportation
By phase
The most effective kinds of construction schedule templates and plans are broken up according to the construction phase. monday.com lets you create distinct groups on your boards so you can effectively sort your tasks and deadlines. You can even organize it by sections within a project, such as office spaces vs. bathrooms in a high-rise building.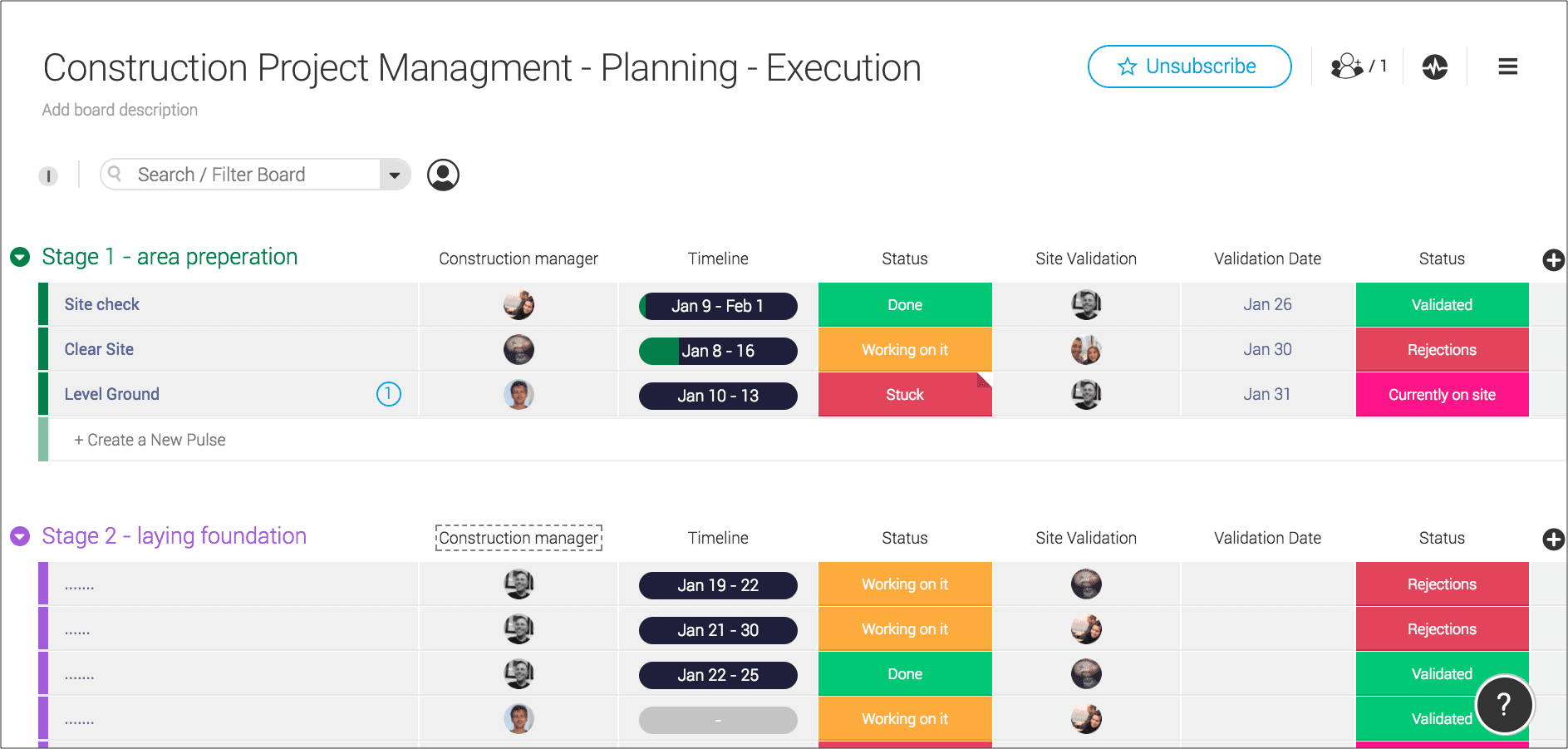 A timeline is particularly important for construction, since other industries are reliant on completion, whether it's a home's future residents moving in or a restaurant being able to announce their grand opening to the community. Easily convert deadlines and timeline column data into a visual map, like a Gantt chart—all included in our templates.
Just as with other construction schedule spreadsheets, you should list start and end dates in your renovation template. Since it's especially important that office renovations occur exactly on schedule, use a Gantt chart to regularly keep track of tasks and to easily share your progress with the relevant stakeholders.
By role
Construction schedule templates are not just useful throughout an industry, they are also crucial throughout an entire organization or team. Who is using them is just as broad as the how. Check out this list of who can benefit from starting out with a construction schedule template:
Contractors

Interior designers

Finance teams

Marketing departments

City planning committees

What's more, many teams often collaborate on one common goal or construction project, so keeping them all synced in one easy-to-adapt and share workflow is a huge win for productivity and communication.
Manage your projects with monday.com construction schedule template