How
Behalf

streamlines their entire

product development lifecycle

using monday.com Work OS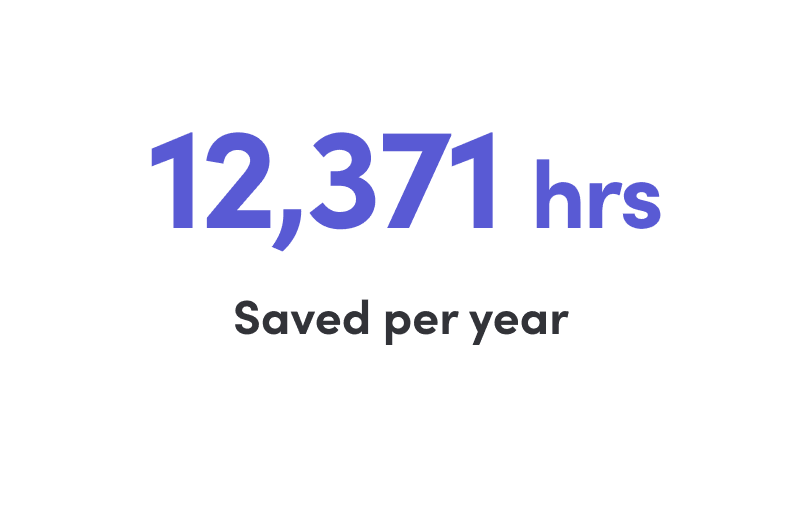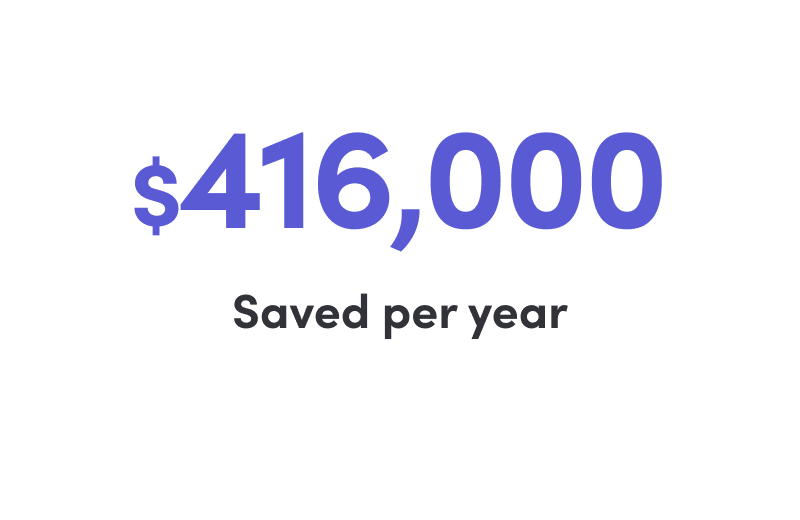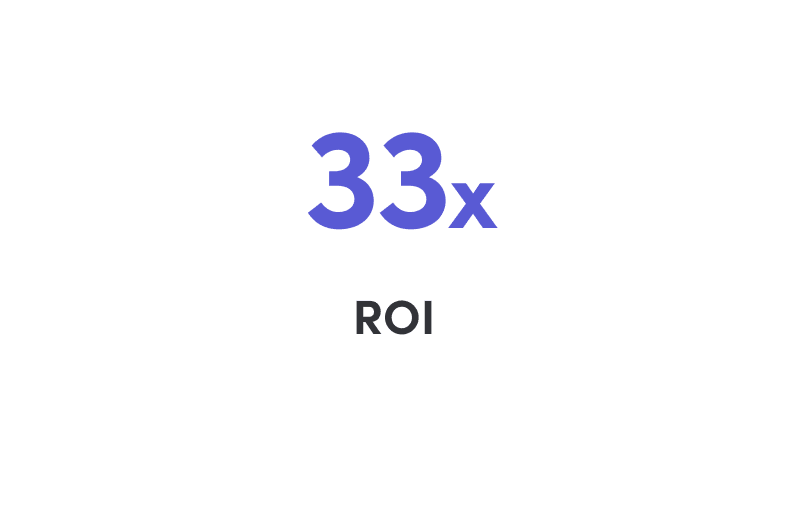 Behalf Inc. (Behalf) is a buy now with extended financing platform that enables small-medium businesses to quickly and conveniently finance their e-commerce business purchases.

The in-purchase financing solution was founded in 2011 from a point of friction: new businesses often can't afford the resources they need to grow their capital. Today, Behalf empowers over 135K businesses to optimize their cash flow and finance what they need, when they need it.

Behalf aims to benefit both SMBs and the merchants they purchase from. By embedding an option for Behalf financing in their checkout process, merchants can increase their average order value (AOV), same-session checkout rates, and customer loyalty.

Their business to business (B2B) e-commerce partners include Lenovo, Newegg Business, and over 21K more merchants across electronics, mobile phone resale, business supplies, medical and health, home/hardware, and more.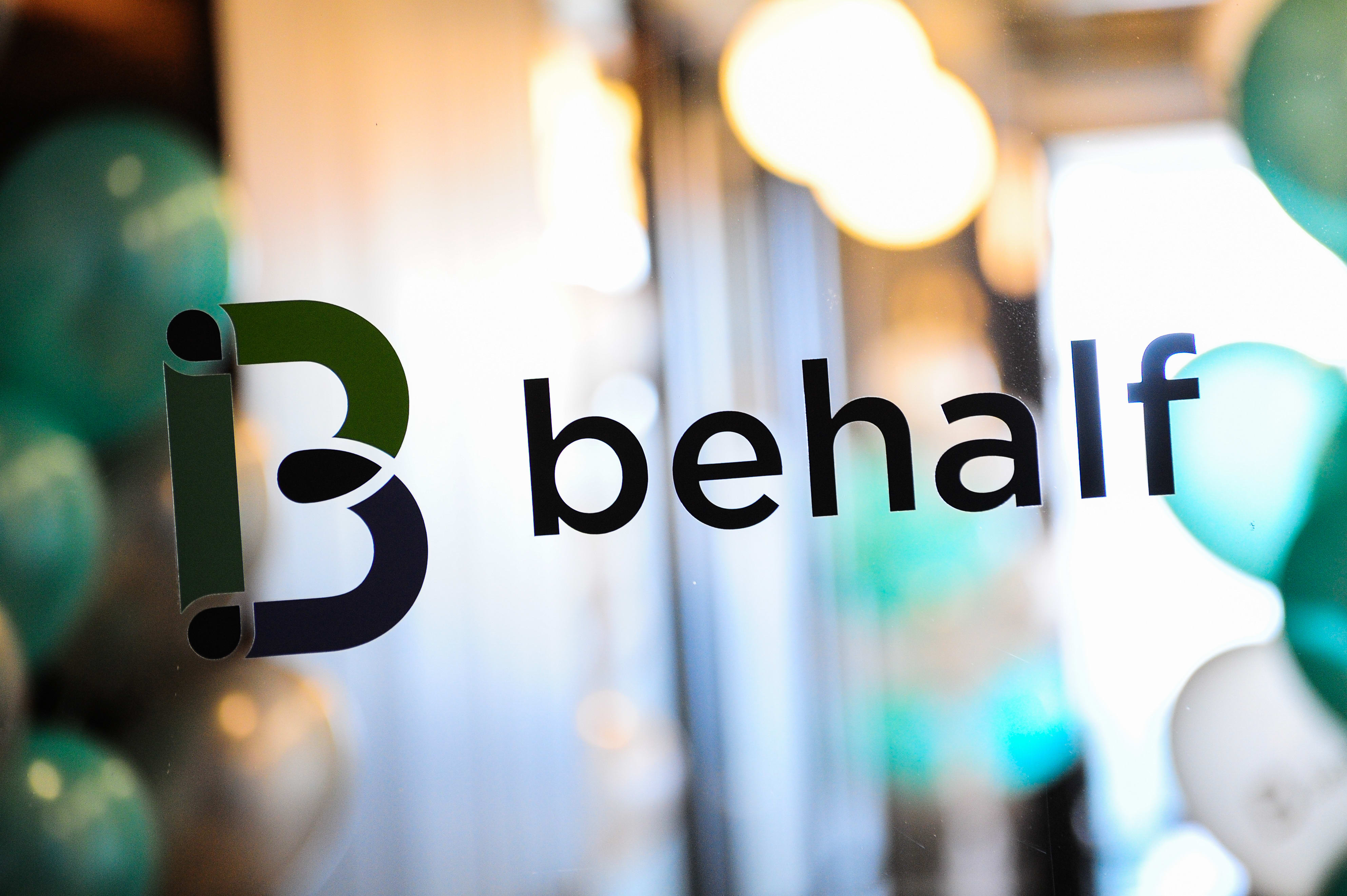 Liran Keren (now VP Engineering) joined Behalf as one of the first developers in the company. For the first couple of months, Behalf managed all their customers' financing through Excel; but as their business scaled, they realized that their merchants and business customers needed a more advanced product. "I was part of the beginning of the platform," says Liran. "It's been a journey."

The engineers began to develop a platform using simple task management tools, then moved to Jira as their development lifecycle became more complex.

The switch presented new challenges for engineering managers and team leaders. "It was very hard to do any long planning or even go a level up and see an overview of what was happening," says Liran.

As a workaround, Behalf's Product Team built and managed their roadmap on a separate platform. That led to a lack of visibility between the Engineering Team and product managers and hours wasted in meetings every week.

Liran noticed this pain immediately when he became VP Engineering. "A minute after the status meeting, I didn't know what was going on," he says, "and it was during a Covid lockdown, so everyone was at home and I couldn't ask anyone in the corridor."

Soon, Liran also became frustrated trying to customize his team's workflows on Jira. "I want this tool to work for me. I don't want to work for the tool. Changing something could have taken me, like, two days, and I'm a decent developer," Liran laughs.
Why monday.com?
Liran and Behalf's Product VP set out to find a platform that was agile enough for software engineers, transparent enough for managers, and smooth enough to connect their two departments.

monday.com stood out as the clear winner. Behalf's R&D Team migrated completely onto monday.com in January 2021 and other teams quickly followed suit. "I chose to work with a customizable platform over a specialized one," says Liran. "I realized monday.com could let us work the way we need."

It took him 2 weeks to migrate the R&D Team data and build his workflows on the platform. Within a day, he onboarded the R&D and Product teams and connected the roadmap to their epics. Positive feedback came in right away. "I knew the migration would be easy and as I expected, the team managers saw immediately how easy it was to manage everything," says Liran. Even his engineers, who were used to working with Jira, gave their thumbs up: "It's so much easier to add new stories, and when they asked me to change the work processes I was able to react within two minutes. They were amazed by the simplicity."

Today, Behalf's Product and R&D teams manage all their processes on monday.com, from roadmaps to reporting and everything in between.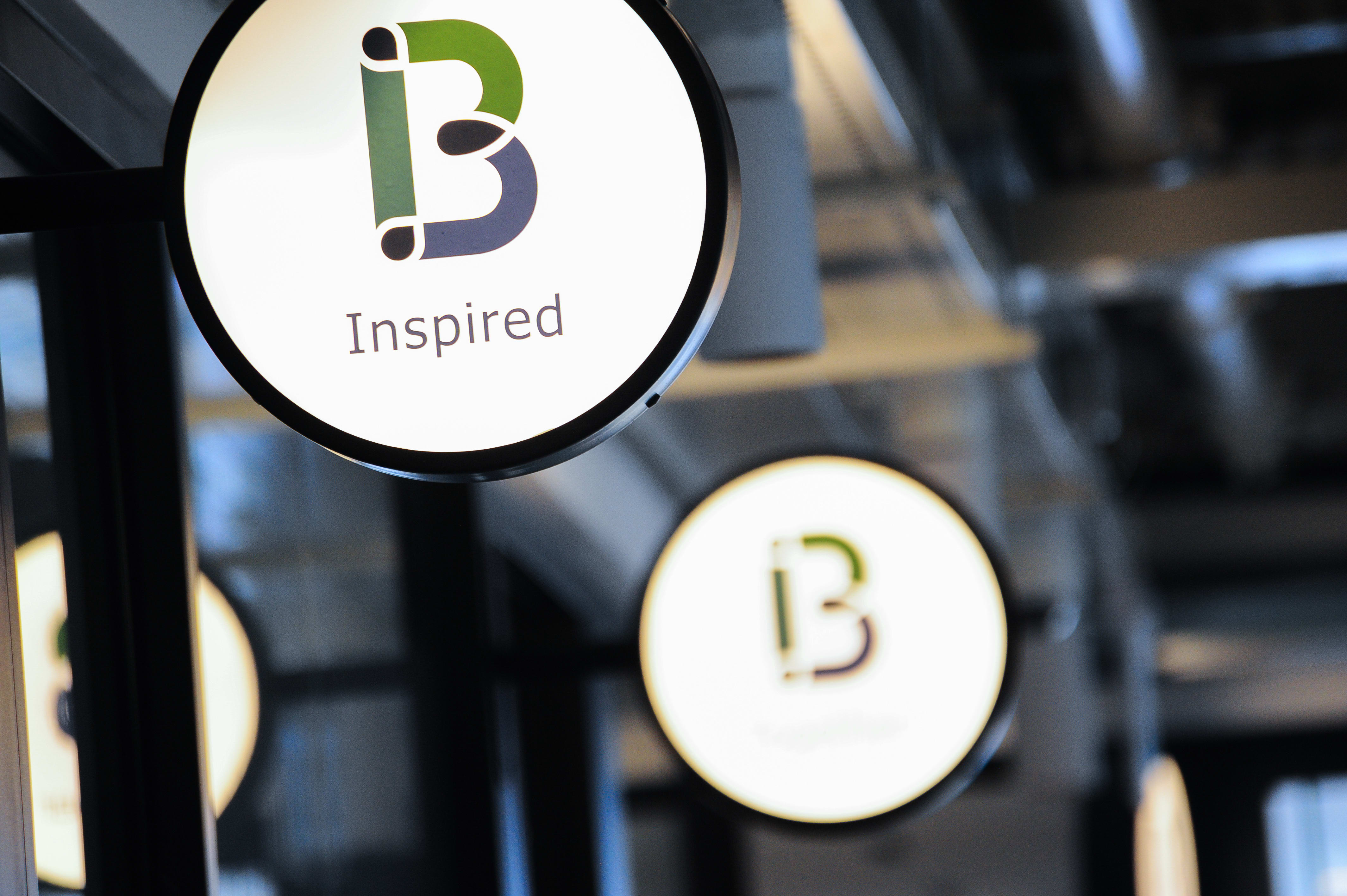 Running a flexible product lifecycle from end to end
To stay adaptable as the company grows, Behalf's R&D Team employs the Kanban methodology. "A startup like us needs to be able to react and switch priorities quickly," explains Liran. "Waiting even 2 weeks to adjust something in our integration or risk model could lose us a lot of business."

Liran easily transferred his team's entire workflow without touching their process. Though they had the option to work on Kanban view, the engineers found it easier to run Kanban methodology on a table.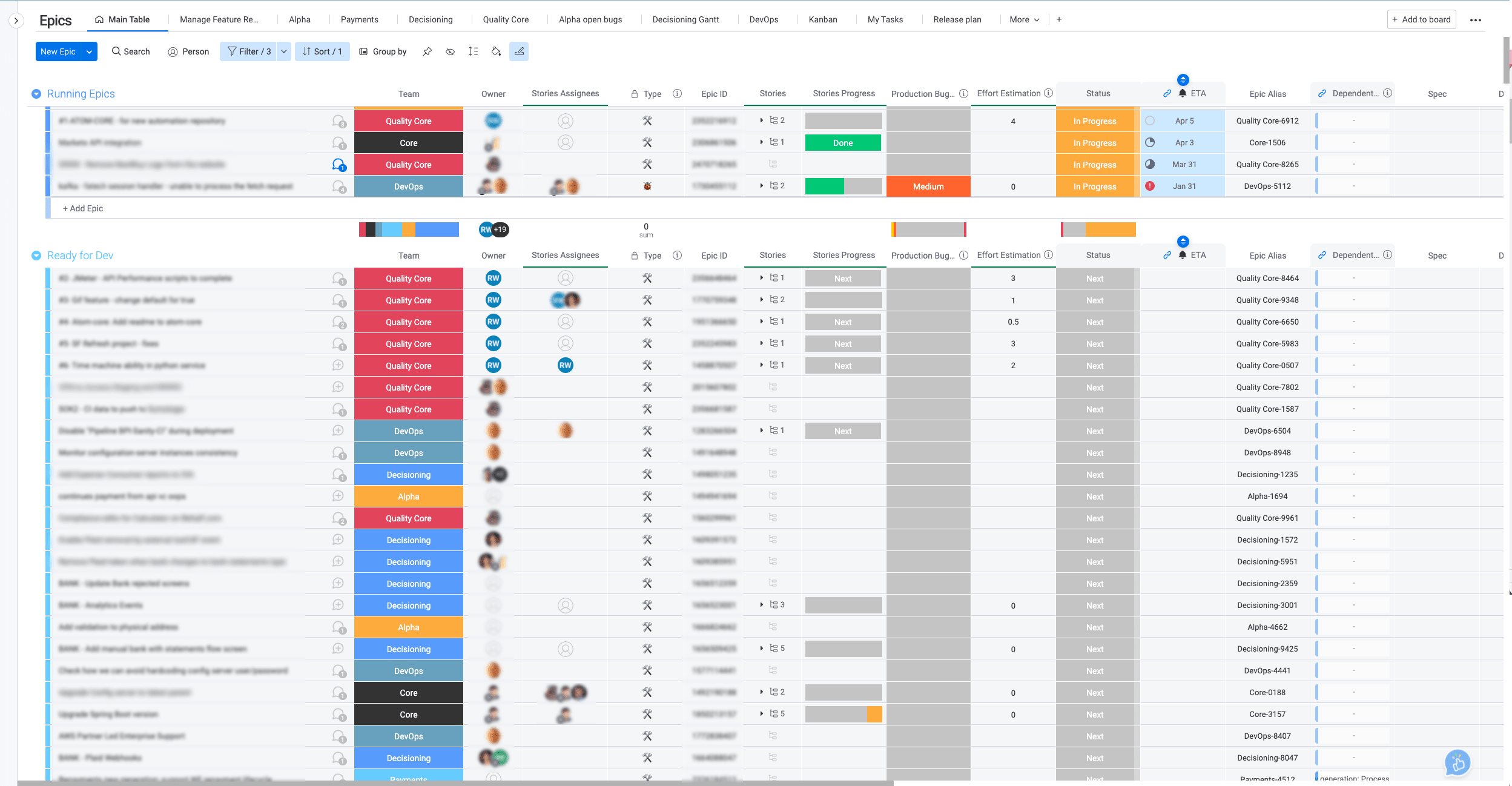 Here's how it works:
They maintain one board with clearly organized epics and stories. Each epic is marked as either a feature from the roadmap or a production bug reported by the quality engineers. Owners and timelines are assigned, then the team makes the most of automations.

"Once the epic or feature is defined enough, we set the status to 'Next' and it's automatically prioritized in the 'Next epics' group. Then while it's in progress it will be in 'Running epics,'" says Liran.

When an epic moves to the next group, the right people are automatically notified — be they a team lead, the engineer, or a product manager.

This automated workflow helps Liran's team get the most out of the Kanban methodology. "It's easier to put something on hold and prioritize something else that the business and Product Team needs," he says.
Empowering engineers to zoom in and managers to zoom out
With monday.com, Liran can give his software engineers the drill-down information they need while giving managers a high-level overview.

The engineers can quickly filter the epics board by team, owner, status, and more. They instantly loved the item pop-up card, which gives them the ability to zoom in even further on their projects. "As a manager, I want to see all the roles and statuses. But as a developer, I just want to be able to click on a row and see all the details of my story in one place," explains Liran.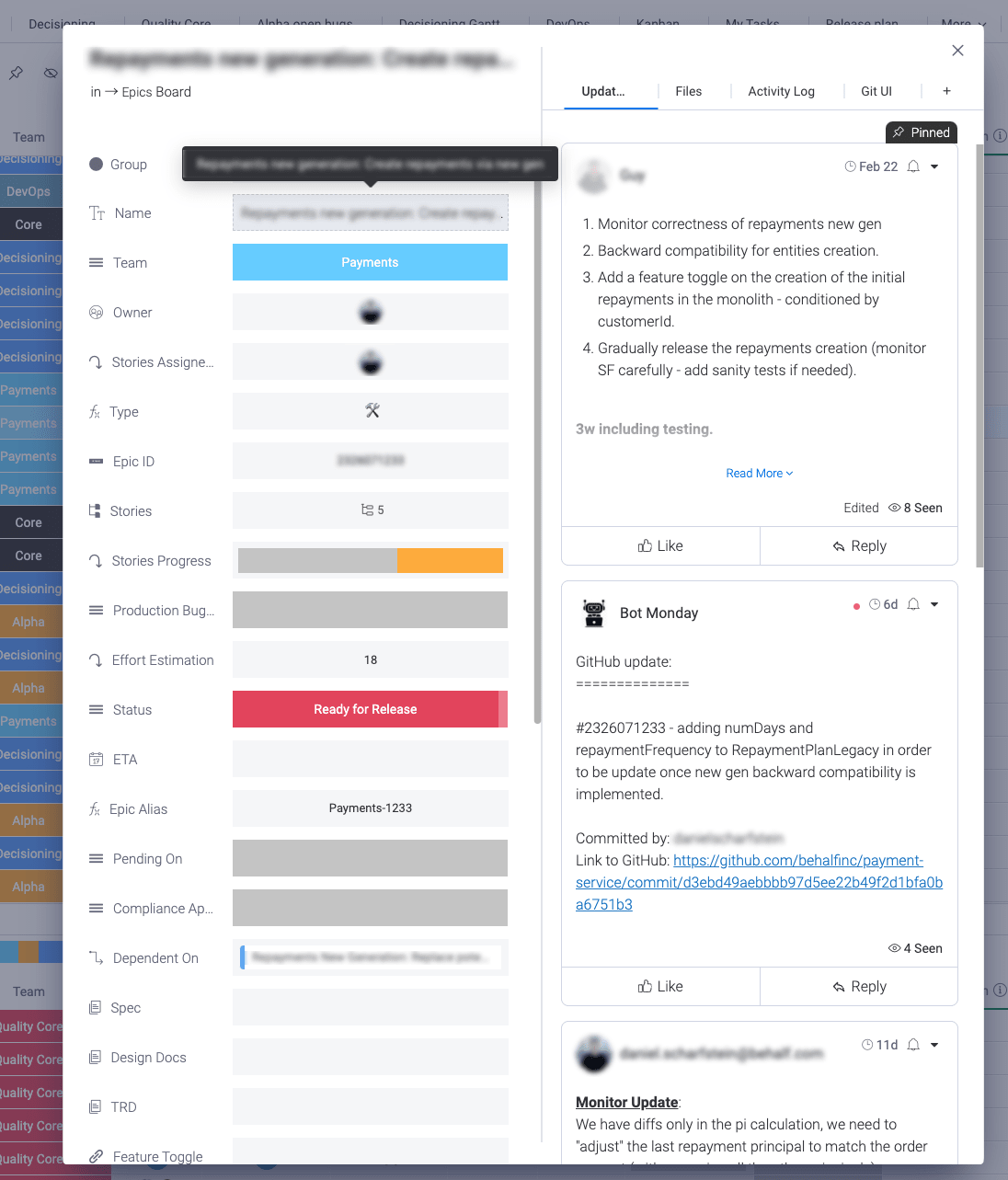 At the same time, Behalf's managers have instant visibility into the overview information they need without getting caught up in the details. "It's much easier for us to see everything on one board. At every point in time I know what's going on in my department and in the features," Liran says.

He's also able to report up to leadership much more easily: "If I'm being asked, 'When is this going to be delivered?' or 'Where do you stand with the testing of that feature?' I always know."

That leads to valuable time saved every week. Liran has always run two weekly meetings to align Product and R&D teams: a status meeting to report on live and in-development features, and a release meeting to sync on new features for the next week.

Before monday.com, Liran would take notes and need to manually prepare a report to issue to management. Managers used spreadsheets for reporting and spent time manually copying the links to their features.

Today, Liran pulls from automatically-generated monday.com dashboards in both meetings. For the status meeting, they create a status dashboard that pulls all the accurate and updated story information from the main epics board. They review the status of each team's stories efficiently by using quick filters.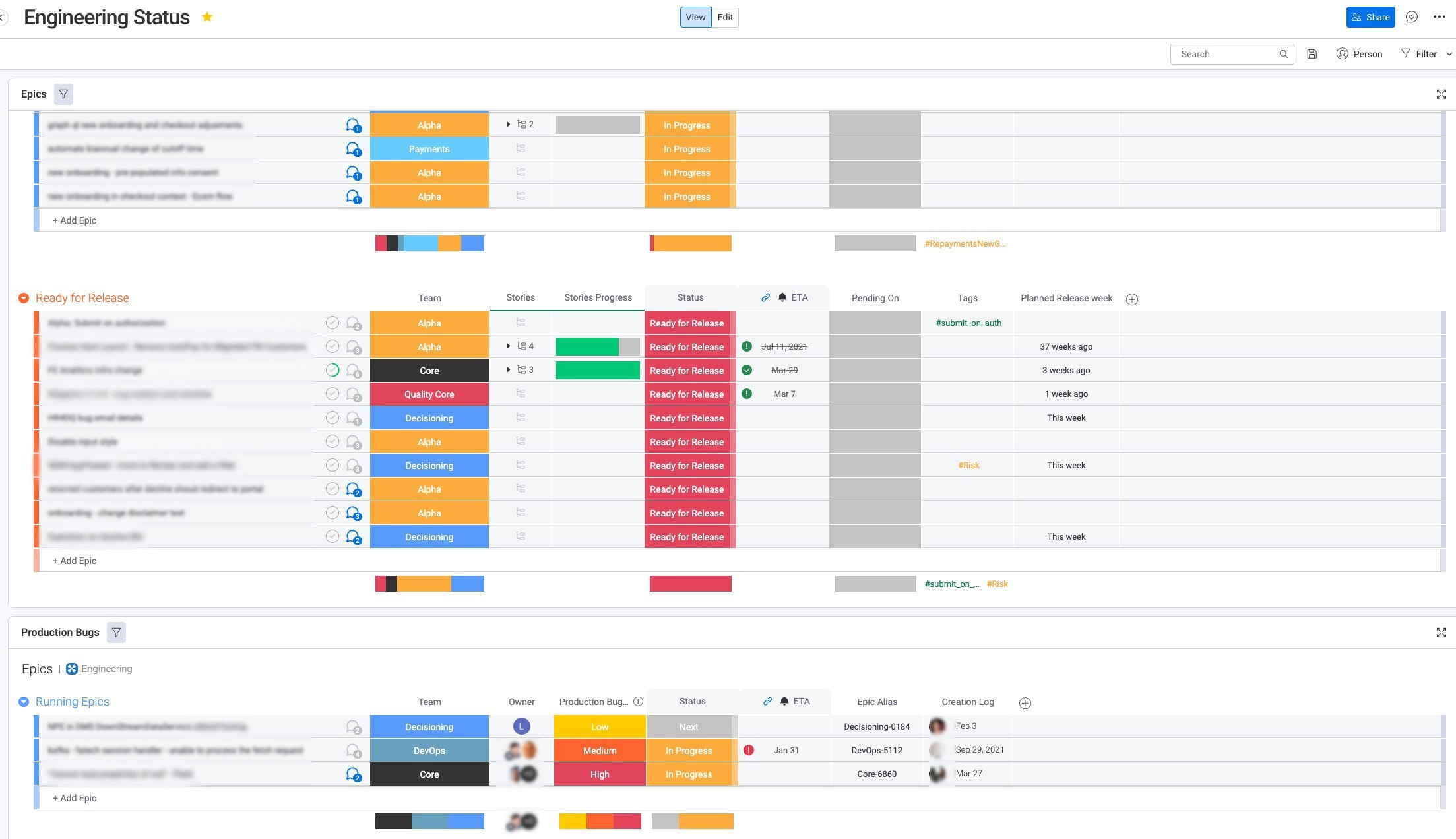 For the release meeting, they have a similar dashboard that shows features in development with all their necessary context and expected release dates. Working directly from the dashboard helps Liran's team react quickly and make sure no features fall through the cracks. "If something was missed or we didn't get to it, we just switch the release date to the next week," he says.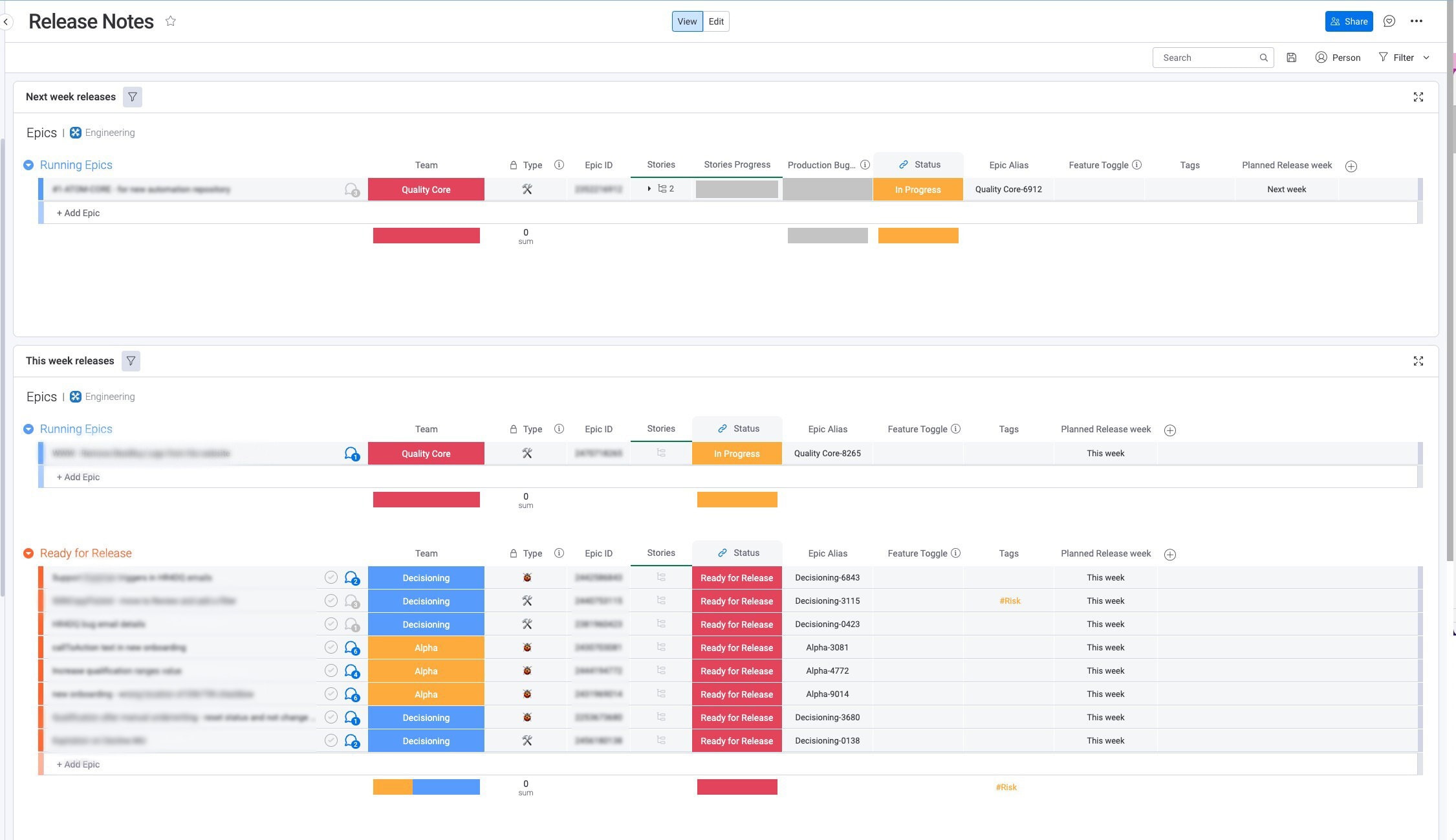 Managing a code database with CI/CD
The engineers apply continuous integration and continuous deployment (CI/CD) to their development lifecycle, using monday.com to work fast without harming the user experience. "Any company that does CI/CD should embed monday.com for this use case," says Liran.

For each piece of code they change and new feature they work on, a new epic alias is automatically generated on their epics board. They use that alias to build a feature toggle which they then incorporate into their code. "It's a conditional that tells the code, 'If the toggle is on, do this or that,'" explains Liran. "That way, as long as the feature toggle is off, we can make changes and run new code and only release the feature when all stakeholders are ready."

Throughout each epic, all engineers and managers stay in the loop through the updates section. When a new piece of code is merged into their repository, they get an automated notification from GitHub on the item. Once an epic is finished, Liran also has his team add an update when they've cleaned up the feature toggle.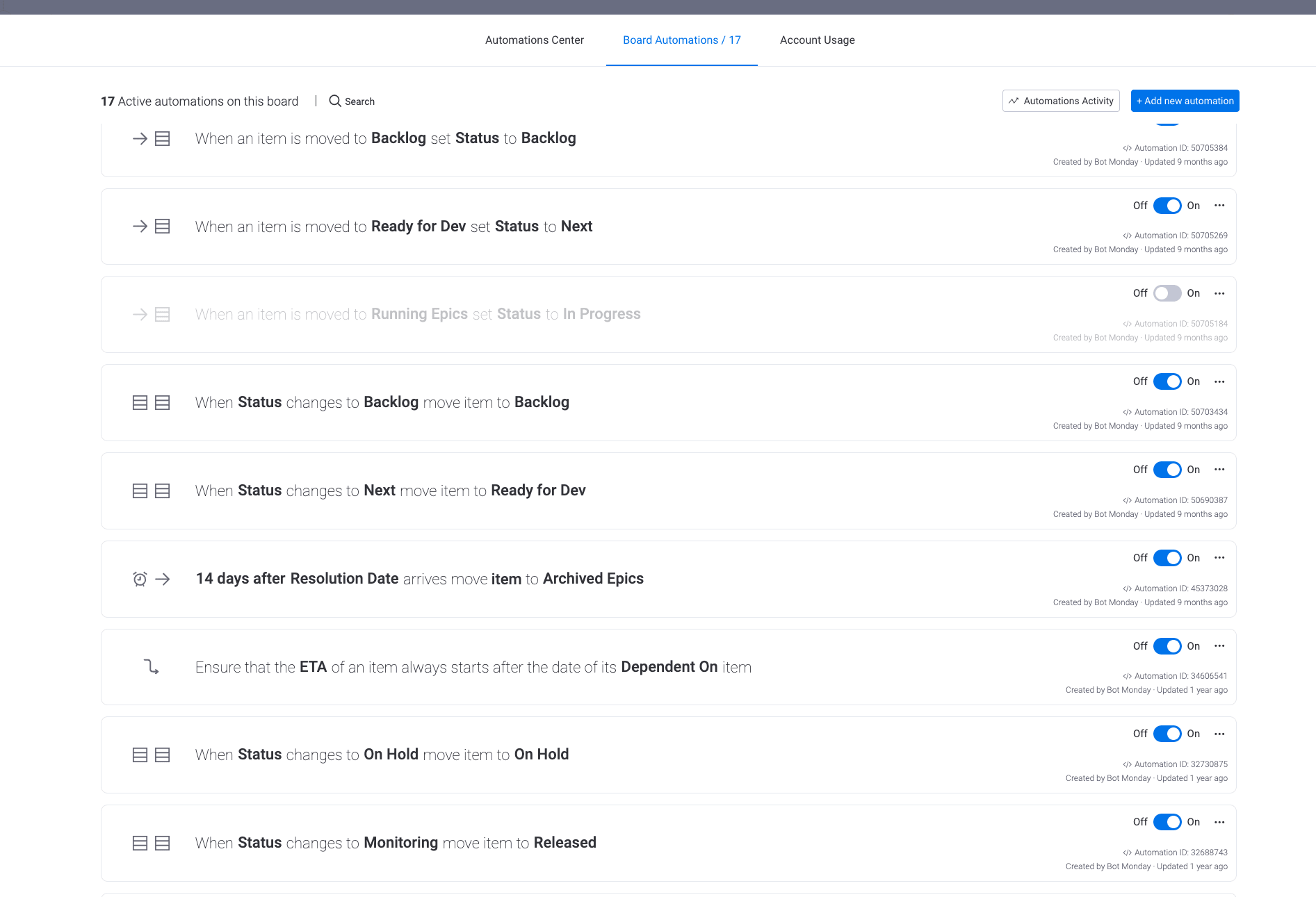 Simplifying security audits for SOC 2
SOC (Service Organization Control) 2 audits involve tracking a surplus of details, which can become tedious without a good system. "They needed to see that every piece of code came from a story or task in a ticketing system and that there was a connection to the code repository. They selected 25 out of thousands of our commits to the code base and we had to find the ticket," says Liran.

Today, he's relieved by how much frustration he saves. All epics and stories are organized in a way that makes security audits seamless. "monday.com really answers what SOC 2 demands from us. I went into monday.com and finding the tickets was a snap. It took me 2 minutes," he says.

monday.com itself complies with SOC 2 Type II, which also makes Liran's life easier. "It's easy to give and remove permissions or remove access to employees who left the company," he says. "Succeeding like this through the SOC 2 process showed us we could really run an enterprise-level software development lifecycle within monday.com."
Collaborating easily across the company
When they saw what Liran's team could do, other departments within Behalf switched from using scattered tools to creating their own monday.com workspaces. "Within a couple of months, Product, Engineering, Marketing, Operations, HR, and Finance made this jump into monday.com," says Liran.

Now, the entire company collaborates through one shared cross-functional workspace. Liran saw an instant benefit. "We have a lot of projects that involve not just our department, but also Marketing, Compliance, and Sales — like an integration with a partner, for example," he explains. Through the shared workspace, they can communicate quickly and use automations to drive work forward.

The Behalf departments on monday.com also get the same crucial visibility into cross-functional projects that Liran describes for R&D. They use monday.com dashboards in their management-level status meetings to align their teams and effectively scale their business together.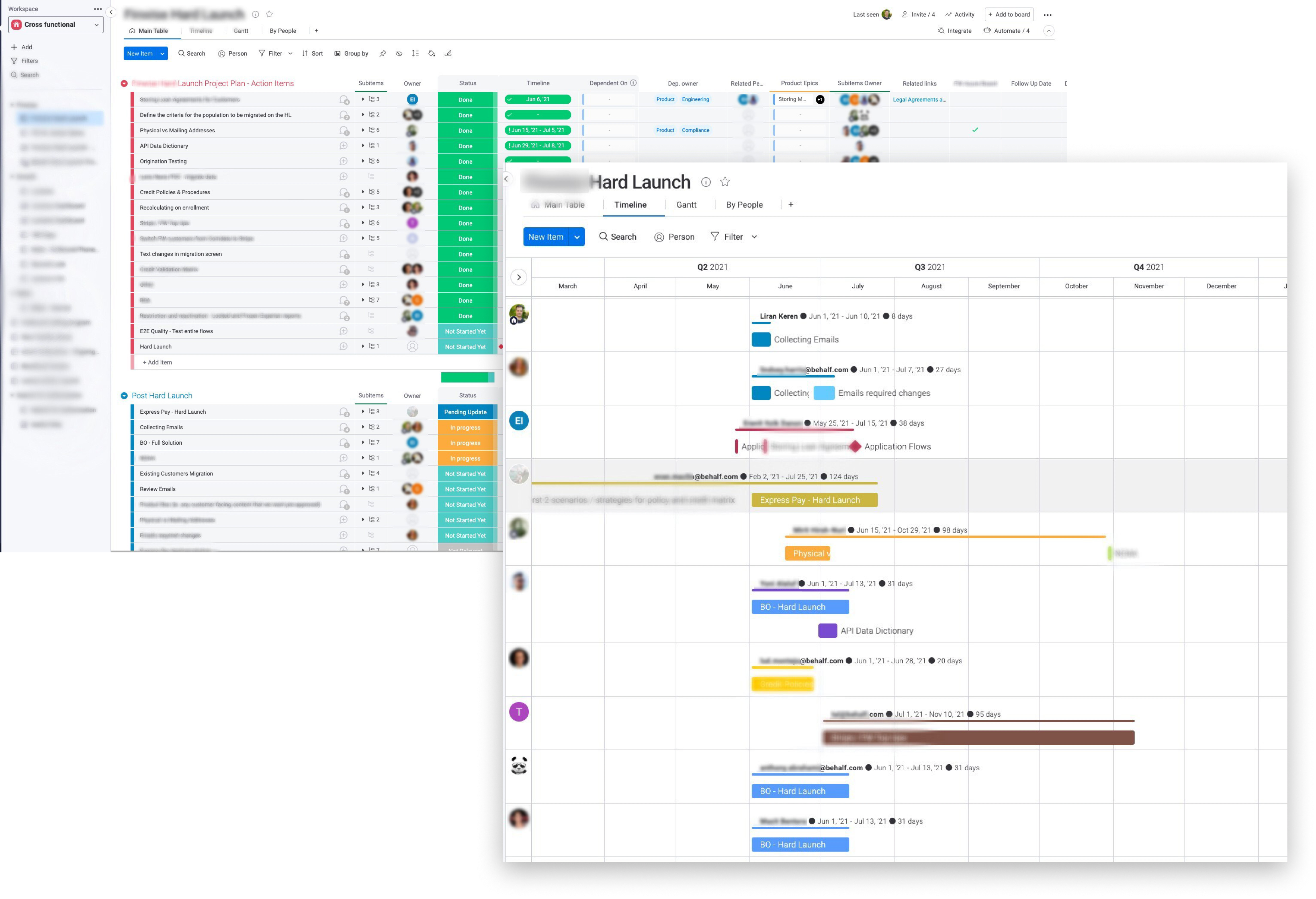 For example, Behalf recently launched a cross-company effort that took a year to develop. Throughout the process, monday.com helped them collaborate faster and more efficiently. On the micro-level, the R&D Team status was automatically reflected from their epics board; and on the macro-level, a Gantt chart showed dependencies which all stakeholders could reference quickly in weekly cross-departmental status meetings to discuss, problem-solve, and adjust the timeline if needed.

Another cross-company effort that Liran mentioned included an external partnership. They collaborated with the partner through a shareable monday.com board — communicating, assigning tasks, and updating statuses from both companies.

"In the past, we probably would have tried to manage this with hours of manual work. It was already a very big and complicated project. I feel that without monday.com we would have been lost," Liran says. "Collaborating on such huge projects that involve external partners and all our departments — I think that's really where monday.com shines."
"Having all the different departments working on one platform for product management was a game-changer for Behalf."
Liran Keren
VP Engineering, Behalf
Request a demo
Let us show you why over 152,000 customers worldwide choose monday.com.