Start podcast planning
the right way
Whether you're a few good ideas away from starting a podcast or have several podcast episodes under your belt, monday.com Work OS can help you manage every step of your workflow.
Podcast planning becomes a breeze with one central place to track show notes, strategize for a new podcast audience, and more. With an optimized process, you can spend time on the efforts that will boost your good podcast to a great one.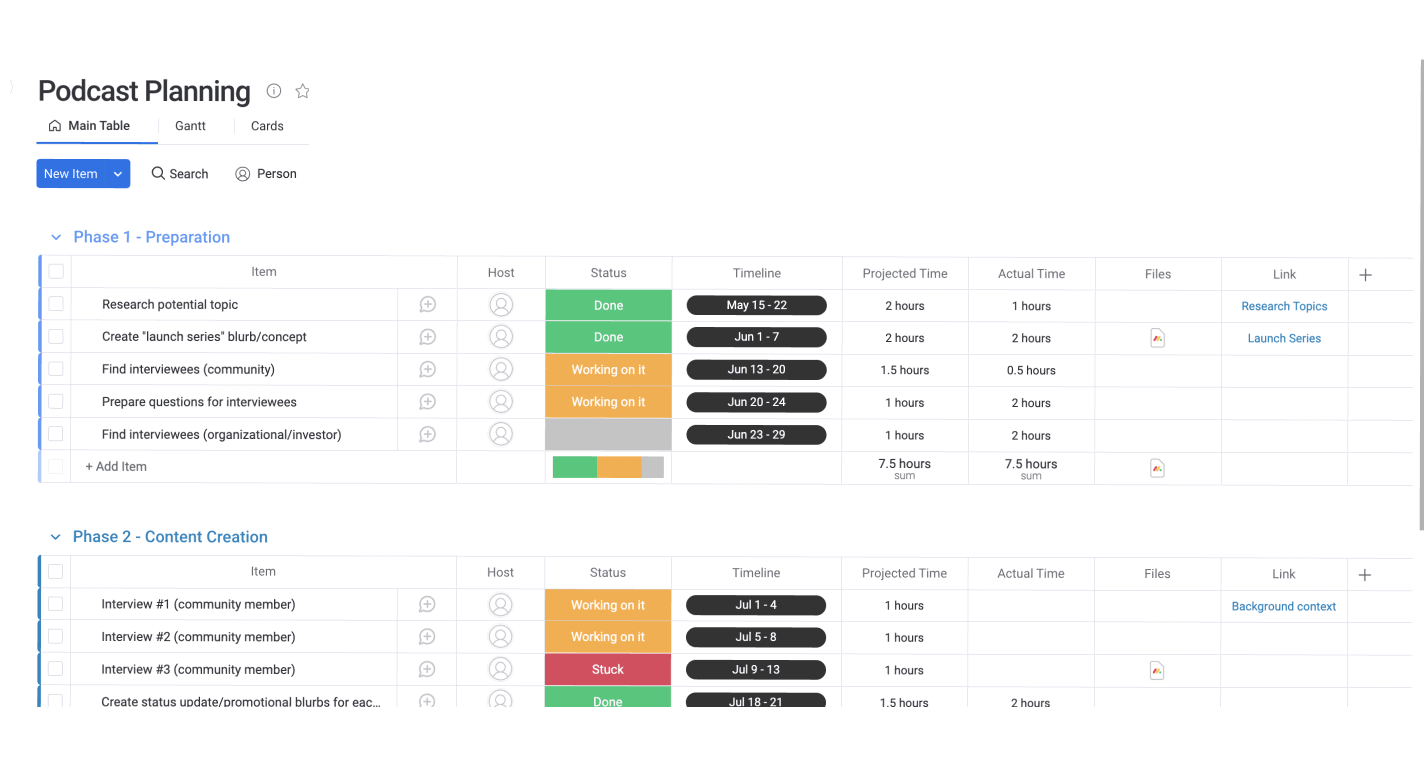 How do I manage a podcast?
There are plenty of elements that go into the most popular podcasts, like the ones you'll find on Apple podcasts or other platforms. While you and your team work to find the perfect recipe for things like episode length, ideal listeners to target, and topics — you'll need a great tool to organize it all.

Organize your workflow by creating a podcast planning template to see where you have bottlenecks.

Delegate tasks when possible, like recording, editing, and creating cover art.

Network with other podcast hosts for ideas and collaboration.

Set up an RSS feed so listeners can access information about your show and episodes.

Invest in audio editing software for quality podcasts.
Map, manage and master your podcast planning goals with monday.com
Our Work OS allows you to customize your workspaces and boards the way you see fit to create a product process that is smooth and delightful from brainstorming, recording a podcast, and beyond.

workdocs
Collaborate on outlines, podcast descriptions, and scripts in real-time with shareable monday workdocs. Easily embed media like images, videos, and even boards. Stay organized by creating a library of workdocs all in one workspace to easily review them later.

Automations
Stay on top of many moving pieces with automated reminders and more. Need to stay on track of payments for tools you subscribe to, like royalty free music providers or sponsored ad scheduling? Our custom automation builder is here for you.

Multiple views
No two workflows look alike — get visual with views like Kanban and Gantt chart to quickly understand upcoming events or task status. Create views for all important touch points of podcast planning, from budget to topic variety.

File storage
Keep all of your digital assets in one place to create your own library of recordings, promotional materials, and feedback. Create a space where you and your teammates can provide feedback and editing notes directly on an item's update.

Powerful reports
Make data-driven decisions based off of custom reports you can create on monday.com. Easily import your most important data related to listeners, monetization, and more. Use the insights to continuously improve your content.

Time tracking
monday.com has a Time Tracking column that can do double-duty as a way to track time spent on tasks as well as be manually updated to indicate the length of recordings and files, or make it easier to calculate episode or ad duration.
Frequently asked questions
While it could vary based on the subject matter, 5 typical elements of a great podcast are focus on a central topic, catering to an audience, routine schedules, solid show structure, and authenticity.
Keep in mind a few things when crafting your podcast script.


Aim for a conversational tone

Leave time for banter

Paint the picture of what you're describing
Be aware of the pace of your show
Stick to a recognizable introduction
Introduce your guests tactfully
monday.com workdocs are the perfect place to start your ultimate podcast checklist — use interactive checks, bullets, and numbered lists with colors and more to make it personal. Here are a few must-dos before launch:


Choose a podcast name

Commision cover art

Buy equipment
Submit your podcast to directories
Create show notes and episode descriptions
Record and edit
Create a publishing calendar — you can do this with monday.com Work OS, too.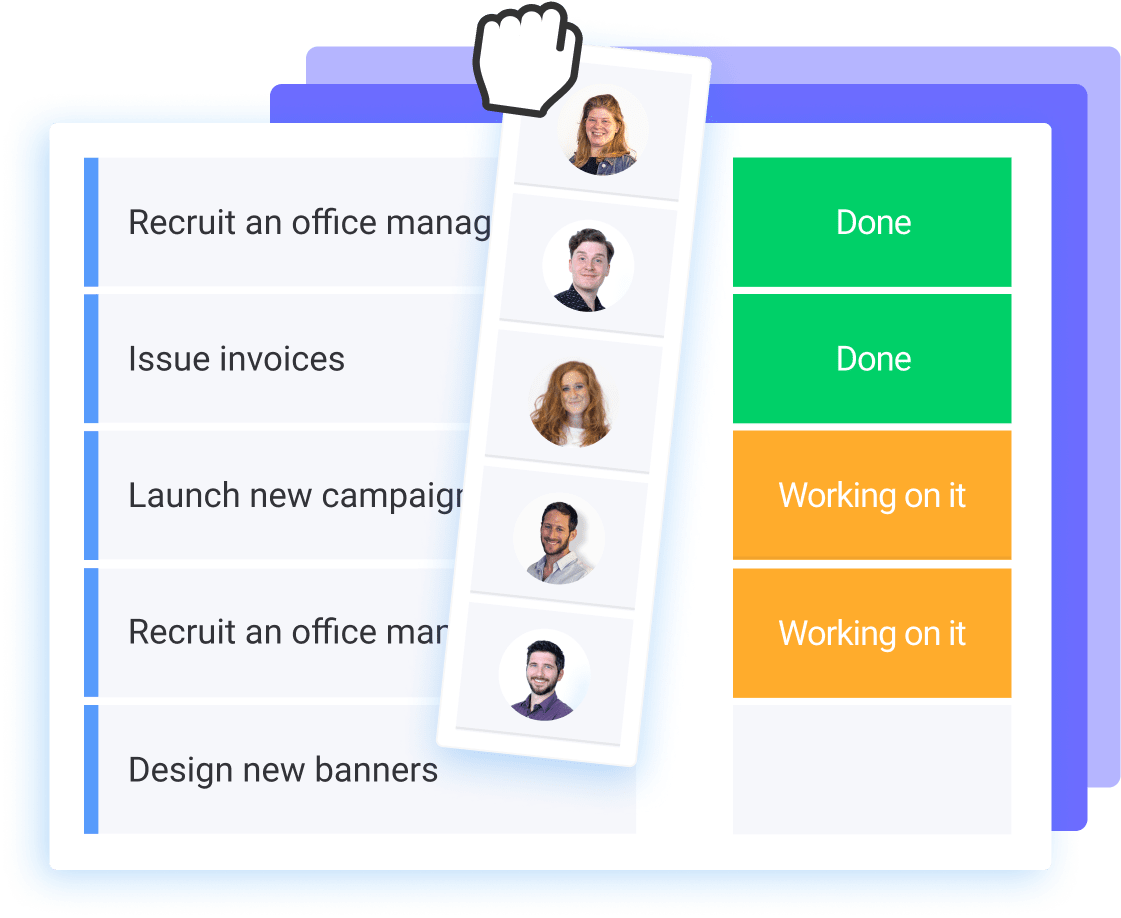 What are 5 elements of a podcast?
While it could vary based on the subject matter, 5 typical elements of a great podcast are focus on a central topic, catering to an audience, routine schedules, solid show structure, and authenticity.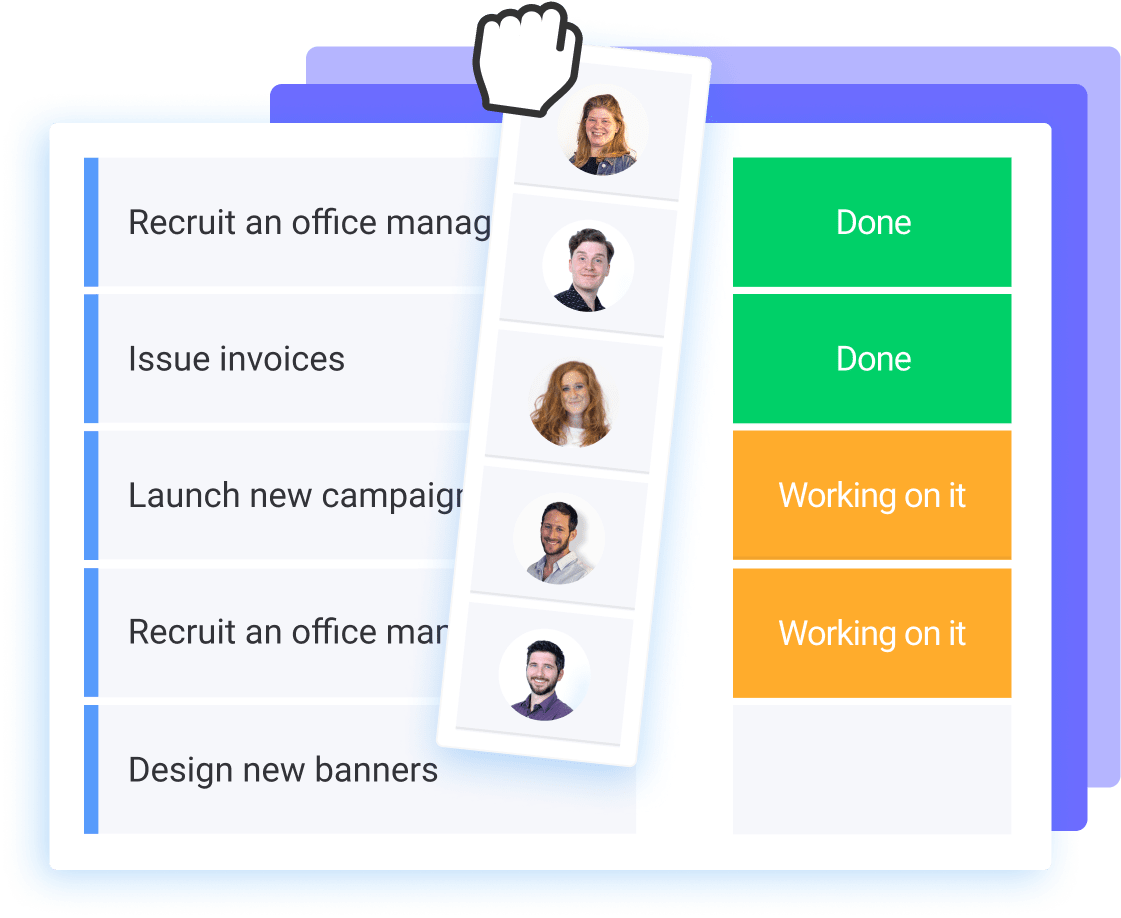 How do you plan a podcast script?
How do I start a podcast checklist?
Build a custom podcast planning tool
More than 152K teams trust monday.com to help them work without limits. Choose our Work OS to help you every step of the way to success.