A smart, collaborative
daily task manager
As a manager, it's often challenging to keep up with employees' tasks and carve out the time to help each of them prioritize their day-to-day to meet business goals.
Or maybe you're an individual looking to become more efficient. On monday.com, you can easily organize your tasks, improve time management, and reach your goals.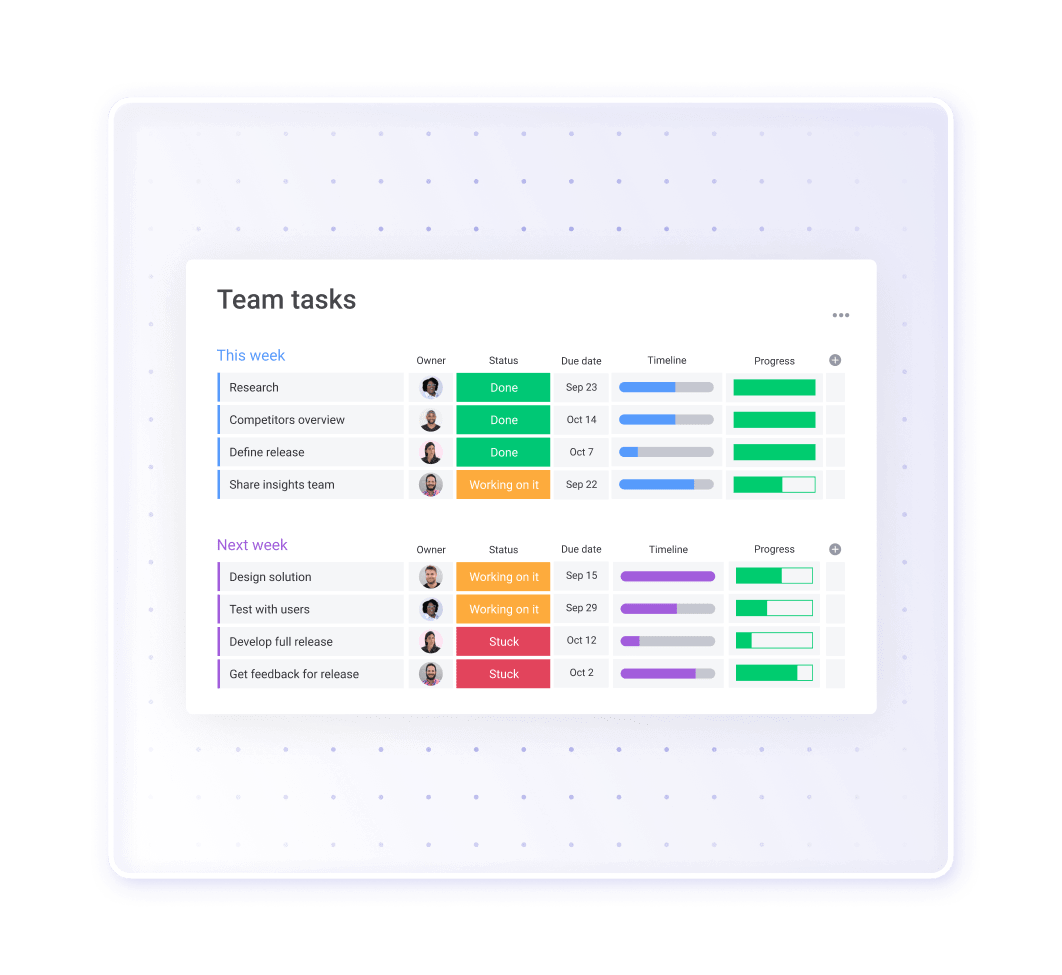 What to look for in a daily task manager
Whether you're a manager, a freelancer, or someone who reports to a team leader, prioritization and tracking work progress are part of the job. A smart and collaborative daily task manager has features that allow anyone to become more organized and focused. These features may include:

Automations to save time and limit repetitive work so you can focus on what matters

Integrations that keep all of your tools in one place for a powerful work software

Views that let you work in the ways that make the most sense for you or your team

Dashboards to understand workloads and gather insights so you can make real-time decisions
monday.com has all the capabilities of a to-do list, plus even more.
Our fully customizable, user-friendly platform lets you handle any kind of work in one place to bridge silos and maximize productivity. Easily start organizing, planning, and collaborating on tasks and projects in just a few clicks on monday.com. Here's what you'll get with our platform:

Total flexibility
Customize your workflow to work for you without needing help from developers. Edit columns to reflect projects or initiatives, choose an owner, due dates, any dependencies, and more. Select priority levels and manage as many tasks as you want.

Intuitive interface
Our drag and drop functionality and visual boards make it easy to create or manage workflows, see where tasks stand, and get things done. See all of the details you need to manage tasks on one board. Build your daily schedule with one of our pre-made templates or easily start from scratch.

Robust automations
Focus on getting things done instead of repetitive processes that slow you down. Use our automatic reminders to automatically let managers know when you complete a task, send alerts if you're stuck on a task, ping the team if a status changes, set reminders for tasks, and more.

Multiple views
Visualize tasks, updates, projects, and other data however you want. monday.com offers views such as: Calendar, Gantt chart, Kanban board, Timeline, Chart, Map and more. For instance, use the Calendar view to see upcoming deadlines so you can plan your day accordingly or the Gantt chart view to see project progress or how long a given task takes.

Dashboards
Display all your important information in one place with custom dashboards. Increase visibility into project progress, task allocation, and team performance. Run reports from a high-level view of your team's initiatives down to individual activity. Use to the Chart Widget to show which team members are working on what or completed vs non completed tasks.

Integrations
Become more productive with integrations that let you complete all of your tasks and to-dos without needing to switch tabs. Set up your integrations in just a few clicks. Choose from Slack, Google Calendar, Zoom, Zapier, Gmail, and more. Once you set up your integrations, create custom automation recipes in seconds to streamline your workflows.
Frequently asked questions
Though there's always pen and paper, some need a more collaborative and comprehensive way to stay organized. Daily task managers such as the following can help you keep track of your tasks:
monday.com Work OS
Bear App
Ayoa
There are several ways to create a daily task list.
Choose a collaborative software—like monday.com
Write down your tasks
Assign due dates
Revise your tasks as needed
Task management skills are the practices that help you work efficiently and utilize better time management. Task management skills are typically soft skills that are useful for employees in any field.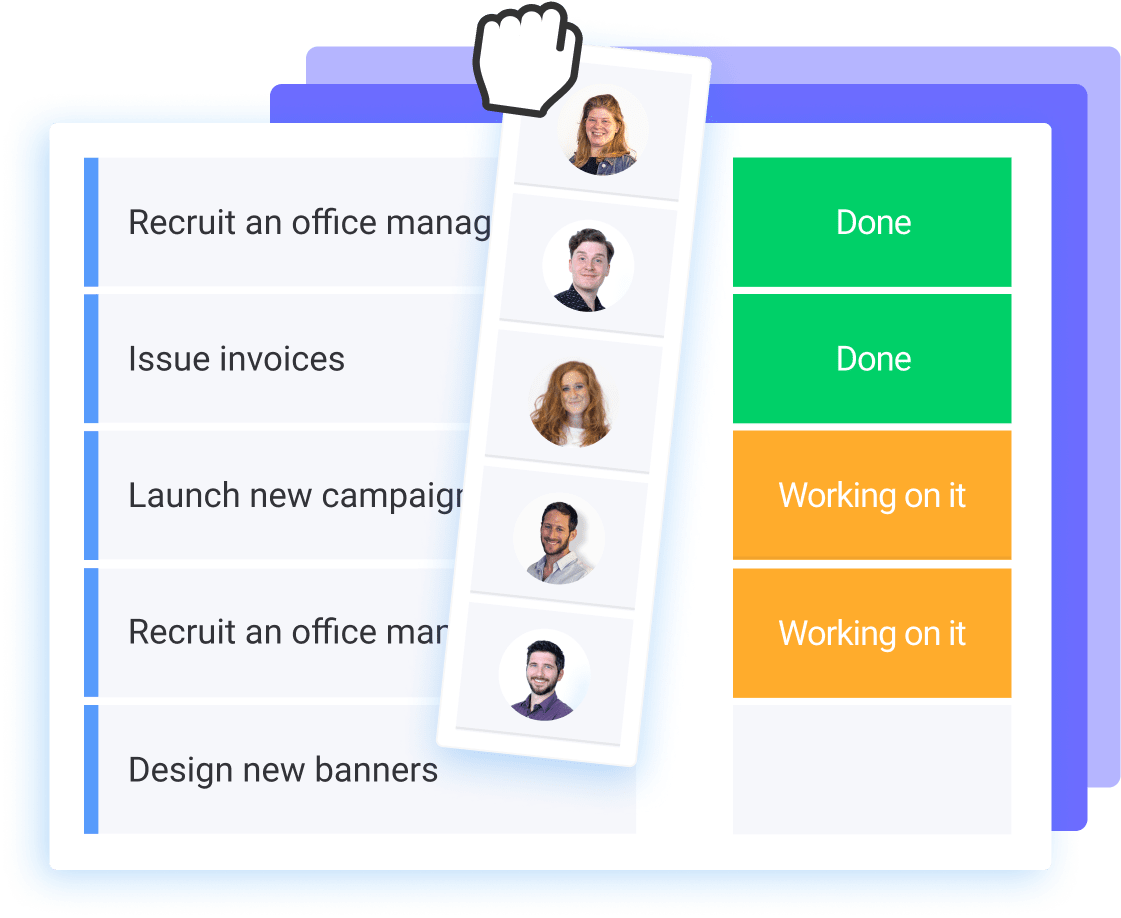 How do you keep track of your daily tasks?
Though there's always pen and paper, some need a more collaborative and comprehensive way to stay organized. Daily task managers such as the following can help you keep track of your tasks:
monday.com Work OS
Bear App
Ayoa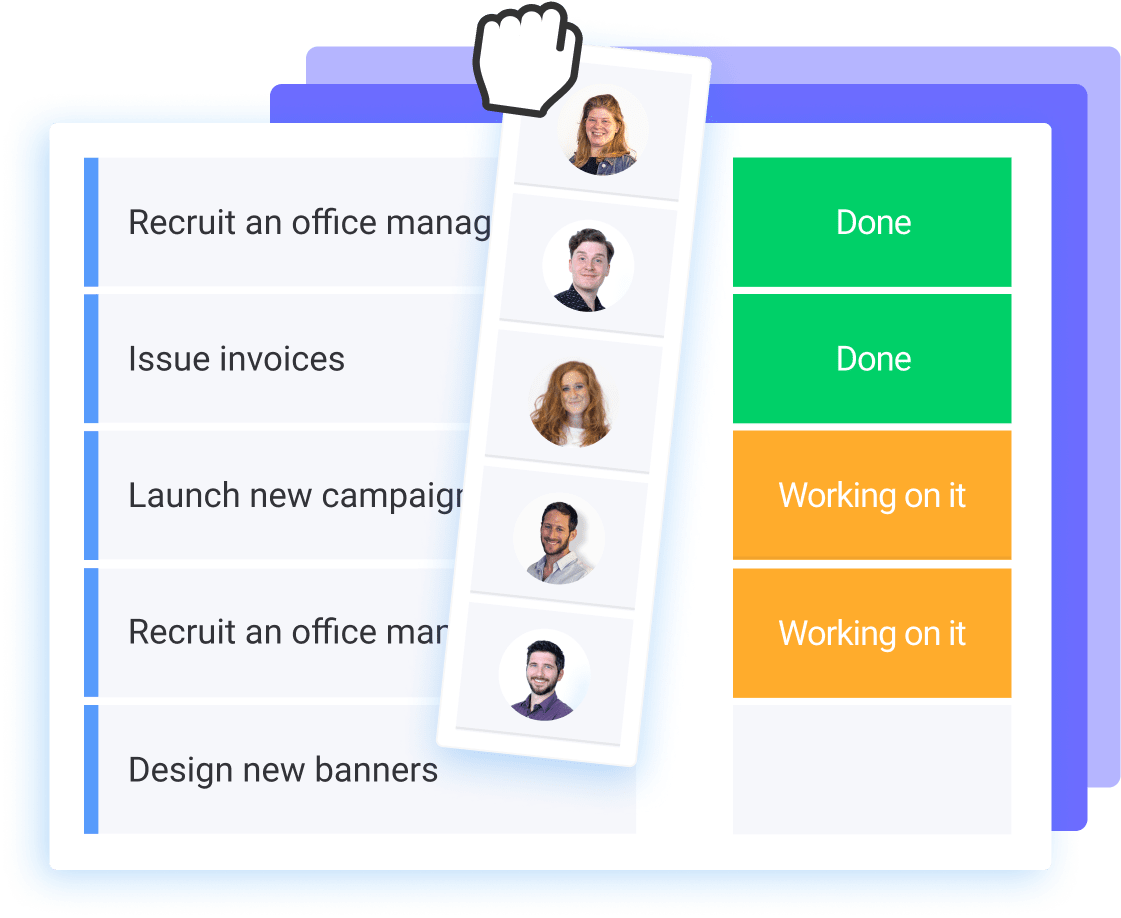 How do I create a daily task list?
What are task management skills?
Create a smart daily task manager
monday.com helps over 152K customers work without limits. Create a customized daily task manager and easily track workloads, projects, and initiatives.