How
TodayTix

transformed its internal processes with a

digital disruptor

mindset using monday.com Work OS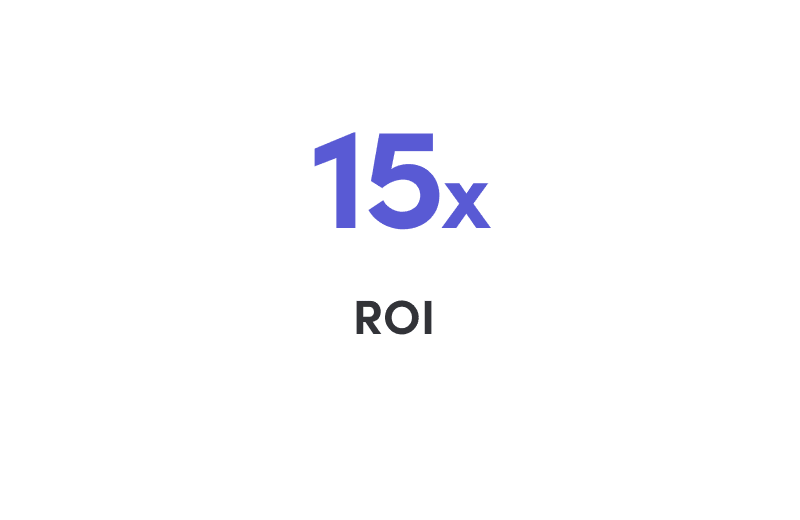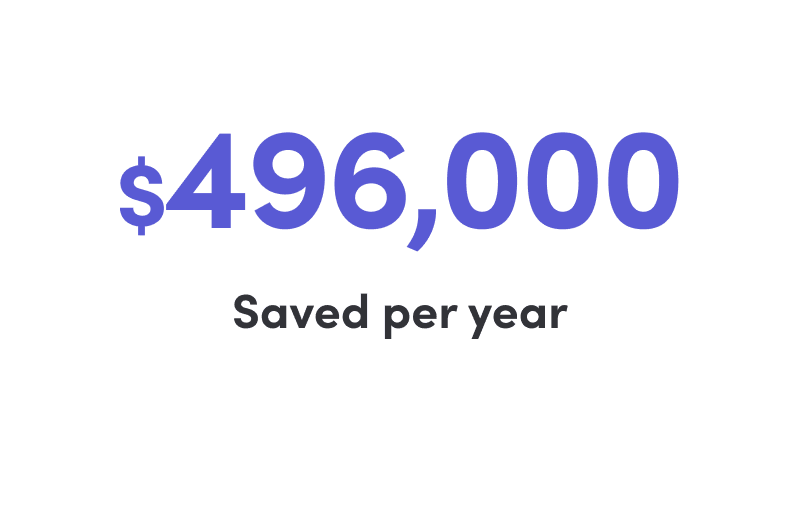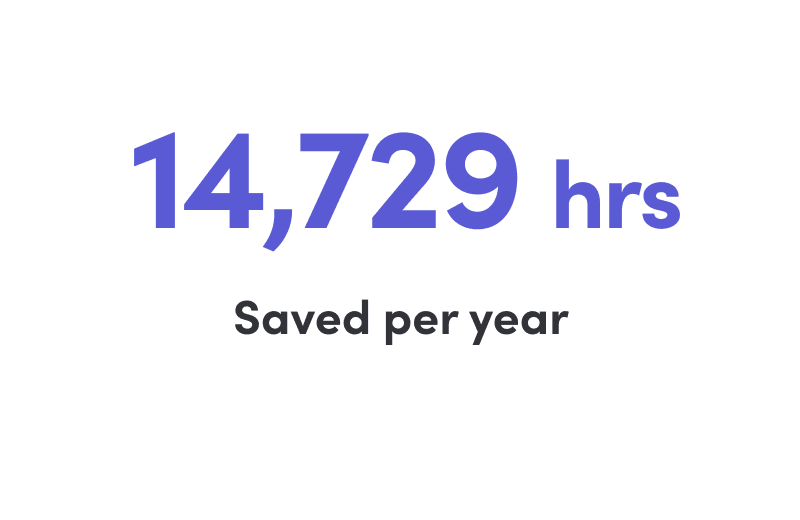 TodayTix is a global ticketing platform for live theatre shows — from Sondheim to Shakespeare and everything in between.

"TodayTix launched in 2013 with a mobile app that lets you get tickets in seconds from anywhere, instead of standing in long box office lines," says Courtney King, Director of Global Planning.

Two Broadway producers created the app with a mission to make theatre more accessible and affordable. Their mobile ticket sales instantly disrupted the live theatre industry, attracting a wider, more mainstream audience to the stage.

"We've taken the drama out of buying theatre tickets with our signature digital Lottery and mobile Rush, including the early days at Hamilton, designed to get everyone in the room where it happens," says Courtney.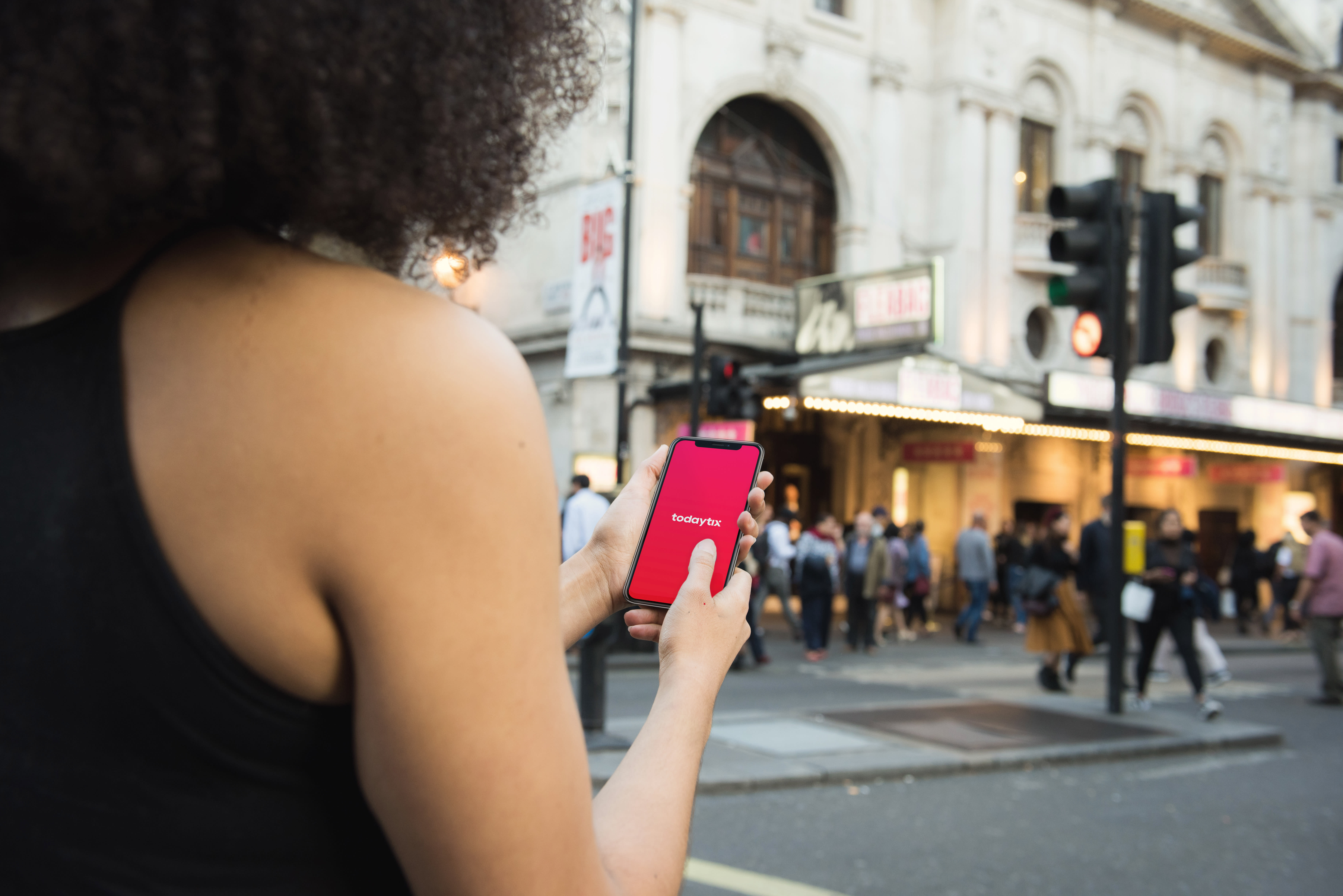 TodayTix has since become TodayTix Group (TTG), expanding into a portfolio of like-minded brands and distribution partners that together advance access to theatre.

TodayTix Group now connects over 15,000 show partners with new audiences, selling millions of tickets in major cities around the world, including London, New York, Toronto, and Sydney.
In 2020, the pandemic completely paused live theatre. TodayTix Group took the time to deepen its commitment to making theatre more accessible once it reopened.

"As we rapidly expanded into a portfolio company, we now had more stakeholders to engage, more brands to keep track of, more people in different time zones, and more complexity overall," says Courtney.

So Courtney gathered a team to take an honest look at their workflows, mapping every stage and stakeholder on a whiteboard. "This exercise showed us that we had outgrown our internal processes. What was working for us before wasn't going to serve us anymore," says Courtney.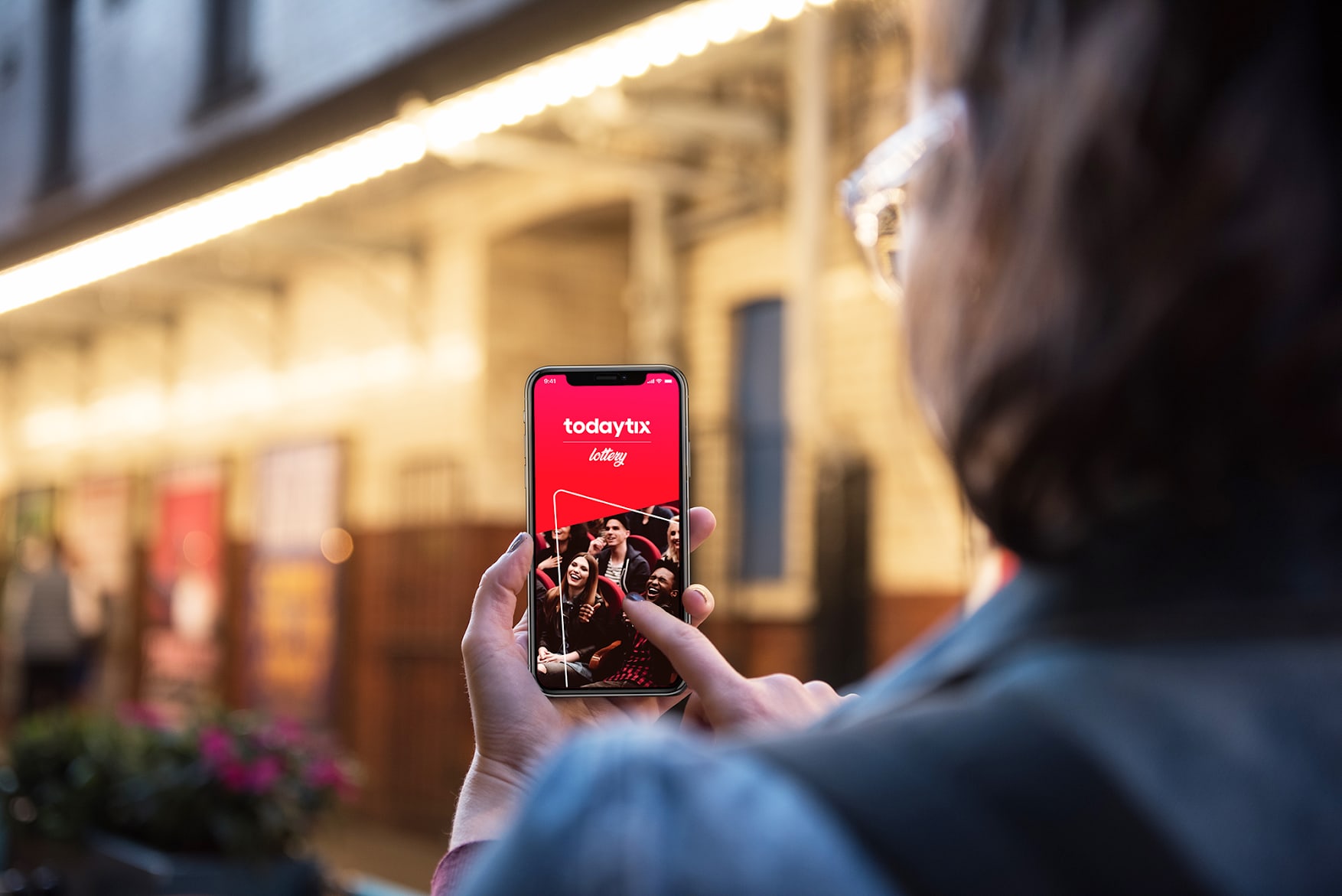 With increasing TodayTix Group employees, external partners, and brands, coordination and communication were becoming increasingly complex:
- Unclear ownership led to a lack of accountability
- Multiple sources of truth across teams led to duplicate work and inaccuracies
- Manual repetitive work led to inefficient time and resources
- Limited visibility into data led to information silos and tracking difficulty

Then the team realized: the same mindset of accessibility and efficiency that they used to disrupt the theatre industry could also help transform their internal processes. "We had broken down the barriers of time, complexity, and cost for our users," Courtney explains. "Now we needed to give ourselves that same 'star treatment.'"

Enter: monday.com.
Why monday.com?
When Courtney sought out a new platform, she first took a look at their existing tech stack in hopes that they already had a star. She and her team evaluated each platform against some of the company's values:

Transparency: breeding collaboration, trust, and more accurate work
Flexibility: taking advantage of opportunities as they arise
Scalability: creating a strong foundation with easily repeatable workflows
Single source of truth: ensuring that everyone's working from the latest information
Constant evolution: responding to business and team needs by listening to the people who use the workflows

"When we pitted each platform against our values, it became a no-brainer — monday.com just aligned," says Courtney.

TTG began to transform their internal processes on monday.com. One of the main focus areas was the way they launch campaigns. This meant aligning multiple stakeholders from operations, merchandising, product, tech, finance, creative, and PR, as well as external partners across various brands.
Streamlining all pitch proposals
One of TTG's largest annual campaigns is London Theatre Week, during which discounted tickets are available to 40+ top shows on West End and beyond. TodayTix Group's goal is to partner with as many shows and sell as many tickets as possible to further their mission in finding a seat for everyone.

"London Theatre Week is one of our largest annual campaigns. It requires collaboration and communication from everyone in the company," Courtney explains.

To kick off the campaign in the past, the partnership team gathered pitches and tracked them on a physical whiteboard in the London office. That wasn't going to work going forward, as global and remote teams grew.

So the team created a globally accessible pitch board on monday.com. The board includes any information needed from their original whiteboard method, like participating shows and status of conversations, plus more: a file column now stores any show posters or publicity photos for other teams to use.
The pitch board also helps keep their teams right on schedule; number and date columns track shows' promotional and on-sale dates, which automatically kickstarts the ticketing team's workflows.

TTG's pitch board is easily shareable, so any internal stakeholders, as well as external partners like their PR agency, can instantly track who's involved and the status of each pitch.
Connecting tools to connect the whole ensemble
Any partner can also submit their own request to work with TTG, which in the past was managed through a "Contact us" email address. They assigned a team member to the tedious task of managing the inbox and forwarding requests to the relevant people.

TTG simplified this process by embedding a monday.com form on their website for all requests. Based on the category the requester selects, the right team is automatically notified on Slack. These notifications include all the right context: the requester's contact information, the topic they selected from a dropdown menu, their message, and a link back to the item on monday.com.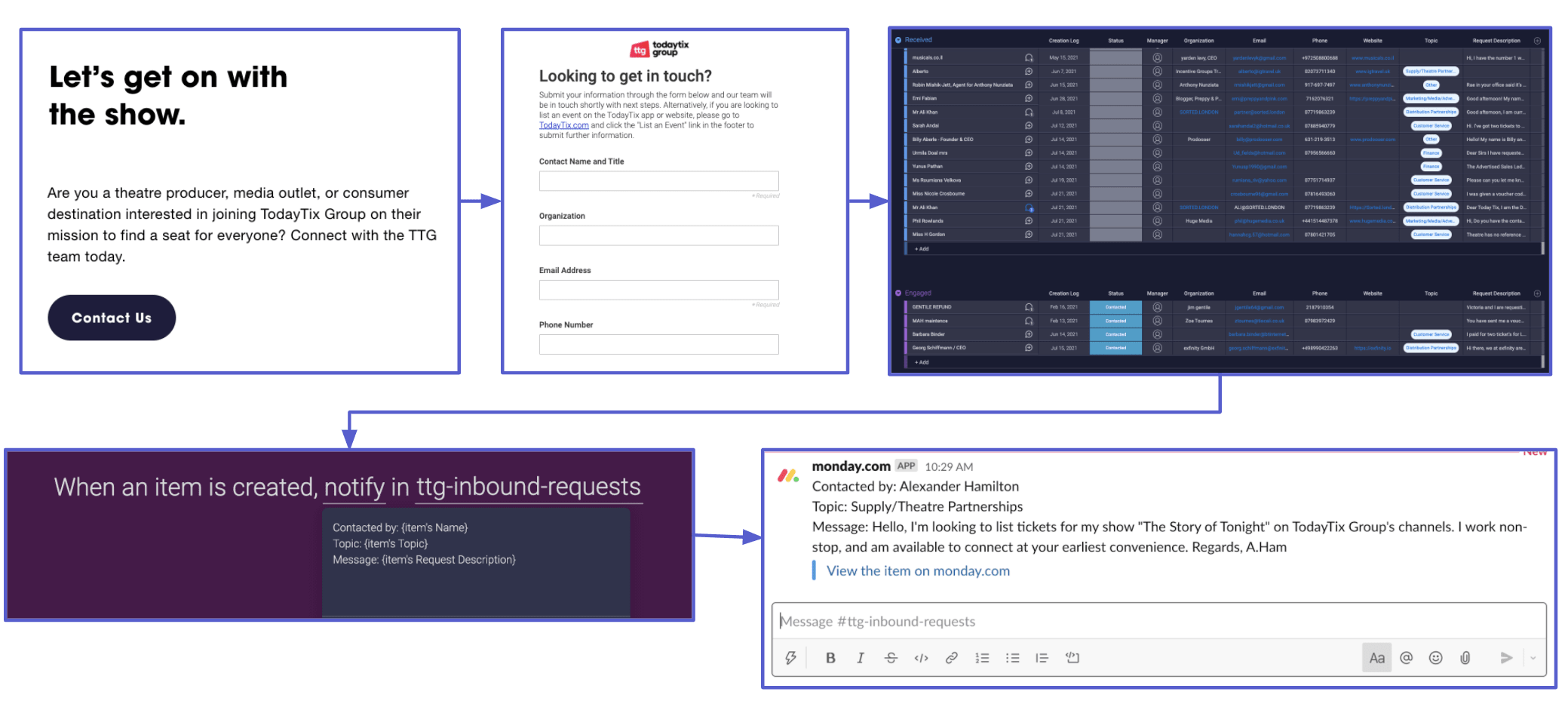 "As a theatre person in a tech company, I don't often have the ability to feel like I've successfully coded something. monday.com made it really easy for me to set up the entire inbound pitch process," Courtney says.
Powering creative asset production
To align regional merchandising teams and a global creative studio, Courtney created a centralized creative request board, which tracks everything from request statuses to owners to target markets. The creative request board helps managers spotlight the most important work in the pipeline. "We can decipher priorities based on business opportunity size, instead of just whichever one came in first," says Courtney.

Managers track the category, market, and time spent on each asset, which powers their resource allocation moving forward. "When we're looking at our hiring roadmap, it's really easy to pull that report and determine what skill sets we need to increase," says Courtney.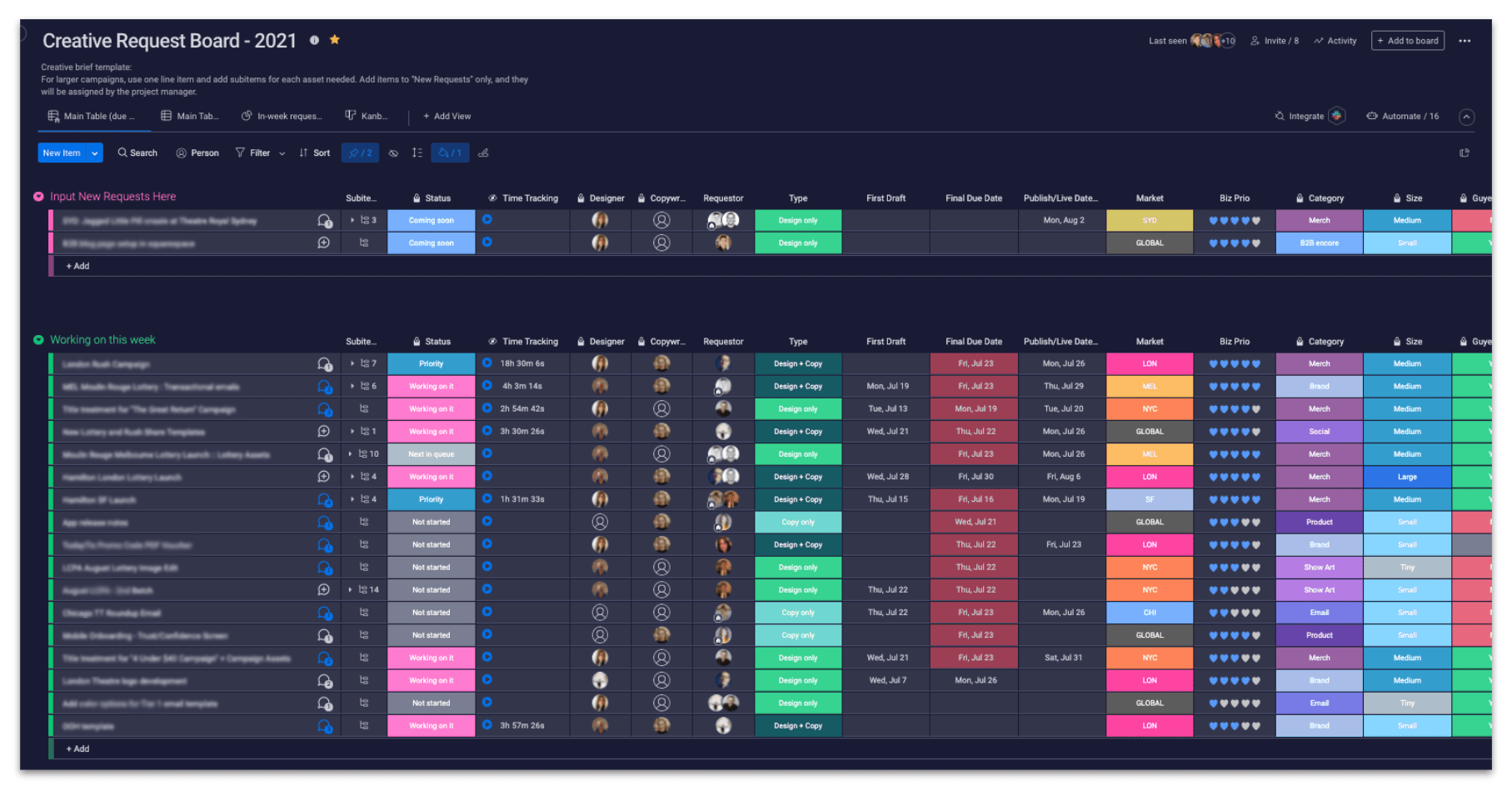 Accelerating rounds of feedback together
"This board is such a powerhouse for us because in addition to it being a valuable tool for high-level stakeholders, our creative team also uses it day-to-day to track their own work," says Courtney. To keep everything in context, they upload their creative asset files to the creative request board. From there, they review the files together in real-time with clearly defined versions that they reference and annotate.

"With the annotations and versioning features, we can mimic the ability to print out ads and stand around the table together, even as a global team," says Courtney. This natural communication style helps the team shorten their feedback loops and finalize assets faster.

Letting coders work in the way that works for them
Though TodayTix Group works mostly in-house, they do occasionally partner with external vendors. Their boards feature multiple views so external partners can choose whatever visualization they need to work. This flexibility also means they don't need to duplicate any information or change the data visualization they prefer in-house.

For example, TTG's shareable coding projects board helps them work with external coders seamlessly. Because coders may be familiar with Kanban from traditional software development platforms, Courtney added a Kanban view option to the board. Her team can still view the data as a chart while the coders can work in Kanban — each seeing the same live data.

The coding projects board also connects automatically to the creative request board. When someone marks that a creative request needs a coding resource, the ask then populates on the coding projects board with the exact information the coders need.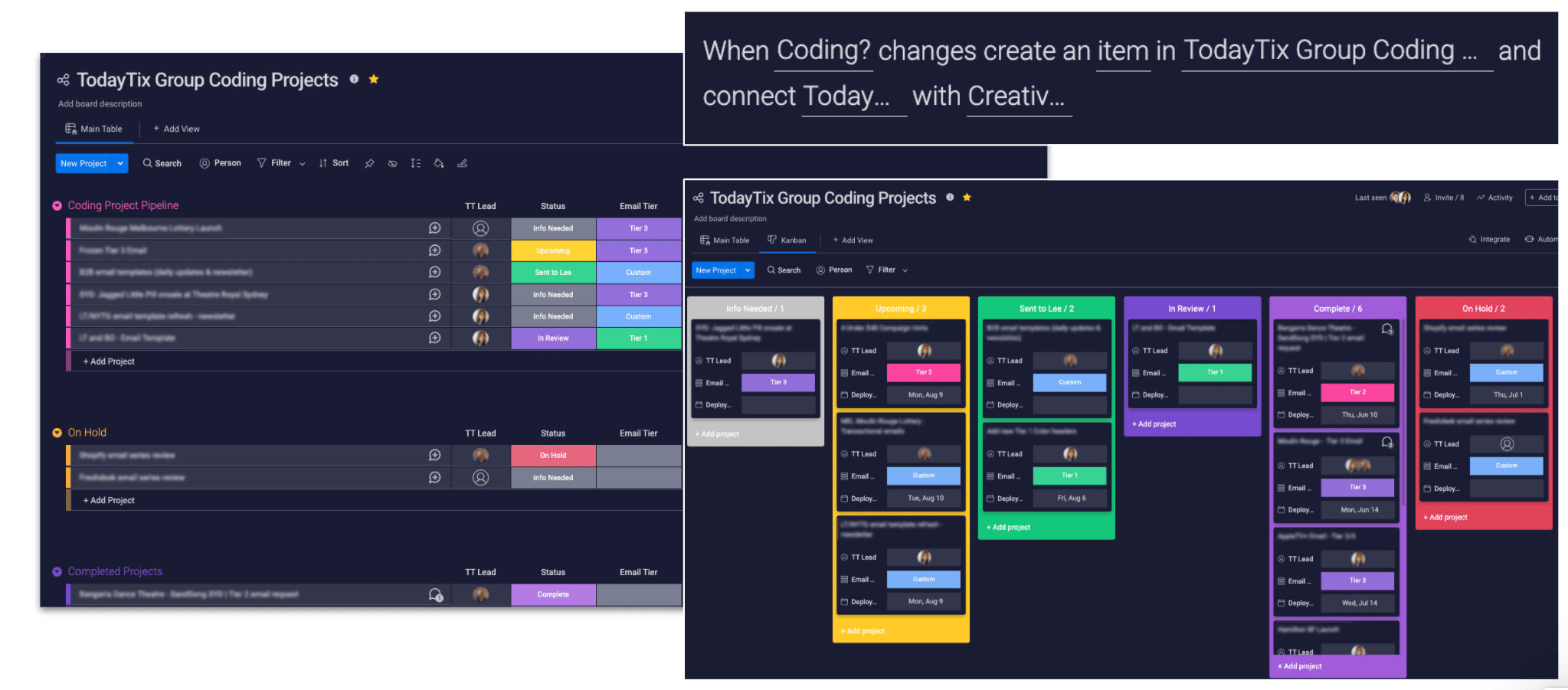 Consolidating budget reporting across all brands
"Being a new portfolio company, there is a new challenge that we've discovered: we need to track multiple brands separately, but also report on them altogether with aggregated data," Courtney says. For example, the finance department needs insight into the budget for freelance writers across the whole TodayTix Group portfolio. Before using monday.com, they spent time manually collecting and adding the budgets from each brand.

Now, one board automatically pulls and combines updated budgets reports from each content calendar in one place. The finance team can quickly and easily monitor the spend without the tedious extra work.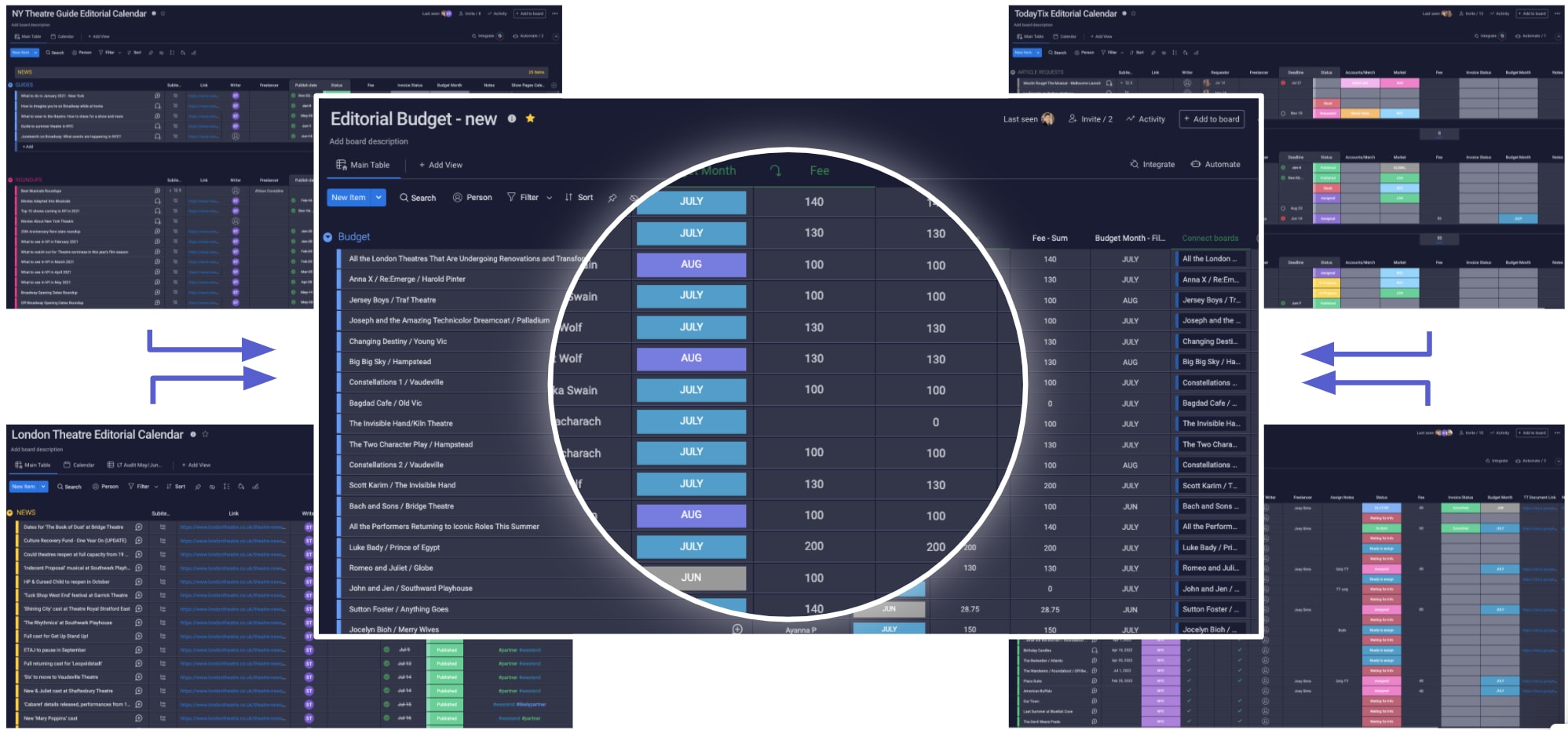 Connecting data to make sharper decisions
The marketing department needs a way to track, analyze, and share their progress with other TTG stakeholders and senior leadership. Their customizable dashboards create that cross-company transparency. "Our high-level dashboards provide a bespoke look at our projects and really bring the whole story together for campaigns," explains Courtney.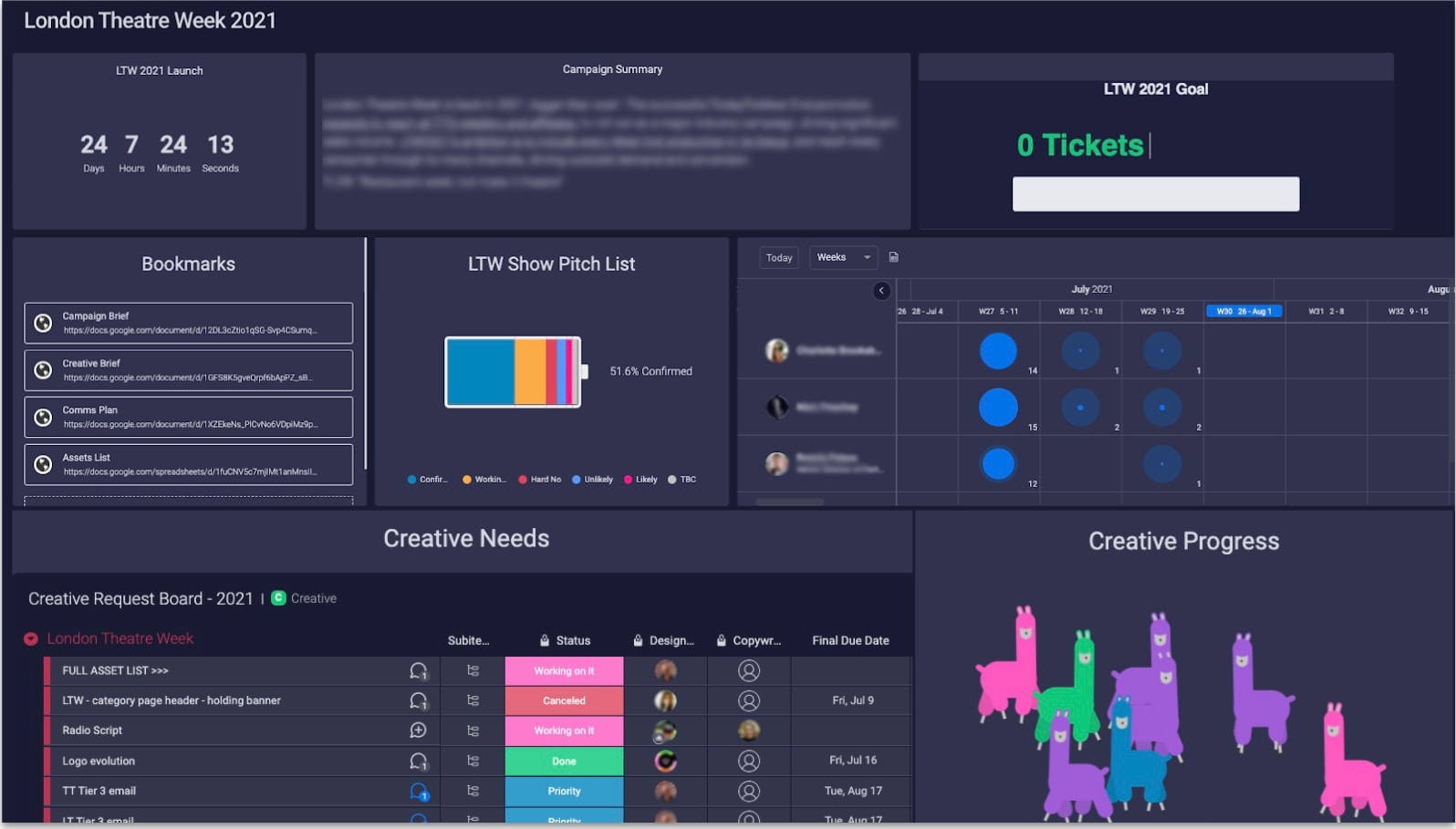 For instance, they leverage their London Theatre Week dashboard to get a broader picture of the complete marketing plan. Each customizable widget helps them make data-driven decisions:
- A battery widget visualizes how many shows are confirmed to participate and who is still in conversation. With an eye on the countdown clock to London Theatre Week, they can adapt the speed and urgency of their work.
- Workload bubbles show the amount of work that each team member is taking on. This helps managers delegate responsibilities and make sure they're allocating resources efficiently.
- A filtered view of the creative request board shows only London Theatre Week-related assets. This zoomed-in view helps the team avoid duplicate work, and managers can quickly click in to review the details and status of any creative asset.
- They keep the campaign summary in sight to make sure every effort aligns with the KPIs they've set.
Turning campaign feedback into action
Each campaign brings its own challenges and learning experiences, so TodayTix Group is sure to gather that feedback to keep improving. After each initiative, they send out a feedback form to campaign stakeholders. It covers everything from the quality of the brief to the level of efficiency.

The results feed directly into one retrospective board, where managers easily see which processes need the most attention or optimization. "Team leaders can filter the results and tailor their teams' work plans accordingly," Courtney says. "Having a post-campaign survey really helps us become more data-driven when we're making decisions for the benefit of everyone."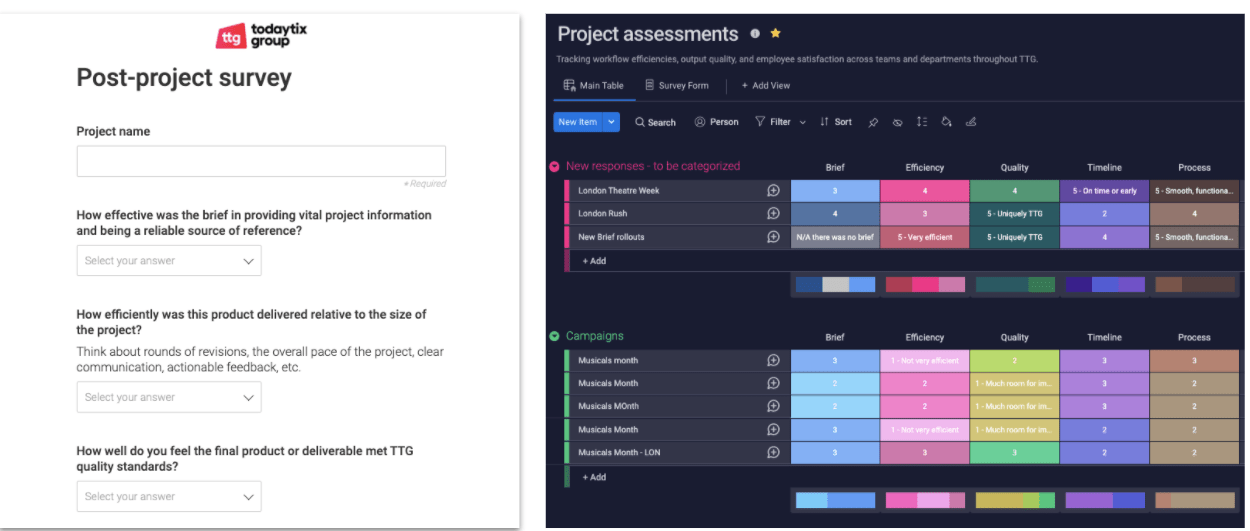 Within the first few months of optimizing the workflow, TTG increased their monday.com ROI from 6 to 15x by implementing these additional automations, integrations, and connected boards. They were able to transform their internal processes by applying the same disruptor mindset to their workflows that TodayTix Group brings to the industry on their mission to find a seat for everyone.
"monday.com is both flexible and scalable to meet the ever-changing needs of our growing business."
Courtney King
Director of Global Planning, TodayTix
Elevate 2021 exclusive: Want to achieve TodayTix Group's level of transparency, scalability, and flexibility?
Request a demo
Let us show you why over 100,000 organizations worldwide choose monday.com