How
RMI

streamlined its

HR processes

and improved the

candidate experience

with monday.com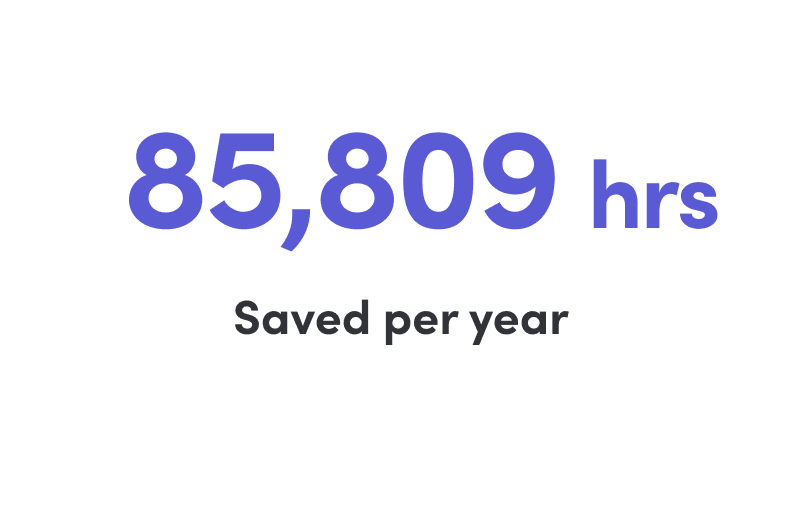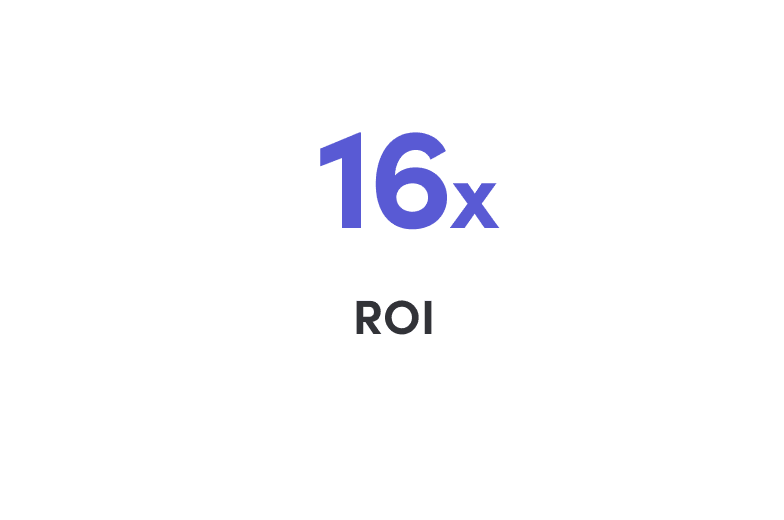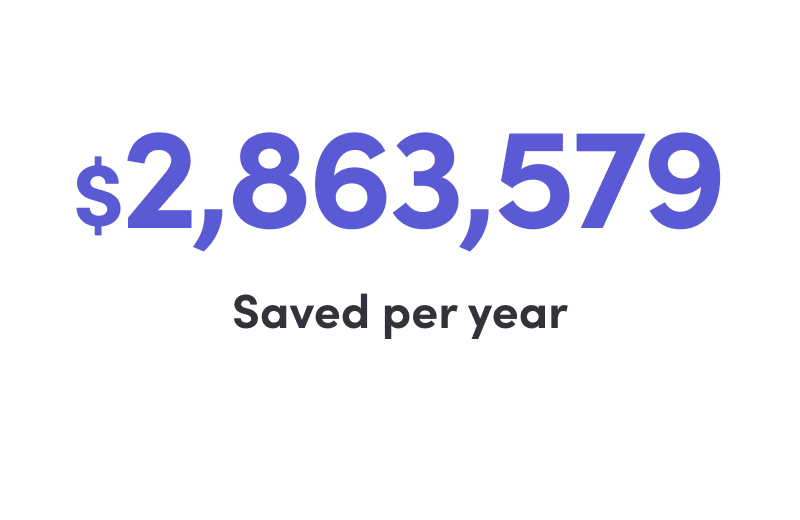 RMI is an independent non-profit founded in 1982 that transforms global energy systems through market-driven solutions to align with a 1.5°C future and secure a clean, prosperous, zero-carbon future for all. RMI works in the world's most critical geographies and engages businesses, policymakers, communities, and NGOs to identify and scale energy system interventions that will cut greenhouse gas emissions at least 50 percent by 2030.

RMI has offices in Basalt and Boulder, Colorado; New York City; Oakland, California; Washington, D.C.; and Beijing.

Meeting RMI's ambitious goals required scaling its projects and headcount. But as its workforce skyrocketed, processes became more hectic by the day. Additionally, the company moved to a "remote-ready workforce" policy, which allowed global employees to work from anywhere. While the new policy supported RMI's mission of serving economies around the world, it also created new alignment challenges.

"There was no standard system in place," explains Kevin Gauthier, Technical Project Manager. "People used whatever tool they thought was convenient. It kind of spiraled out of control."

RMI's People Team, for example, sorely needed a centralized place to track interview processes. "When we were tracking the hiring rounds before, we would need to check four different spreadsheets and keep creating new ones for new batches of candidates," says Jafet Nieves, Senior Recruiting Specialist. "Teams requested a lot of information about interview rounds, and those emails got lost because we would get our inboxes really blown up."

Without visibility across teams, they lost precious time. "There was a lot more manual work to do, and when I came in we were at a point where interview requests were increasing," says Jafet.

That disconnect and inefficiency spilled over into the People Operations Team once the candidate signed. "One email alert told us that someone was hired, moved departments, or was terminated. Then everyone worked in their own silos to complete their relevant tasks," says Chris Morris, People Operations Manager. "There was just a hope that everything would come together at the right time for this person. But obviously, that didn't happen."


Why monday.com?
RMI's Communications and Marketing Department were the first to adopt monday.com and showcased newfound speed and efficiency. "We work with approximately 1,000 projects annually and monday.com just continues to keep us organized," says Katie Frank, Creative Operations Senior Manager.

Kevin took note of the marketing department's success when he evaluated software for the entire organization to adopt. "It didn't take long for monday.com to bubble up to the surface as the most versatile," he says.

So Kevin and his team started onboarding all departments onto monday.com. They began with three project management templates to help employees manage their time, optimize their efforts, and delegate work.

"Then when people said, 'I like all that, but I need something quite unique from my case,' we evolved the standard project board into more agile boards and let them go with it," says Kevin.

That's where the People Team stepped in and built out their own efficient processes on the platform. It couldn't have come at a better time. RMI was about to reach 500 employees with the goal of reaching 1,000 employees by 2024.

Since then, RMI's People Team has been collaborating more efficiently and saving time in every part of their work, from recruiting to onboarding and beyond.


Centralizing all candidate information
"monday.com has really been a huge help in retooling our candidate tracking process — recording when they're going to interview, who they're interviewing with, and what stage they're in, all connected directly with HR," Jafet says.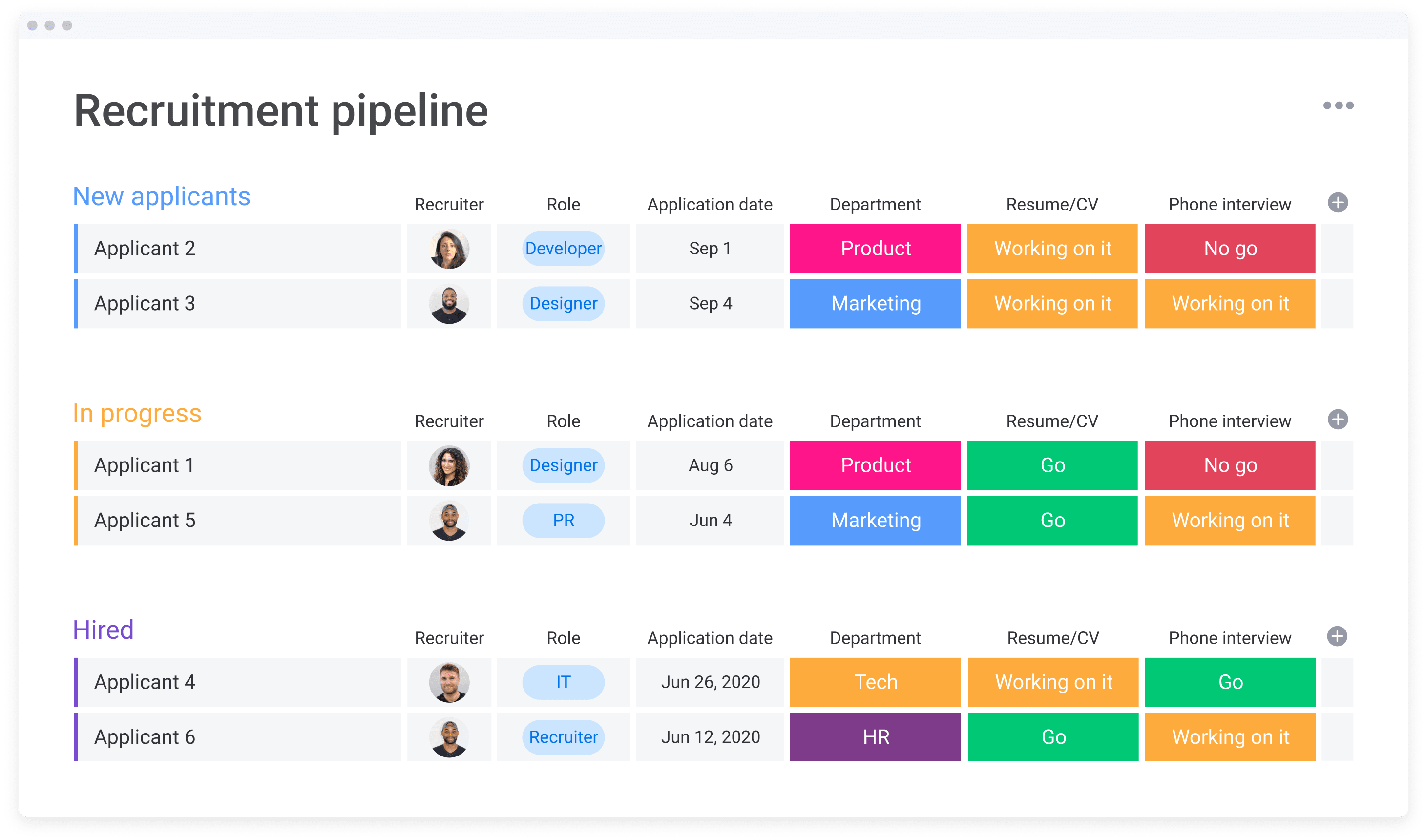 All candidate details are housed on one transparent candidate tracker, which helps the hiring rounds run much more efficiently. Across departments, RMI employees can access crucial, live updated candidate context in a click. "Now it's easier to filter information and get an overview of the position," says Jafet. "They can see if a position has been filled or if it's still in interview rounds because that's something that we actively update in the open positions board."

Details are automatically mirrored between all RMI's HR boards, from the email center to the open positions tracker to hiring round debriefs. Plus, automations notify the most important people when interviewee details or status changes.


Saving time with smart interview coordination requests
"Previously, we wasted a lot of time going back and forth with hiring teams," Jafet explains. "There are a lot of different programs within RMI, and we were four people managing interview requests for around 500 employees."
Today, RMI's HR processes kick off with a much smoother interview request experience.
"monday.com has really helped us shape a streamlined, detailed, and organized recruitment process,"
says Jafet.
RMI accepts applications through a SyncHR Recruit form on their website. From there, the hiring teams review the candidate information and fill out an interview coordination request form on monday.com. They input the list of candidates they want to move forward and the information that Jafet's team needs to coordinate interviews. Then the candidate information is added to an interview tracker board, which all the necessary stakeholders can access when they need.
Jafet notes that this transparency has been crucial as RMI scales their hiring efforts.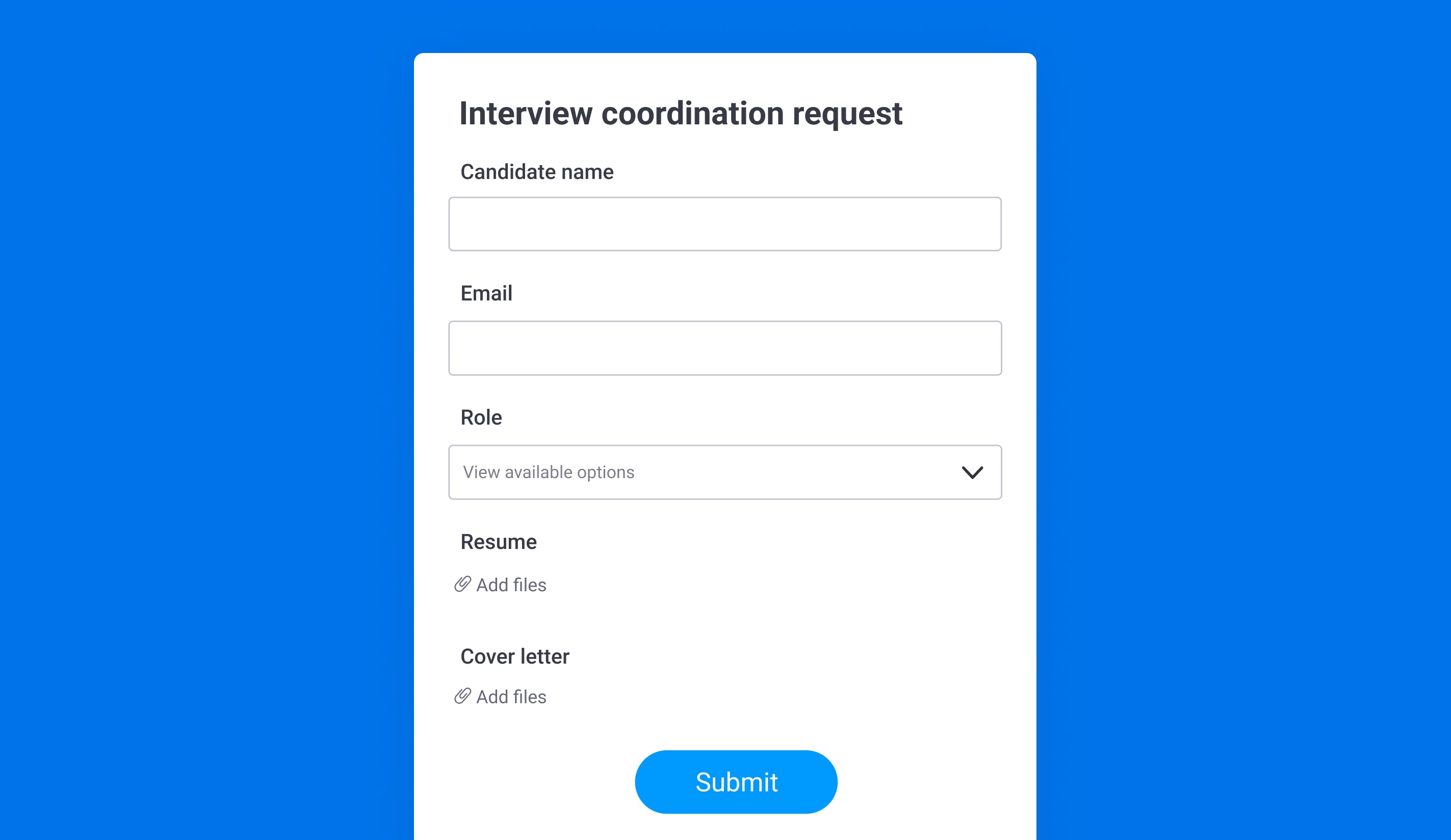 "The form has created a much more efficient process because it really decreases the back and forth," he explains. "From the start, we get all the information we need. We can easily track and connect to other teams, with visibility into each step of the process."


Creating a streamlined candidate experience
With monday.com, RMI streamlines its communications with candidates, ensuring they're sending out timely and accurate information. "When it came to a cohort, it used to take us a couple of days to send out emails. But now it just takes us one day to send an email to 50 different candidates and track that information," says Jafet.
"We've definitely gotten really positive feedback from candidates about how organized our process is,"
he says.
So what does that actually look like? Jafet's team has email templates set up within monday.com. When a status is changed on a candidate's item, like "Send round email," an email template is sent out.
"The email templates are already automated within our boards, which is so important to manage a lot of candidates,"
he says. "We can send mass emails to the candidates, track when those communications are being sent, and streamline the take-home assignments."
In the case of timed take-home assignments, for example, they send out a form for the candidates to tell the People Team when they want to receive the assignment. Candidates are kept in the loop with an automated confirmation email when they submit the form.
Collaborating with other teams, any way they need to work
Across RMI, hiring teams can collaborate effectively with HR to make sure they get the best possible candidates. They easily access HR data, know which stakeholders to contact for questions, and communicate in the context of shared work — while still maintaining the views, processes, and software integrations that work for them.
"The one thing about monday.com that really appealed to the team and my former manager is how customizable it is to each and every team, "
says Jafet. "That's what separated it from other platforms."
An unexpected benefit of the transparency they've achieved with the platform: they understand and can coordinate with each other's work better. "The platform helps us clearly see how our processes relate to other teams outside of Talent Acquisition and work more closely with them," he says.
Seamlessly handing over new hire information
Once a candidate is hired, RMI's People Team continues to use the interview tracker for a smooth onboarding.
"There are at least 154 people on the board, so that tells you how connected this is to other teams from Finance, HR, IT, Communications, etc," says Jafet. "They're all able to have visibility into each one of the steps that candidates are being onboarded."
With each new hire, the recruitment team submits a ticket, which automatically notifies Chris (the People Operations Manager), the hire's new manager, and an external IT helpdesk.
"In the past, this ticket came through SharePoint," explains Chris. "It wasn't editable, you wouldn't be able to see who's doing what, and you won't be able to assign tasks. So you would get the ticket and then you'll be sort of left in the dark of what everyone else was doing."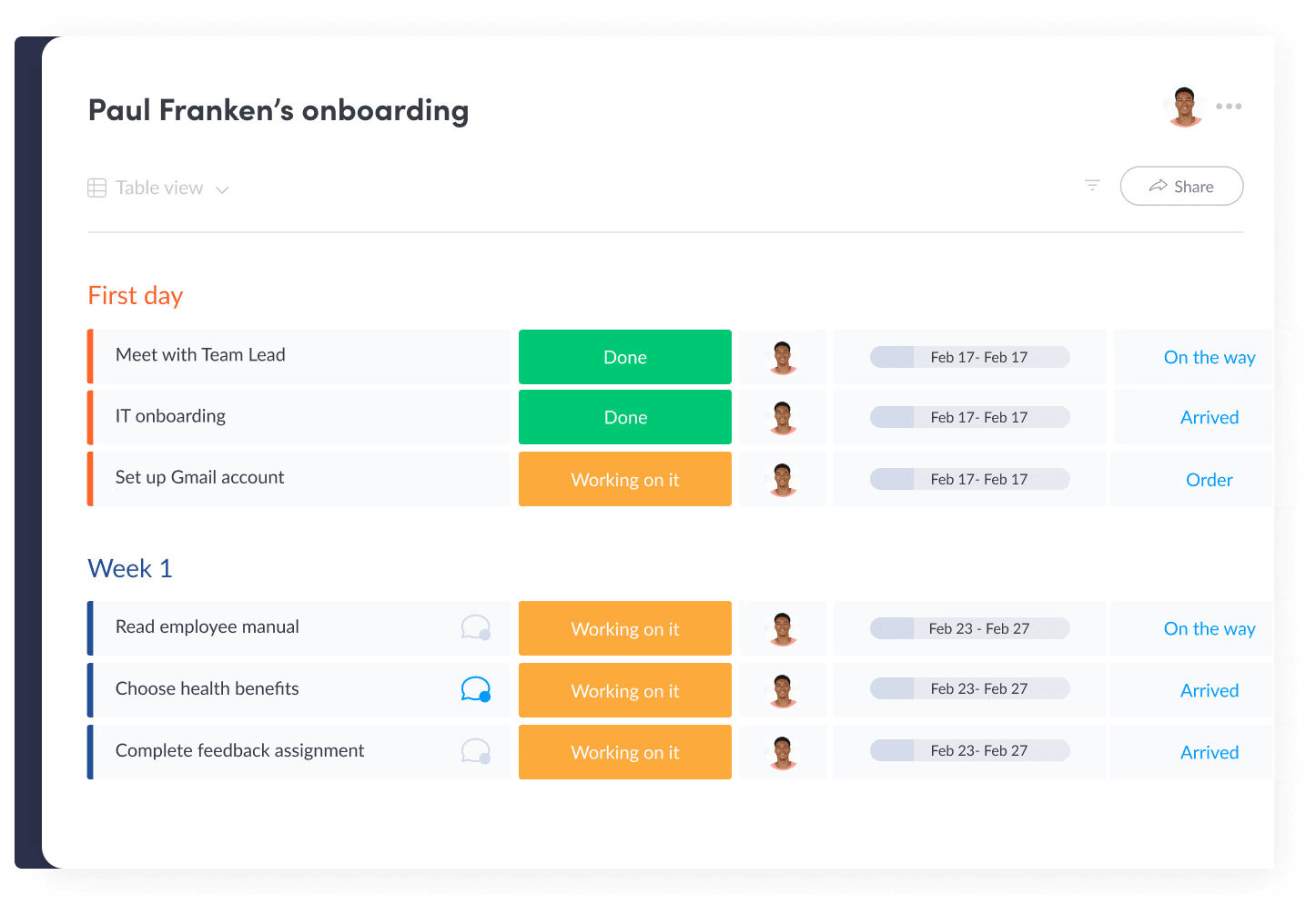 Today, the ticket enters a transparent onboarding tracker board on monday.com, which connects to all the updated candidate information from the interview tracker. Tasks are created for anyone who needs to be involved, each department gets separate views so they can focus on their own responsibilities, and the right people are automatically assigned and notified to get started.

Anytime employees update their personal information, switch jobs, or leave RMI, they can enter that information through a form that inputs the update directly into monday.com. From there, RMI implements the same efficient workflow as onboarding.


Simplifying onboarding and IT equipment
External vendors also collaborate with RMI through monday.com, which solved one of Chris's team's major pain points. Although RMI houses an internal IT team, it uses an external IT team to handle configuring computers, setting login credentials, and sending tech equipment to new employees.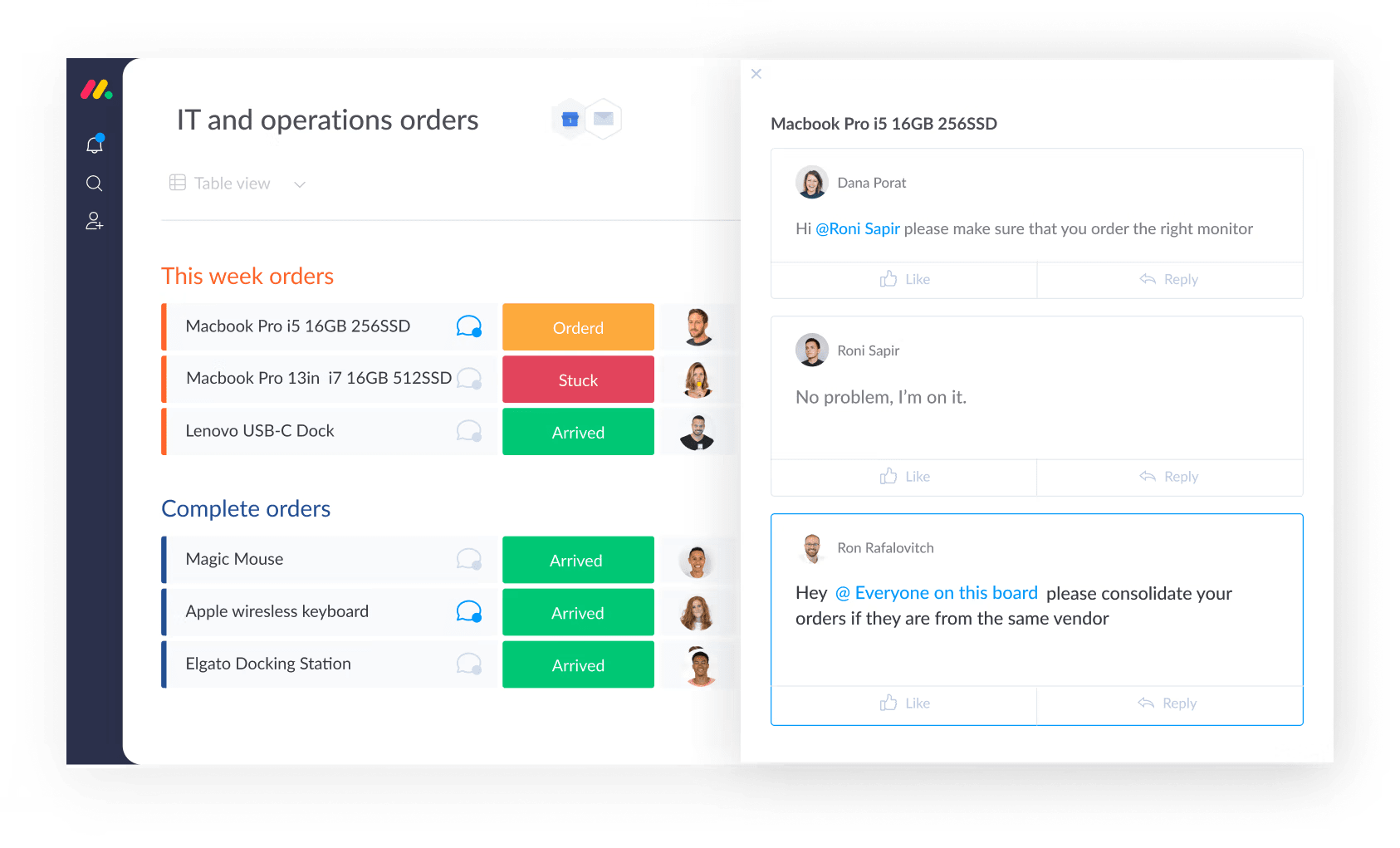 "Before, we would have to look in the staff directory and just hope that they had added the new hire's information," says Chris. With access to the monday.com board, the external IT team can add all the necessary information themselves, like FedEx tracking numbers and new passwords. That information is automatically sent to the new hire using an email template.

Chris especially loves the automations within monday.com. He set up Asana in his last organization, and compared: "I think the automations are 100% better in monday.com, particularly the automation of using emails. They're a lot more intuitive and a lot better set up. You don't have to do too much training to understand what happens," he says.

While automations help RMI's People Team move faster, they also minimize human error. For example, when the external IT team hasn't taken care of something after a certain amount of time, the internal IT help desk manager is automatically notified. "monday.com has allowed us to put in certain safety nets in place to make sure things get done," says Chris.

"This has drastically helped our IT team," he says. "It's a lot more organized, there's a lot more consistency, and everyone's really enjoying the new process."


Scaling the company with live hiring and diversity reports
On the whole, RMI's People Team's work aligns with its values as an organization. Whether in the realm of hiring or consulting on climate change, RMI employees always fuel their decisions with data. The same goes for the People Team. "Whenever we present anything, we always try to create enough data to tell a story, like showing the diversity and retention rates from leadership to entry-level," says Chris.
Diversity and equitable hiring similarly reflect RMI's values, he explains: "We are a company that focuses heavily on equity, providing equitable decarbonization and electrification resources to countries like the Caribbean islands who are being affected by climate change first."
To track and scale their hiring and workforce representation, Chris's team uses live-updated dashboards on monday.com with a recruitment stats dashboard. The dashboard pulls together and visualizes how many positions have been filled and accepted per quarter, employee referral numbers, total open positions, and more. At any point, the People Team can generate these hiring reports for leadership, either by sharing the monday.com link or exporting them to a file.
"monday.com has allowed us to work a lot more efficiently, collaboratively, and transparently."
Chris Morris
People Operations Manager
RMI
Request a demo
Let us show you why over 180,000 customers worldwide choose monday.com