How
Citizens Bank

approved Paycheck Protection Program loans valued at nearly

$50 million

and protected

8,000+

jobs in just 10 days using monday.com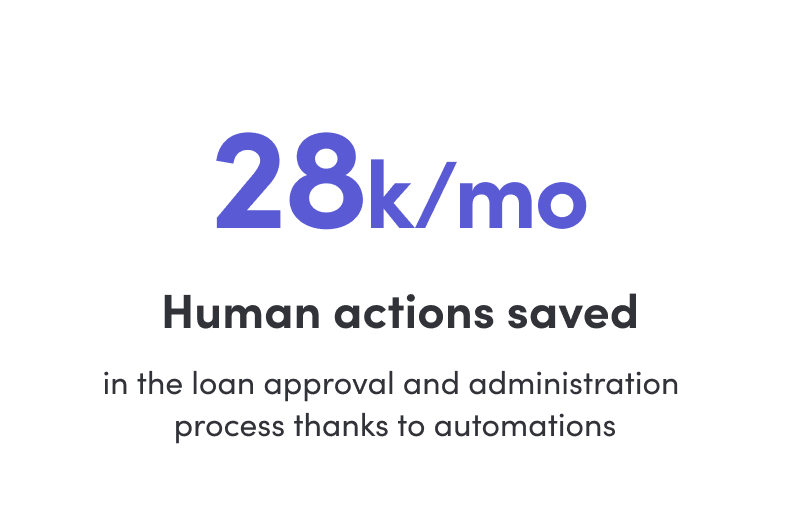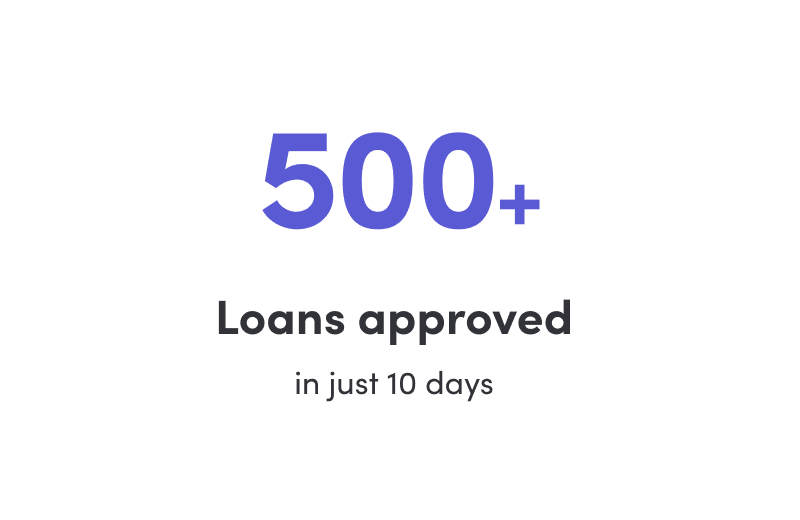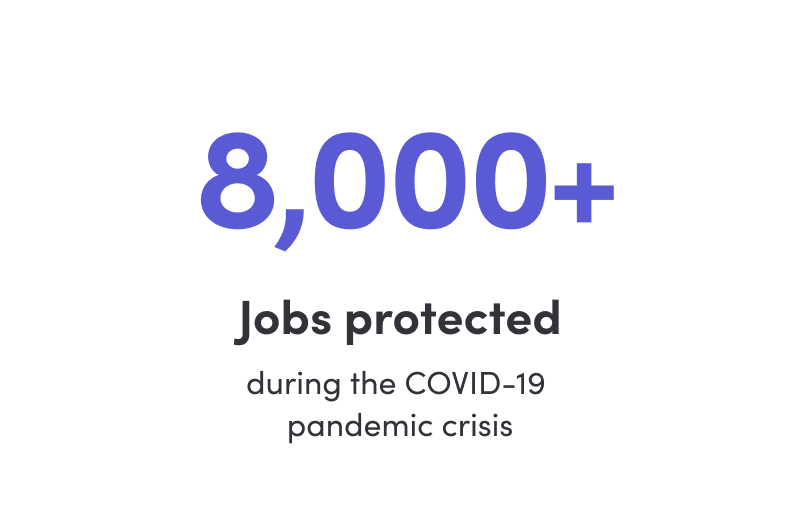 Established in 1953, Citizens Bank is an American bank committed to serving working people in Arkansas.

On March 27th, 2020, the US government passed The Coronavirus Aid, Relief, and Economic Security (CARES) Act due to the COVID-19 outbreak. This $2 trillion economic relief package provides fast and direct economic assistance to American workers, families, and small businesses.

As part of the CARES Act, the government established the Small Business Paycheck Protection Program providing small businesses with the resources needed to maintain payroll, hire back laid-off employees, and cover applicable overhead. And, the Small Business Administration (SBA) will forgive these loans if all employees are kept on the payroll for eight weeks, and the money is used for payroll, rent, mortgage interest, or utilities.

Vernon Scott, Market President, and Anastasia Blaylock, Director of Treasury Management, were heavily involved in building the Payment Protection Program (PPP) loan approval and administration process in monday.com for Citizens Bank.

"The responsibility of figuring out how to actually get all of this money into the economy was put on the banks. At the time the Act was passed, there was very little information or guidance on how to make these loans. I've been in banking since 2003, and I've been through the 2008 financial crisis, and there hasn't been anything like this. It was a brand new process we needed to figure out," says Vernon.
"When the government announced the stimulus package, we knew we were about to be inundated with loan requests. Not only was this Act new to the country, but this was new to bankers, and we wanted to be able to help every single person that was reaching out," says Anastasia Blaylock, Director of Treasury Management.

Citizens Bank didn't have a workflow in place for processing loans at this volume. Before the US government passed the CARES Act, each individual loan officer and assistant would handle a certain volume of loan requests through shared files and folders, which was fine for the volume they were used to processing. But they knew this was just a fraction of the amount to come with the new Act.

"Every single small business customer that we had and a couple hundred others were trying to get a hold of us. And most of these businesses that we deal with are not publicly traded companies with access to capital markets. If they'd go for 30 days or even a couple of weeks without any revenue, that would be the end for a lot of these folks," says Vernon Scott, Market President.
Why monday.com?
Citizens Bank initially looked for a platform to increase organizational transparency within the bank since every team tracked their work in separate silos, which meant many processes were unintentionally restricted from other parts of the bank.

"Vernon found monday.com Work OS. And we really just fell in love with it. The fact that everyone is able to see what everyone is working on and the status of work really bridged the gap that we had. I think that was why it was so well received by everyone in the bank when we introduced the platform," says Anastasia.

Once the pandemic hit, Citizens Bank needed to pivot and prepare to process and issue new loans quickly.

"We knew monday.com could handle this because I was already doing a somewhat similar process in treasury management. Not as big or as detailed, but the flow was quite similar, which is why we knew that we could adapt the Work OS to fit this new and immediate need," says Anastasia.
"Everyone onboarded really, really fast. We literally built this PPP loan process out over a weekend. monday.com is just so intuitive and easy to use. It's like an iPhone in a way in that you just know how and what you want to do next," says Anastasia.


Turning FAQs into a valuable knowledge base
There was a lag between when the Act passed and when the banks received instructions and guidance on issuing PPP loans. As a result, Citizens Bank was inundated with phone calls, emails, and in-person visits inquiring into the Act and PPP loans and they needed to be able to track all the questions and answers as things were still being figured out.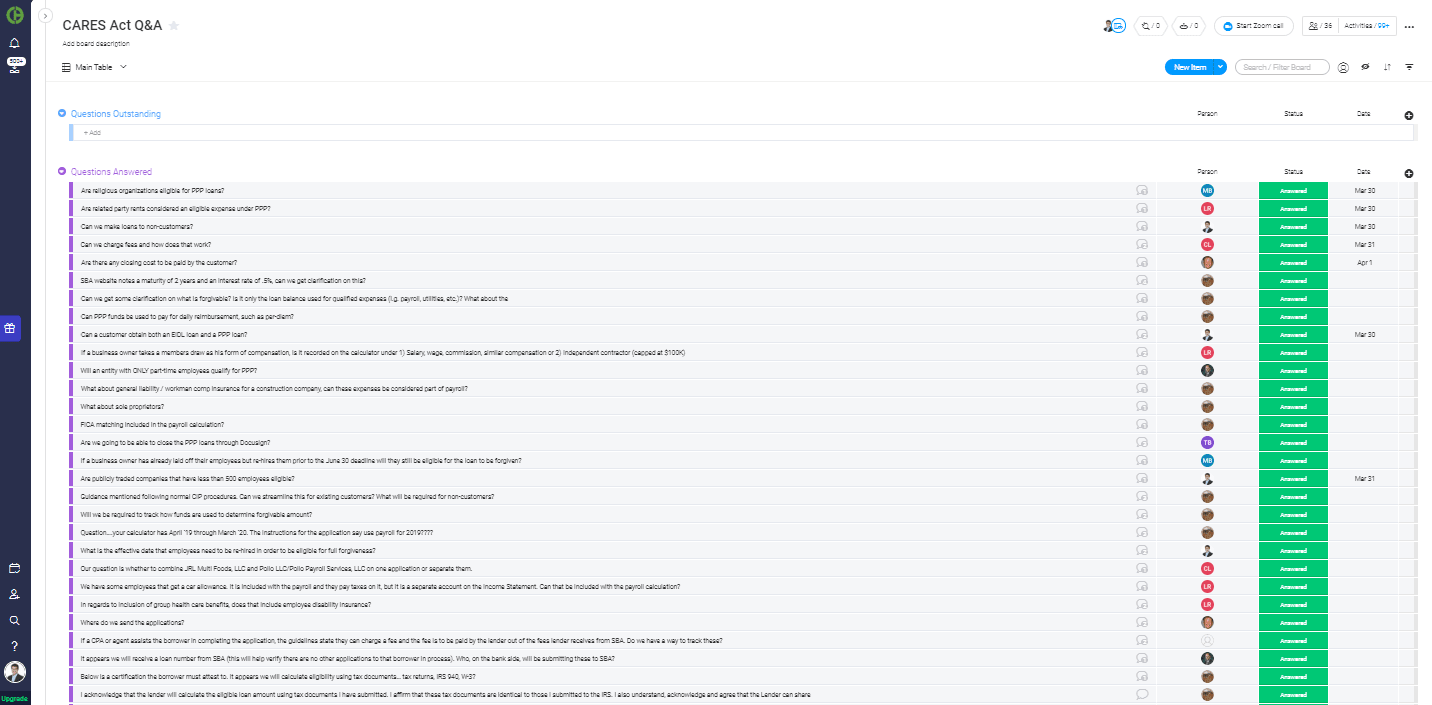 "We set up Q & A workflow apps on monday.com for the CARES Act, PPP loans, and loan forgiveness to track all the questions that were coming in from every market. The lenders who were constantly hit with questions could then quickly and easily reference which questions were answered and which ones were still outstanding. And beyond that, you could see which lender answered which question and the status of what's happening with the questions that were still outstanding with automated notifications," says Anastasia.


Developing a complex workflow for processing PPP loan requests
Once the customer received a Small Business Administration(SBA) number, they had 10 days to close the loan.

Anastasia, together with other team members, built out a flow of connected workflow apps over a single weekend that would streamline the process for PPP loans.


1. Paycheck Protection Plan Board:
This board captured all customers that contact Citizens Bank to submit an application, request an application or ask questions. The customers were then categorized under the relevant group category: Doubtful (inquired but changed their mind or didn't meet the criteria), Withdrawn or Denied, Application Requested, Application Received, Applications for Approval (reviewed by the internal team and ready for underwriting).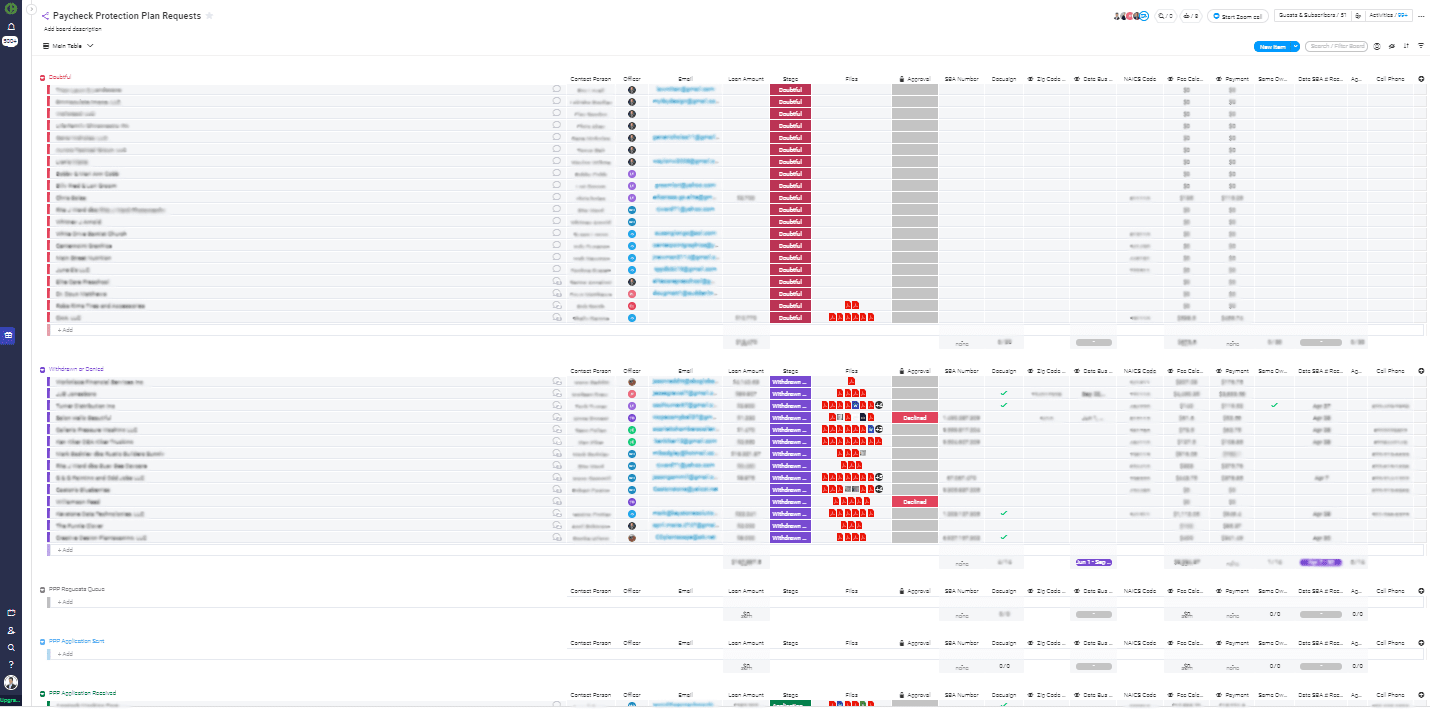 "The SBA was continuously coming out with new guidelines which meant we constantly had to change and tweak things, and monday.com made it incredibly easy for us to do that quickly," says Vernon.


2. PPP Underwriting Desk Board:
After the loan applications had undergone a review for accuracy, the underwriting team would be notified, and a member of the underwriting team was assigned to the Request for Approval. The underwriter reviewed the information provided and began the underwriting process. Once complete, the assigned underwriter changed the status column to approved, and it automatically transferred the loan application to the PPP Loan Processing board.




At the same time, if the loan request came from a new customer, an item would be created in another board to notify someone that an account needed to be opened to be able to deposit the loan proceeds.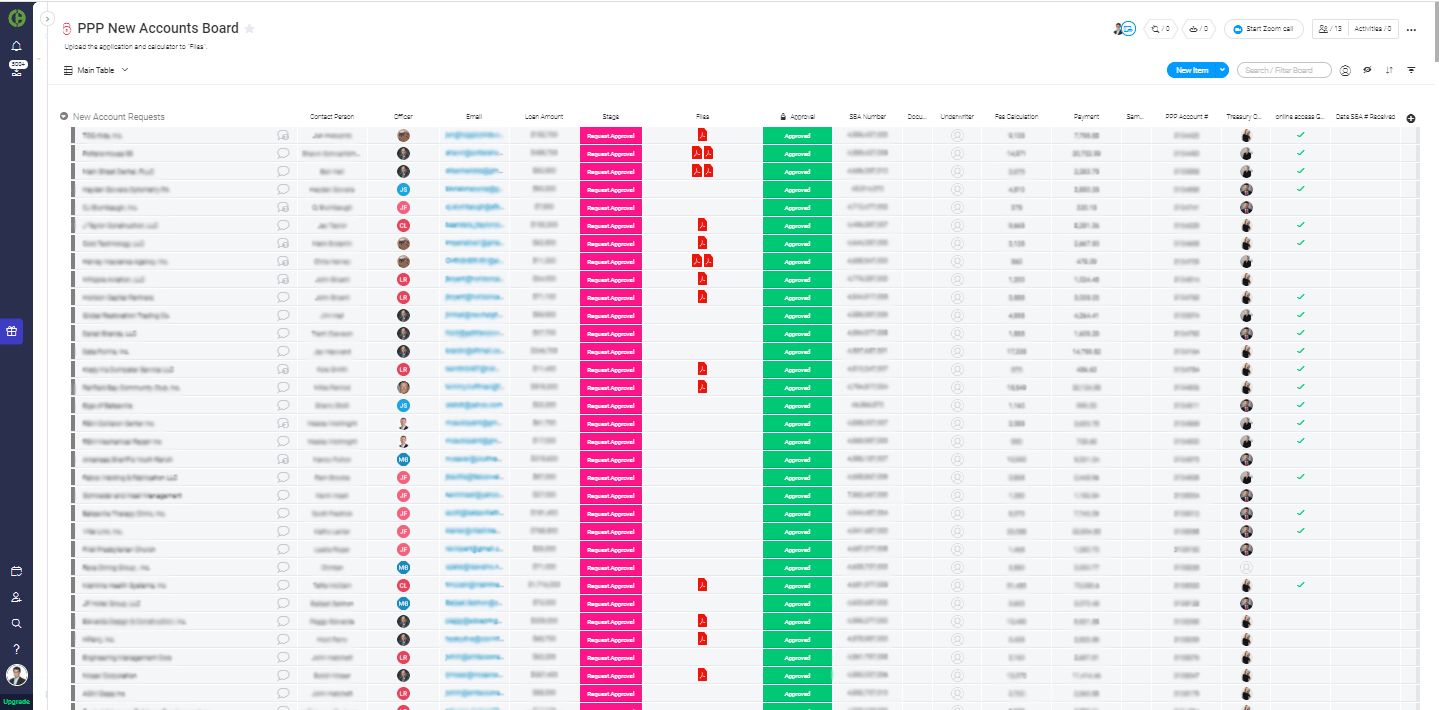 3. PPP Loan Processing Board:
The processing team received an automatic notification to start preparing all the necessary documents for closing. Once processed, the team added the closing documents to the File column, and the assigned lender was then automatically notified that the closing documents were ready. At that point, the lender funded the loan.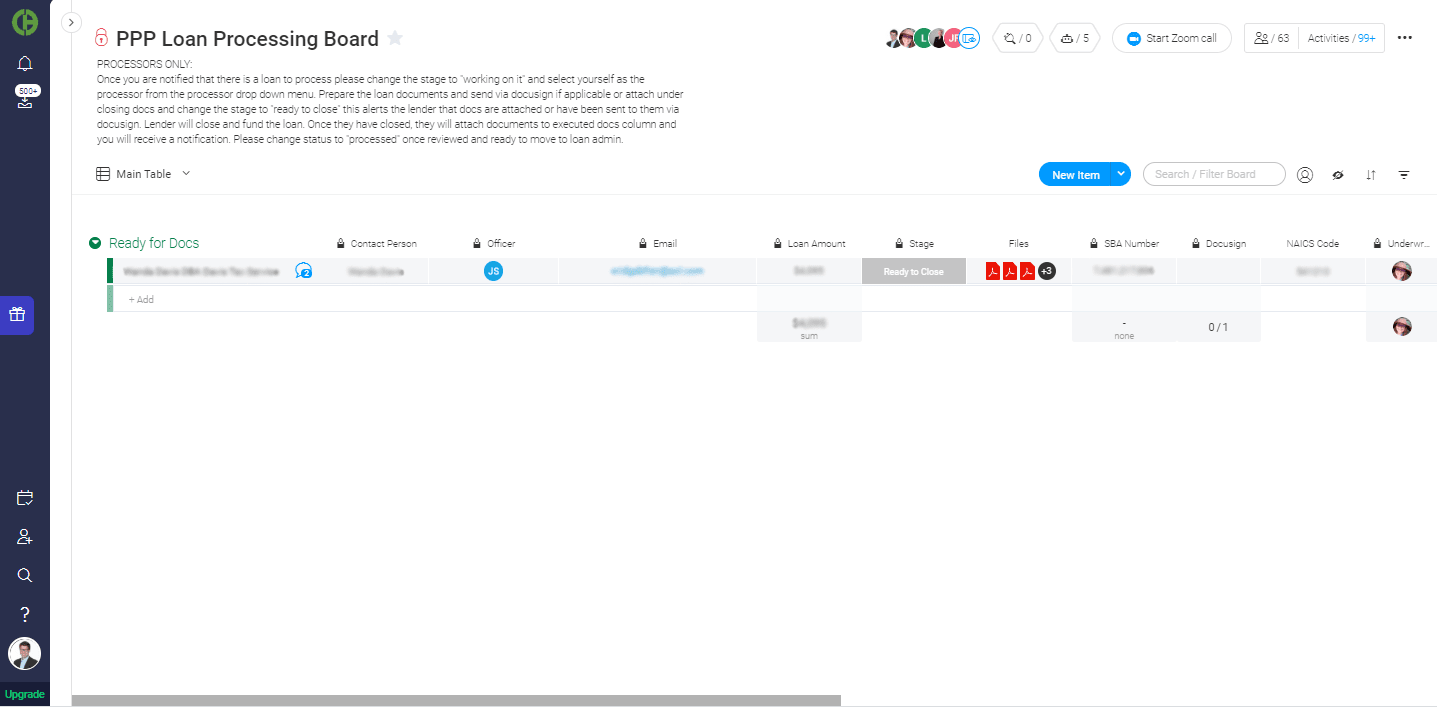 The loan then appeared on the PPP Loan Admin board under the "Closed Loans for Upload" group, where the admin assigned themselves to the item and put the loan into their banking system. Once they uploaded everything, the admin would change the status to "Send to Scanners," and the item appeared in the PPP Scanners Board ready for scanning.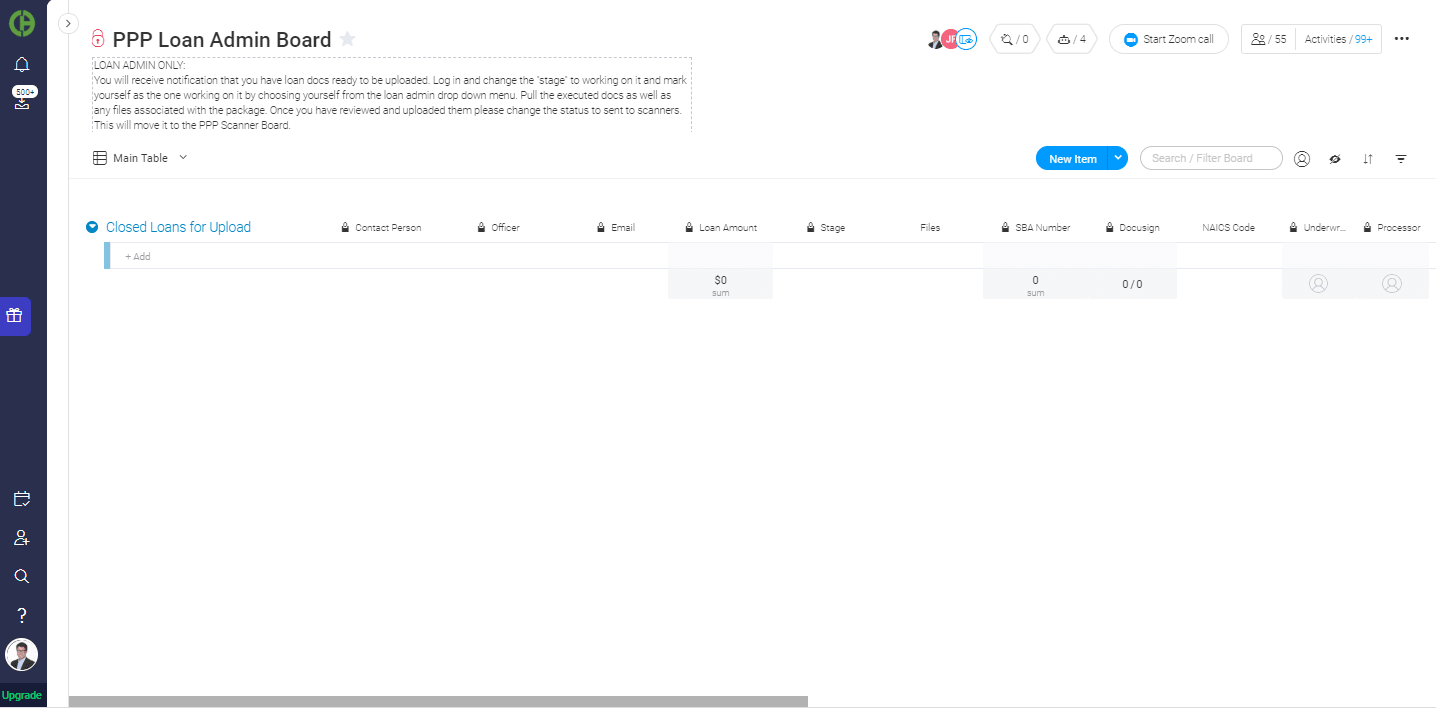 Scanning was the final stage before the loan closed. The scanners team would scan the documents, adding them to the cold storage system. All the documents still remain in monday.com where the loan documentation is kept for the forgiveness process.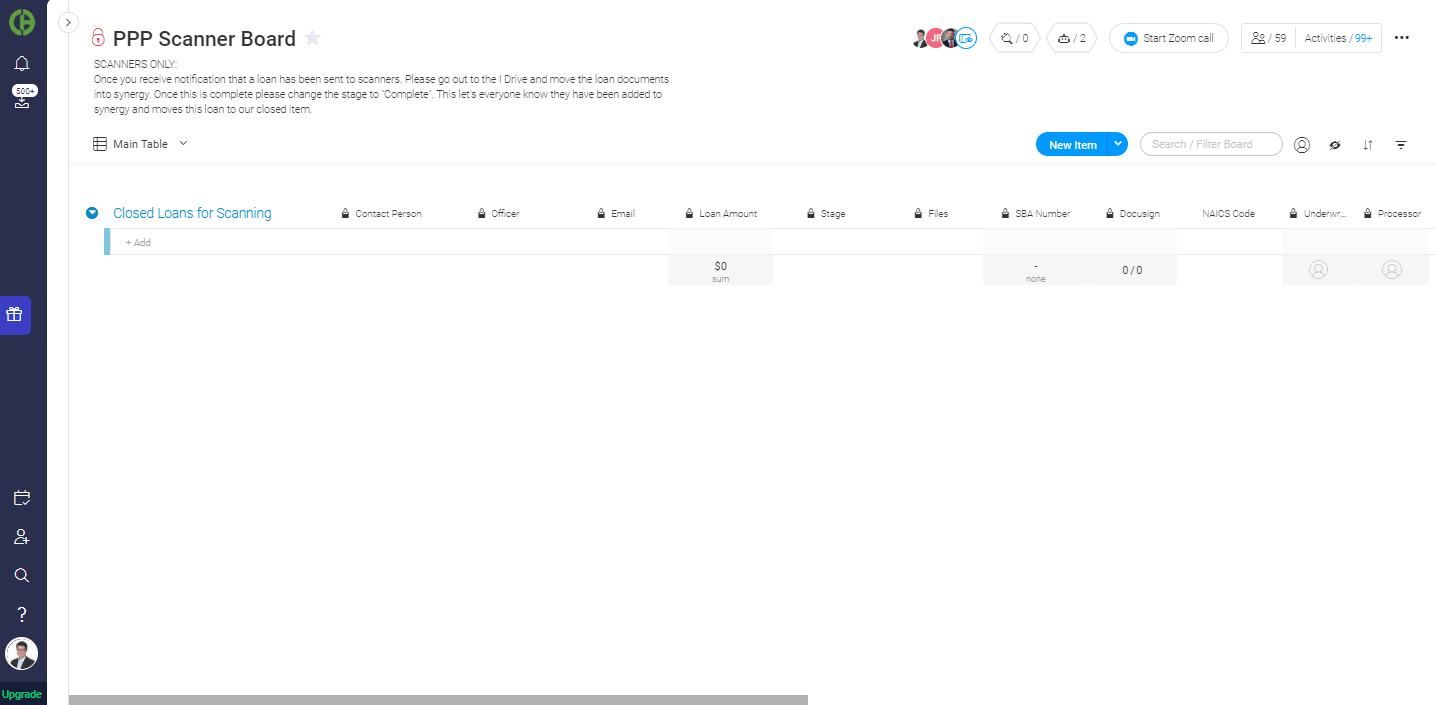 6. PPP Closed Loans Board:
Once a PPP loan closed, an email campaign workflow is triggered through monday.com to keep customers engaged and informed.

"Our marketing team has been using the information stored in monday.com to send out emails to all of our PPP loan customers, giving them advice about how to use the funds and the documentation that they need to get the loan forgiven. So our marketing team has just been able to get emails out really easily and stay in touch with these customers in an efficient way," says Anastasia.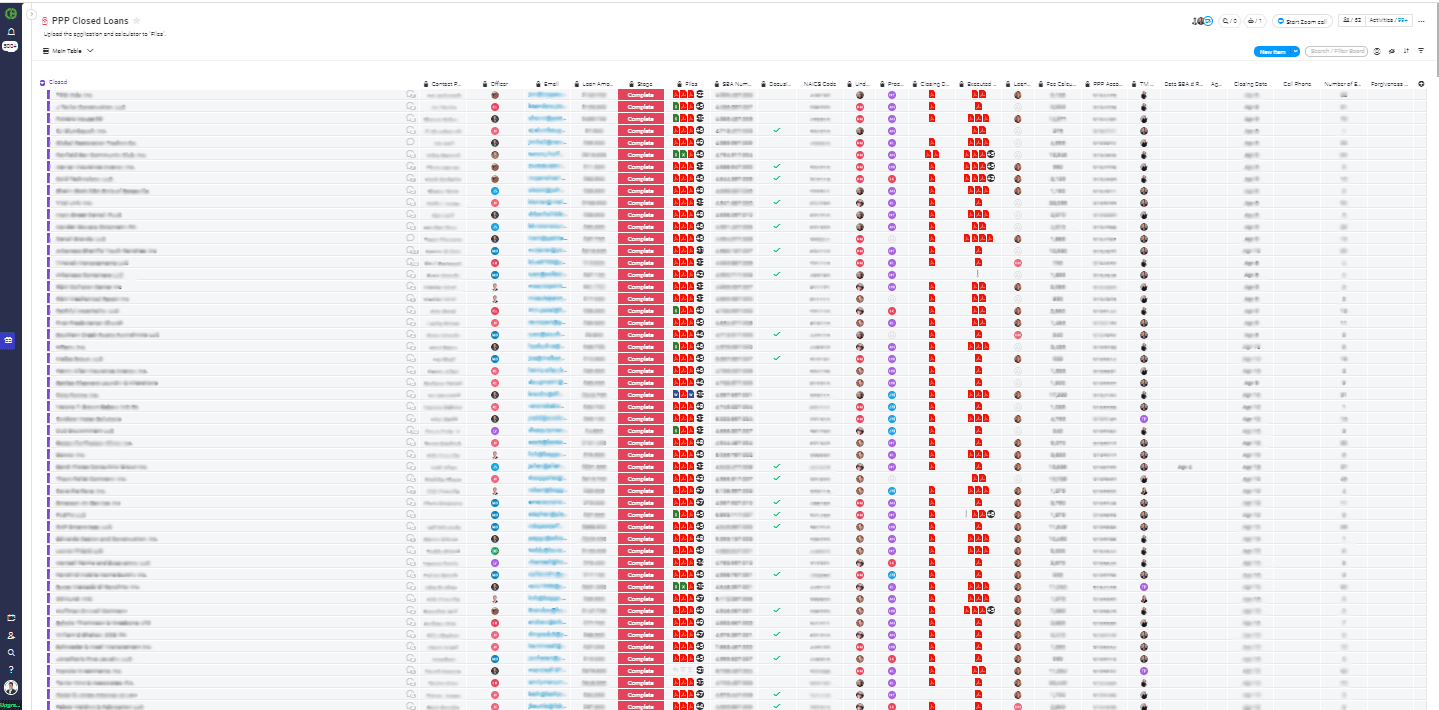 Offering the Board of Directors a lens into the loans process
Citizens Bank configured a robust dashboard with all the PPP loan data summarized for its Board of Directors to review at a glance.

"Our board of directors could see how many loans were approved and the total dollar amount. They could see how many were in underwriting, how many were in processing. They could see the total amount collected in fees, and so on. Everything was all clearly outlined in the dashboard," says Anastasia.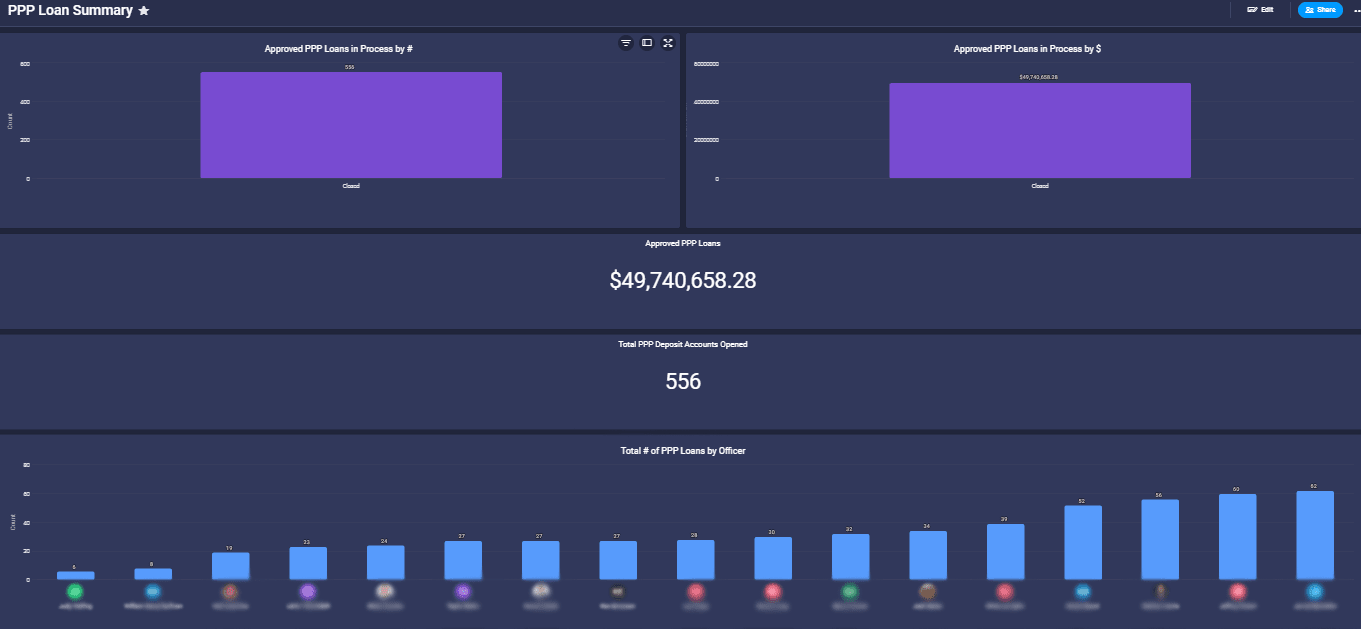 "We wouldn't have been able to process this many loans, this quickly and efficiently, and protect this many jobs without monday.com."
Vernon Scott
Market President, Citizens Bank
Contact sales
Our consultants will advise you on the best solutions for your needs