How Black Mountain uses monday sales CRM to support 700+ global clients
15%
increase in conversion rate
10+ hrs
saved per month in sales admin
15%
increase in conversion rate
Meet Black Mountain
Black Mountain offers integrated outsourced solutions to streamline the operations of companies of any size. It primarily focuses on HR and payroll solutions but can also assist clients with employee benefits, company incorporation, administration solutions, and more.

"We've helped customers with everything from payroll management all the way through to setting up a new company," says Luca Pope, Global Client Solutions Manager, who leads sales and marketing for Black Mountain.

With offices in Hong Kong, Singapore, Germany, and the UK, and a network of regional partners, Black Mountain couples its global reach with local expertise. This ensures a consistent quality of service for every customer, no matter the location.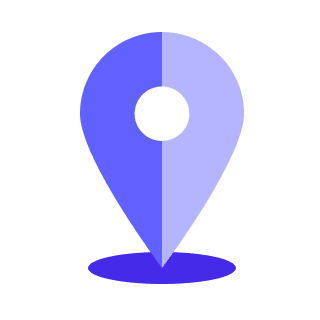 Location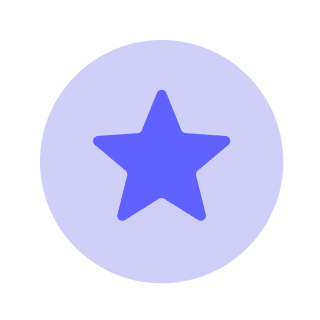 Use case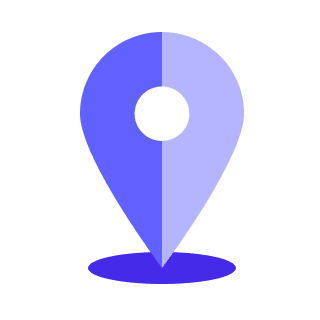 Location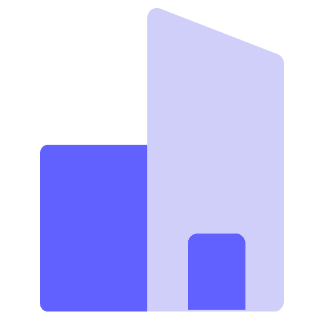 Industry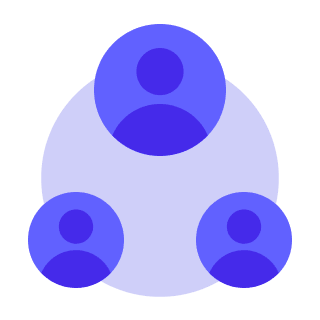 Employees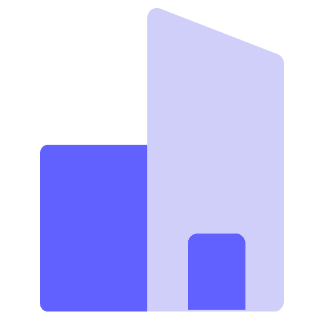 Industry
The challenge
Over 25 years, Black Mountain has grown from working with customers in its native Hong Kong to supporting more than 700 clients in over 165 countries. Because each country has different HR processes, varying legal requirements, and cultural differences, Black Mountain relies on local teams with expert knowledge of their jurisdiction.

"When we were operating in just one country, it was easy for us to onboard customers and make sure that we could support their ongoing needs," says Luca. "Then, suddenly, we were talking to these multinational clients. At the time, we were working off spreadsheets, but we knew those manual processes were not scalable."

To help deliver the exceptional service the company is known for, Black Mountain needs to keep all parties aligned, from internal teams to regional partners.

"We operate globally, so you've also got time zones to worry about," adds Luca. "It's not always possible to just jump on a call. So that was the driving force; better communication and management of our internal processes."
Why monday sales CRM?
"Prior to using monday sales CRM, we adopted an alternative CRM. But we knew that it was not a sustainable solution," says Luca. "Once a deal was closed in our original CRM, it would require whoever is responsible for the account to loop in the relevant teams and get them up to speed. This was not only time-consuming but risked important details getting lost."

At the time, senior stakeholders were looking for a new project management tool to solve another pain point: bridging the communication gap between Sales and Operations. "The switch to monday sales CRM came about in sort of a roundabout way," Luca explains. "I thought, if we're looking for a long-term project management solution, why not find something that also solves the challenges with our existing CRM?"

Luca knew that he needed to find a CRM that was just as flexible as Black Mountain's solutions, which are bespoke to meet each customer's unique needs. It also needed to be user-friendly. "What grabbed our attention was the design and how simple it was to use," says Luca. "What really sold us, though, was the customer service."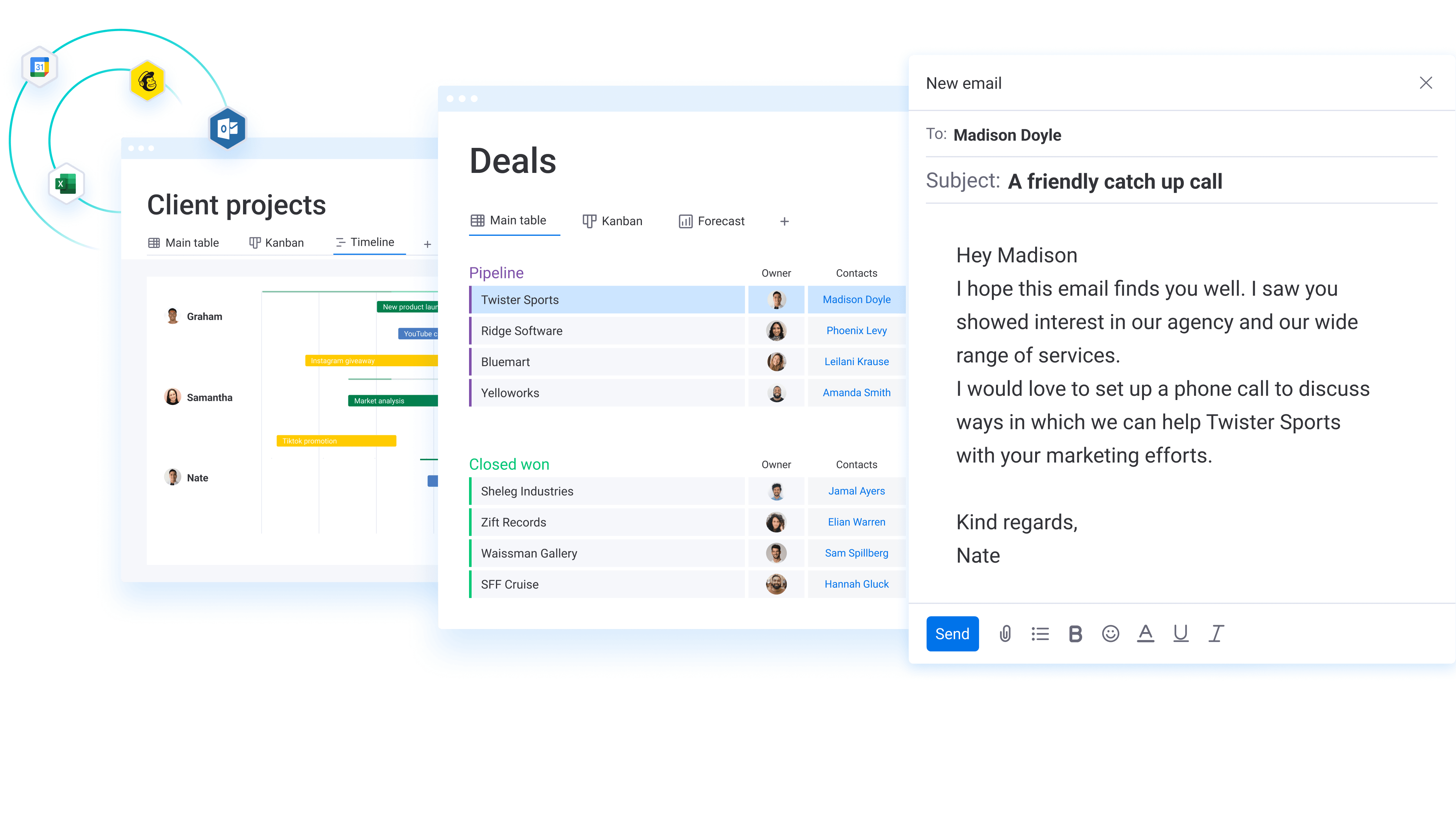 Reducing manual efforts by mirroring relevant data
"Our previous CRM captured a lot of unnecessary data," says Luca. To avoid this, Black Mountain partnered with the monday sales CRM implementation team to design, build and implement its specific needs and goals. The implementation team then followed up with suggestions, including boards, workflows, and a more efficient deal pipeline.

"The implementation team helped us create and structure boards that mirrored relevant data without duplicating information," Luca continues. "This helped us better understand how to use a CRM properly and save a lot of time and effort."
Providing instant visibility throughout the sales cycle
Black Mountain's top priority was to ensure everyone had immediate access to the information they needed. So, it was critical that the CRM was set up to do just that. The key? Time-saving automations to take care of manual efforts.

"I could see immediately how powerful automations would be," says Luca. "They help us organize our entire CRM."

Using automated workflows, lead information moves to the appropriate boards throughout the sales cycle. For example, if a deal status changes from 'opportunity' to 'won,' all relevant details automatically move into the client onboarding and invoicing boards. Then, automations assign the right stakeholders to manage each customer account.

"If an opportunity comes in for the UK, for instance, it automatically alerts our UK Managing Director," explains Luca. "It helps us make sure the right people have immediate visibility into the information they need, so we're no longer wasting time needing to communicate customer information."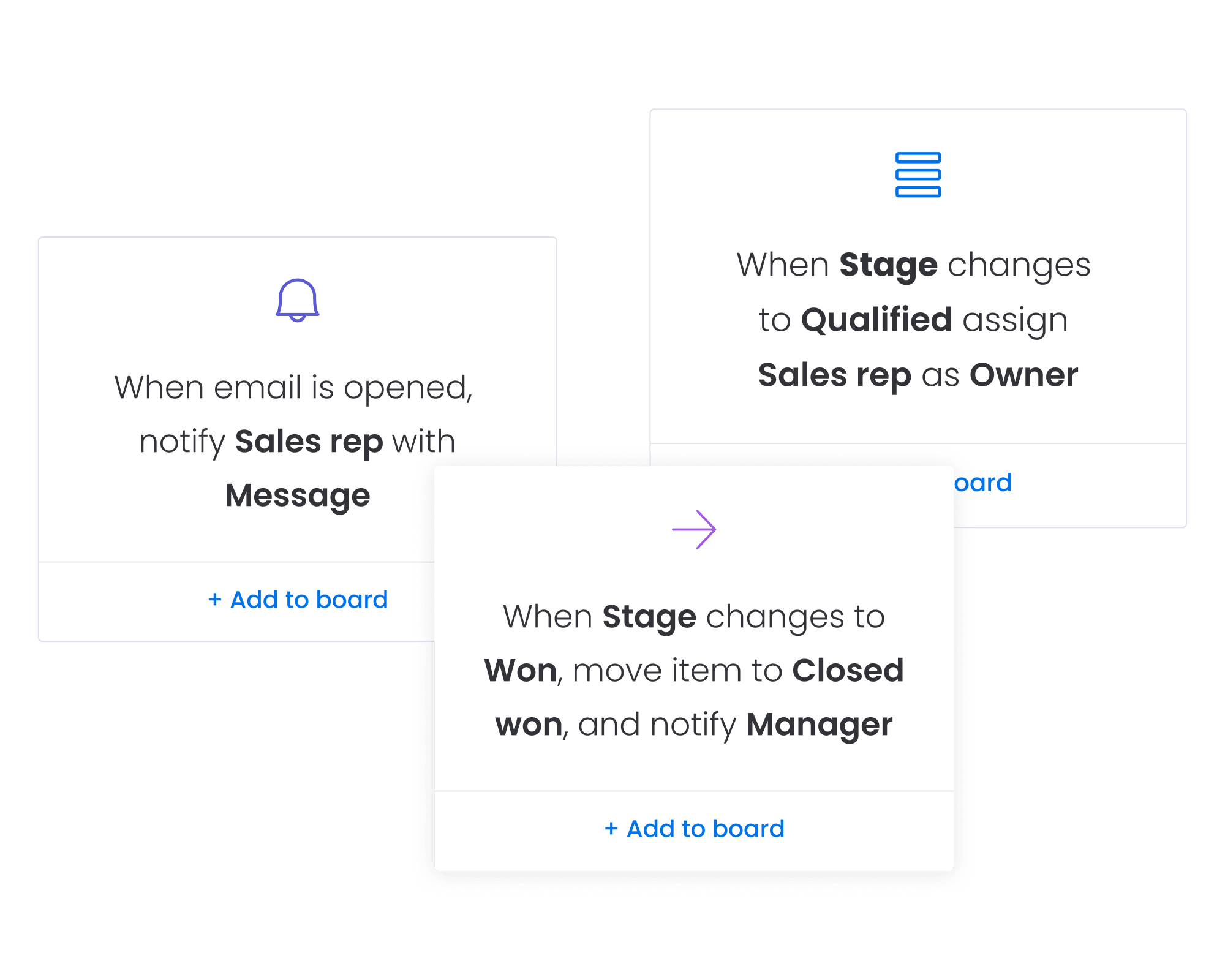 Powering internal and external collaboration on projects
Using monday.com, Black Mountain can provide instant visibility to its internal teams, clients, and local partners with accurate, real-time data. This is especially important given that sometimes customers operate in multiple locations across different countries.

"This means on weekly client calls, we always know whether or not we're on track for each country without needing to reach out to internal team members or our localized partners," says Luca.

Black Mountains' customers can also follow project progress directly through the platform. "This reduces the need for emails and phone calls just to check in on the status of projects," says Luca.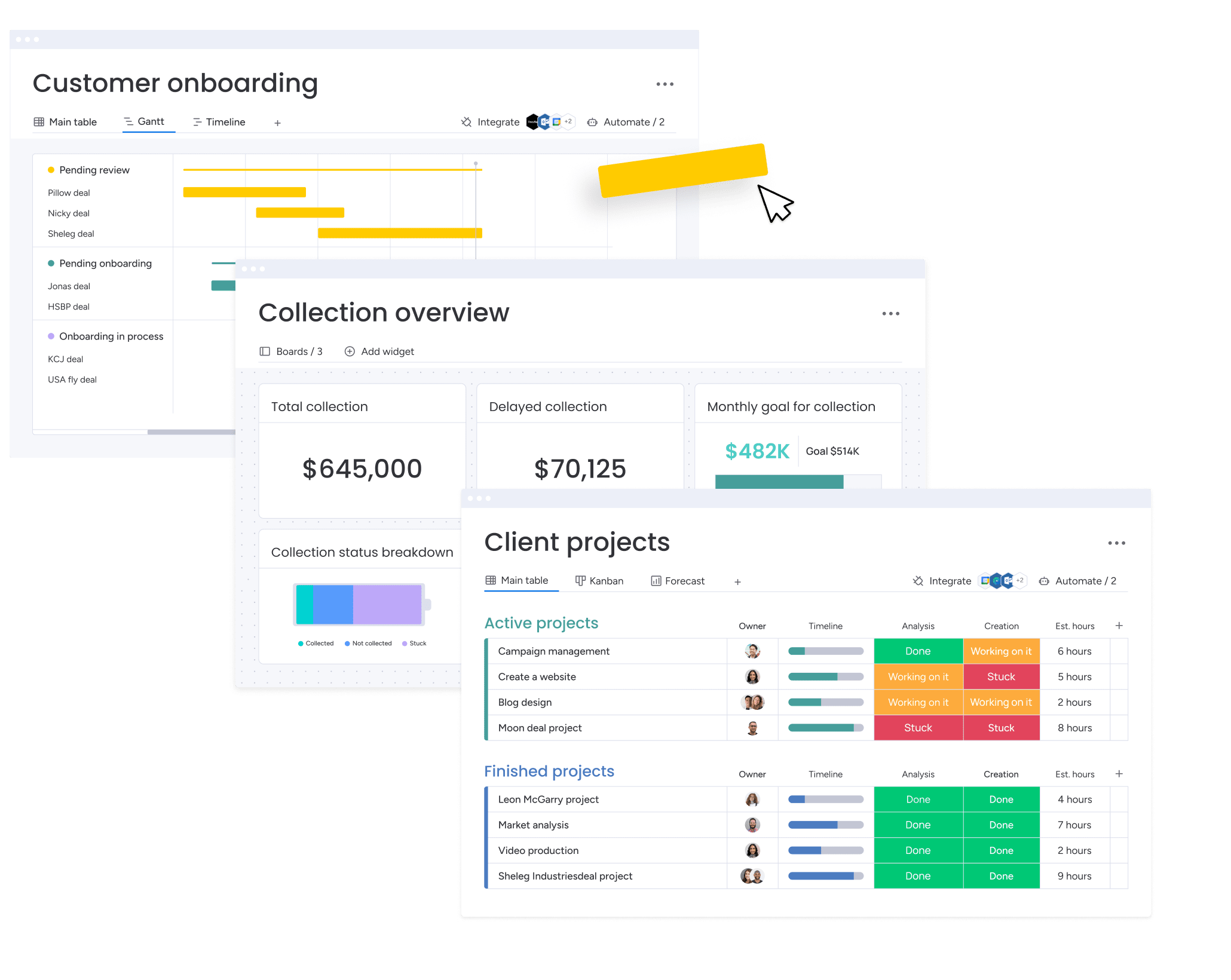 Providing one source of truth for advanced reporting
Previously, Black Mountain managed its client lists on local spreadsheets for each office, which introduced reporting challenges. Now, its Sales, Marketing, and Operations teams manage and update all their client details directly in monday sales CRM.

"We have dashboards set up so stakeholders in Sales and Marketing can visualize and export data they need," says Luca. "Because monday sales CRM is much easier to use than our old CRM, it requires less training. More people are able to manage analytics and reporting on their own, which saves everyone time."

"The amount of time we save by being able to easily obtain the right lists for marketing activities or cross-selling opportunities for the Sales team is so valuable," Luca adds. "We now understand exactly how many clients we have, how many employees work with those clients, and what services they're using."
"We're doing a lot more than we ever thought possible"
According to Luca, monday sales CRM has become more than just a sales tool. Teams at Black Mountain are using the platform to manage internal error logs, compliance processes, marketing campaigns, and more.

Black Mountain's Marketing team, for instance, has replaced its campaign planning spreadsheet with a monday.com board that directly links to a campaign request form.

"We're doing a lot more than ever thought possible. And this is just the beginning," says Luca.
"Everyone loves monday sales CRM. Almost immediately, we hear how easy it is to use and how much value it brings."
Luca Pope
|
Global Client Solutions Manager, Black Mountain
See monday sales CRM up close
Learn why top companies use monday sales CRM to power their sales cycle.