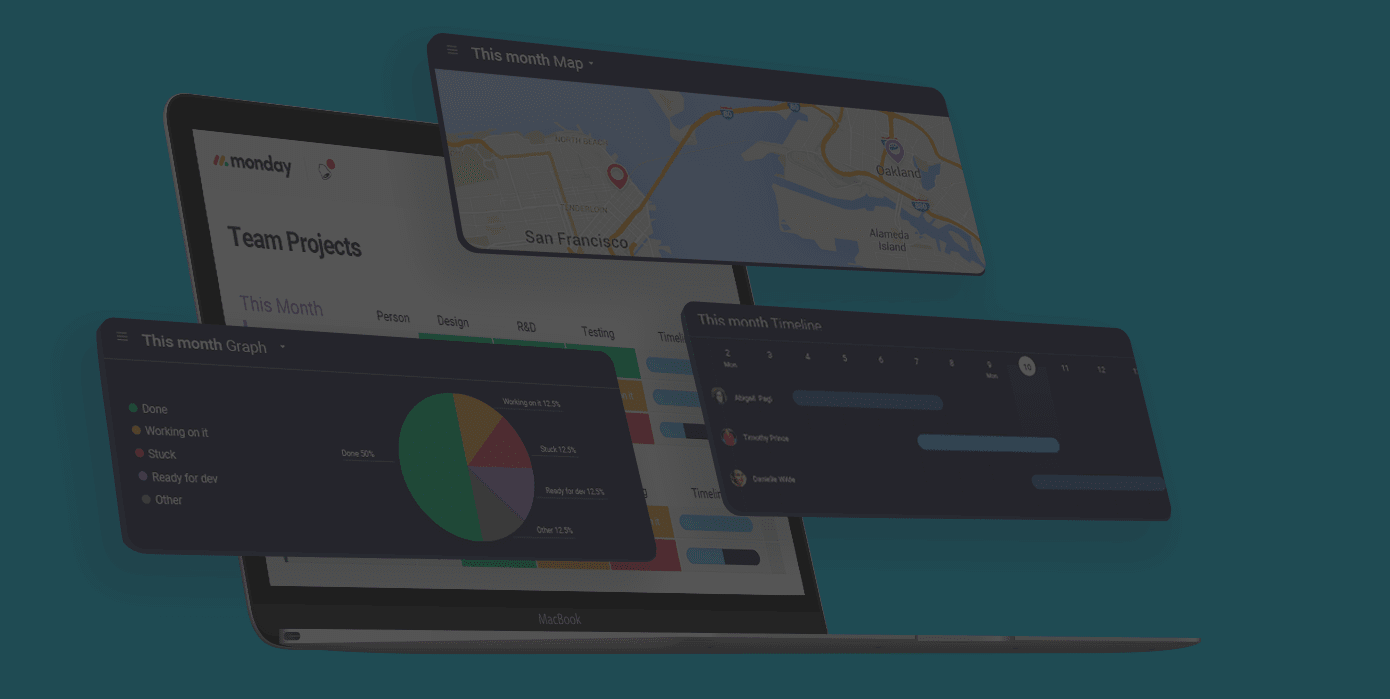 We've Added New Dimensions to your Boards
Experience new ways of viewing your boards and see your information from a variety of new perspectives
Are you ready for this? Introducing
Board Views
! Experience new ways of viewing your boards and see your information from a variety of new perspectives. From Files and Map to Calendar and Chart, open the Views Center now and delve into the new dimensions available on your boards. You'll see a new "Add View" button at the top of every board, next to the subscribe or unsubscribe button.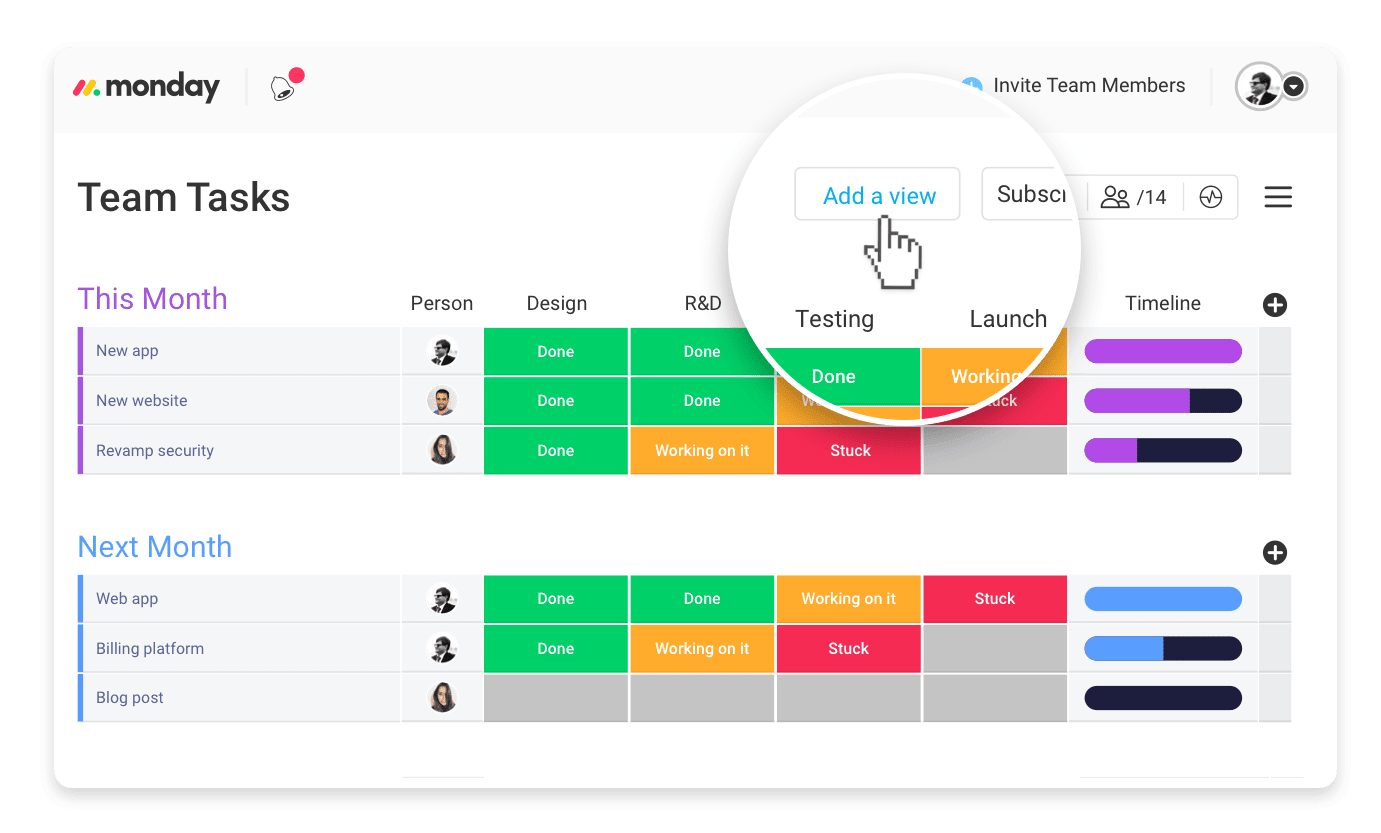 Clicking this will reveal the Views Center, where you can choose which Views you want to add to your board.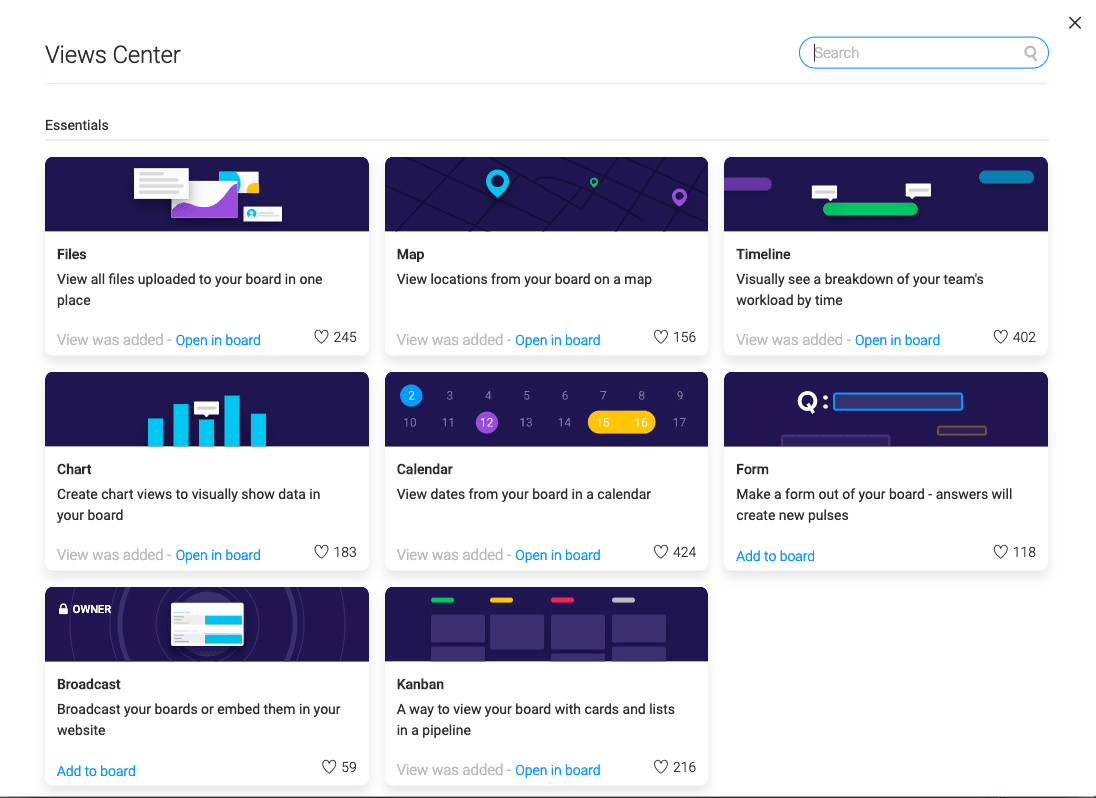 Each time you add a new Board View, a button will appear at the top of your board; one icon for each view, so you can return to the View you've created whenever you want.

Here's a breakdown of what each Board View shows you!

Files
The Files view gives you one clear view of all of the files uploaded to a board, providing a slick file management system for every board. Locate all of your files within a board in just one click. Choose between seeing your files in a list view or as thumbnails and see at a glance who uploaded each file. Download a file, go straight to the update in which it was uploaded or preview it using the icon on each file.
The Files view is available on all plans. You can read more about the Files view
here
.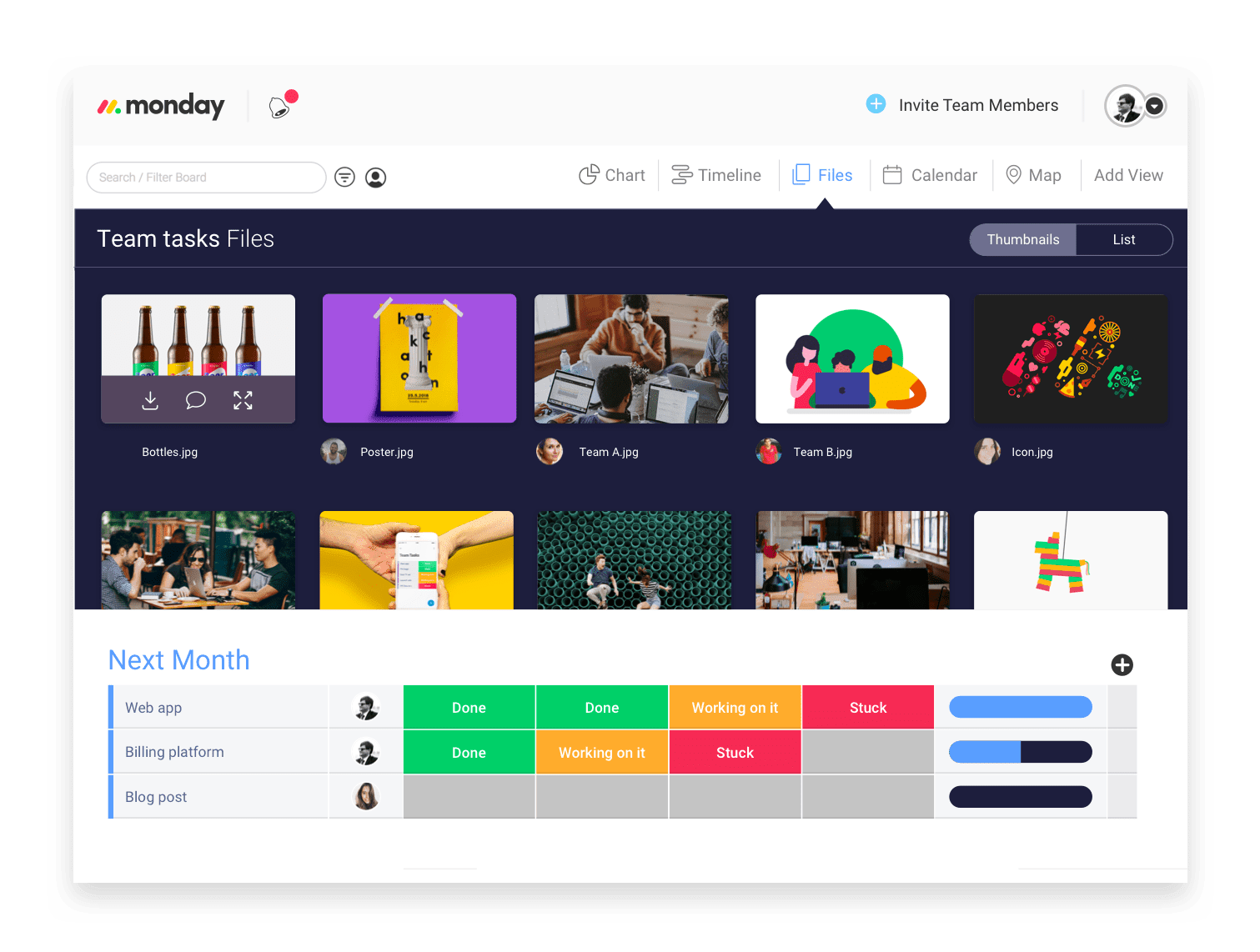 Map
Using our amazing new
Location
or
Country
columns found in the
Column Center
, you can now view all of your pins on one or more Map views of your board. Clicking on a pin reveals the address. Apartment searching, keeping track of your international clients or how your users are spread throughout the world has never been so easy and visual!
The Map view is available on the Standard plan and above. Learn more about how to set up Map view
here
.
Timeline
The Timeline view is the View connected to the "Timeline" column. The Timeline column allows you to add a start and end date for each pulse like a date range. The Timeline view lets you see this visually. We have exciting things planned for this view, so watch this space!
The Timeline view is available on Standard plan and above. Basic plans still have access to the Timeline column (without the view). You can learn more about the Timeline view
here
.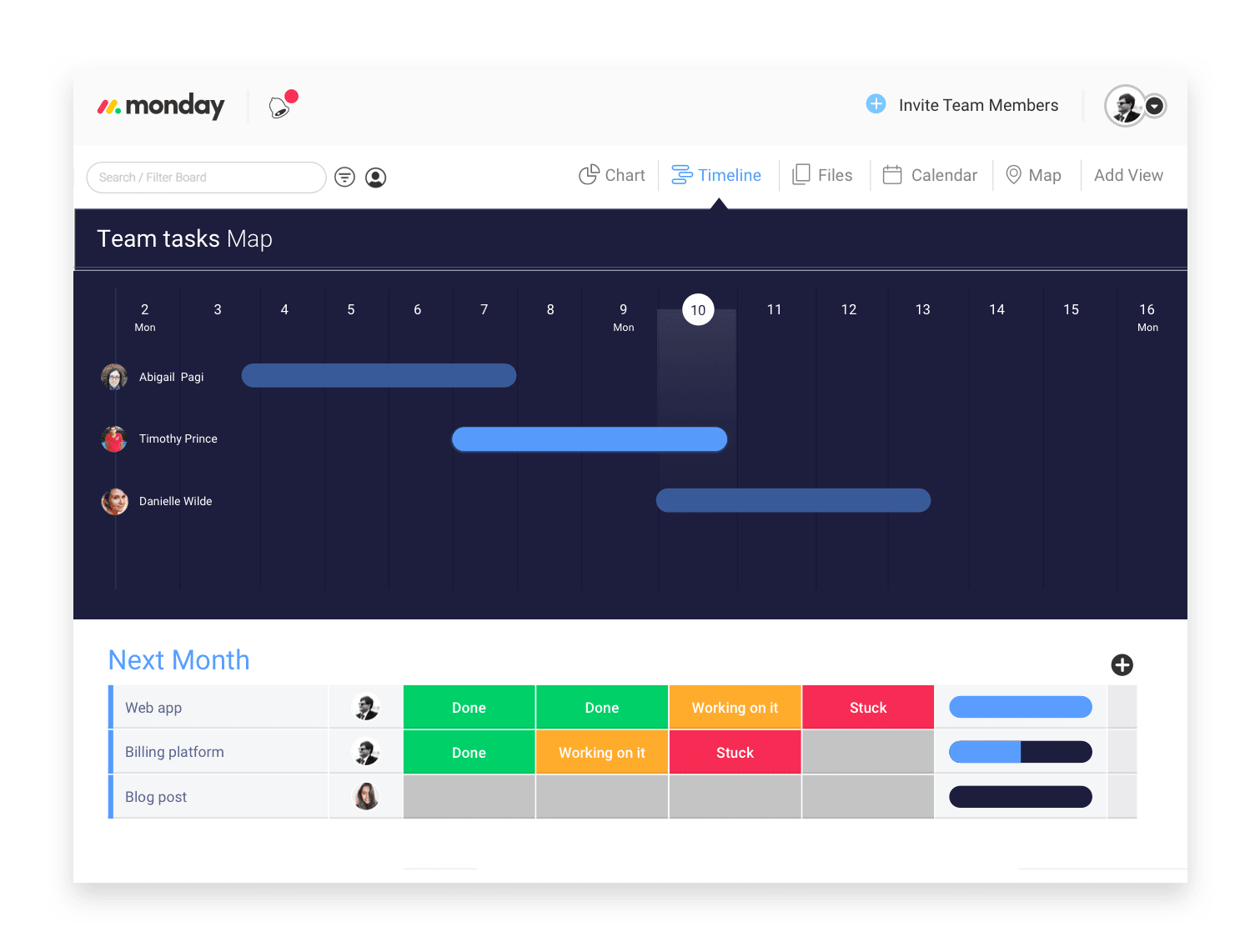 Chart
This is where things get REALLY interesting! Your reporting capabilities in monday.com are about to go through the roof so you can say your last goodbyes to Excel today. The Chart view is the answer to all of your reporting needs. Gain huge amounts of insights from your boards and analyze data from inside the monday.com platform. With the Chart view, you can visually display information or data taken from inside your board in pie, bar or line graphs. Select the type of chart you want and which columns you want to extract data from and ta-da! You'll see the chart created instantly before your eyes. See how your projects are progressing, check how many bug reports you've received over time, how efficient each member of your team is, and loads more! For example, imagine you're running a pizza chain and you used this board for tracking how many orders each of the restaurants were taking on a weekly basis, the productivity of the managers and popular pizzas on your menu. We could add a pie chart showing the % split of orders per manager.

You can add multiple charts per board so, using the same board, we created this bar chart, showing the total number of orders per restaurant, over the two week period being tracked.

Maybe you would also want to see which pizzas on your menu are most popular - that's possible too. We created a line chart to display this information.

Chart views are available on the Pro plan and above. Discover all the amazing new analyzes you can do on your boards and more detailed step by step guides to using the Chart view
here
.
Calendar
The Calendar view lets you see the dates from within your board (either from the Date column, Timeline or both), in one or more calendars, so you can see how all of your pulses align across a month, week or day!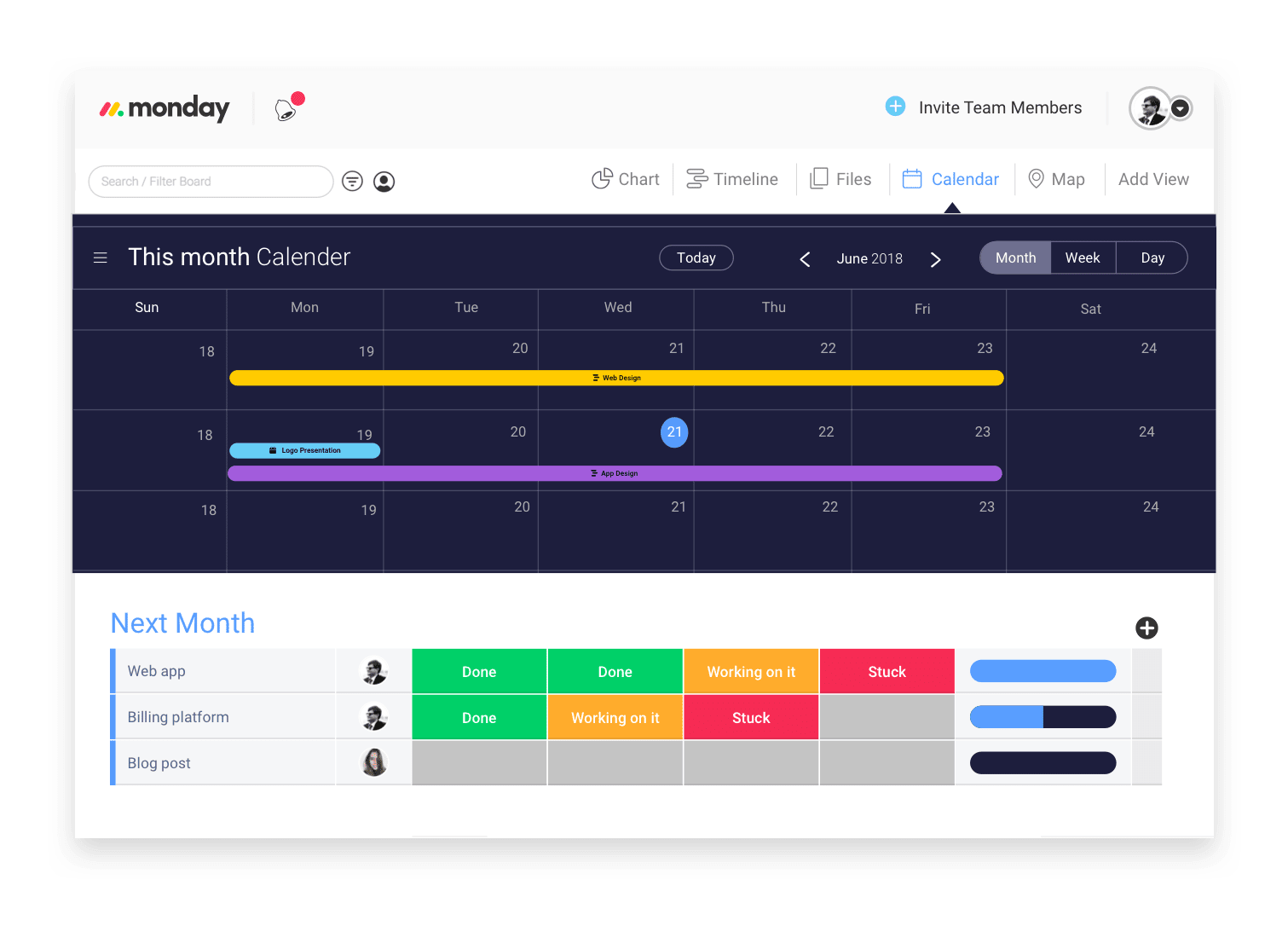 Calendar View is available on the Standard plan and above. You can learn more about the capabilities of the Calendar view
here
.
Well, that's all for now folks. We can't wait to hear your feedback and we're here as always to help you start using the Board Views. Feel free to reach out to our Customer Success team 24/7 at support@monday.com!