Events
Classes
Assignments
Grades
A great way to manage your
work
Our Student Program helps you plan, organize and track your work. All in one visual collaborative place.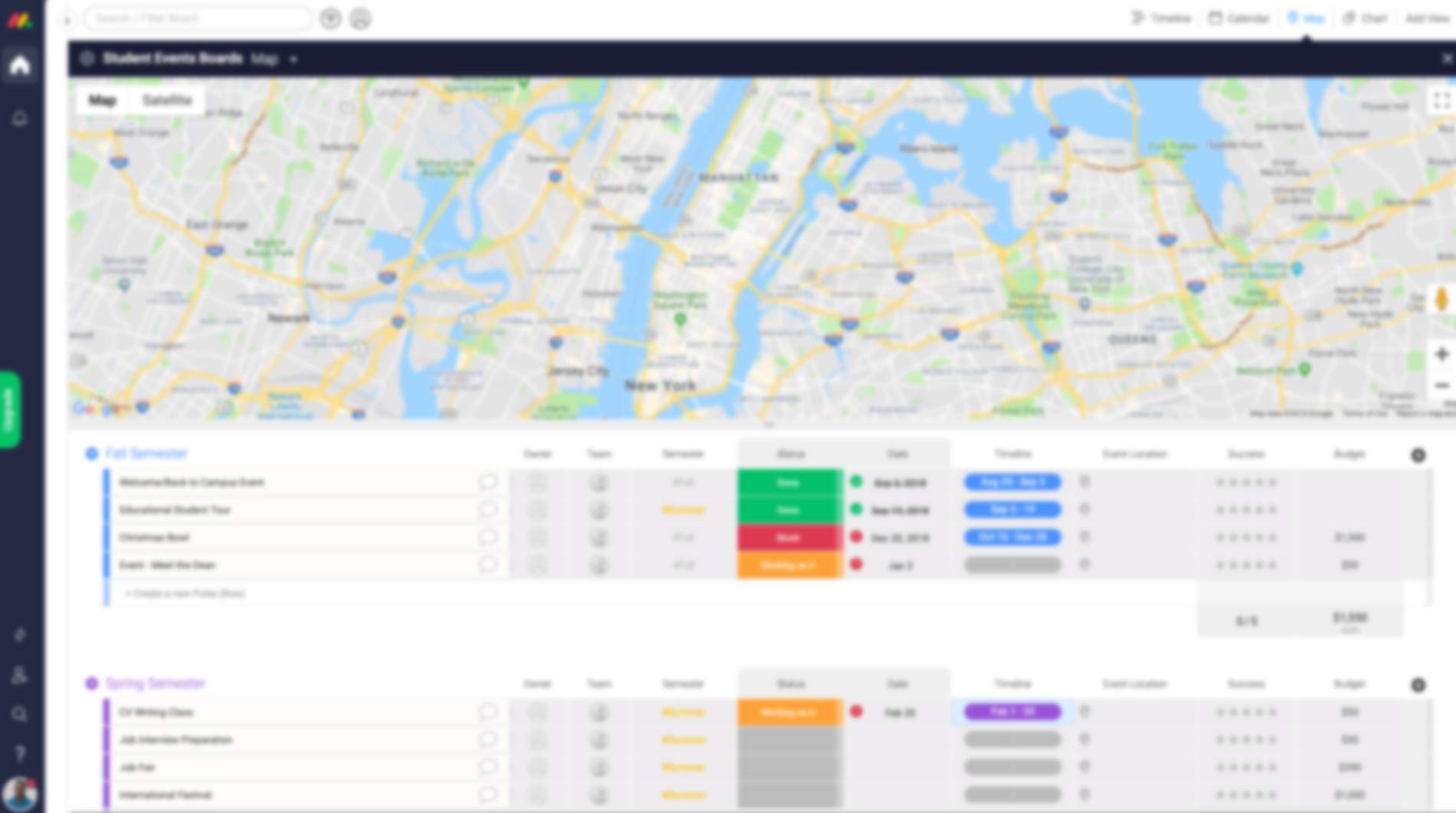 Sign up for your free student account today!
Who can join our Student Program?
1. University/college students
2. Student organizations, clubs, fraternities and sororities
3. Professors and TA's who would like to use monday.com with their students
1. Sign up below with your .edu or .ac. student email address (you can't sign up with your private email)
2. Invite other students to join your account with their student email address
3. Start managing your student life in a seamless, fun way :)
4. Not sure if you're eligible? Don't have a .edu or .ac. email address? Reach out to us at
[email protected]
Already have a trial account? Click below to apply to the Student Program.
monday.com for
Use monday.com to manage any type of student-run organization or club, and smoothly bring any sort of event or activity to life, stress-free. Collaborate and communicate with your team members to keep up with all of your deadlines and everything (and everyone) in one place while reducing the amount of emails and meetings.
monday.com for
monday.com makes it effortless for you to communicate and collaborate with your students. Implement monday.com in your class to maintain your curriculum, syllabus, class requirements and assignments all in one place.
Introduce your students to a powerful project management and team collaboration tool, which will help them thrive in your class and in their post-graduation lives.
monday.com for
Flawlessly run your fraternity and sorority with monday.com. Manage your chapter's recruitment as well as social, sports and charity events. Communicate with your Greek family, keep track of your meetings' minutes and so much more, all in one place.
monday.com for
Your Day-to-Day Student Life
Use monday.com to keep your student life in order like never before. Track all of your classes and assignments in a seamless way. Collaborate with your classmates and stay on top of your extracurricular activities while never missing a deadline.
Student life
made easy with monday.com.
Sign up with your student email to get a free account