The merits of remote working have been well-documented.
And it has been further cemented by the fact that many businesses have been forced to adapt to changing circumstances and make an abrupt switch to working from home since early 2020.
As with any kind of transition, there are bound to be teething troubles.
Nearly 1/3 of employees said that the challenges of working from home kept them from working quickly. These could range from workload management, team collaboration, communication issues, or how to engage a remote workforce.
But using the right remote working tools can help you address many challenges that commonly crop up.
This article will explain how you can overcome these challenges and help your team stay connected using the right remote work tools.
You'll also learn how you can use monday.com to help your business succeed in each of the 3 areas that are vital to remote work — scheduling, collaboration, and communication.
What is a remote work tool?
When a company decides to switch to remote working, there are several issues they may have to deal with.
These can include sorting out cloud storage and sharing, coordinating schedules, and boosting remote team collaboration.
Luckily, there are different kinds of remote work tools available to help you plan, organize, and deliver work efficiently.
The key to successful remote working is finding the right tool — whether this is an app, platform, or desktop software — to help your team stay connected.
A remote working tool or app can help you with the following:
Scheduling and calendar management
Remote collaboration via screen sharing and a team chat app
Cloud storage, file sharing, and document management
Video conferencing, video calls, and virtual meetings
Task management and project management
How can remote work tools help with scheduling and managing workload?
Coordinating schedules is challenging, even for small teams who are office-based, never mind a remote workforce.
It can be a nightmare to coordinate work and keep everybody updated when you have a virtual team working across timezones and multiple devices.
Simple tasks, such as organizing a remote meeting or scheduling a video call, will need you to have access to different peoples' schedules. You'll also need to keep everybody on the same page about who's working on what, along with the latest news, updates, and announcements.
Sounds like a lot, right?
What if there was a way to keep everything aligned — your team workflow, documentation, communications — within one simple, easy-to-use platform?
You can do all this and more with an intuitive Work OS like monday.com.
monday.com is a fully customizable and flexible Work OS designed to keep your entire team working together, whether they're in person or remote. It allows you to plan and track everything within a single space, from managing projects in real-time to collaborating with your remote team.  
Here are few features that can help you manage schedules and varying workloads.
Get remote-ready in minutes
You don't need to undergo lengthy training sessions to get your remote team up and running.
Simply use one of our ready-to-use templates to get your team onboarded with a few clicks. Customize our platform to suit the needs of your team, no matter its size or requirements.
Manage workloads
Whether you're trying to assign tasks to team members or arrange video calls, you can view and track your team's entire workload. You can even drill down to see every remote worker's schedule.
Overcome challenges
Since monday.com allows you to track and manage all team workflows, files, and documents in one location, it's easier for you to make changes and adapt to new circumstances quickly.
Having shared access to a central knowledge base means that you can make contingency plans and move things around faster.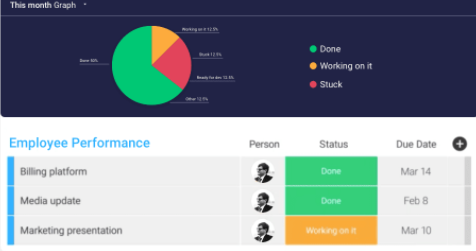 Stay on top of everything
From real-time updates to easy file and document sharing, using monday.com makes it easier for you to track your project's progress and update team members.
It becomes even more vital that everyone stays connected with a distributed team and is aware of their workflow and schedule.
How can remote work tools help with communication?
59% of US workers say that communication is a significant obstacle to project management.
When you're working with a remote team, a communication breakdown is even more likely to happen. That's because teams are not face-to-face.
This lack of in-person communication means you can't clarify things by getting together in an office space. A remote employee can be disengaged when they operate within their bubbles at home, feeling disconnected from the rest of the team.
Since every remote team member works alone — without access to their peers for support or to bounce ideas off — extra effort needs to be taken to foster team spirit.
Sharing ideas, clarifying updates, and communicating frequently are critical to ensuring a smooth workflow. This is even more important when you're coordinating things for a remote workforce operating across teams, departments, and locations.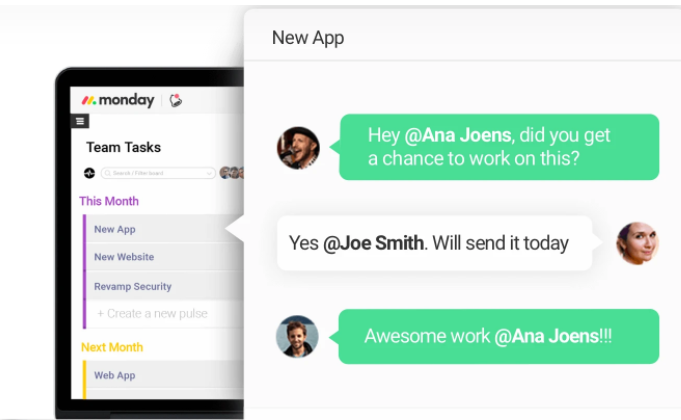 Moreover, key messages, emails, files, or documents can get lost in translation, resulting in confusion and miscommunication.
This is why you need a platform like monday.com, which is designed to facilitate clear and easy communication no matter where your team is based. It's built with many great features that make it fantastic for team communication.
Communicate with ease
Whether you want to share team or project-level updates, or make company-wide announcements, here are few simple ways that monday.com can help you communicate.
Status Column updates: this allows you to update project status without having to call a meeting.
Deadlines: set deadlines to manage expectations and let the team know when a task is due.
People column: assign tasks to an owner for transparency and accountability.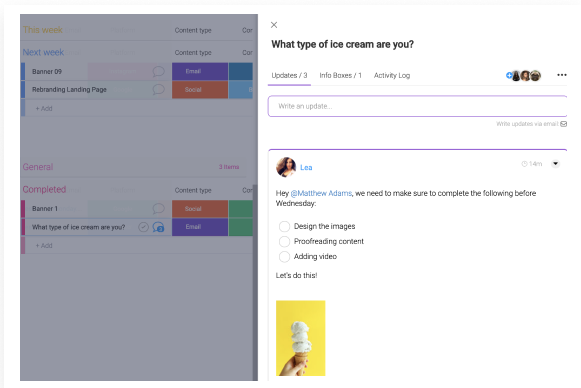 Updates section: tag team members, leave a note or reminder, upload files or documents, and use the eyes icon to follow the conversation. You can use it for content-specific communication around particular tasks.
Create boards: for cross-departmental communication, you can create a specific discussion board to serve as a forum for questions and feedback. Alternatively, you could create a board to keep track of important meetings or brainstorming sessions.
Get automatic updates via notifications
There are different kinds of notifications you can set up to ensure that nothing falls through the cracks and everyone is aware of what's going on.
Bell notifications: these are default notifications that will notify the user when relevant actions are taken, such as when you're mentioned or replied to, subscribed to items, or assigned an item.
Email notifications: this lets you similarly notify users via email.
Customized notifications: you can set up automations to customize certain notifications. For instance, you could create a reminder alert 2 days before a deadline or use a recurring notification reminding a team member to pull a monthly report.
Integrate with popular tools
Expand your options to connect with your team by integrating monday.com with tools your team is already using.
These can include video conferencing tools, social media networks, instant messaging apps, cloud storage tools, and to-do list and task management software.
How can remote work tools help with collaboration?
A lack of collaboration between remote workers is a major productivity killer.
20% of remote workers say their biggest struggle with working remotely is collaboration.
A transparent work culture, where all team members are aware of their roles and see the bigger picture as well, is essential to the whole organization's success.
This is why it becomes doubly important to keep everyone aligned and focused on working together.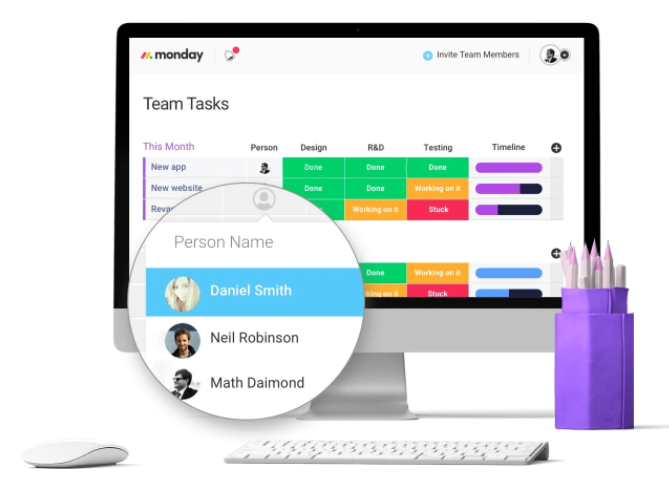 From centralized communication and easy file sharing to tracking work progress and effective project management, monday.com can take your team collaboration to the next level.
Here are some of the ways monday.com can help improve collaboration:
You can clarify task ownership and create accountability by assigning tasks to team members.
For detailed visibility, and to see progress and workflow at a glance, choose from multiple views such as Kanban board, timeline, Gantt chart, workload, or table view.  
Team documentation and file sharing — store documents, chats, images, and action points in a single, organized place. Drag-and-drop to easily share what you need.
Cut down on time spent looking for relevant information by making your work a living, searchable knowledge base.
Ready to choose?
When you transition to a remote setting, your team might face unique difficulties while planning, collaborating and managing your workflow.
We've seen how a remote work tool can be used to improve productivity, efficiency, and make your job a whole lot easier.
If you're looking for remote work software that can help virtual teams make a smooth crossover to remote working, you won't go wrong by choosing monday.com.
Head to our remote work hub to get the lowdown on all things WFH.