Remote work was already on the rise when the COVID-19 pandemic changed the way we work forever.
However, in 2020, the world really tasted the joys of working from home — from baking bread on your lunch break to Zoom meetings in your button-down shirt and track pants.
The future of work is remote, but how can you make sure your business is prepared to meet the challenges that come with working remotely?
The answer: with remote work software.
This article will explain the remote work trend, where it's headed, and which software you need to adapt to a remote-working world.
Remote work: the trend that's here to stay
The remote work trend has been gaining traction for a while.
During the 5 years leading up to the pandemic, the number of people working remotely at least some of the time in the US grew by 44%.
The unprecedented events of 2020 forced companies to adopt the remote work model more quickly. Companies realized that working remotely didn't reduce employee productivity or revenue.
In fact, because remote work helps create a better work-life balance for employees, it can actually improve productivity.
Plus, because the model reduces costs, it actually increases profit margins, making it a win-win.
56.8% of organizations are now working remotely at least part-time, and of those organizations, 2 in 5 identify as fully remote companies.
What's more, 46% percent of companies say they intend to continue offering remote work options to their employees regularly, so remote work clearly isn't going away any time soon.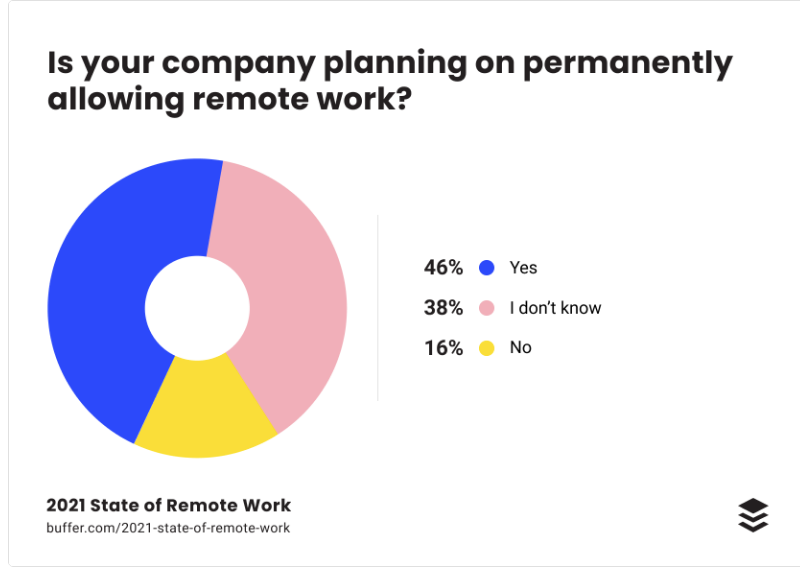 What are the top benefits of remote work?
Still not convinced remote work is the right decision for your business?
Here are 6 of the top benefits to help you decide.
1. Remote work improves work-life balance
40% of remote workers say the biggest benefit is having a flexible schedule.
Organizations have realized that spending 8 hours a day sitting in office chairs doesn't guarantee that work will get done.
Flexibility allows employees to organize their work to fit their life, not the other way around. They still produce the same results, if not better.
2. Remote workers are more productive
A remote worker is a happy worker, and happy workers are more productive.
65% of remote workers say they're more productive at home than at work, citing the decrease in workplace distractions — think meetings, coffee breaks, and water cooler conversations — as one of the biggest productivity boosters.
That increased employee productivity means more revenue for your business.
3. Remote work helps you attract and keep top talent
80% of people said that when choosing between 2 jobs, they would choose the one that offered remote working options.
This means that top talent is going to remote-working companies.
Plus, 57% of remote workers reported feeling very satisfied with their job, as opposed to just 50% of those continuing to work on-site. Happy employees are less likely to look for a new employer.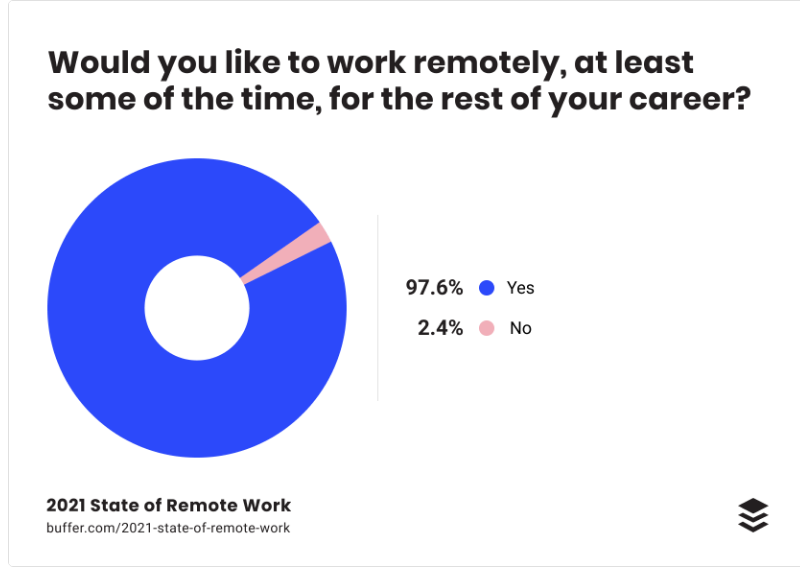 4. Remote work improves mental health
Mental health sick days cost your business money. They're also not great for team morale.
People whose employers don't offer remote and flexible work options are twice as likely to suffer from poor mental health than those who can work remotely.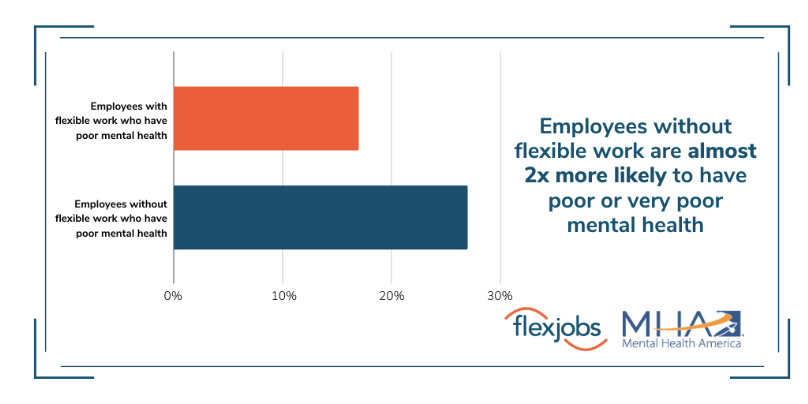 5. Remote workers earn more
26% of remote workers earn more than $100,000 per year, compared to just 8% of on-site workers.
Plus, working remotely means saving money on transportation and increasing disposable income.
6. Remote work is good for the environment
1 in 4 Americans — roughly 39 million people — will be working from home in 2021.
That's the equivalent of taking 6 million cars off the road, which could go a long way toward reducing greenhouse emissions.
How can remote work software help your remote team?
Like anything, remote work has its downsides, too.
The image below illustrates the biggest struggles that remote workers face.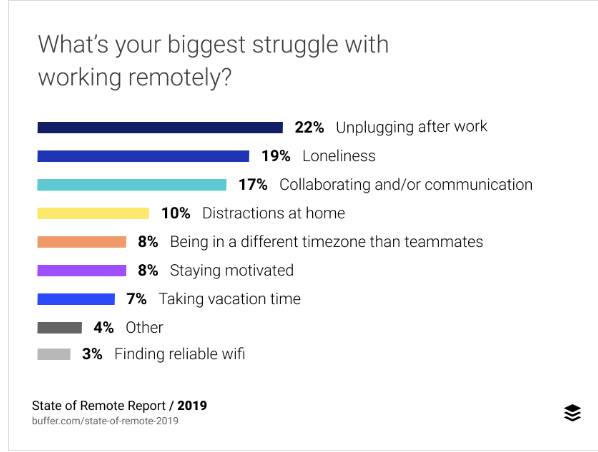 Let's take a look at how a remote work software tool can help remedy some of these problems.
Unplugging after work
Remote working software can help you and your team unplug.
Workflow management tools make it easier for employees to complete their work on time. They can even use calendar features to set reminders when it's time to stop working.
Preventing loneliness, collaboration, and communication
While technology can never replace face-to-face connection, team communication and collaboration tools are the next best thing.
A comprehensive team collaboration tool should include instant messaging, commenting, file-sharing, and tagging colleagues.
Integrations with your favorite communication software, such as email or Slack, can also help streamline communication and eliminate time-wasting email chains.
Distractions at home
OK, remote work software can't stop your kids from interrupting you every 5 minutes or your dog barking through your Zoom meeting.
But it can help you manage your time better with time management features.
Once you start tracking time, you'll start to see patterns that will help you better manage your time.
For example, if making lunch has become a huge distraction, you could try meal-prepping on the weekends to save time during the week.
Uniting team members in different time zones
Any remote work software worth its salt should be able to cope with teams working across time zones.
For example, with the monday.com World Clock column, you'll always know exactly what time it is for your teammates.
You'll never show up for a meeting at the wrong time again.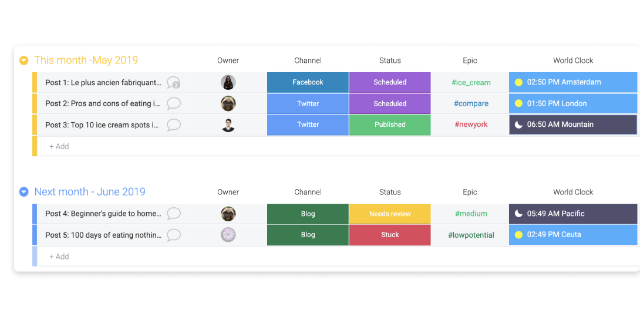 Keeping motivation high
Did you know automation can help increase your remote team's motivation levels?
When you automate repetitive tasks, it gives your team more time to make valuable contributions to their work.
They find this more rewarding than boring administrative tasks, and this boosts their creativity and motivation.
Scheduling vacation time
If your employees are struggling to find time to take a vacation, you can use remote work software's HR management features to help them schedule vacations.
What are key remote work software features to look for?
Now that you know how remote work software can improve your team's performance, you'll need to know what features to look for when comparing remote work solutions.
Here are 7 of the most important features.
1. Collaboration tools
The use of remote collaboration software increased by 176% in May 2020, following the COVID-19 outbreak.
monday.com's collaboration tools let you comment, tag colleagues, and send notifications, so your message always gets to the right person.
This means you can say goodbye to those annoying email chains clogging up your inbox too.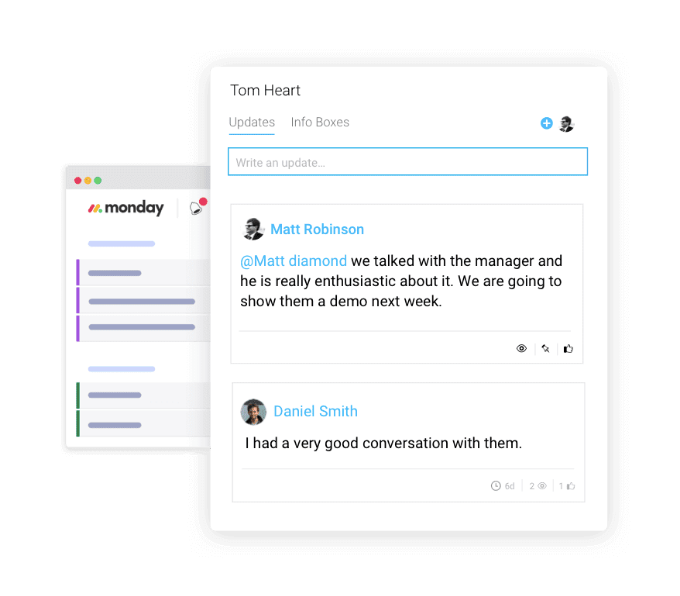 2. File-sharing
A remote team survives on its ability to share information.
And, regardless of whether your team is fully or partly remote, they need to have access to the necessary information anywhere, anytime.
This is where file-sharing comes in. It gives you and your team instant access to all the documents you need.
Never again will you go hunting through your messages for the latest version of your presentation.
3. Integrations
Integrations are an essential feature of any remote work software platform, as they allow you to keep using all of your favorite tools from one platform.
With monday.com's extensive integration options, you can centralize your data and communication so that your remote team can work more efficiently.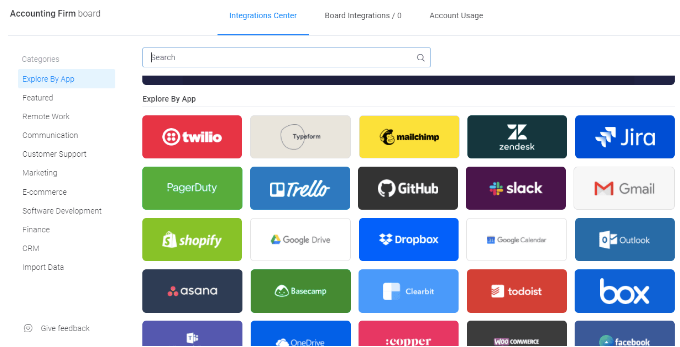 4. Workflow management
Running a business of any size can be complex, to say the least.
Add to that, employees working remotely who can't coordinate face-to-face, and it risks becoming chaotic.
With workflow management software, you can avoid problems by managing the workflows of your entire team to make sure everyone is on the right track.
The image below shows an example of team workflow management on monday.com: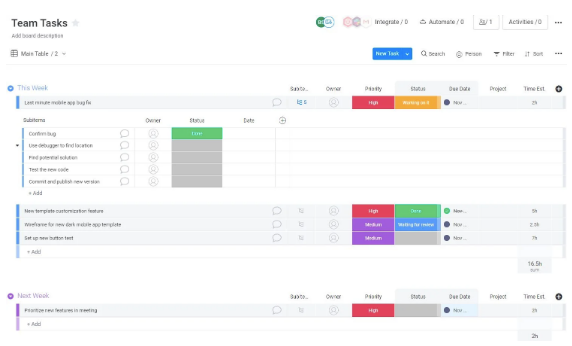 5. Resource management
With remote work software, you and your virtual team can plan, track, and manage your budget and resources.
monday.com's intuitive budget tracking features allow you to track budget spend and expenses.
Since you can use it on all your devices, you can manage your budget from anywhere, anytime.
Here is an example of what budget tracking can look like on monday.com: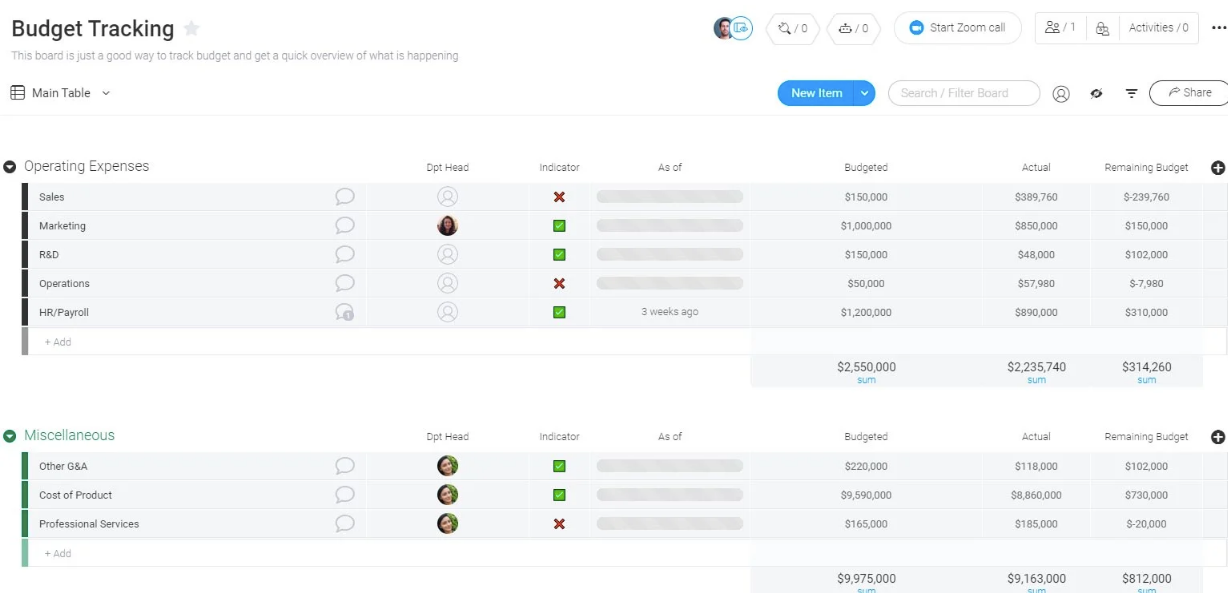 6. Risk management
The risks involved in remote management are different for remote teams than they are on-site — but they are no less real.
Your remote work software should therefore have risk management features.
This is an example of what a risk log can look like on monday.com:
Plus, our dashboard views allow you to make data-driven decisions to better manage risk.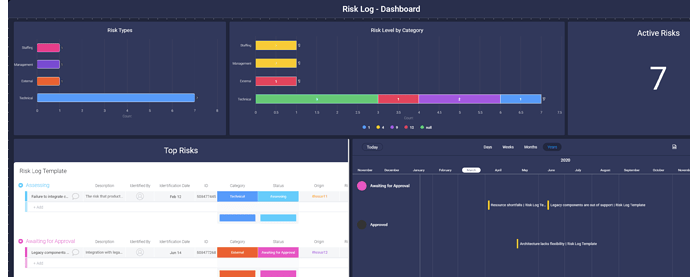 7. HR management
Recruiting, hiring, and training a recruit for a remote position doesn't have to be as hard as it sounds.
Remote employee onboarding can be painless with a remote working tool that allows you to centralize all your HR processes.
This is an example of a new employee induction schedule on monday.com: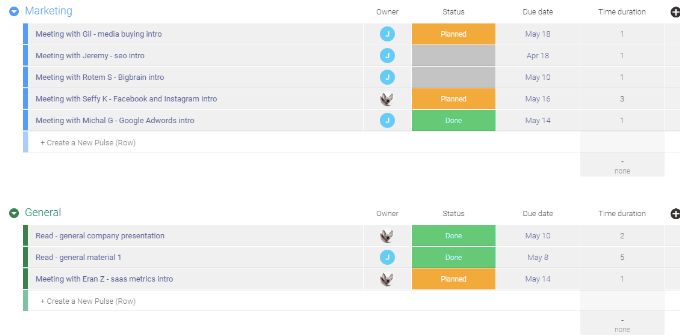 The future of work is remote
Remote work is good for both your employees and your business, but it also presents some unique challenges.
That's why it's worth investing in remote work software that allows you to manage all your business processes and operations.
We recommend a Work OS — like monday.com — that allows you to plan, track and manage your teams and workflows remotely.
To get started, check out our remote work plan template.