Change is a good thing, especially in the world of work. Advances in technology and the way we approach work to make it both efficient and enjoyable have catapulted several industries into eras of innovation and success like never before.
One emerging software category that is also breaking the mold of traditional, often static work is the Work OS. In this blog, we'll cover the ins and outs of this category of software by comparing monday.com Work OS to some of its peers in the growing Work OS space.
What is a Work OS?
A Work Operating System (Work OS) is an open platform for teams to create and customize the solutions they need to move at the speed of business. Work OS platforms are meant to be scalable and flexible, making them the right fit for any industry or team.
By providing a centralized framework to manage tools, data, and communication, a Work OS can empower employees while saving time. A Work OS goes beyond a task management tool or project management software by providing the means to:
Create workflows
Integrate and gel with your existing tools
Assign task owners
Visualize work the way you want
Automate typically mundane and repetitive tasks
Keep communication in context
Transform data into clean dashboards and reports
Why is a Work OS important?
Adopting a Work OS can improve the way small businesses and corporations alike run their work because it creates a 360-degree view of workloads, resources, and information needed to analyze their progress and success in real-time.
Because businesses are transforming at a much more rapid pace than ever before, one of the best investments they can make is in software that can actually keep up with their growth—instead of having to search for a new solution periodically.
Using up-to-date and flexible technology can also have an impact on consumer's perception of your business. In fact, in a PWC survey of 12,000 employees across countries, experience level, and industry, it was found that 73% say they know of systems that would help them produce higher quality work.
In the case of a Work OS, some organizations might not know where to start.
Meet monday.com Work OS
monday.com's Work OS makes it possible for anyone to create the tools they need to run every aspect of their work, from everyday work to projects that span months.
By combining building blocks, like apps and integrations, team members have the power to build or customize the solutions that best suit them.
In addition to increasing productivity, monday.com's Work OS offers enterprise-grade security, multi-level permissions, enhanced asynchronous collaboration, and advanced reporting. Our teams are also constantly developing new features to improve the way you get your work done, like:
200+ ready-made templates based on how real teams use monday.com
30+ column types for ultimate workflow customizations
monday workdocs
An ever-growing list of integrations and apps
Mobile app
monday apps marketplace
Drag and drop columns and rows
8 different data visualizations including Kanban, calendar, timeline, Gantt, map, form, and workload
Unlimited automation recipes
Document storage
24/7 customer service and access to our knowledge base articles
We could go on and on, but our reviews on G2, Capterra, and more speak for themselves—more than 7,000 people ranked monday.com Work OS as a 4.5/5 or above!
Work OS: built for small businesses, mid-market and enterprise
Let's see a Work OS's potential for impact in action. To make this tangible, let's take a look at how monday.com Work OS features can smooth and resolve some pain points for businesses at every size and level.
Small business 
Whether just starting out or looking to scale your small business, one of the big filibusters can be a lack of transparency, which often isn't intentional—with a smaller team to handle all responsibilities, work can get siloed or abandoned quickly to keep up with the pace.
A Work OS is a platform that can help you and your teams manage their time and the work that can't wait—while keeping track of the ideas you'll want to execute in the future.
Managing your tasks and people can be a really time-consuming part of running a small business. monday.com gives you the flexibility to customize your boards however you see fit, from layouts and formulas to colors and status. Here you can see an example of an hourly schedule in monday.com that can easily be updated in a matter of clicks and even from the mobile app.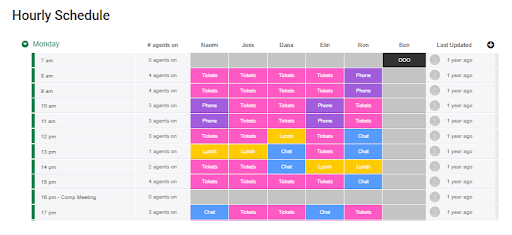 In order to set your small business up for long-term success, you also will want a format for easy-to-understand planning, budgeting, and tracking. For example, you might want to invest in marketing your business—and ledger books can get a little messy. With our high-level marketing budget template, you can instantly understand your budget breakdown by tracking your marketing costs and budget allocation in one place.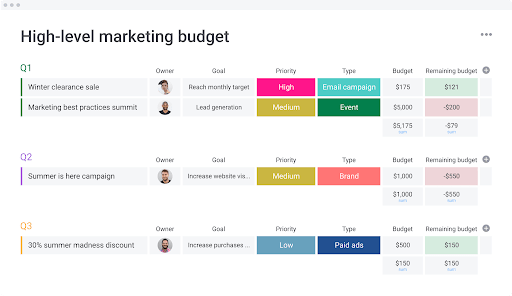 Mid-market
Mid-market organizations find themselves somewhere between small business and full-blown enterprises—and therefore sharing similar goals and pain points as well as some growing pains as they take the steps necessary to get to their next level.
One of the biggest challenges outside of maximizing business impact as your employee force and customer base expands revolves around security. According to RSM US Middle Market Business Index survey, 15% of mid-market businesses suffered a data breach in 2019.
Here are just a few ways monday.com Work OS Enterprise plan can foster continued alignment of your teams, faster movement, and exceptional security standards:
Multi-level permissions: Unlike a lot of task management or project management platforms designed for smaller teams and organizations, monday.com Work OS allows you to select which users can perform crucial actions, to ensure full control over where and how data is used. This extends to access for boards, individual items, integrations, our Workspaces, and even those who can export Excel data.
Two factor-authentification: Available to all plans, set up two levels of required authentication before access is granted, like text messages or codes generated by an authenticator app. This is just one of many sign-on options—you can read about

Google SSO here,

for example. 
Enhanced security monitoring: An activity log that enables admins to track all changes made to your work, by who, and when is just the tip of the iceberg. There is also a feature called Panic mode that allows you to lock down your whole account if your team's credentials have been compromised. Read more in our

Trust Center

.
monday.com actually undergoes an annual SOC 2 Type II audit, which demonstrates our commitment to meeting the most rigorous security, availability, and confidentiality standards in the industry. It verifies that monday.com's security controls are in accordance with the AICPA Trust Services Principles and Criteria.
Enterprise
Naturally, with an enterprise, you simply have more to deal with—bigger teams, bigger budgets, more resources, and unfortunately, more siloed communication. One of the departments in a large organization that can suffer from this is IT.
For example, 40.4% of respondents in a survey conducted by Pager Duty identified the sales department as the non-IT department most affected by IT Operations issues. It's not hard to imagine the trickle effect on other departments like marketing, finance, and production. About 33% in the same survey said that one hour of IT downtime costs them at least $1 million.
Most IT departments aren't using their data effectively, which can result in poor decision-making and a fractured brand. According to Gartner analysts, most big data projects and initiatives tend to fail because companies only utilize 10–40% of the value in their data.
monday.com makes it easy to create charts, dashboards, and reports directly from the data you enter into the platform, either manually or through integrations. You can see this in action with our IT service desk template.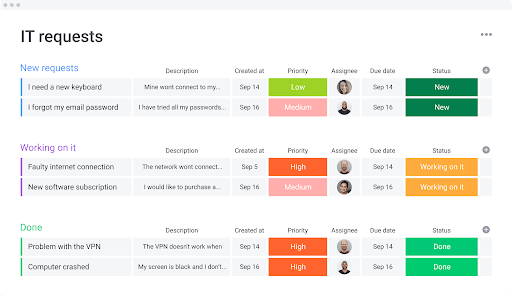 You can manage requests and gain overall insights on how quickly your team is tackling them, or even which type of requests your team gets the most, based on priority.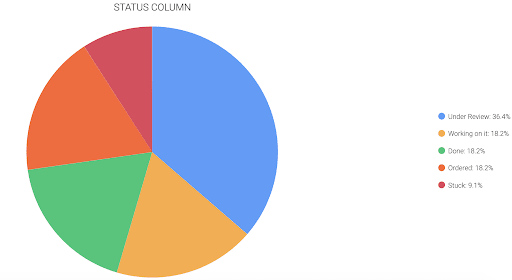 Work OS Comparisons
So you're probably wondering, what other tools are out there that are considered part of Work OS? In this section, we'll cover a few of the big names out there—and show you how they stack up against monday.com Work OS.
Airtable
Airtable is a project management platform that combines the look and feel of a spreadsheet with the power of a database. Small teams that rely on spreadsheets often pick Airtable over other programs like Excel or Google Sheets because it offers different view options, collaborative databases for teams, and higher-level organization and tracking.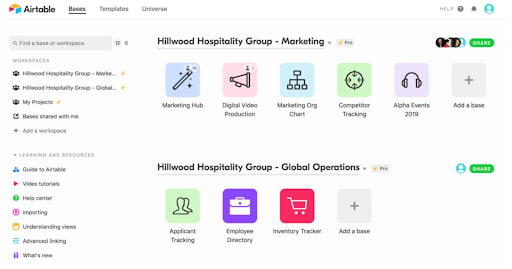 Of course, monday.com does have several features in common with Airtable, such as:
Various views (Kanban, list, and timeline views)
Project templates
File storage (monday.com offers much more, 50 GB vs. Airtable's 5 GB)
Dozens of integrations with other software products
Unlike Airtable (and several other project management platforms), however, monday.com has truly configurable workflows. Thanks to this feature, you have free reign to construct a custom workflow that suits your business best instead of having to adapt to Airtable's technology.
Notion
Notion is a project management system for engineering, HR, product development, and more.
It's a knowledge base that holds notes, wikis, assignments, spreadsheets, and databases all in one place — allowing teams to collaborate in real-time, to share information and make changes. It also focuses on two main features: projects and tasks and notes and organization. It is also loved amongst Kanban patrons.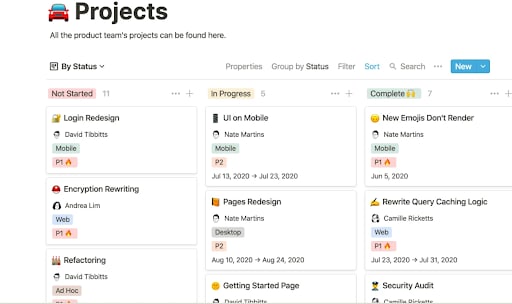 Just like Notion, monday.com Work OS is perfect for planning, organizing, and assigning workflows. It also lets you store all your files in one place and allows sharing for easy team collaboration. One specialized feature that stands out on monday.com is the ability to choose from 8 different project views, including:
Gantt chart
Kanban
Timeline
Map
Workload
And more!
Quickbase
Quickbase is a low-code business app building platform centered around Agile project management workflows. Quickbase shares a lot of core features with monday.com, like the ability to build custom apps and a reporting suite for gleaning useful insights from data.
Despite the impressive capabilities of Quickbase, it requires significantly more elbow grease than monday.com because it requires you or your team to build everything from scratch. monday.com, however, lets you jump straight into your projects with ready-made and fully customizable templates to help you get started in minutes. monday.com also enables robust and in-context communication through a mobile app, automations, tagging, and notifications.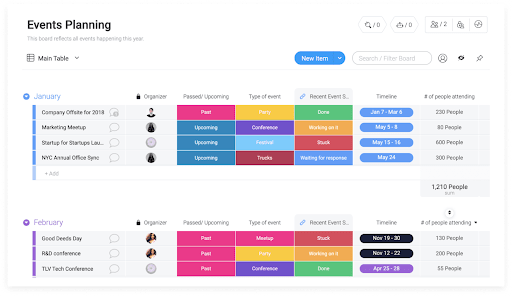 Google Tables
Google Suite is well-favored across industries for its wide variety of tools from Gmail to Google Docs and Google Sheets to video chat and presentation offerings. Relatively new, they now offer a customizable platform, Google Tables that has a focus on building automated workflows.
Google Tables and monday.com both offer:
Customizable workspaces
Automations (however, Google Tables uses Bots to run this)
Integrated forms
As Google Tables is a new product, it's possible that it will take more time until it can be a robust and complete Work OS like monday.com, which already has more than 125,000 customers.
Microsoft Lists
Microsoft Lists comes from the Microsoft 365 family of work management software. It's designed around the use of lists and helpful templates to create synchronization between teams. As an added bonus, it easily integrates with other Microsoft 365 products.
While both Microsoft Lists and monday.com share customizable views, monday.com has more than 50 types of columns and view types to really tailor your team and individual workflows. monday.com also has integrations for Microsoft Outlook, Teams, and more so you can connect the tools you already use to have all your team's work in one place.
monday.com: the all-encompassing Work OS
monday.com is a flexible platform that allows managers and individuals alike to use customizable functionalities to build their ideal workflow software, with no coding required.
From precise project and product planning to simple task management, it's easy—and honestly fun— to modify it to be exactly what you need to get work done painlessly and efficiently. This is especially valuable because as your organization scales or pivots, you won't need to search for yet another tool or start over from scratch.
Some of our favorite features that come with monday.com Work OS are:
100s of ready-made templates inspired by our customers to get started instantly
Updates section for in-context communication and creativity
40+ integrations so you can bring data from the tools you already use
The ability to create and share forms with your team and clients
Customizable dashboards and reports that make it easy to make data-driven decisions
and much more!
Choosing the right Work OS for your team
The world of work is pushing forward at a pace that can be dizzying at times. Making sense of it all, more often than not, has to do with the processes and systems in place to manage it.
The advent of the Work OS is helping businesses and organizations reach new heights in efficiency and scalability—its flexible and robust structure set the stage for any industry to build their ideal workflows. As this software category expands, many companies out there will work to create a platform to achieve this need.
monday.com already offers a full-suite Work OS with features that are scalable, intuitive, and built for impact.