Managing sales orders and fulfillment is pretty easy when you're just starting out, and your sales volume is fairly low.
As your online store begins to scale and those orders come rolling in though, you're faced with a challenge.
How exactly do you manage all of these orders efficiently, without spending hours each day stuck in spreadsheets or drowning in a sea of hand-written to-do lists?
With a well-designed order management process.
This article will teach you exactly how to craft a robust process for fulfilling customer orders, as well as a few pitfalls you'll want to avoid.
Let's do this.
The order management process in a nutshell
What is order management?
Order management is the process or workflow of receiving, fulfilling, and shipping each customer order your business receives.
Depending on the scale of your operations, it might involve simple, manual customer order tracking procedures — like an order notebook — or incorporate complex, automated, cloud-based systems.
The order fulfillment process also encapsulates internal processes around stock picking, which might include:
Piece picking
Zone picking
Batch picking
Wave picking
What is order management software?
You've probably come to the conclusion already that a manual order management system is not going to be suitable for scaling companies and certainly isn't conducive to efficient workflows.
That's exactly why order management software systems exist.
These software platforms help you manage sales order processing, giving you a single point of truth for all orders and customer information. They also allow you to automate processes such as updating order status and sending email notifications, thus improving customer service.
Another key benefit to implementing an order management software platform is the ability to measure, analyze, and report on key metrics — such as the average time it takes to fulfill an order.
This, in turn, helps teams make constant improvements toward meeting customer expectations and reducing operational costs.
What is the order management process?
The typical order management process is fairly straightforward, involving 6 key steps:
Order is placed: the customer places an order via your online store.
Order is received: your order management system receives the order and notifies the customer that their order is completed.
Order is picked: a team member picks the items according to your picking process.
Order is packaged: the order is packaged and prepared for delivery.
Order is shipped: your shipping supplier collects the order, and your order management system notifies the customer again.
Order is delivered: the order is now in the hands of your customer, and the process is complete.
Order management process: potential risks
Designing an efficient and successful order management system means being aware of the potential risks involved and determining how best to counteract them.
As your sales increase and operations grow, these risks can turn from minor inconveniences to full-blown issues, so it's best to make sure you're on top of them from the get-go.
Let's look at 6 of the most common issues associated with processing orders, and how to design a solid order management system to avoid them.
1. Inventory adjustments
Keeping track of your inventory is pretty simple when you have a traditional, brick and mortar store; all of your inventory is right there in front of your face.
But when you're selling online, through multiple different platforms like Shopify, Amazon, Instagram, and others, keeping track of your stock levels becomes a fair bit more complex.
This is why you need an order fulfillment system that also takes care of inventory management.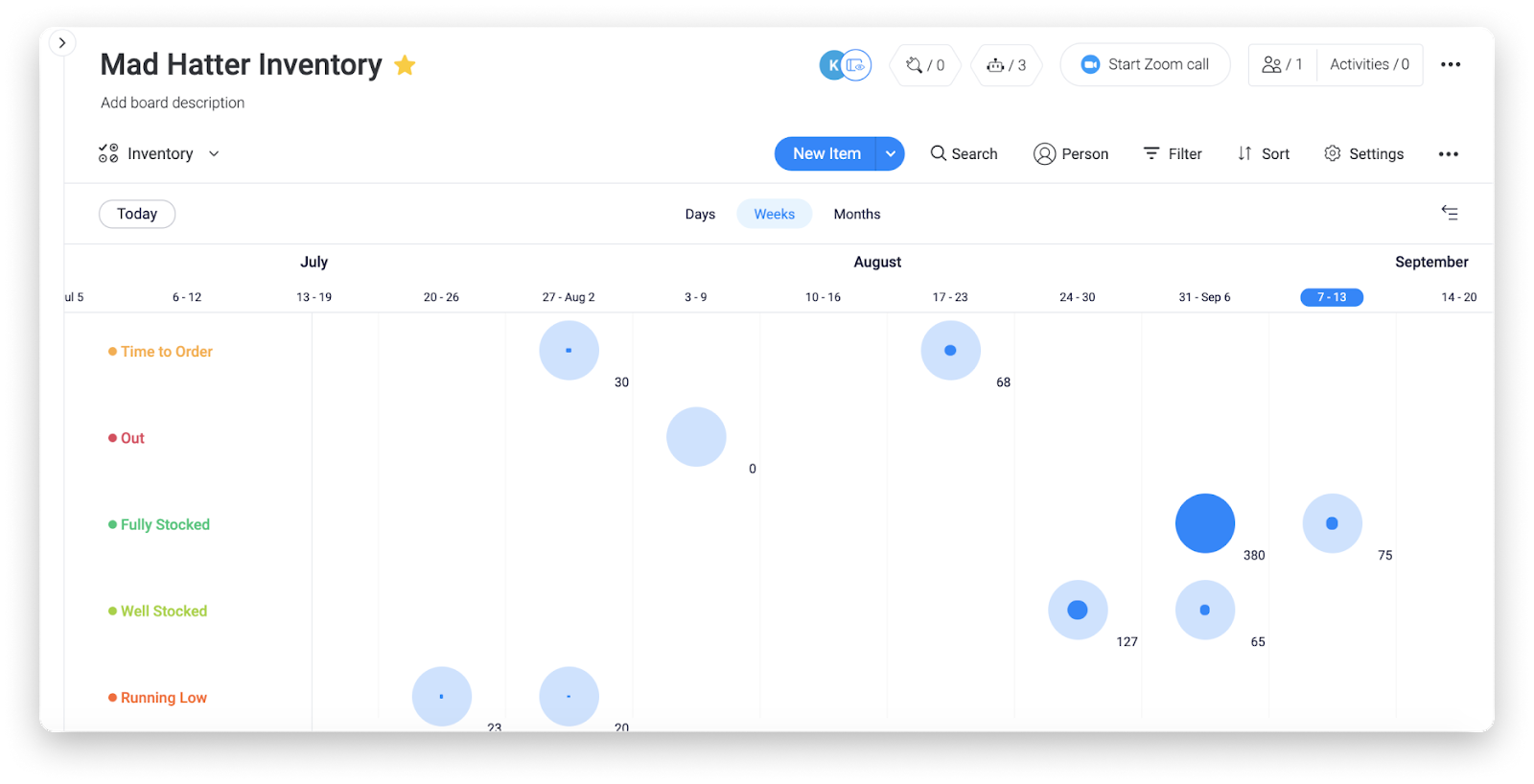 monday.com makes it easy to manage your inventory levels in real-time, with easy to comprehend reporting tools. You can even set up automatic notifications to alert you or a delegate when stock is low and requires re-ordering.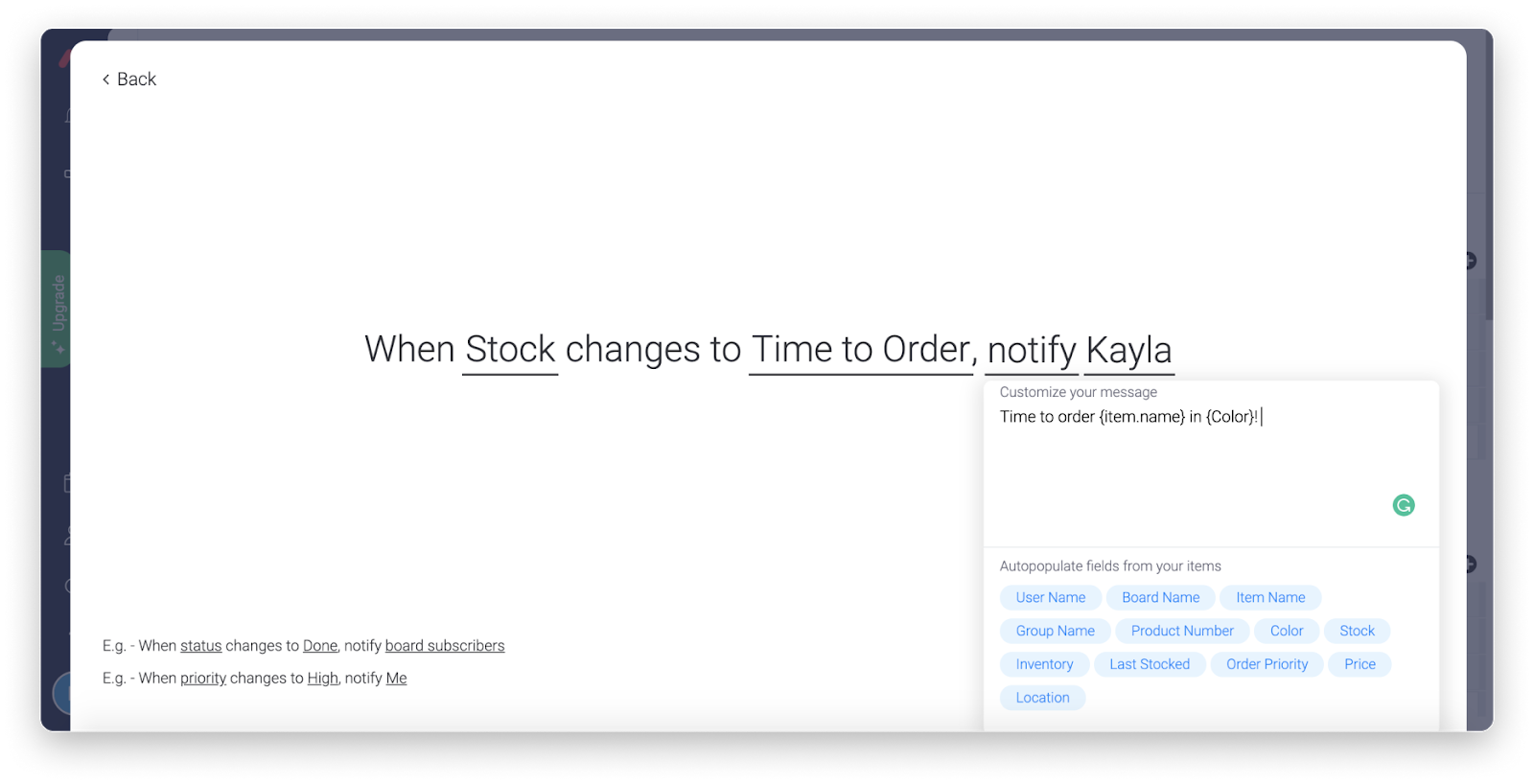 Plus, we integrate with key online commerce platforms like Shopify, saving you time by managing stock levels for you.
2. Customer communications
It's vital that you don't neglect customer communications in favor of focusing on internal operations.
Modern buyers expect to be kept up to date, and you'll likely lose their business if you come to the party too late.
The good news is this: it's super easy to keep your clients informed at every step of the order management cycle.
All you need is an order management system like monday.com that integrates with Gmail and other email providers to send automated updates to your purchasers in real-time.
Payment processing complete? Send them an email!
Order sent for delivery? Let them know!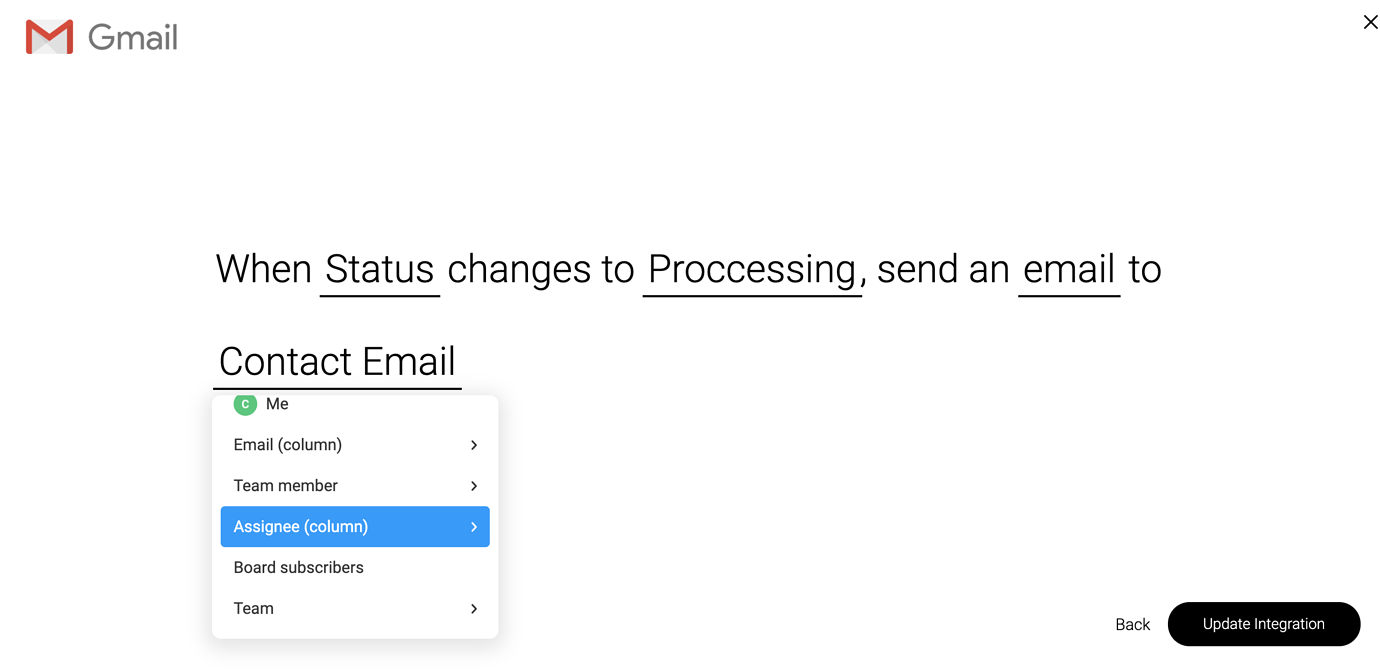 You can take advantage of this functionality by automating feedback requests once an order has been delivered and using the data to inform future improvements to your order process and customer experience.
3. Shipping issues
Chances are you aren't going to be delivering every purchase order yourself.
You're probably going to use a third-party shipping supplier, which inevitably comes with a risk.
If something goes wrong with the delivery — such as the order being late — your customer will be coming to you for answers, not your delivery partner.
It goes without saying then that you need to find a delivery supplier that you can trust. More than this, though, you need a supplier that has a robust system that integrates nicely with your own.
With this in place, you'll have access to all the information you need about order delivery without having to chase up the courier. You might even be able to get ahead of the eight-ball on issues such as late deliveries.
Hopefully, your shipping partner will be using the same system as you — ahem, monday.com — but don't worry if not.
monday.com integrates with Zapier, which is pretty much the leading third-party integration platform, allowing you to seamlessly connect with whatever platform your supplier is using. That's assuming, of course, it plays nicely with Zapier too.
4. Returns
Don't forget that from time to time, customers will return an order.
It may be that product wasn't for them, or that it was faulty, or that they simply changed their mind.
Your return policy is obviously something you'll need to decide for yourself, but you can't escape the fact that returns will happen.
So, make sure that when you're first setting up your order management system you create a separate board for managing returns, rather than waiting to the point where you get your first one.
You'll also want to make sure to set this up so that, where appropriate, return items go back into your inventory dashboard.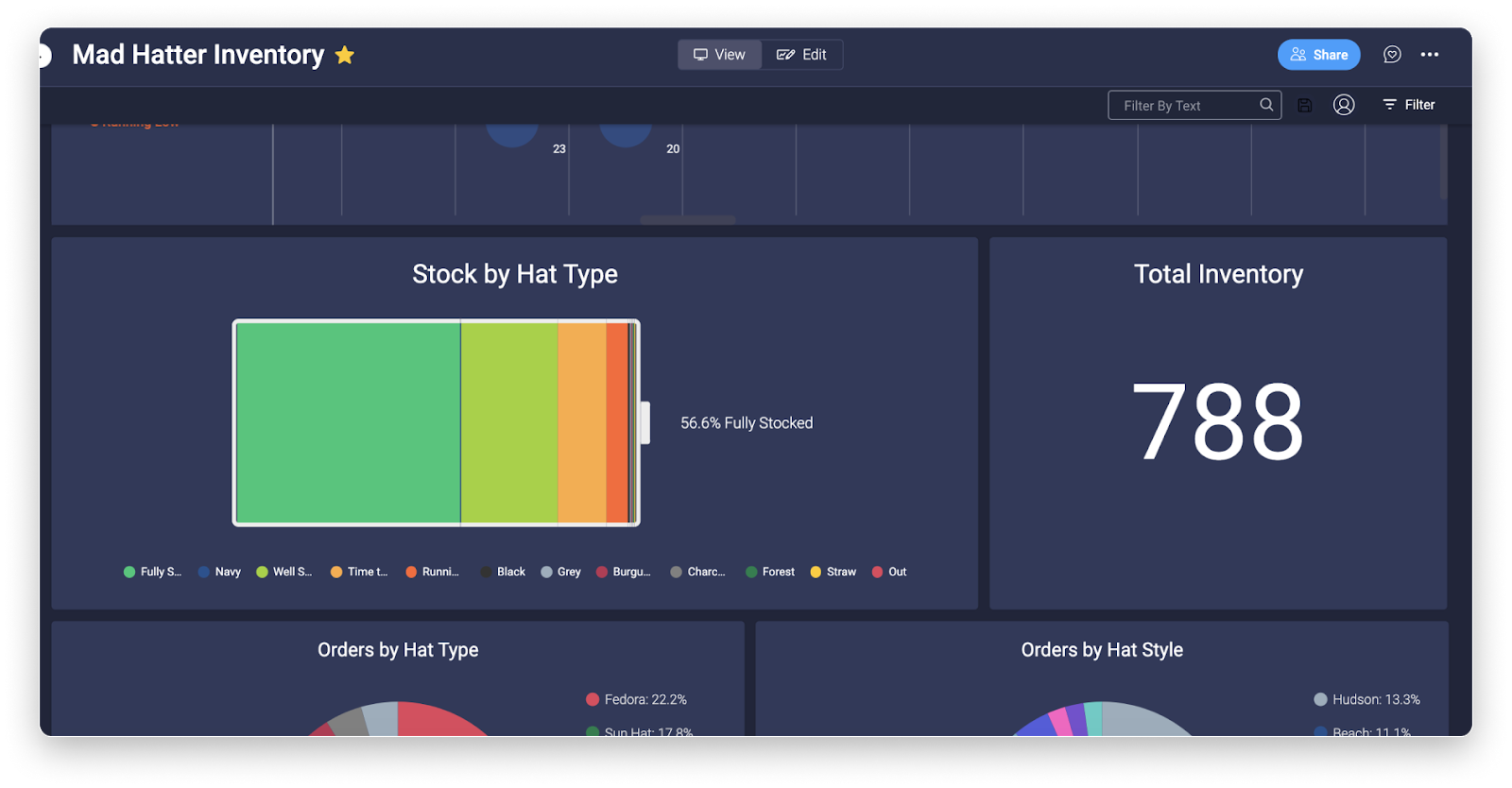 5. Scaling your operations
The simple truth of scaling your company is this:
As your sales grow, order fulfillment and inventory management tasks increase, making manual processes a huge time burden for your team.
To combat this, implement an order management system that allows you to automate as much as possible. That includes both within the system itself as well as via integration with other tools you're using (like your ecommerce platform).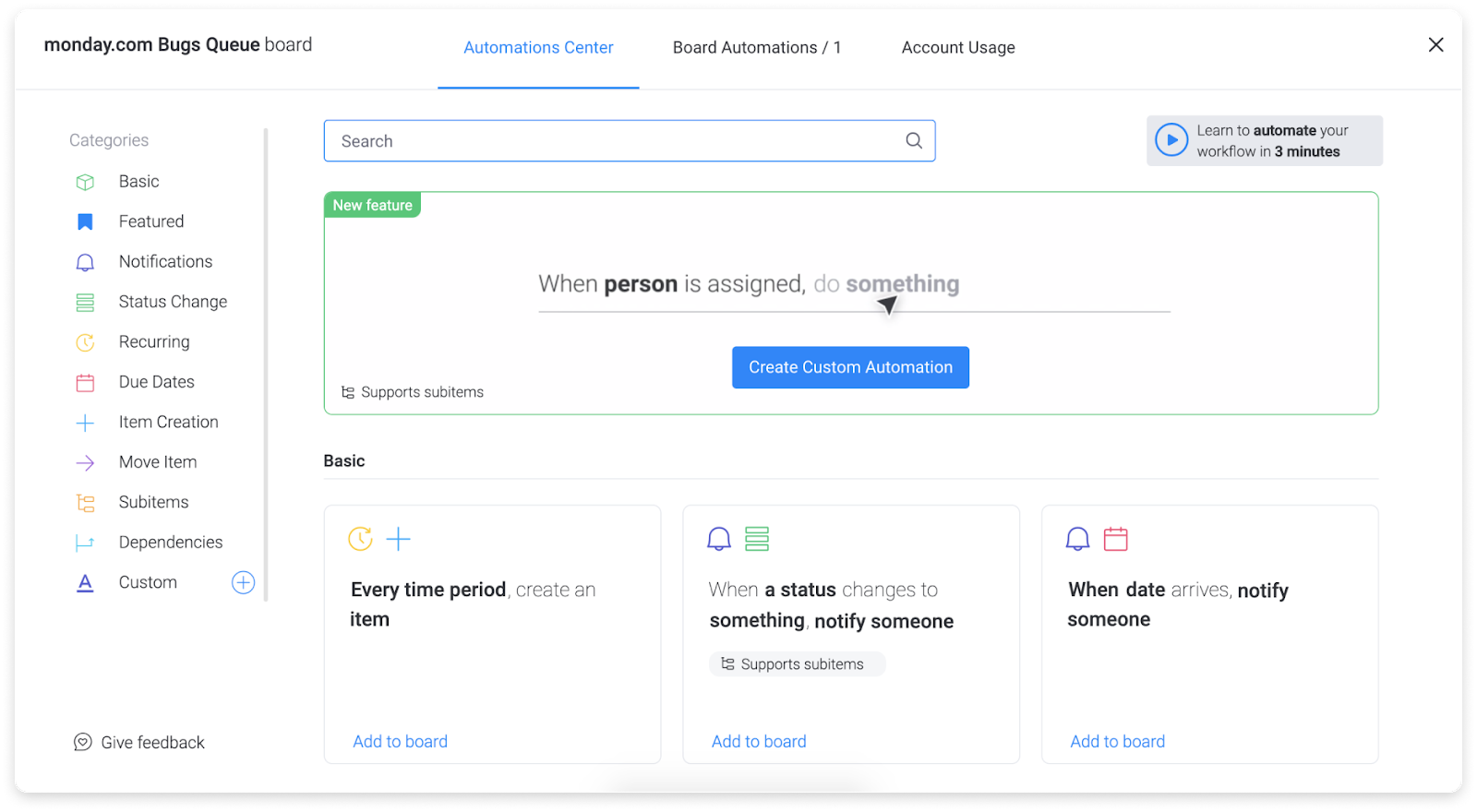 6. Speed
The final aspect of the order picking and fulfillment process is the pace at which your team can physically pick and pack a given customer order.
This is aided in part through an effective order management system, but also requires careful consideration as to the layout of the warehouse itself.
This includes things like keeping items that are commonly purchased together in the same area, or minimizing time spent searching for products.
Optimize your order management process with monday.com
Wondering how else monday.com can help streamline your order processing and inventory management?
Let's take a look:
1. Forms
Have your customer data entered straight into your monday.com boards using an intuitive, easy to set up customer-facing form.
2. Formulas
Track order processing times and identify problem areas by regularly monitoring the number of days between receiving an order to getting it on the road.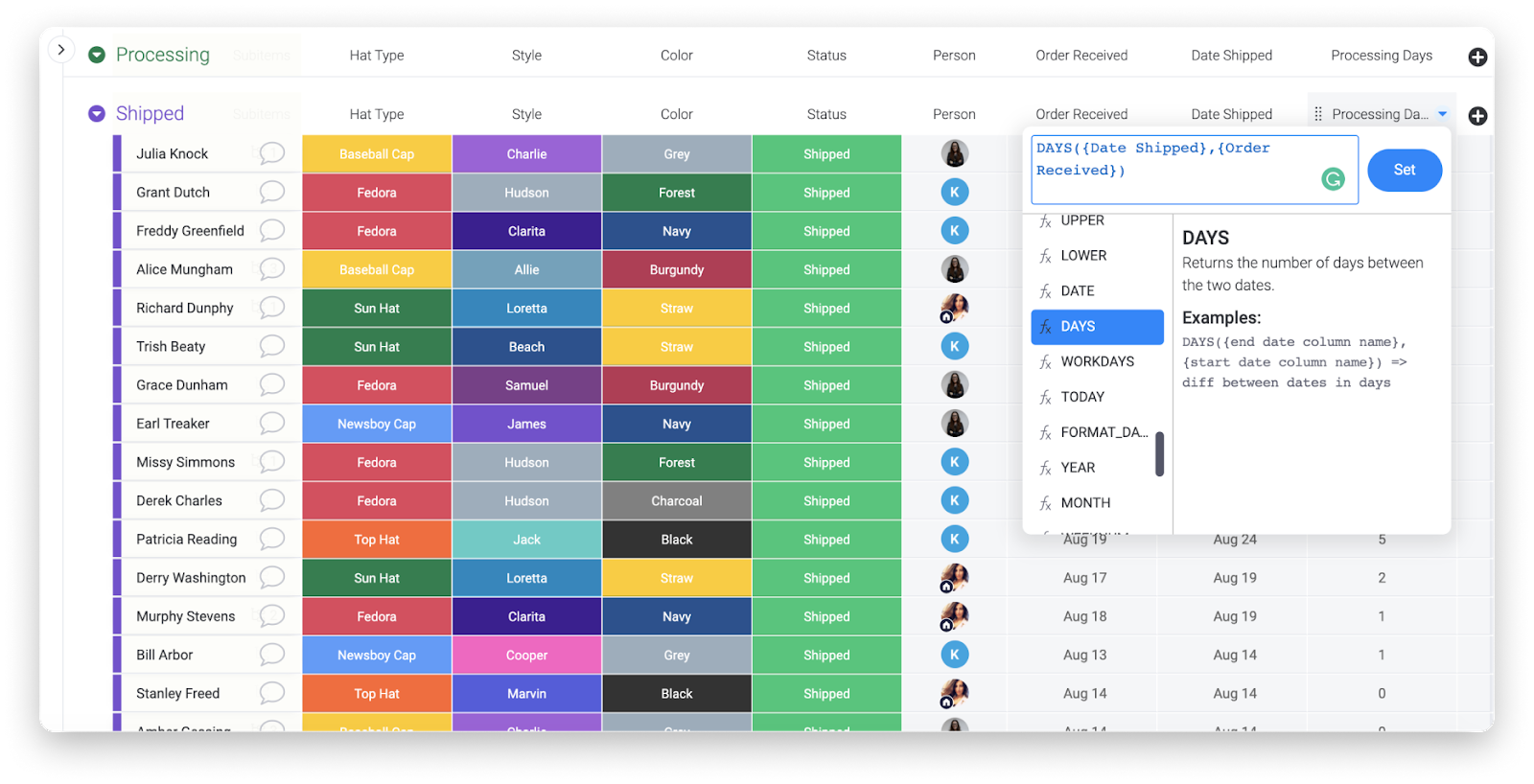 3. Charts
Instantly see when stock has fallen below the required level, and order new inventory before you run out.
4. Order history
Analyze top-selling items and optimize your sales channel efforts by reviewing an in-depth report on historical orders.
5. Dashboards
Keep track of sales, profits, inventory level, and pending orders, all in one place with customizable, comprehensive dashboards that give you an instant overview of company operations.
Take control with monday.com
Hopefully, by this point, you've realized that creating an efficient and risk-controlling order management system is going to be key to scaling your ecommerce operations.
If you're ready to get ahead of the potential challenges and create an order management system that lifts customer satisfaction and keeps operations flowing smoothly, then why not start with our supply order template?