When we said that our main focus at monday.com has always been our product…we weren't telling the whole truth. Yes, we are passionate about monday.com, but the truth is, there's someone else. In fact, we have a whole 'nother baby that we shower with love and attention. It didn't feel right to keep it hidden from you any longer, so we decided it was time to pull back the curtain and formally introduce you to…our beloved BigBrain. BigBrain is our internal business intelligence (BI) tool that we built from scratch. When we show anyone BigBrain for the first time, their first reaction is typically, "Whoa." It's beautiful, it's impressive, and we're very proud of it. https://youtu.be/p-YbHMCUycw Why did we build our own BI system from scratch? Everything at monday.com starts and ends with data. We're obsessed with improving our performance, and that depends on measuring everything with precision and accuracy. BigBrain tracks every single KPI and in the spirit of transparency, we make these numbers readily accessible to everyone on our team. In that same spirit of transparency, we wanted to give you a little tour of BigBrain and introduce you to the masterminds behind it.
Our BI developers are cute. Don't underestimate the combined power of their genius. Team leader (far right): Eran Amiel Fun fact: He grew up on an old-school kibbutz Likes: His adorable newborn baby girl Yuval Dislikes: Being the center of attention BigBrain developer (far left): Daniel Mittelman Fun fact: He built a robot that can solve a Rubik's cube (here's proof) Likes: Chocolate eclairs Dislikes: Roller coasters and zombies BigBrain developer (in the middle): Stav Levi Fun fact: She's working on a YouTube video series to teach girls how to code Likes: Astrophysics, wine, and Audrey Hepburn Dislikes: Flights and heights Amiel: Legend has it that our CEO Roy built BigBrain over a weekend in the very early days of monday.com. When I started in November of 2015, developers had been working on it here and there, but it was honestly kind of a mess. (No offense, Lior and Tal.) I was the first one to work on it full-time. In the beginning, it was only measuring our monthly recurring revenue, money in the bank, and signups. Since then, we've built it into an incredibly powerful tool. There's really nothing else on the market that does what BigBrain does today. It's like 8 different tools in one. BigBrain tracks every cent that goes in and out of the company. We also track every single event: if someone went to a webinar, replied to an email, added a new column to a board… we host it all in BigBrain. With machine learning and data modeling, we're able to do any kind of analysis on all the data. We collect and process over 2 million events every day from many disparate data sources. Our engagement database contains more than 250 gigabytes of data and grows every day. We've hooked all our systems into BigBrain—Zendesk, our payment processor, email marketing, webinars, and monday.come itself. We even buy Facebook and Adwords media directly from BigBrain (we built our own media buying platform in it.) Every employee in monday.com uses BigBrain every single day as an integral part of their work to monitor their performance. For example, in our product, we run a lot of A/B tests on features; all that's measured in BigBrain. All of our business metrics and finance draws their financial reporting data from BigBrain.
We devote a lot of resources and infrastructure to it, but it's worth it to get the custom insights we need to scale as rapidly as we have in the past few years (we double in size every six months.) Stav: BigBrain allows us to realize our vision of transparency inside the company. We create dashboards for each department that displays their KPIs and keeps everyone focused on what matters. For example, it's really important to us to provide amazing customer support and respond as quickly as possible to people's questions. That's why in the Customer Success room, there's a huge TV screen run by BigBrain that displays their average response time. The goal is to always keep it under 10 minutes, which is seriously impressive considering that the industry average is 18.2 hours.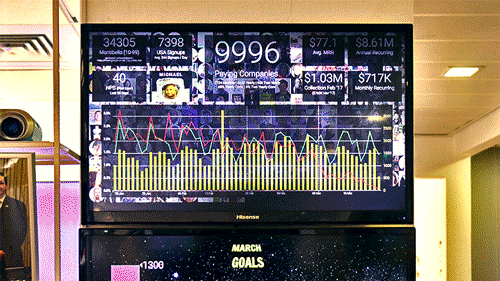 Another thing I'm working on right now is building a health score for each account. We want to make sure teams are getting the most out of our product, so we analyzed churn data and built a metric that will let us know when an account is starting to struggle. The Customer Success team will receive an alert, and be able to proactively reach out to them. Mittelman: The main advantage of building a BI tool in-house is that we have a short feature requirement to deployment cycle. Everything is customized to suit exactly what we need, and we're able to build and deploy things quickly to take advantage of all our data. We have incredible speed and flexibility. If we were dependent on a generic BI tool, and were in need of a new feature, this would take months at best. We can make changes to our system in a matter of minutes. The other huge benefit is that we have a very controlled incident response. If there's an incident, the system automatically sends a text message, email, and calls whoever needs to know. The added value is that we even know in real-time when there's an issue in our own system's code. Our marketing intent model is pretty amazing. Our data analyst Dani (who you'll probably meet in a future post) created a machine learning algorithm that does an excellent job of scoring the quality of each lead who signs up for a free trial. With those insights, BigBrain can predict with a very high degree of accuracy the likelihood that trial accounts will turn into paying accounts. This allows our marketing budget more wisely and target people who really are a right fit for our product.