We all have a maddening list of tasks to accomplish on a daily basis. From a business standpoint, it's incredibly important that those tasks are completed on time and correctly.
Failure to do so could mean bad things for your entire company's productivity.
That's why task management software exists.
Task management software has made it so that even the most disorganized people in the world — you know who you are — can complete work on time and to a high standard.
But which task management software is right for you?
In this resource, we've highlighted 36 of them for you to review — doing a deep-dive into their features, their pricing, and how they address the needs of your business.
We have a lot to do, so let's get started.
What is task management software used for?
Task management software is an online platform that enables you to lay out all of the tasks associated with an overarching project and then assign team members to those specific tasks.
Typically, when using a task management platform, you use a singular dashboard to assign all of your tasks and monitor team performance.
This not only keeps you organized, but it also ensures that your various projects are being executed properly.
While that might be the primary function of task management software, you're typically able to do so much more with them (if you're using a quality service).
Some additional functions of task management software include: 
Using a shared calendar to plan the execution of tasks
Setting deadlines
Tracking the amount of time spent on each task
Giving the team a central platform that they can use to communicate about tasks through comments or live chat sessions.
What is the best task management software?
1. monday.com
We're going to kick things off with the best of the best.
Ok, so we may be a bit biased here, but when it comes to project management software, we're diehard fans of our own product.
And we're not alone! Over 100,000 businesses use monday.com's software.
monday.com is so much more than a task management tool. It's a digital workspace that meets every challenge impacting your modern workforce. But, as we're specifically focusing on task management right now, let's really zero in on how our platform handles this through our daily task tracking template.
monday.com features
Monday.com's daily task tracking template allows you to import and export information to and from Excel or Google spreadsheets. This makes it easy to not only get started, but to generate client reports in a familiar format (though our sheets are pretty damn awesome as well).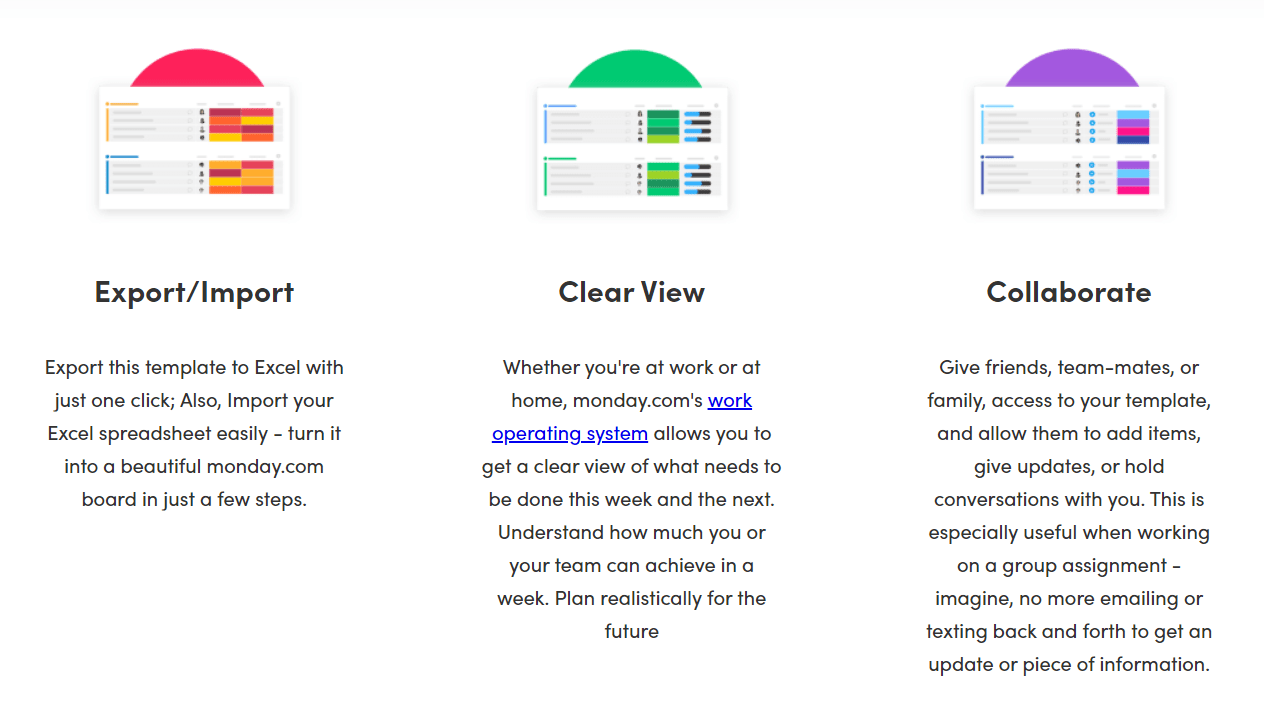 Using this template, you're able to accurately track team Workflows and projects from beginning to end. If there's an issue or delay, you'll be able to go back and see where things got held up.
Then, you can apply that knowledge to future processes in order to streamline your company's efficiency.
Speaking of delays, the system will give you helpful notifications to let you know when a Workflow is running late or stuck. That means action can be taken quickly to avoid falling too far behind.
Using monday.com also helps with team accountability. The tracking capabilities of our service allows you to show clear ownership of a project or Workflow by assigning roles to your participating team members.
With a good Work OS platform, No one can make excuses or pretend to be ignorant to their responsibilities. It's laid out in black and white for all to see.
So, not only is it possible to track all of your progress and gather data to make informed decisions, but you also have access to resource management, the creation of product roadmaps, overviews of projects, and even cross-departmental project tracking.
In other words, it does a whole heck of a lot.
monday.com also integrates seamlessly with many of the world's most popular online platforms, including Google Calendar, Outlook, Google Drive, Dropbox, and more. So, not only does monday.com meet your workplace's task management needs, but it does so in conjunction with the platforms you're probably already using.
Talk about convenience!
monday.com pricing
monday.com offers 4 tiers of pricing: Basic, Standard, Pro, and Enterprise.
Modifications to this pricing model are made based on the number of seats — or users — you have, and whether you'll pay for a whole year all at once or on a month by month basis.
For more information, check out our pricing page.
2. Moo.do
Moo.do is a web-based platform that compiles your task management needs within a central interface.
This software was developed to increase productivity through collaborative features.
Moo.do features
Moo.do features a number of task creation and collaboration tools designed for team communication and engagement.
For starters, there is an internal calendar that can set schedules, deadlines, and reminders for all assignees.
The platform also tracks time and manages recurring tasks.
When using Moo.do, you have both mobile access and a taskboard view when managing your tasks.
Moo.do pricing
Pricing for Moo.do starts at $4.08 per month. There is also a free version available for smaller businesses.
All paid plans come with a free trial.
3. Google Tasks
Google Tasks, as the name implies, is a task management app developed by Google.
It is meant for business organization and productivity and can be used on an individual level or by companies of all sizes.
Google Tasks helps you with the planning and execution of multiple tasks.
Google Tasks features
One of the main features of Google Tasks is full integration with all of Google's services, including Google Calendar.
This will help you manage and organize all of your tasks while also engaging in real time collaboration with team members.
Google Tasks is a task manager that tracks both time and expenses. It also lets you add project-related items to a general list before organizing them.
Google Tasks pricing
Google Tasks has 3 pricing plans, Basic, Business, and Enterprise.
The Basic plan costs $6/user per month, while the Business is $12/user per month. Finally, the Enterprise plan is $25/user per month.
4. Workflowy
Workflowy is a simple app that is mostly used for list making. It can be a to-do app, which is similar in many ways to a task management tool.
Workflowy features
Workflowy gives you the ability to create bulleted to do lists and then share those lists with other users.
When using this platform, everything is kept on 1 central page. You can also add notes to your tasks in the form of bullets, explaining whatever you need to convey to your team in a clear and succinct format.
When using Workflowy, you can backup lists on Dropbox to ensure that they don't get lost in the shuffle.
Workflowy pricing
Workflowy has a limited free version that allows for only 250 items to be entered into lists per month, so that might not be enough for larger companies with a lot of tasks.
Their Pro plan removes these limitations and Costs $4.99 per month, or $49 per year.
5. Nozbe
Nozbe is a time and task management software wherein everything revolves around a central shared to-do list.
Nozbe features
When using Nozbe, you will be able to collaborate on multiple platforms.
It's efficient at time management as well as project and facilities management.
You'll be able to effectively organize and delegate your various tasks between team members, while enabling communication with clients and teams through the tasks that you create.
Nozbe pricing
Pricing for Nozbe starts at $8 per month for up to 2 users. The next tier is $18.50 per month for up to 8 users. Finally, you can pay $78 per month for unlimited users.
6. Copper Project
Copper Project is cloud-based software that facilitates task management.
It is meant to reduce the tedium and complexity that often surrounds the organization of tasks and projects.
Copper Project features
Copper Project allows time tracking for complex projects. It also includes communication tools for easy collaboration between the team members assigned to each project and task.
You'll be able to manage your budget and facilities using this platform, along with your portfolio and projects.
Simple project resource management is also available. There is also a milestone tracker and the ability to create Gantt charts.
Copper Project pricing
Pricing for Copper project starts at $49 per month for the Studio plan. The next level up is $69 per month for the Corporate tier.
Finally you have a price point of $99 per month for the Premium plan.
7. Highrise
Highrise tracks people, tasks, and conversations throughout a business while also simplifying the workflow.
Highrise features
When using Highrise, you can assign tasks to specific team members.
The system also stores important documents that are associated with tasks. You can track all critical tasks associated with a project while also managing follow up actions.
Highrise also tracks the critical relationship building process, which is important when working with new clients.
Highrise pricing
The pricing for Highrise starts at $4/user per month.
The Small Teams plan is $24 per month, and the Large Teams plan is $49 per month.
8. Float
Float facilitates inter-team collaboration for project and task management.
It helps you to plan out the resources associated with your projects, all based on employee capacity.
Float features
Float gives you the ability to not only schedule your tasks, but also add status updates for each and every one of them.
When using Float, you can set individual working hours for team members. It's also easy to use, thanks to a drag and drop interface.
You can use Float to create analytics and reports based on your tasks and projects. This feature gives you a chance to gather project data, which can then be used to drive business decisions.
Float pricing
Pricing for Float starts at $5/person per month. There is a free 30 day trial that comes with the full suite of Float's features.
9. Rukovoditel
Rukovoditel has a name that's just as hard to pronounce as it is to write. It's an advanced software created to expand on the typical project management approach.
Rukovoditel features
This platform facilitates data management through standard and extension models.
You're able to manage your budget, facilities, and resources from a central platform.
Users can also create applications and customize them for a specific project.
Kanban boards and Gantt charts can be created using this system.
You'll be able to track both time and expenses. That includes cost to completion tracking, which will let you know exactly how much a task is costing you.
Collaboration tools and customizable templates round out this service's list of features.
Rukovoditel pricing
Rukovoditel is available for a one time payment of $195.
There is both a free version and a free trial available for users.
10. Fruux
Fruux is software that is built around a unified calendaring system.
This is a service that is available on a number of different platforms.
Fruux features
Fruux offers various different collaboration tools that can be used for inter-team communication.
You have a calendar to use for scheduling important meetings. You can also make automatic updates to products.
All of your tasks are backed up automatically and synced across all devices. Using Fruux, you can create unlimited contacts and tasks. You also have unlimited storage space.
Fruux pricing
Pricing for Fruux Starts at $24 per month.
11. 5 pm
5 pm is a task manager that comes with email integration and a timeline feature.
5 pm features
5 pm lets you track all of your projects and tasks while also setting sub-items.
This platform can integrate with email services and keeps itself updated through automatic syncing.
5 pm allows you to group users into teams, share notes and files among team members, and generate customized reports that can be easily shared with team members and clients alike.
There is also a time tracker and an interactive timeline that uses a drag and drop interface.
5 pm pricing
5 pm has a number of different pricing plans that vary based on the number of users in your organization.
It costs:
$24 per month for 5 users
$36 per month for 10 users
$64 per month for 20 users
$96 per month for 40 users
$199 per month for unlimited users
Every plan comes with a 14-day free trial, with no credit card required.
12. Assign It To Me
Assign It To Me is software that creates a list of tasks that can then be shared among team members.
Assign It To Me features
Assign It To Me gives you access to budget and resource management features along with Agile methodology and collaborative features that make task management less of a hassle.
Milestone tracking and time tracking are both possible using this platform. You can even track your expenses and progress as it pertains to tasks.
Every task has cost to completion tracking enabled.
Assign It To Me pricing
Assign It To Me starts at $9/user per month for their Startup plan. The Medium plan is $79/user per month. Then you have the Large plan, which starts at $149/user per month.
13. TeamWork Live
TeamWork Live is an online collaboration tool that was initially designed to help virtual assistants with the plethora of task management related duties that they have to undertake.
TeamWork Live features
TeamWork Live features a number of collaboration tools, as well as a client portal, meaning that both your team and clients will be easy to communicate with throughout the process.
It also offers milestone tracking and contact management, along with shared calendars and content creation and management features.
TeamWork Live pricing
TeamWork Live costs $10/user per month. There is no free trial.
14. OpenProj
OpenProj is a task management platform that was built on an open sourced platform.
OpenProj features
When using OpenProj, you'll have access to an earned value analysis for each project. You can also track your progress using both Gantt and PERT charts.
Budget management is one of this system's features, and it was designed for businesses of all sizes.
OpenProj can also integrate with various applications.
OpenProj pricing
OpenProj has a free version, along with a Premium plan which starts at $405 per year for up to 5 users.
15. TaskBlitz
TaskBlitz is a task management solution which states that it empowers people to plan, organize, and control business processes.
TaskBlitz features
TaskBlitz is well known for its Gantt timeline view, along with its ability to provide task management from calendar and classic list views.
You can set up recurring task management along with time tracking and generate custom reports as well.
TaskBlitz uses collaboration tools, such as a built in chat feature.
TaskBlitz pricing
TaskBlitz starts at $25 per month. There is a free version available and a free trial is offered on paid plans.
16. Teamleader
Teamleader was designed for teams that need to collaborate and organize their tasks.
It tries to help businesses with a concentration on operational essentials.
Teamleader features
Teamleader can integrate with marketing automation systems. It also includes a document storage feature that will let you keep track of documents that are important for projects and tasks.
Task management is performed through CRM, market automation, and invoicing services.
Teamleader also features a shared calendar and internal chat system.
Teamleader pricing
Teamleader's pricing starts at $70 for 2 users, with $35 for each additional user thereafter.
17. Acteamo
Acteamo is a task tracking platform that allows teams to manage their tasks in real time.
Aceteamo features
Aceteamo users have access to resource management features. Managers also have the ability to assign tasks out easily as well as organize those assignments and share them with team members.
When using this platform, you'll have access to cost control features and collaboration tools.
Aceteamo pricing
Pricing for Aceteamo starts at $7/user per month.
18. Awork
Awork was created specifically for remote teams to facilitate the planning, organization, and tracking of projects.
Awork features
Awork monitors your employee activity through collaboration tools. It also grants clients remote access and support services that make them feel like a true part of the process.
You can create custom widgets for the dashboard while also tracking time and milestones.
Awork can integrate with a number of other applications as well.
Awork pricing
If you want to purchase Awork, their plans start at $12 per month for a Premium package. It's $18 per month for their Enterprise package.
There is also a free version of this platform, and a free trial is available for paid subscriptions.
19. ZenPilot
ZenPilot is free online task management software that was created specifically with marketing agencies in mind.
It helps them develop processes and systems that can be rolled out company-wide.
ZenPilot features
ZenPilot comes with pre-built process templates and dashboards that allow for easy viewing and monitoring of tasks.
Keyboard shortcuts can be implemented to keep your applications organized.
Collaboration between team members is also possible through shared task notes.
ZenPilot pricing
ZenPilot is free to use for unlimited projects.
20. 90degree Team Task
90degree Team Task was designed for teams that need a boost in lead engagement and conversion through task management.
90degree Team Task features
90degree Team Task gives you access to market automation integration along with email marketing tools and social media integration.
Collaboration is possible through an internal chat system. You also have a document storage feature to use for the organization of important files.
90degree Team Task pricing
90degree Team Task charges $45/user per month for its Premium package. Then you have $35/user per month for the Standard package.
21. Bridge24
Bridge24 is a task management solution that has a strong focus on reporting through interactive charts.
Bridge24 features
Users of Bridge24 have access to a customizable dashboard and interactive charts to track task progress.
You can also set up automated report generation, which includes financial and marketing reports.
Bridge24 pricing
Bridge24 pricing starts at $5/user per month.
A free trial is offered for new customers.
22. Monograph
Monograph is cloud based task management software that is meant for small architectural firms and engineers.
Monograph features
Monograph allows for project and portfolio management, along with resource planning and budget tracking.
Any manager can perform billing and invoicing services through the system as well. There's even a timesheet management feature.
Monograph pricing
Pricing for Monograph starts at $35/user per month. A free trial is offered along with a limited free version.
23. Allex
Allex is a cloud-based project management software designed for businesses of all sizes.
Allex features
Allex gives you a schedule manager that uses a task table and Gantt charts to facilitate task management.
You have access to a resource manager, timesheet, and portfolio manager.
Team schedules can also be converted to PowerPoint presentations. On top of that, you can generate reports and create collaborative workspaces for your teams.
Allex pricing
Pricing for Allex starts at ~$14/user per month.
There is also a free version of Allex.
24. 2-plan Team
2-plan Team is task management software that was designed to create milestones and timelines for teams.
2-plan Team features
2-plan Team offers time and milestone tracking features for tasks and projects.
It allows you to always be abreast of task related situations, as updates to project status occur in real time.
It also makes use of a number of collaborative tools.
2-plan Team pricing
Pricing for 2-plan Team starts with a one-time $12 payment. A free trial is also available.
25. Goplan
Goplan was created to help businesses with issues related to the tracking and monitoring of project progress.
Goplan features
Goplan provides real time visibility on project and task status.
It does this through a variety of collaboration tools, time tracking, and milestone tracking.
It also features a project overview dashboard that will let you know in real time the status of every project or task in your workflow.
Goplan pricing
Goplan does not make pricing publicly available.
26. Grapple
Grapple is software designed for project planning and task organization.
Grapple features
Some of Grapple's features include schedule planning, time management, resource management, and milestone tracking.
Your teams will be able to work together with ease using a number of collaboration tools through Grapple's singular central platform.
Grapple pricing
Grapple's Professional plan is $7.99 per month. The Premium plan costs $12.99 per month.
27. Inspire Planner
Inspire Planner is the task management software associated with the popular CRM system SalesForce.
Inspire Planner features
Inspire Planner uses a simple drag and drop interface, which makes it easy to operate, even for new users with very little technical knowledge.
Inspire Planner allows you to track the time it takes for your team to complete tasks. It also offers project templates and portfolio management.
You can view your progress through Gantt charts and lay all of your tasks out on Kanban boards.
Your team will also be able to communicate effectively using collaboration tools.
Inspire Planner pricing
Inspire Planner costs $21/user per month with a free trial available for new customers.
There is also a free version of Inspire Planner.
28. LoadSpring
LoadSpring is a task management platform hosted on the cloud.
LoadSpring features
LoadSpring is known for its time tracking capabilities, which are made possible through cloud hosting.
It also includes collaborative tools and workflow management, along with expense tracking.
LoadSpring pricing
LoadSpring does not publicly release pricing.
29. Managly
Managly is a task tracking platform which plans and tracks the various tasks assigned to your team while also encouraging collaboration between team members.
Managly features
Managly includes a number of collaboration tools that encourage team members to communicate and work together toward the fulfillment of tasks. This includes a group chat feature.
The platform also integrates with other apps like Google Drive and Dropbox.
When using Managly, you can generate custom reports, which can be used to track your progress and share results with clients.
You're also able to set your tasks using Kanban boards, while also assigning priority levels to them.
Time tracking and file management round out Managly's list of features.
Managly pricing
Managly is a free service. There is no credit card required to sign up.
30. OpenPPM
OpenPPM is a project and portfolio management solution, hence the PPM in its name.
OpenPPM features
Outside of managing projects, portfolios, and tasks, you're also able to manage your budgetary needs through this platform.
OpenPPM includes milestone tracking and status tracking, along with the tracking of both the time and expenses associated with your task list.
Resource management can also be done through the platform's central dashboard.
OpenPPM pricing
OpenPPM is a free, cloud-based, open-source service.
31. OPPTIMO
OPPTIMO is cloud-based software that helps you manage the various tasks associated with the projects that are vital to your business success.
OPPTIMO features
OPPTIMO provides a central location, where the members of your teams can work together using collaboration tools.
Report generation features allow you to monitor and share your progress, while time tracking will help you determine the effectiveness of your processes.
Recurring task management can be set up for repetitive tasks.
You can also track the percentage completion for your tasks and projects and divide them up further by creating sub-items.
OPPTIMO pricing
OPPTIMO's pricing starts at $2.50/user per month. There is a free trial for new customers, as well.
A more limited free version is also available.
32. RMS PCM
The RMS in RMS PCM stands for Ruby Mountain Solutions. This task management solution was designed for enterprise level businesses.
RMS PCM features
RMS PCM offers tools that track the time spent on various tasks, along with resource management, for better allocation.
You also are able to track and set your budgeting needs while managing your portfolio using this enterprise business service.
RMS PCM pricing
Subscription plans for RMS PCM are based on the number of users in an organization. The company does not publicly release their pricing plans.
33. Bijingo
Bijingo is an online resource and project management solution with a strong focus on portfolio visibility.
Bijingo features
Bijingo is a Web-based project management tool that is used for task tracking.
It helps businesses manage their budgets and resources, while also heavily focusing on their portfolios.
Results from tasks and projects can be viewed in the form of a Gantt chart. You also have access to customizable templates and milestone tracking.
Using Bijingo, you'll also be able to manage your various resources.
Bijingo pricing
Pricing for Bijingo starts at $49/user per month. There is no free version and no free trial.
34. Expert Project
Expert Project is a task management system that was designed for onsite financial project management.
Expert Project features
Expert Project is capable of cost to completion tracking, which will help you understand exactly what it is you're spending on a project from beginning to end.
This is one of several budget management features offered on this platform.
You're also able to access resource management capabilities along with transparent analysis and reporting.
Expert Project pricing
Pricing on Expert Project starts at $224/user per month. There is a free trial offered.
This software does not have a free plan.
35. Group-Office
Group-Office is an open-sourced task management software.
Group-Office features
Group-Office offers time tracking and file sharing tools that all work through a very simple interface.
You're also able to engage in task management duties that include document storage through this platform.
Group-Office pricing
Group-Office costs $235 per year for up to 200 users.
36. HeySpace
HeySpace is a platform that will help you focus on team collaboration and task management duties.
HeySpace features
Through HeySpace's central dashboard, you'll have access to resource management and budget management tools.
You'll also be able to track the time that your teams spend on tasks in order to get a better sense of overall efficiency.
Collaboration can occur through HeySpace's chat function as well as a sticky notes board.
HeySpace pricing
HeySpace's pricing starts at $5/user per month. New customers have access to a free trial membership.
There is also a more limited free version available.
Get started with monday.com
There you have it. A plethora of the best task management software on the market today.
This is a sample of what's out there. In reality, there are many more task management platforms to choose from, so you can see how this is a daunting choice for anyone to make.
Which is why we recommend cutting to the chase and choosing monday.com. There's a reason so many businesses like yours love it. It integrates seamlessly into so many applications and offers the collaborative functions needed to track the most important Workflows associated with your vital projects.
Get started today using monday.com's daily task tracker template, or start your 14-day free trial to check us out.