How work gets done.
The flow of work.
Do this first. Do that next. After that, move to this stage. Finally, do this.
Step 1. Step 2. Step 3. Step 4. Step 5.
Each of the above describes a workflow, a series of tasks, or actions required to get things done. 
Workflows appear in all aspects of business. Think of any project that includes a list of tasks. There is likely some sort of associated workflow. Some examples:
Onboarding a new employee: (1) provide handbook; (2) invite to training sessions; (3) test understanding; (4) monitor progress
Writing a blog post: (1) brainstorm topics; (2) create outline; (3) write first draft; (4) edit draft; (5) peer review; (6) publish; (7) share via various marketing channels
Creating a new landing page: (1) gather project spec; (2) outline page contents; (3) write draft; (4) review with stakeholders; (5) finalize and publish
The examples are truly endless.
In addition, every workflow must answer the following four questions — the three Ws and one H:
What needs to be done?
Who needs to do it?
When does it need to be done?
How it needs to be done?
Finally, workflows can manifest themselves in many formats: Lists, timelines, Kanban boards, Gannt charts, and so on.
Because of so many options, a workflow management software is essential to ensure everything you need to easily manage your team's workflow is housed in one central location.
Now that you understand what workflows are, we'll explore how workflow management software can make teams more efficient and effective.
What is workflow management software?
As stated previously, a workflow is a series of tasks or actions required to get things done.
However, not all workflows are created equal. Workflows are simply the tasks or actions required. How do managers ensure projects run smoothly and efficiently?
Enter workflow management software.
Workflow management software, or "workflow software," offers a centralized, visual approach to managing business processes, aka workflow.
While there are many solutions on the market, we are big fans of what monday.com's Work OS has to offer (of course). Here are a few of the essential elements of a powerful workflow software:
1. Workflow automation: Many, if not all, processes can be automated. Workflow management software takes automation to the next level. There is no need for team members to waste time on repeatable, menial tasks. Automation increases project efficiency ensuring employees can save energy to focus on the stuff that matters.
Here is an example of what automation looks like at monday.com:
Learn more about monday.com automation.
2. Collaboration: Workflow management software allows teams to collaborate and communicate, ideally in real-time. Whether through integrating an online chat function or tagging coworkers within a project, alerting team members in context saves all those inefficient back-and-forths (and often reply all!) emails.
Learn how to improve team communication using monday.com. 
3. Cloud-based and mobile: With more teams geographically spread out across the world and more folks working remotely, there has never been a better time for a cloud-based, mobile solution. Workflow management software should empower every team member to clearly see where things stand at any given time. A quick overview? Check. A more detailed dive into a project's workflow? No problem. The ability to access workflows anytime from anywhere on any device is essential.
4. Various view options: Sometimes you want to visualize your workflow in a list. Other times, a Gannt chart of Kanban board makes more sense. Workflow management software empowers users to see whatever view best suits their style — whenever. If you are using monday.com, you'll be able to change up your view on the fly.
Here is what the monday.com "Views Center" looks like: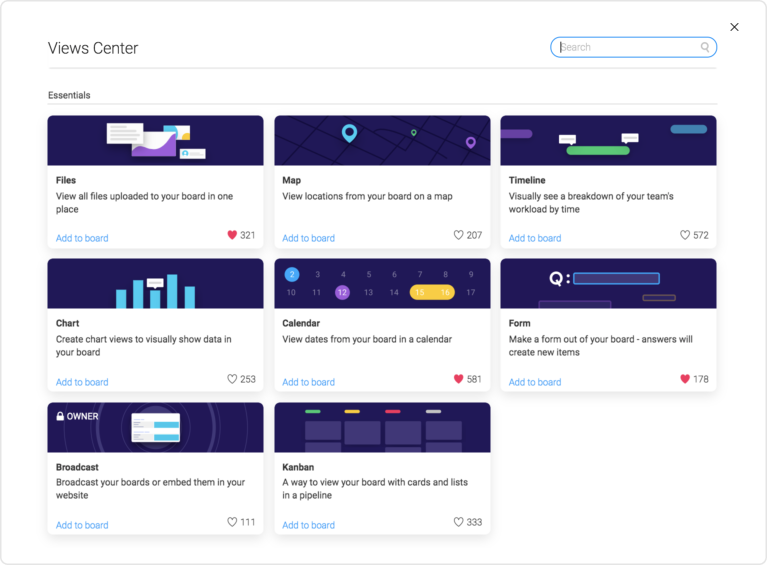 Learn more about our boards view.
The above are just a few examples of what makes for a powerful workflow management software. The good news? If you are using a Work Operating System (aka, Work OS), all of the essentials are already built into the platform.
But what is a Work OS and how does it help with workflow?
A Work OS places all workflows in one central location. Here's how.
monday.com is a work operating system (Work OS), a cloud-based software platform where teams build custom workflow apps. It allows teams to plan, run, and track processes, projects, and everyday work.
A Work OS is the "digital workspace" of any sound organization, a centralized home for all work. As we wrote here, a Work OS "collects information from external tools, helps teams communicate about items within the context of the work happening, and places all workflows in one place."
The last part of that sentence is the key.
A Work OS means that all possible workflows are centrally located in one place — the digital workspace home base, if you will.
A quick note on business process management (BPM) vs. workflow
As defined previously, workflow is a series of tasks or actions required to get things done.
Business process management (BPM) is "a discipline that uses various methods to discover, model, analyze, measure, improve and optimize business processes" (Gartner).
BPM and workflow are similar … yet different.
Workflow is a component of BPM. It's the "various methods" in the BPM definition above. Workflow is also not necessarily an optimized process. A true BPM is both the technology behind the workflow as well as the constant tweaks to optimize the process.
I'm all in on workflow management software. What's next?
First, so glad to hear that. We are also "all in" on workflow management software here at monday.com. In fact, we are so all in we have templates to get you started.