Would you call yourself a project manager? Chances are if you don't have PM in your title, you would say no. But more and more the titles and positions that manage large scale projects don't necessarily call themselves project managers—but they still need tools to help pull long term, large-scale projects.
We've collected all of our recent feature updates, a few templates, and our recommended building blocks for Project Managers (or anyone who manages projects) so you can make sure you're using monday.com to work for you. 
New PM feature updates:
Split workload per person
We know that most big initiatives involve more than one person to get the work done. But previously, it was hard to get an accurate view of the Workload investment for a project where multiple owners were assigned. Not anymore! Now, when two owners are assigned to an item, the effort will automatically be split between the two owners.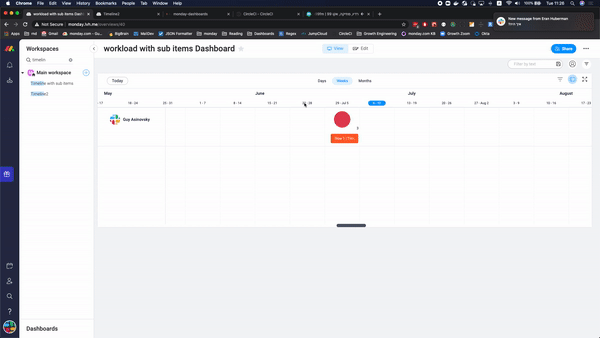 Milestones
Milestones are specific points along the project timeline that represent significant progress in a project. These could be non-negotiable deadlines or major events within the project so it is important to be able to distinguish them from other activities. To make that possible we enabled "Set milestone" on the calendar to visually mark a date and event as a milestone. When you are in Timeline or Gantt View you can see your milestones as diamonds so as not to confuse them with other events.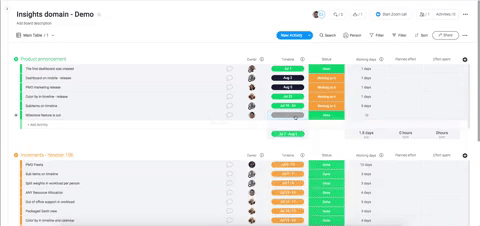 Resource allocation for anything
You're probably familiar with resource allocation in our Workload widget, which allows team leaders to visually see at a glance who is swamped and who has free capacity. Well now, the same visual and intuitive resource management widget is available for anything! We're talkin' meeting rooms, factory machines, cars, equipment, you get the picture. Check it out below: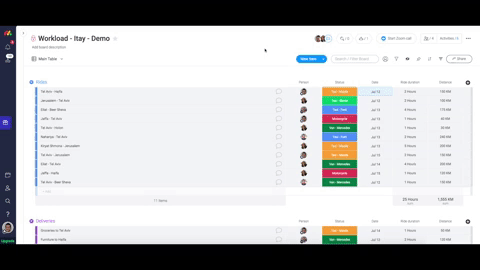 Out of office support in workload
When someone has set their working status as "Out of office" their availability will be reflected in the Workload widget during the dates set as OOO.
Color how you'd like in timeline and calendar
You can now view your items by the color of the status column, people column (define a color for each person),group, or board in widgets (choose randomly from predefined colors). This allows you to see your projects under two metrics so you can see at a glance all the information you need.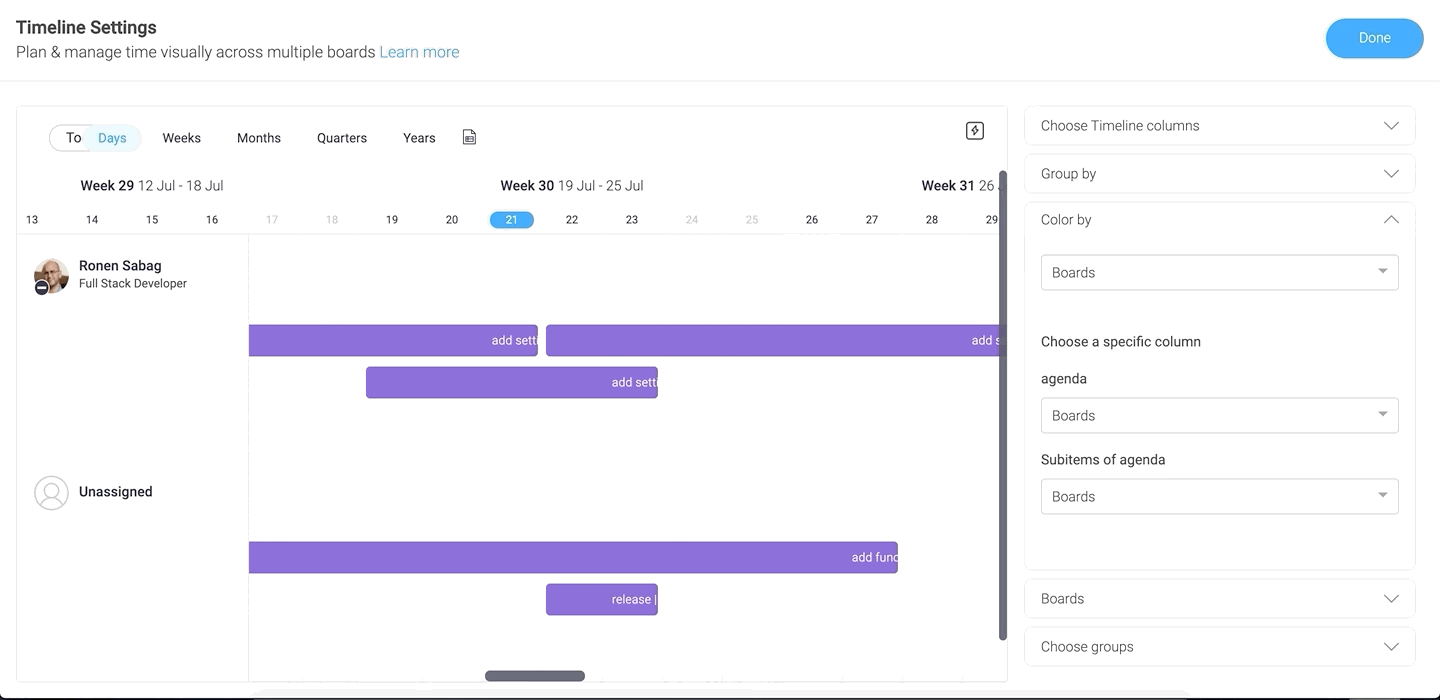 Putting these new features to work: project management templates
Reading all of the individual features that relate to Project Management can be a bit overwhelming when you don't know how to incorporate them into your current workflow or build one from scratch.
To help ease that process a bit we've created four templates to cover the basics for any Project Manager and start performing advanced project management capabilities in monday.com.
Project approval process
The project approval process board is built to help you gather project suggestions and requests from anyone, easily. Through the "View" option, you can send out the board as a form and all responses will be organized within the board. From there, you can track the approval process all the way from "New requests" and "Under consideration", to "Approved". Once approved the PM will be assigned, along with the approved project budget. Upon clicking "Approved" a project will be created within the program high-level board.
Get started with the Project approval process board now!
Program high-level 
The program high-level board will house all of your projects that fall under the same category. Once a project is approved it is created as a project under "Upcoming projects", this will be your catalog of all upcoming projects. Once the project has moved to the planning stage, updating the status will create a brand new board based on a pre-created template in order to help you plan every aspect of that project.
Get started with the Program high-level board now!
Project planning
Now that your project has been approved, and you are ready to start planning, you will use this project planning board to map out your entire work breakdown structure so you can stay on-track and organized every step of the way. Gain valuable insights on which aspects of your planning are ahead of schedule and where things are lagging behind, with date completion automations, effort management, budget allocations, and project owner—all in one place. Need to get a quick overhead view of your project timeline? View your board in Timeline View in order to see a Gantt chart layout of your project including milestone events.
Get started with the Project planning board now
Program risk register
This board will house the risk analysis across all boards so every project manager can learn from the risk analysis of others. The probability is measured by a weighted calculation of probability and impact with the estimated percentage appearing in the "probability" column to the left. Additional formula automations in the board allow you to automatically understand the expected loss based on the probability of the risk occurring and the full potential loss amount. Based on the information you've entered if the response cost is lower than the expected loss, your status will change to mitigate. However, if the response cost is higher, the status will change to track.
Get started with the Program risk register board now!
monday.com building blocks 
We've put together a few of the monday.com building blocks we recommend including in any of your dashboards to help keep you on track and ahead of schedule.
Whether you have PM in your title or managing projects is simply part of your role, having access to a fun-to-use, robust platform is a must to keep all of your moving parts in order and teams aligned. 
To read more about Project Management with monday.com check out our Project Management blog!